---
Crew
Director – Gary Sherman, Screenplay – Karen Clark & Gary Sherman, Producer – Frank Yablans, Photography – Alex Nepomniaschy, Music – Joe Renzetti, Special Effects Supervisor – Guy Faria, Production Design – Patricia Van Ryker. Production Company – United Artists.
Cast
Staci Keanan (Lisa Holland), Cheryl Ladd (Katherine Holland), D.W. Moffett (Richard), Tanya Fenmore (Wendy Marks), Jeffrey Tambor (Larry Marks), Edan Gross (Ralph Marks), Michael Ayr (Scott), Lisa Moncure (Sarah)
---
Plot
Fourteen year-old Lisa Holland lives in Venice, California with her single mother Katherine, a florist. Lisa and her best friend Wendy amuse themselves by surprising handsome male strangers and taking photos with them, writing down their licence numbers and then inveigling their personal details from the DMV. While walking to the store one evening, Lisa bumps into the handsome restaurateur Richard who charms her. She notes his licence and then obtains his phone number and begins making a series of anonymous calls, teasing him with knowing who he is. As she and Wendy follow Richard, Lisa builds up a romance with him in her head. What they do not know is that Richard is a serial killer known as the Candlelight Killer whose m.o. is to invade the homes of his chosen victims, leaving taunting messages on their answer phones before killing them in the midst of a romantic candlelit dinner he has prepared.
---
Gary Sherman is a director who has bubbled away beneath the radar of interest. Sherman gained a modest degree of acclaim among some genre commentators for his cultish British-made horror film Death Line/Raw Meat (1972) about a lost society of cannibals living beneath the London Subway. Since then, Sherman has sporadically dabbled in genre material with the likes of the zombie film Dead & Buried (1981) and Poltergeist III (1988), a couple of action films with Vice Squad (1982) and Wanted: Dead or Alive (1986), plus the medium thriller Murderous Vision (tv movie, 1991) and 39: A Film by Carroll McKane (2006). He has also acted as a producer on the tv series Poltergeist: The Legacy (1996-9) and wrote the tv movie The Glow (2002) and the story for the psychotherapy psycho-thriller Phobia (1980). Although there is nothing amidst this that has done anything to justify the cult acclaim that was heaped upon Death Line.
Lisa is a psycho-thriller with a gimmicky premise – teenage girl likes stalking guys, getting their details and calling them, she then meets one charming guy and stalks him, not realising he is a serial killer. It is another phone call-based psycho-thriller a la the likes of Sorry Wrong Number (1948), I Saw What You Did (1965) and Party Line (1989). (Part of the amusement of the film comes in wondering why the psycho of the piece did not use caller id or the redial number, both of which should have been available in 1989, essentially demonstrating that advances in technology can render the entire premises of some thrillers redundant).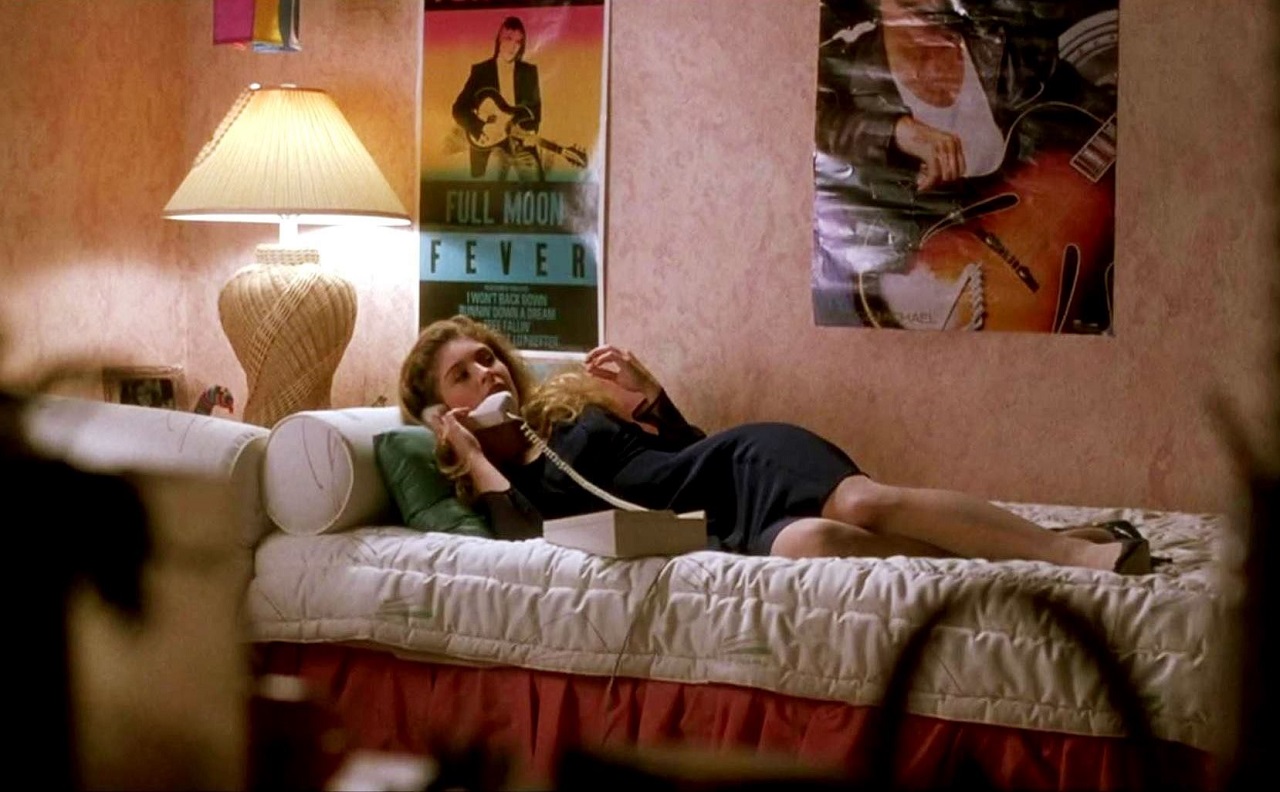 The psycho of the piece is never particularly well defined. He has the novel signature move of breaking into his victim's homes, leaving a message on their answer phone that says "Hi I'm Richard. I'm in your apartment and I'm going to kill you" and then waiting with a candlelit dinner he has made for them. Certainly, a film that tried to offer some psychological explanation for this would have been quite interesting but the film never bothers. In playing Richard, D.W. Moffett certainly manages to project impossibly handsome good looks and polished charm.
Lisa is also hamstrung by a series of improbable plotting contrivances. Like when Staci Keanan's Lisa breaks into the apartment building parkade just as a neighbour arrives, finds that their Porsche has the same locking remote sensor codes as D.W. Moffett's Jeep, allowing her to sneak inside his vehicle, only for Moffett to then suddenly come along and drive away.
Where Lisa starts to work is during the scenes where we see D.W. Moffett talking to Staci Keanan on the phone and turning the calls around, gaining her trust and seducing her by playing on her vulnerabilities, even when she has the upper hand in terms of anonymity. With this perversely intriguing psychological undertow, Lisa starts to take off during its latter half. The plot develops some decent twists – Staci Keanan tricking her mother Cheryl Ladd into wearing the white dress and going to the restaurant, before D.W. Moffett discovers her name and address on the credit card receipt, all leading to an okay climax. In the end though, Lisa turns out to be a film that sits halfway between banal and contrived.
---
Trailer here
---