---
Crew
Directors/Screenplay – Ben Blaine & Chris Blaine, Producer – Cassandra Sigsgaard, Photography – Oliver Russell, Visual Effects – The Rug (Supervisor – Stanton Ward), Special Effects Supervisor – Daniel Martin, Makeup Design – Saffron Powell, Makeup Effects Design – Daniel Martin, Production Design – Damien Creagh. Production Company – Jeva Films/Charlie Productions/The ARK Movie Fund/Brand & Deliver.
Cast
Abigail Hardingham (Holly), Cian Barry (Rob), Fiona O'Shaughnessy (Nina Elliot), David Troughton (Dan Elliot), Elizabeth Elvin (Sally Elliot), Sean Michael Verey (Josh), Javan Hirst (David)
---
Plot
Holly, a nineteen-year-old supermarket cashier, has just been dumped by her boyfriend. She is attracted to her co-worker Rob. After they spend their first night together, they are both startled in mid-sex to find that the bloodied and mangled body of Rob's ex-girlfriend Nina, who died in a car crash one year ago, is in bed with them. Holly runs out but eventually makes a decision to return and try to deal with this. Nina continues to turn up in the bed with them, saying she is there because Rob cannot keep her out of his mind, even though he insists they have broken up. Holly tries to deal with this in every way from trying to get Nina to join them in a threesome to removing all of her belongings from the flat but Nina continues to return no matter what.
---
Nina Forever is a debut film for brothers Ben and Chris Blaine who had previously made a number of short films, most of which appear to centre around unusual relationships.
In the last few years, we have seen a number of zombie relationship comedies with the likes of the comedies A Little Bit Zombie (2012) and Life After Beth (2014) and the more serious likes of Zombie Honeymoon (2004) and Make-Out With Violence (2008). While it can not exactly be considered a zombie film, Nina Forever falls into a similar vein. In particular, what it reminds a good deal of is Joe Dante's Burying the Ex (2014), a weak and anaemic comedy about a guy becoming involved with another girl after his girlfriend is killed only for the girlfriend to return from the dead insisting they are still together.
Burying the Ex felt filled with weak jokes playing off the zombie film and the complications caused by the central triangle. By contrast, Nina Forever takes an almost identical plot set-up and pushes it about as far as it can go without holding anything back. Rather than just lame situation comedy jokes, this has the undead girlfriend turning up in bed between the couple, where Abigail Hardingham even tries to turn it into a threesome between guy, girl and undead girlfriend at one point. The Blaine brothers grasp the plot elements with a thematic depth that makes for an extraordinary work that sits in the same kind of queasy modern sexual horror hybrid as It Follows (2014).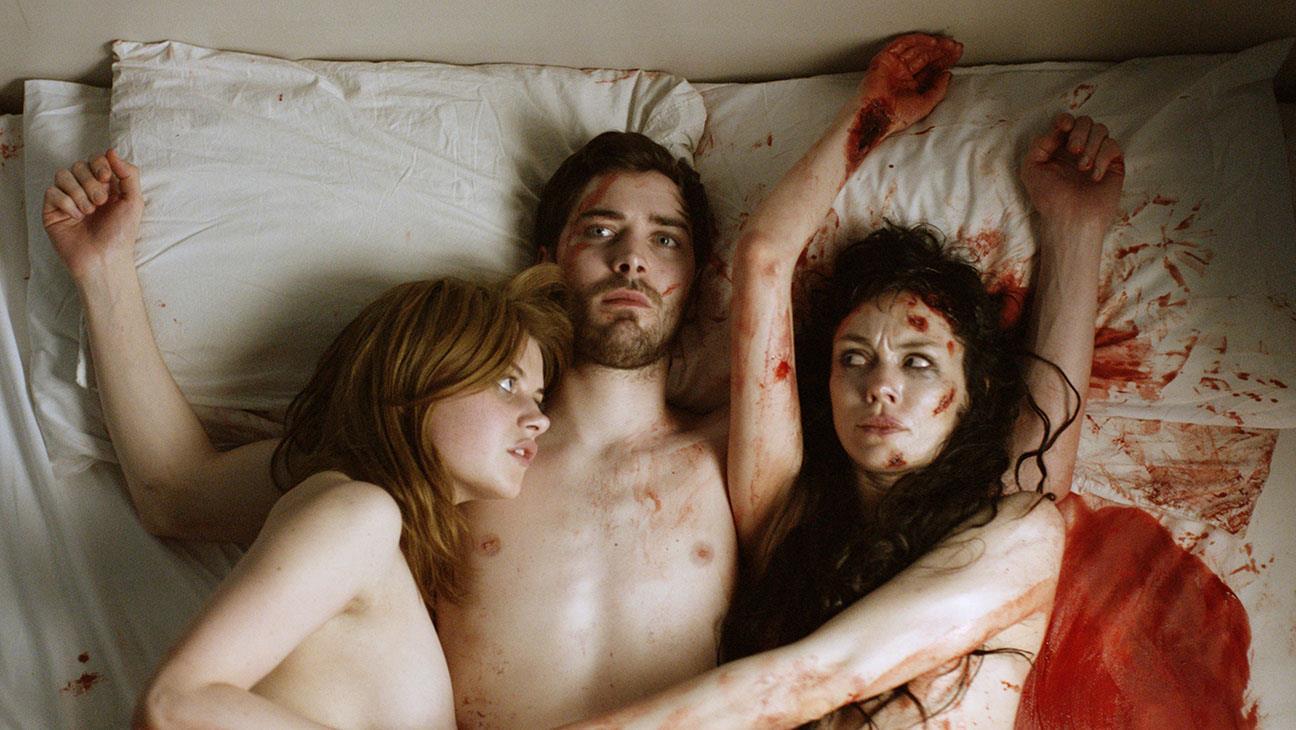 Nina Forever may well be the best Clive Barker film that Barker never made – there is much of the dark and grisly labyrinth of desires that reach beyond the grave that we had in Hellraiser (1987). The situation becomes an extraordinarily allegorical one – where the undead Nina is seen as representative of the memory who is there because Cian Bary cannot erase her from his mind. The script twists and turns around this idea with an unexpected adeptness. The dialogue that the Blaine brothers give Fiona O'Shaughnessy is extraordinarily haunted.
All of the cast give extremely good performances – the only name among any of them one has even heard of before is David Troughton, son of Patrick Troughton, the second Doctor Who – but it is Fiona O'Shaughnessy who delivers her part with an hilarious blackness that quite becomes the icing on the cake.
(Winner for Best Supporting Actress (Fiona O'Shaughnessy) at this site's Best of 2015 Awards).
---
---