---
Crew
Director/Screenplay – Ron Bonk, Based on the Novel She Kills With Her Crotch by Sir Bernard Covington, Producers – Howard Gromero & Jonathan Straiton, Photography – Chris Vince, Music – Emmett Van Slyke, Stop Motion Animation – Joe La Scola, Makeup Effects – Colby Flinchum, Production Design – Howard Gromero. Production Company – SRS Cinema.
Cast
Jennie Russo (Sadie), Trey Harrison (Dirk Masalle), Michael Merchant (Reggie), David Royal (Blue), Martha Zemsta (Beatrice), Niecy Cerise (Casparella), Kirk LaSalle (Edwin Harrison), Mateo Prendergast (Sadie's Father), Matt Mendoza (Brother Cheung Lee III), George Cooper (Black Jesus), Nathan Bonk (Bruce Wayne)
---
Plot
The innocent and virginal Sadie is about to be married to Edwin Harrison. They are then menaced by members of the gang known as The Touchers. The gang and its leader Dirk burst into their motel room just as Sadie and Edwin prepare to consummate their marriage. They go to rape Sadie but after Dirk places his fingers inside Sadie, the whole gang go into a weird fugue state that causes them to become like animals during which they kill Edwin and devour his corpse. Sadie flees back home but her father is overcome with desire and tries to attack her. Sadie seeks help from her fortune-teller friend Casparella who determines that Sadie suffers from 'fire crotch', meaning that her vagina is possessed by Satan. Casparella performs an exorcism that delivers Sadie but this means that Sadie can now only sleep with women and that any man who tries to have sex with her will be killed. Sadie then dresses to kill and uses an arsenal of weapons and her deadly vagina to wreak a bloody trail of vengeance against The Touchers.
---
Ron Bonk is a New York-based filmmaker and distributor. Bonk has been making films since the 1990s, beginning with the VHS-shot City of the Vampires (1992). Bonk later formed the SRS Cinema label, specialising in the distribution of low-budget horror and exploitation films, including titles such as Inbred Redneck Alien Abduction (2004), Satan's Cannibal Holocaust (2007), Terror at Blood Fart Lake (2009) and Sharks of the Corn (2021), along with numerous others. As director, Ron Bonk has made a number of other films, all within the horror genre including The Vicious Sweet (1997), Strawberry Estates (2001), Clay (2007), Ms. Cannibal Holocaust (2012), Empire State of the Dead (2016) and the subsequent House Shark (2017).
We have had films about sexual horrors before – from David Cronenberg works like Shivers/They Came from Within (1975) to the more recent indie hit of It Follows (2014). There have also been works about vagina dentata (vaginas with teeth) in the likes of Wicked City (1987) and Teeth (2007), as well as the hallucination scenes in Schramm (1993). With the respectfully tasteful Teeth and It Follows in mind, none of this prepares you for what a mind-bogglingly insane experience that She Kills is. I struggle to think of comparisons that even come close – the nearest one can think of is perhaps the outrageous Hong Kong prison splatter film Story of Ricky (1991).
It takes some time before She Kills hits its full head of dementia. The opening feels like a parody of a 1970s foreign language film all shot in a hyper-romanticised gauziness as Jennie Russo undresses in a field. This then becomes a stylistic parody of 1950s films as the couple settle into their marriage bed, which is interrupted by the invasion of the gang known as The Touchers. Then comes the bizarreness of the scene where the gang attempt to molest Jennie Russo only to instead fall about the floor and start making ape noises, before turning on husband Kirk LaSalle and devouring him until he is reduced to what is clearly an anatomical skeleton.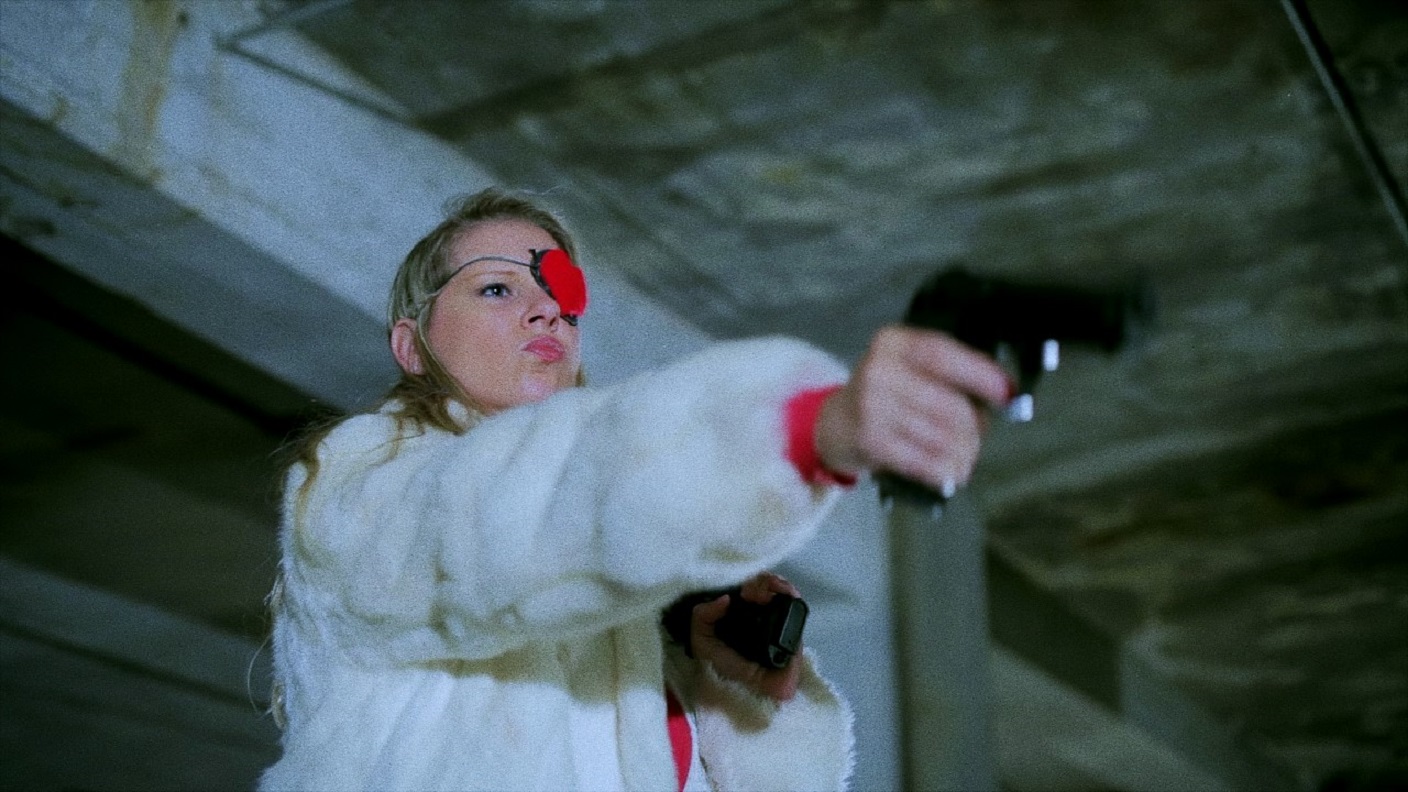 My mind was still trying to process this, not to mention the outrageous bad taste of a scene of sexual violence playing out with hard rock music on the soundtrack. In the next scene, Jennie Russo returns home to be fought over by her Caucasian father (Mateo Prendergast) who wears a coolie hat and attempts to molest her before she is saved by her Asian brother (Matt Mendoza) whose martial arts style involves the employment of small animals.
After about the point of the exorcism (replete with chintzy visual effects), She Kills fully hits its unique stride. Ron Bonk's approach is cartoon grindhouse. The red eye-patched Jennie Russo's climactic passage through the gang headquarters, despatching people with everything from nunchukas to all-enveloping sheets of skin fired from her vagina would be mind-boggling on its own. The effects set-pieces that the film pulls off are unbelievable – Michael Merchant being ridden by Jennie Russo and his entire dick and a vast length of intestines being ripped off in the process. The most outrageous of these is the climactic scene where Jennie Russo finally confronts Trey Harrison, gets him to go down on her and then swallows him whole inside her vagina. Just when you think the film could not push the envelope any further comes Jennie Russo's attempts to enter a church only to be repelled by Black Jesus who attempts to redeem her "My fifteen inch Black Jesus penis needs servicing" and debates whether his jerking off over her ass would suffice.
The film also manages to thrown in every conceivable colloquial term for a vagina – meat flaps, vertical bacon sandwich, panty hamster, cock holster, pink tuna taco. There are jokes breaking the fourth wall – the sound guy tripping over himself and falling into frame as Jennie Russo gives a particularly detailed description of the horrors of lesbian sex. There are even silly parodies of Batman (1989) and The Crow (1994). The gags keep on going right throughout the credits as Trey Harrison does an amazing, seemingly ad libbed routine where he incites his gang members to stand up, as well as repeatedly insults the audience.
The film also acts as a follow-up of sorts to Night of Something Strange (2016), directed by this film's producer Jonathan Straiton and also featuring Trey Harrison in the role of Dirk, along with a couple of the other actors here. That concerned a plot about a sexually transmitted disease that creates a zombie infection, but beyond the initial motel setting and their ready delving into bad taste, the two films are unconnected.
The credits also claim that the film is based on the novel She Kills With Her Crotch by Sir Bernard Covington, although a Google search fails to turn up any information on either the book or author leading one to suspect these are bogus credits made up for the film.
(Winner in this site's Top 10 Films of 2016 list. Nominee for Best Makeup Effects at this site's Best of 2016 Awards).
---
---