---
Crew
Director – Paul McGuigan, Screenplay – Max Landis, Based on the Novel Frankenstein by Mary Shelley, Producer – John Davis, Photography – Fabian Wagner, Music – Craig Armstrong, Visual Effects Supervisor – Angus Bickerton, Visual Effects – MPC (Supervisors – Arundi Asregadoo & Richard Little) & Nvizible, Special Effects Supervisor – Paul Dimmer, Production Design – Eve Stewart. Production Company – Davis Entertainment Company/TSG Entertainment.
Cast
Daniel Radcliffe (Igor Straussman), James McAvoy (Victor Frankenstein), Jessica Brown Findlay (Lorelei), Andrew Scott (Inspector Turpin), Freddie Fox (Finnegan), Brandon Webb (Rafferty), Daniel Mays (Barnaby), Callum Turner (Alistair), Charles Dance (Frankenstein)
---
Plot
In Victorian London, a nameless hunchback is kept as the property of a circus and performs as the clown. The hunchback has also taught himself anatomy and medicine and acts as the circus's doctor. The hunchback adores the trapeze artist Lorelei. When she has a fall, he races to her aid. So too does medical student Victor Frankenstein whom the hunchback impresses with his knowledge of anatomy in resetting her broken arm. Frankenstein returns and breaks the hunchback out of his cage, they escaping amid a furious fight with the circus people in which a man is killed. Frankenstein takes the hunchback back to his apartment, giving him the name of his absent drug addict roommate Igor Straussman. He gets Igor to help with the surgical preparations for the experiments he conducts in the basement. Meanwhile, the murder at the circus has attracted the attention of Scotland Yard's Inspector Turpin who becomes obsessed with finding what Frankenstein is up to, believing that his experiments are ungodly. As Frankenstein reveals to Igor, he is intending to build the perfect body and then use electricity to revive it to life. They at first have success reviving a monkey but this goes amok at the university and ends with Frankenstein expelled. Undeterred, Frankenstein then announces his intention to move on to build the perfect human body and bring it to life.
---
The story of Dr Frankenstein and his monster is one of the most enduring in popular culture. From Mary Shelley's original novel Frankenstein (1818) onwards, the story has lit a flame in public imagination. It first appeared on screen in Frankenstein (1910) and has led to some 200 film variants since. The most famous interpretations have been Universal's Frankenstein (1931) with Boris Karloff as the monster and Hammer's The Curse of Frankenstein (1957) with Peter Cushing as the good doctor and Christopher Lee as the monster, each of which led to a string of sequels. Elsewhere, there have been numerous adaptations of the book, unofficial sequels and spinoffs, parodies, modernisations, children's films, team-ups between other classic monsters and pornographic versions. (See bottom of the page for other direct adaptations of the book).
It feels that the Frankenstein film had fallen out of favour in the last few years. Maybe it is that the 19th Century themes about the fear of defying divine provenance seemed outdated or that science had become a whole lot cosier in the last little while. The last serious Frankenstein film we had in theatres was I Frankenstein (2014) and we all know how that turned out (not that Victor Frankenstein is much of an improvement) and before that you would have to go back a couple of decades to Kenneth Branagh's Mary Shelley's Frankenstein (1994). There was however Danny Boyle's excellent stage version of Frankenstein (2011) that was broadcast to theatres and there have been a number of low-budget video-released and television versions and quite a few more comedic and gonzo takes.
Victor Frankenstein is less another adaptation of the Mary Shelley novel than it feels like a reworking of the filmic Frankenstein, in particular the Universal films. For some reason, it chooses to tell the story through the eyes of Igor, the hunchbacked lab assistant who was introduced in the 1931 Universal film (and does not appear in the novel). This seems a decided oddity of approach – I mean, of all the great supporting characters out there in the genre, is there anybody truly crying out to learn Igor's origin story as a circus clown who was really a self-taught medical genius whose skills Frankenstein regarded as the best he has ever seen.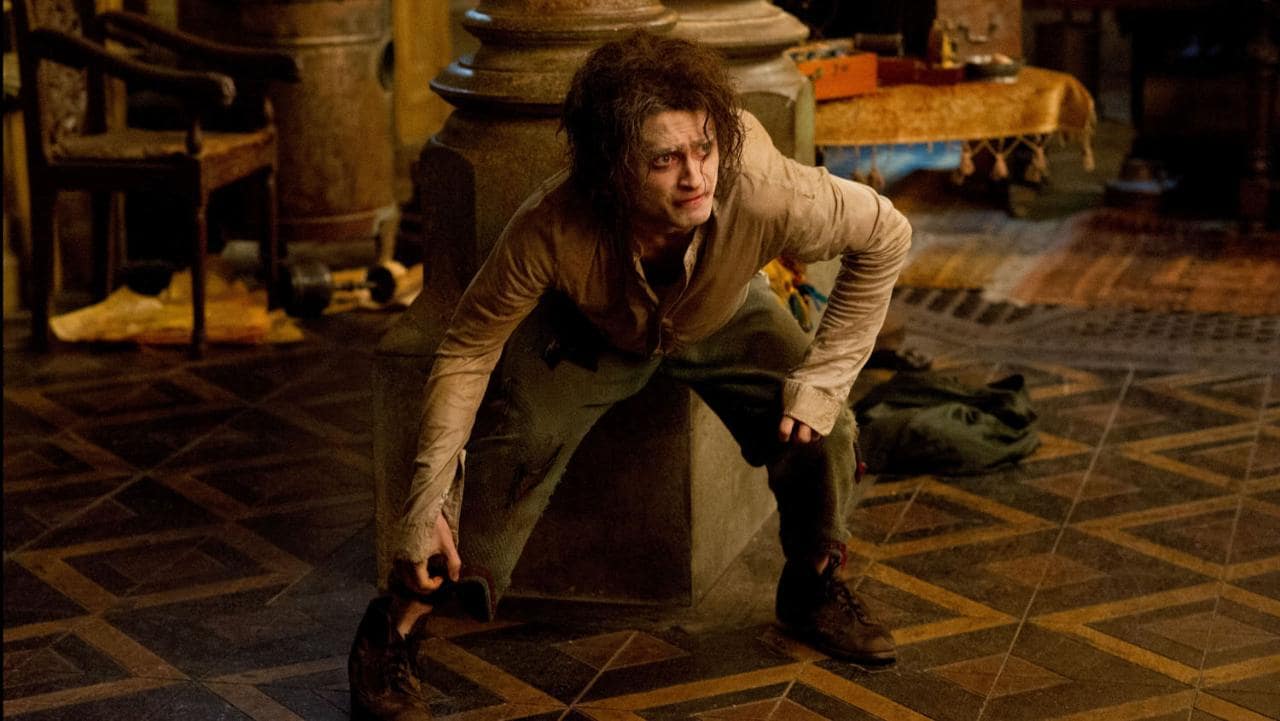 The other character that has been brought in from the films is Andrew Scott's Inspector Turpin who would appear to be a homage/variant on Lionel Atwill's one-armed police inspector who first appeared in Son of Frankenstein (1939). The other creative change that the film gives us is to move the story from Germany, where Mary Shelley sets it and most of the other film versions have kept it, and relocated it in Victorian London towards the end of the 19th Century where the use of electricity is far more widespread than it was in Shelley's time – mindedly, this is an approach that was also taken by the fine monster crossover tv series Penny Dreadful (2014-6).
It is hard to pinpoint exactly where Victor Frankenstein has gone wrong. Part of it may be that this is a production mounted by John Davis, best known as the producer of the Predator series and various other action films. It feels as though all of the elements have been replicated but director Paul McGuigan has been ordered to turn them up to eleven on the dial in an effort to make everything as spectacular as possible. James McAvoy and Daniel Radcliffe don't merely escape from the circus but McAvoy has to turn into an action hero with slow-motion fight scenes, even ones where he conducts home-improvised MacGyver solutions to despatch an opponent. Every scene where the two are assessing bodies, even passing lions in cages, comes accompanied by ridiculous little animated anatomical diagrams.
The monster is not just brought to life by lightning in Frankenstein's laboratory but one that has been built as a vast open-air amphitheatre where the lightning is harnessed by multiple hot-air balloons, where there are a dozen assistants and onlookers and the entire laboratory is blown up and just about everybody killed. (One of the other oddities of the script is how it turns the bringing to life of the monster into the climactic scene whereas every other film version and the book turn it into something that occurs in the first act and then has the rest of the story about the monster's escape and revenge on its creator).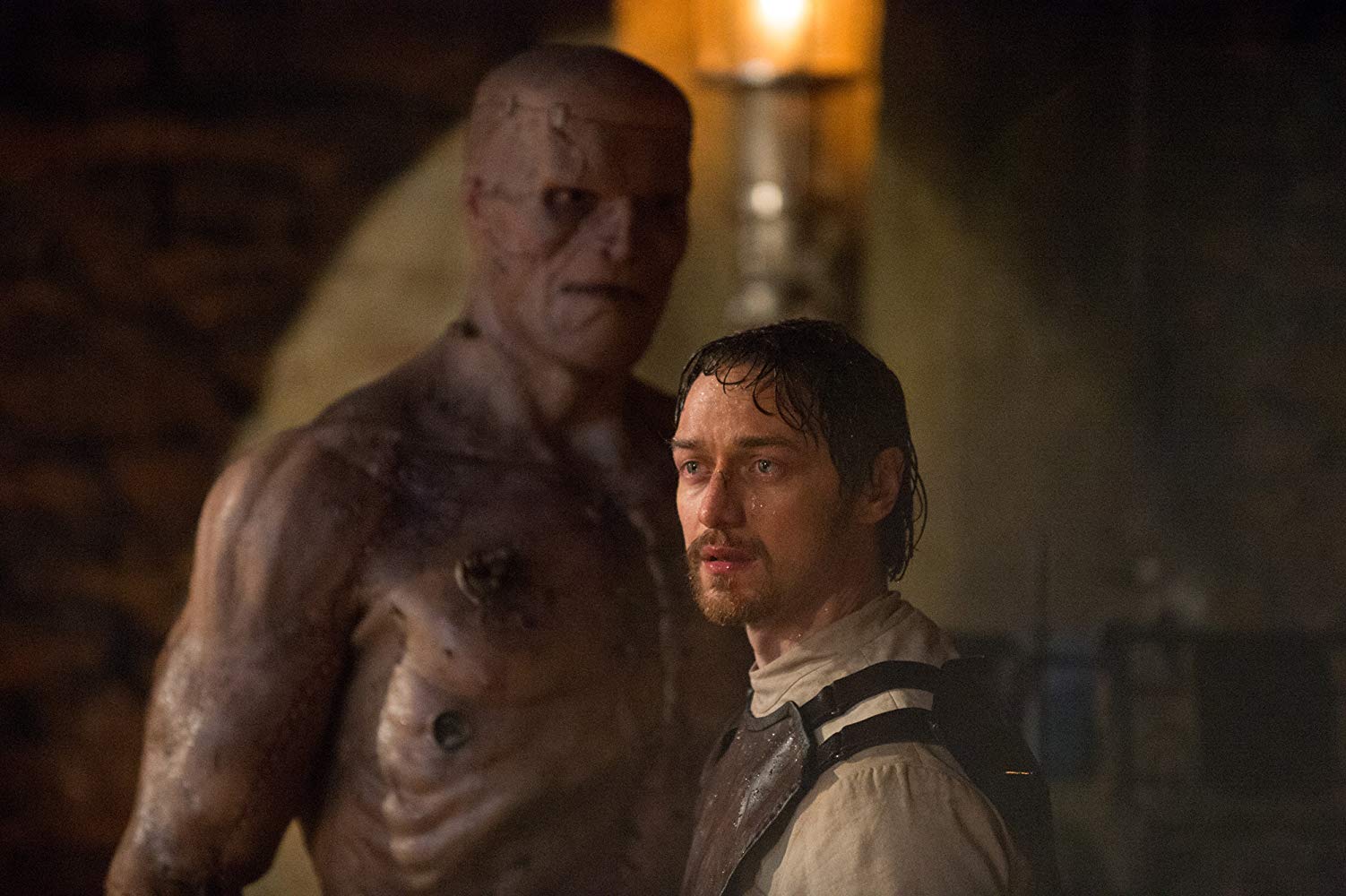 Everything in the film seems overwrought. This is something that frequently collapses into the absurd – like a scene where James McAvoy brings Daniel Radcliffe back to his apartment, produces a massive syringe, jabs it into his back, then sucks the liquid out into a pan, before slamming Radcliffe against the wall and cramming him into a mechanised corset, all to straighten his hunchback. It is a scene that comes out as more funny than it was probably intended due to McGuigan's overblown direction and McAvoy's manic performance.
The film has some exemplary production design. Victorian London is lushly textured and costumed – Paul McGuigan sets up shots just for the loveliness of it like an aerial view down on Jessica Findlay Brown twirling in a scarlet red ballgown. On the other hand, just like the climactic laboratory scene, it also feels over-designed. I mean, did Victorian London ever have steam trains that ran through the heart of the slum areas on elevated tracks? Or where Frankenstein, a struggling student, manages to rent an apartment that takes over an entire multi-story building and contains a massive basement area filled with vast banks of electrical equipment.
All of which brings us to the two central performances. I have a good deal of respect for James McAvoy as an actor – he is talented and has a handsome charm that can hold the screen. On the other hand here, there probably came the orders for him to play a mad scientist with the emphasis on mad. He goes to town on the part and completely eats up the scenery with rafter-rattlingly manic excess.
And there is Daniel Radcliffe – who gets top-billing (making this the only Frankenstein film where the actor playing Igor is the headline name). Radcliffe, though he has been trying, has still not shaken Harry Potter. I am not entirely sure if it is the fact that he has a limited range or else that the parts he is being handed are ones that are too old for him while he is still a young actor. Here he seems massively miscast. Traditionally, Igor is misshapen and imbecilic; with Radcliffe, all we get Igor as an earnest, slightly awkward prep school boy.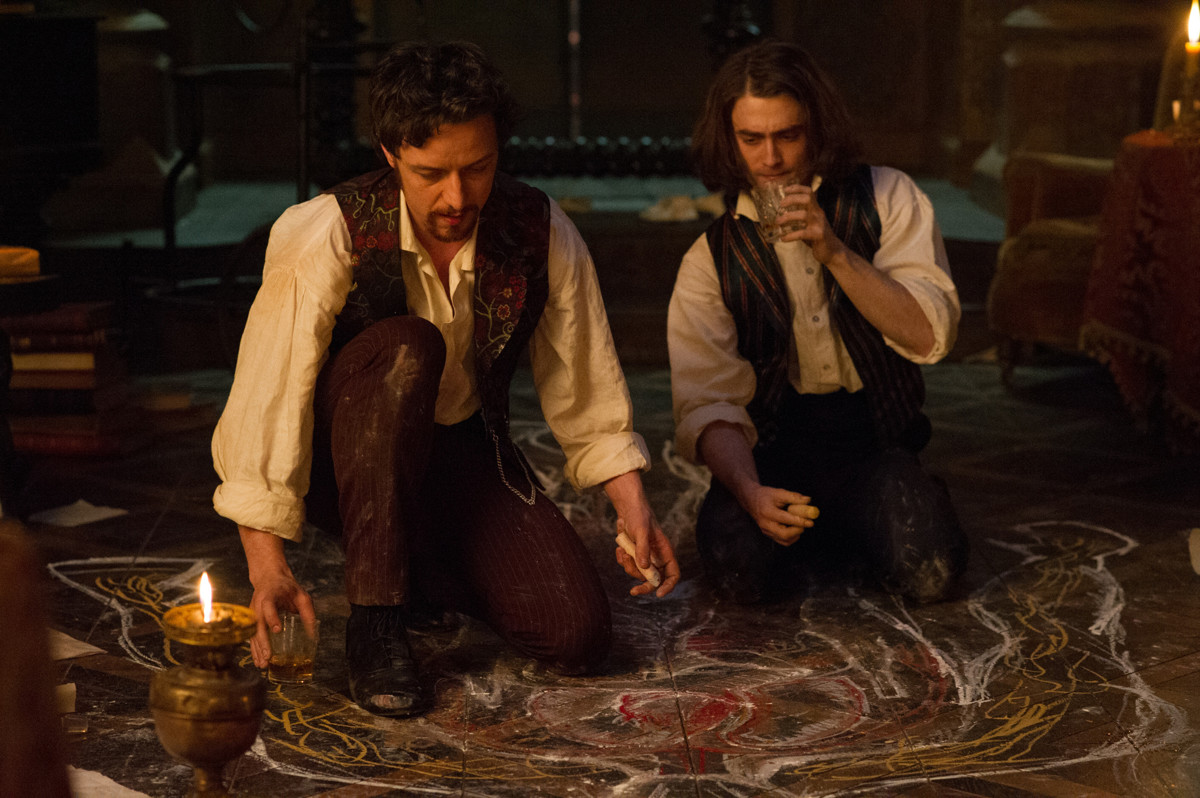 Scottish director Paul McGuigan had previously ventured onto the genre stage with the Irvine Welsh anthology The Acid House (1998) and the fine psychic powers film Push (2009). He made otther efforts such as Wicker Park (2004), Lucky Number Slevin (2006) and Film Stars Don't Die in Liverpool (2017). Screenwriter Max Landis is the son of director John Landis. He debuted with Chronicle (2012) and went on to write American Ultra (2015), Bright (2017), Shadow in the Cloud (2020) and to create the tv series Dirk Gently's Holistic Detective Agency (2016-7).
Other Frankenstein adaptations are:– Frankenstein (1910), the silent adaptation produced by Thomas Edison; Universal's Frankenstein (1931), the classic adaptation with Boris Karloff, which spawned six sequels; Hammer's The Curse of Frankenstein (1957) with Peter Cushing as the Baron and Christopher Lee as the monster, which also spawned six sequels; Hammer's comic remake The Horror of Frankenstein (1970) with Ralph Bates as the Baron and Dave Prowse as the monster; Frankenstein (tv movie, 1973) starring Robert Foxworth as the Baron and Bo Svenson as the monster; Frankenstein: The True Story (1974), a lush British tv mini-series starring Leonard Whiting as the Baron and Michael Sarrazin as the creature; the Swedish-Irish production Victor Frankenstein (1977) with Leon Vitali as Frankenstein and Per Oscarsson as the monster; David Wickes's dreary tv movie Frankenstein (1992) with Patrick Bergin as the Baron and Randy Quaid as the monster; Kenneth Branagh's big-budget Mary Shelley's Frankenstein (1994) with Branagh as Frankenstein and Robert De Niro as the monster; the tv mini-series Frankenstein (2004) with Alec Newman as Frankenstein and Luke Goss as the monster; Danny Boyle's stage version of Frankenstein (2011) with Benedict Cumberbatch and Jonny Lee Miller alternating the role of Frankenstein and creation; and the low-budget Frankenstein: Day of the Beast (2011) with Adam Stephenson as Frankenstein and Tim Krueger as the monster.
(Nominee for Best Production Design at this site's Best of 2015 Awards).
---
---