---
Crew
Director/Screenplay/Photography – Perry Blackshear, Producers – MacLeod Andrews, Perry Blackshear, Evan Dumochel & Kimberly Parker. Production Company – They Look Like People LLC.
Cast
MacLeod Andrews (Wyatt Goodwin), Evan Dumochel (Christian), Margaret Drake (Mara Drake), Mick Casale (Psychiatrist), Elena Greenlee (Sandy)
---
Plot
Christian leads a regular life in a New York City. He works an office job while trying to think of a way to ask out his boss Mara. He then bumps into his childhood friend Wyatt on the street. Wyatt has just returned to town and Christian insists that he come and stay in his apartment. However, Wyatt is hearing voices speaking to him, telling him that there are demons that look like people, that some may even be his friends, and that he will be required to kill them.
---
They Look Like People was a directorial debut for Perry Blackshear who had made a half-dozen short films before. The film gained a great deal of word of mouth around various film festivals.
Perry Blackshear says that he took inspiration from Take Shelter (2011) in which Michael Shannon has hallucinations of the end of the world that only he can see, leading those around him to think of him as crazy. Perhaps you could also point out even greater similarity to the Bill Paxton directed Frailty (2001) in which Paxton played a man receiving visions in which he is told to kill demons that look like ordinary people. They Look Like People has similarities to these but it is also uniquely its own film and one where Perry Blackshear does some remarkable things.
What particularly blew me away during the initial scenes was Perry Blackshear's ability to abruptly jerk us between the internal life/monologue of characters and the world outside – of Evan Dumochel listening to his positive thinking tapes on the subway and then the unexpected jolt as he bumps into MacLeod Andrews on the street.
Elsewhere you are never entirely sure whether Evan Dumohel's attraction to Margaret Drake is all in his head or he is regarded as a serial sexual harasser around the workplace as also seems to be implied. The scene where he goes in to see her, only to be cut loose and then returns to pack up his things and find an anonymous Post-It note "Good luck dominating, asshole," on his desk pulls you back out of his daydream with a considerable jolt.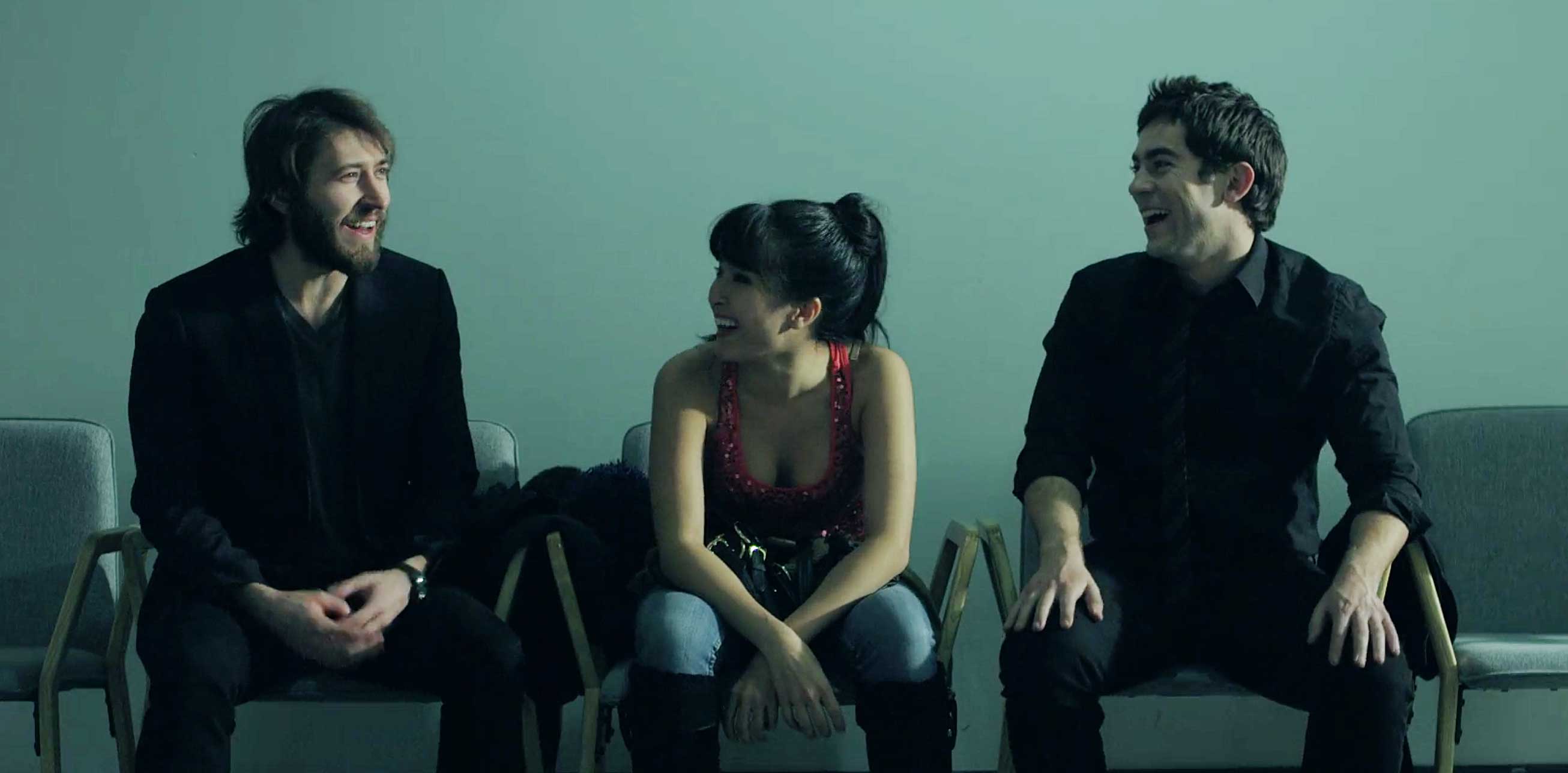 The photography is the raw naturalism we associate with indie films but at the same time the editing scheme is highly calculated. The naturalism of the introductory scenes – of the two friends meeting again and Evan Dumochel inviting MacLeod Andrews to stay, of Evan Dumochel's maybe date with Margaret Drake – jars with the increasingly disturbing elements that enter such as where Andrews goes down to the basement and tapes a knife under the table. Then comes the WTF scene that jolts you wide awake where Andrews gets a phonecall in the middle of the night and goes down into the basement where he is told to await orders to kill people and that he may be asked to kill friends, although is assured that Christian is still a good guy so far.
Perry Blackshear leaves you bewildered and puzzled about what is going on – all in a good way. Things become decidedly chilling when MacLeod Andrews invites Margaret Drake down into the basement and then starts creepily talking to her about sulphuric acid before producing an axe or later where he passes notes to Evan Dumochel that say the battle is about to start. The bizarreness is how in any other film there would be easily cued responses where everybody flips out at this. The surprise is how matter-of-fact everybody reacts – Margaret Drake starts hitting Andrews after he follows her in the street but then turns and feels sorry for hurting him, while Dumochel regards the note as mildly puzzling but doesn't do anything like throw Andrews out on the street.
The most riveting scenes are those that come in the last ten minutes where Evan Dumochel allows MacLeod to tie him up in the cellar as the signal for the end of the world comes (something seemingly reinforced by the power going off) and to place a blindfold over his head. This becomes a gruelling scene as you genuinely do not know where everything is going to end up. Thankfully, Perry Blackshear never ends the film with the cheap twist that both Frailty and Take Shelter fall for.
I only await what Perry Clackshear makes next with great anticipation. This came about with The Siren (2019) about a malevolent water sprite. The film also starred MacLeod Andrews, Evan Dumochel and Margaret Drake, the three leads from here.
---
---