---
Crew
Director – Gil Junger, Screenplay – Peter Gaulke, Darryl J. Quarles & Gerry Swallow, Producers – Michael Green, Arnon Milchan, Darryl J. Quarles & Paul Schiff, Photography – Ueli Steiger, Music – Randy Edelman, Visual Effects Supervisor – Rich Thorne, Digital Effects – Pacific Title (Supervisor – Mark Freund) & Pixel Magic (Supervisor – Raymond McIntyre Jr), Special Effects Supervisor – Michael Schorr, Production Design – Leslie Dilley. Production Company – 20th Century Fox/Regency Enterprises/Epsilon Pictures.
Cast
Martin Lawrence (Jamal Walker), Marsha Thomason (Victoria), Tom Wilkinson (Sir Knolte Marlborough), Vincent Regan (Lord Perceval), Kevin Conway (King Leo), Isabelle Monk (Ms Bostick), Jeanette Weegar (Princess Regina), Helen Carey (The Queen)
---
Plot
Jamal Walker is a janitor at L.A.'s Medieval World theme park. Reaching into the moat to pick up a gold medallion he sees there, Jamal is sucked into the water and emerges in what he eventually finds is England in the year 1328. At the castle of King Leo, he is taken for a messenger from the King of Normandy and afforded great privilege, even though his modern customs raise many eyebrows. While there, he falls for the servant girl Victoria but through her is unwittingly caught up in a people's rebellion to usurp the throne.
---
Martin Lawrence became a name in the 1990s/early 2000s in films like Bad Boys (1995), A Thin Line Between Love and Hate (1996), Nothing to Lose (1997), Blue Streak (1999), Big Momma's House (2000) and Wild Hogs (2007), where he created a persona as a wild and crazy guy, sort of a combination of Eddie Murphy and Cuba Gooding Jr, with both an elastic faced zaniness and a cuddliness that everybody's mother could love. Black Knight was created as a vehicle for Martin Lawrence. The single gag the film has is in setting a hip modern Black man up against the Mediaeval world – "He's About To Get Medieval On You," as the poster promises.
What is not mentioned in either the promotion or the credits of the film is that Black Knight is uncreditedly based on Mark Twain's A Connecticut Yankee in King Arthur's Court (1889). A Connecticut Yankee in King Arthur's Court is a story in which the title character is thrown from the 19th Century back to the times of King Arthur and uses modern Yankee ingenuity and knowhow to show up the Mediaevals with comic results. The story has been filmed a number of times – in 1921, 1931, a 1989 tv movie, the inevitable A Kid in King Arthur's Court (1995), the modernised A Knight in Camelot (1998) and most famously as the excruciating Bing Crosby musical A Connecticut Yankee in King Arthur's Court (1949) and the Disney comedy Unidentified Flying Oddball/The Spaceman and King Arthur (1979).
Where the comedy in Mark Twain's story and most film versions is a play on modern knowhow upstaging Mediaeval lack of sophistication and pomposity, Black Knight generates its comedy around Martin Lawrence doing what is essentially a stand-up routine in the Middle Ages. Indeed, the film happily spears any connection to a A Connecticut Yankee in King Arthur's Court ingenuity-wins-out story with Martin Lawrence producing a cigarette lighter just as he is about to be executed, only to be booed "We already have fire."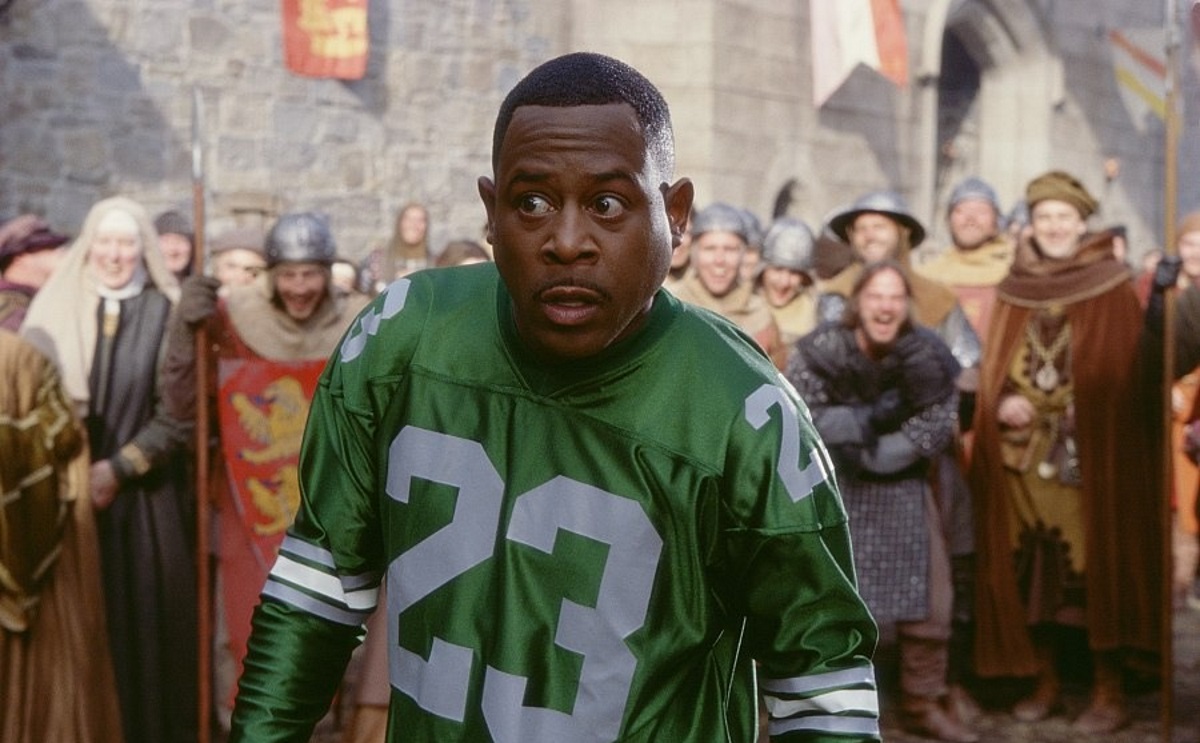 Black Knight centres around predictable gags about Lawrence introducing modern culture to the Middle Ages – showing people how to High Five, putting Reeboks on knights instead of armoured heels, seeing the Mediaevals spouting modern colloquialisms, calling himself Sir Skywalker, introducing rock music and so on. It is a mark of Black Knight's lack of originality that these last two gags – the hero naming himself after characters in Star Wars (1977) and introducing rock music to the past – were both done before in Back to the Future (1985).
As with much of modern mainstream comedy, there is a good deal of joking around poop, Mediaeval lack of cleanliness, sanitation and eating habits. Everything takes place with great predictability – Lawrence humiliates the handsome bad knight, inspires the peasantry to rise up against the bad king, learns the meaning of … [insert your own cliche], fallen knight regains his glory. The film even plays the oldest cliche in the time travel fantasy book of the hero returning to the present to find a modern equivalent of his Middle Ages girlfriend waiting. The comic meeting of modern and Mediaevals was done much funnier and with much greater originality in Les Visiteurs (1993).
Martin Lawrence also Exec Produces the film. Fairly much the whole film has been construed around this one facet – everything is designed to either reflect or amplify Martin Lawrence the funny crazy guy. Certainly, his zany nonsense keeps it going, but the essential mark is that take Martin Lawrence out of it and there is nothing else to Black Knight.
---
---