---
Crew
Director – Rob Letterman, Screenplay – Joe Stillman & Nicholas Stoller, Based on the Novel by Jonathan Swift, Producers – Jack Black, Ben Cooley, John Davis & Gregory Goodman, Photography – David Tattersall, Music – Henry Jackman, Visual Effects Supervisor – Ellen M. Somers, Visual Effects – The Base Studio, [Hy*drau*lx] (Supervisor – Eric Liles), Pixel Playground (Supervisor – Don Lee), Rodeo FX, Scanline VFX (Supervisor – Bryan Grill), Weta Digital (Supervisor – Guy Williams), Special Effects Supervisor – Dominic Tuohy, Production Design – Gavin Bocquet. Production Company – 20th Century Fox/Dune Entertainment/Davis Entertainment/Ingenious Media/Big Screen Productions/Phoenix Film Partners.
Cast
Jack Black (Lemuel Gulliver), Jason Segel (Horatio), Chris O'Dowd (General Edward Edwardian), Emily Blunt (Princess Mary), Amanda Peet (Darcy Silverman), Billy Connolly (King Theodore), T.J. Miller (Dan Quint), Catherine Tate (Queen Isabelle), James Corden (Jinx), Stewart Scudamore (Blefuscian Captain), Danni Benatar (Giant Princess)
---
Plot
Lemuel Gulliver is a mailman with The New York Tribune and feels a loser because he has never progressed anywhere beyond that, nor had the courage to tell the object of his desire, travel editor Darcy Silverman, about his feelings. He bumbles about trying to talk to Darcy and blurts out that he wants to write travel articles. He submits an article (material he has copied from the internet) so she assigns him to write a piece on a Bermuda Triangle cruise. Gulliver departs on a boat but is sucked into a giant waterspout. He comes around tied up on a beach by an army of tiny people. He learns he is in the land of Lilliput where he is now a giant. He soon earns the trust of the Lilliputians, although considerably embellishes the truth about the importance of who he is back in New York City. In inspiring his friend Horatio to stand up to win the affections of the Princess Mary, Gulliver earns that enmity of Mary's betrothed General Edward Edwardian who determines to get rid of Gulliver.
---
Jonathan Swift's Gulliver's Travels (1726) is a classic work of literature. The misnomer that most people have is that it is a children's story. I am not sure at what point this started to come about and suspect it might have had something to do with the various film versions, most notably Gulliver Mickey (1934), a Disney cartoon short in which Mickey Mouse inherits the role of Gulliver, and the Fleischer Brothers' feature-length animated Gulliver's Travels (1939). Jonathan Swift's book is an adult satire that comprises of four parts.
Most of the film versions and children's story reprintings of the book eliminate the last two sections of the story – wherein Gulliver visits the floating island of Laputa that is inhabited by scientists and the land of the talking horses known as Houyhnhnms – and simply concentrate on the first two parts involving Gulliver's travels in the lands of Lilliput and Brobidnag where he is respectively at giant and miniature size. Some of the film versions – the 1939 animated version and Gulliver's Travels (1977) – even drop the journey into Brobdingnag and keep the story entirely in the land of Lilliput. Indeed, the only adaptation to film all four parts was the Hallmark tv mini-series Gulliver's Travels (1995) starring Ted Danson, which is incidentally also remains the finest version of the story to date.
Gulliver's Travels 2010 appears to be following suit, although there is a brief sojourn towards the end where Jack Black ends up in another land and becomes the toy in the playhouse of a giant child, even though this is never mentioned as being the land of Brobdingnag.
Principally, Gulliver's Travels 2010 has been intended as a vehicle for Jack Black who also acts as a co-producer on the film. Jack Black had been appearing in various bit parts since 1991 and gained fame with the comedy rock act Tenacious D, which spawned a tv series Tenacious D (1997-2001). Black first emerged as a leading actor with Saving Silverman (2001) and was propelled to an A-list star with the hit of School of Rock (2003). Since 2001, Black has been pegged in various comedic roles such as Shallow Hal (2001), Nacho Libre (2006), Tenacious D in the Pick of Destiny (2006), Be Kind Rewind (2008), Tropic Thunder (2008), Year One (2009), and voice animation work in Ice Age (2002) and Kung Fu Panda (2008). Despite various serious acting outings in films such as Jesus's Son (1999), King Kong (2005) and Margot at the Wedding (2007), Black has become typecast in a comedy vein where he does his own uniquely wacky and seemingly off the cuff thing.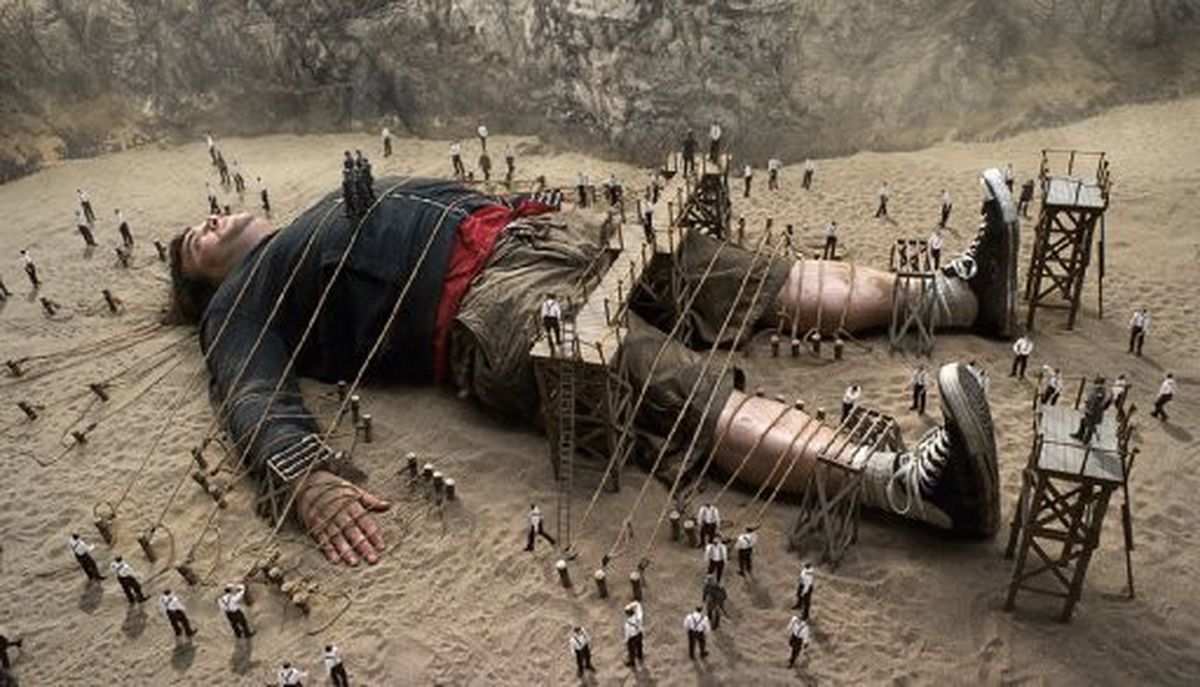 The problem with the Jack Black thing is that it was amusing in 2003 when he hit his peak. Since then he has done remarkably little to vary beyond his wild and wacky persona. He is like the performer who keeps doing the same comedy routine each night without variation even when the material has gotten stale. Evidently, going by Gulliver's Travels miserable box-office returns (opening in 8th place with a domestic US opening of $6.3 million up against a budget of some $112 million – and that despite the artificially heightened 3D ticket prices) audiences appear to have started to switch off to the Jack Black phenomenon as well.
Even given that most versions of Gulliver's Travels regard it as a children's film about one man's adventures in a land of little people and giants, you are still taken aback at what the 2010 version has done to the story. The Jonathan Swift book was an absurdist story that dug into the foibles of 18th Century society. Much of the story, for instance, is articulated as a satiric attack on various forms of government with Gulliver at the end despairing of the human world and deciding to live among the Houyhnhnms.
By contrast in Gulliver's Travels 2010, the story becomes a springboard for Jack Black to do the Jack Black thing in a land of little people amid much in the way of cutsie popular culture humour. This, for example, is the only version of Gulliver's Travels to update the story to the present-day. Thus Gulliver goes from a ship's doctor to a lowly postal worker who, through a complicated scheme that can only happen in Hollywood films, ends up as a travel writer who vanishes through the Bermuda Triangle. His fiancee back home becomes a standard comedy variant on the hero's unrequited love interest.
This is also a Gulliver's Travels that has been relentlessly colonised by pop culture. Gulliver is now a Guitar Hero buff and plays with Star Wars (1977) figurines in his apartment. This is repeated later in the film where Jack Black has the Lilliputians build him a giant-sized theatre where he gets them to put on miniature re-enactments of The Empire Strikes Back (1980) and Titanic (1977) (all incidentally 20th Century Fox copyright titles) or act as miniature Kiss lookalikes for a live game of Guitar Hero. Elsewhere he has the Lilliputians build an elaborate mock-up of Times Square with billboards advertising everything from Rolex, Calvin Klein, Wicked (2003) and 20th Century Fox's Avatar (2009) done out with his name and/or likeness. There is even a gag where Black turns the Lilliputians into a human version of table football. There are also scenes where he uses the lyrics of Prince's Kiss (1986) as romantic advice Cyrano de Bergerac style and a last scene rendition of Edwin Starr's War (1969) by he and Amanda Peet accompanied by the Lilliputian army. It is the constant insertion of popular culture gags as quickshot references to get a laugh from modern audiences that has infected much in the way of fantasy over the years – director Rob Letterman's Shark Tale (2004) is a prime example of this.
Underneath the mild amusement offered by some of these gags, you might want to question the implications of what it is that the film seems to innocuously sanction wherein a self-proclaimed loser who physically dominates another country corrals its people in a massive outlay of labour to produce giant-sized testaments to his own glory and rewrites popular stories to feature himself as the hero. In the real world, similar things were conducted by Josef Stalin, Saddam Hussein, Nicolae Ceaucescu and Kim Jong Il, where the results were less amusingly seen in terms of a tyrannical dictatorship. If nothing else, you are a little taken aback with the idea the film seems to approve of about taking over another country and reorganising its people to recreate massive displays of US popular culture.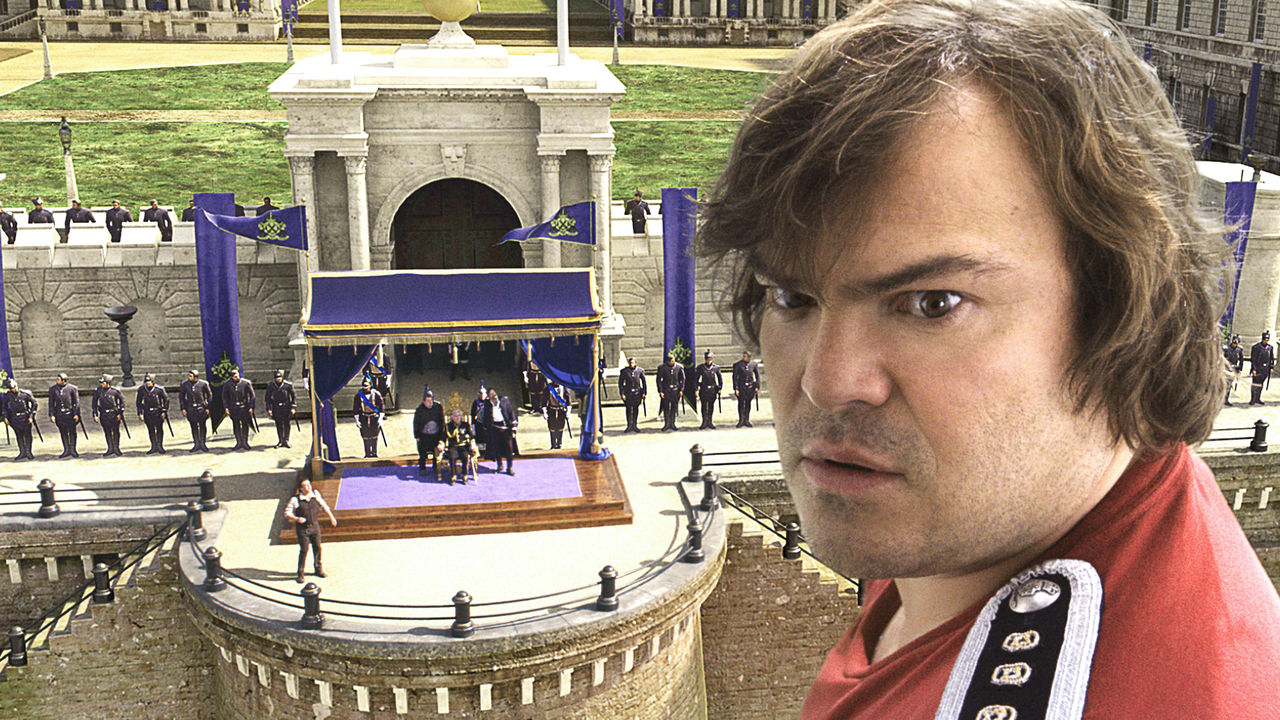 Gulliver's Travels is directed by Rob Letterman who started out in the animation department for DreamWorks and quickly became co-director and co-writer of Shark Tale (2004) and Monsters vs Aliens (2009). Under Rob Letterman's hand, Gulliver's Travels 2010 plays out as forgettable popcorn fodder. It has enough comedic energy and occasional cuteness to some of its gags that it is not the turkey that some reviewers immediately consigned it as being.
On the other hand, it is not an inspired film. It mostly centres around a series of vulgar gags – the Lilliputians firing grappling hooks that pull Jack Black's pants down across his butt; he putting out a palace fire by pissing on it (which to its credit is a scene that does come from the book); the showdown with a giant Transformer robot that defeats Black by giving him a wedgie (oh yes, this is also a version of Gulliver's Travels where the villain builds a Transformer robot for himself). The classic scene in the book and most of the films where Gulliver defeats the Blefuscian armada of ships by towing them away is now reduced to a scene where the ships fire on Jack Black and he repels their cannonballs back at them off his protuberant belly. It is the centring of Jonathan Swift's satire down at the level of these lame gags that ultimately defeats the film.
One suspects that another reason for the low box-office returns of Gulliver's Travels 2010 has something to do with the fact that it joins the 2010 fad for 3D films following the success of Avatar. Like a number of other ignoble films that came out during this fad – Alice in Wonderland (2010), Clash of the Titans (2010), My Soul to Take (2010), The Green Hornet (2011) and most notoriously The Last Airbender (2010) – it is not a genuine 3D film but a fake one that was converted in post-production. As with these other films, all that you have are inferior films wrenching themselves out of their native format to jump aboard a momentary box-office fad. In watching Gulliver's Travels 2010, there is nothing that it gains from its 3D conversion that it would not have had if were it screened in 2D.
Rob Letterman next made the live-action film version of Goosebumps (2015), also starring Jack Black, and Pokemon Detective Pikachu (2019).
Other versions of Gulliver's Travels are:– Georges Melies's Gulliver's Travels Among the Lilliputians and the Giants (1902); Segundo de Chomon's Gulliver in the Land of the Giants (1903); a Russian version The New Gulliver (1934); Max Fleischer's animated version Gulliver's Travels (1939); The 3 Worlds of Gulliver (1960) from cult stop-motion animator Ray Harryhausen; a Japanese anime version Gulliver's Travels Beyond the Moon (1965); a live-action Czech version in 1970; a live-action Hungarian version for tv in 1974: Gulliver's Travels (1977), a partially animated Belgian version starring Richard Harris; Gulliver in Lilliput (1982), a four-part BBC tv version; The Voyages of Gulliver (1983), an animated Spanish version; an American animated tv series Gulliver's Travels (1992); Gulliver's Travels (1995), a tv mini-series starring Ted Danson, the finest and most faithful of the adaptations and the only one to cover the entire book; and the animated sequel Gulliver Returns (2021).
---
---