---
Crew
Director – Jon Favreau, Screenplay – David Berenbaum, Producers – Jon Berg, Todd Komarnicki & Shauna Robertson, Photography – Greg Gardiner, Music – Jon Debney, Visual Effects Supervisor – Joe Bauer, Visual Effects – Digital Domain (Supervisor – Benoit 'Ben' Girard) & Rhythm and Hues (Supervisor – Bill Westenhofer), Stop Motion Animation – Chiodo Brothers Productions (Supervisor – Stephen Chiodo), Miniatures – Cinema Production Services, Special Effects Supervisor – Tony Lazarowich, Makeup Effects – Gitte Axen & Rebecca Delecambre, Production Design – Rusty Smith. Production Company – Guy Walks Into a Bar Productions/Munich Carlyle Productions GmBh.
Cast
Will Ferrell (Buddy), James Caan (Walter Hobbs), Zooey Deschanel (Jovie), Mary Steenburgen (Emily Hobbs), Bob Newhart (Papa Elf), Edward Asner (Santa Claus), Daniel Tay (Michael Hobbs), Faizon Love (Gimbel's Manager), Amy Sedaris (Deborah), Michael Lerner (Fulton), Peter Dinklage (Miles Finch), Andy Richter (Morris), Kyle Gass (Eugene Dupree), Claire Lautier (Charlotte Dennen)
---
Plot
Santa is delivering presents at an orphanage when a baby crawls into his sack and is unwittingly transported back to the North Pole. Santa decides to let the baby stay and become one of the elves. The others name him Buddy. As he grows into adulthood, Buddy's 6'3″ size dwarves the other elves and he feels out of place with his constant clumsiness. One day, Buddy overhears the other elves talking and makes the shock realization that he is not an elf but a human. He learns that his real father is children's book publisher Walter Hobbs and decides to set out on a journey to New York City to find him. In New York City, all those he encounters, including the curmudgeonly Walter, dismiss Buddy's child-like Christmas homilies as crazy behaviour. After Buddy is arrested, Walter reluctantly bails him out. When a paternity test confirms that Buddy is his son, Walter reluctantly allows him to come and stay at his apartment. There however Buddy's simple-minded presence ends up creating chaos.
---
Elf is one of those Christmas-themed family films that studios seem to think is their duty to put out every couple of years. Elf opened to some good US reviews, saying it was better than people expected – but then most of these were from the critics who seem to develop a blind spot and suspend all critical functions whenever it comes to family and in particular Christmas-themed fare – and proved to be a surprise seasonal hit.
The oddity about Elf is the people behind it – New Line Cinema, who are not exactly known for their family fare, while it is directed by Jon Favreau, who is better known as an actor. Favreau previously established his credentials as a writer of quirky indie character comedies, including the screenplay for Swingers (1996) and the Mob comedy Made (2001), where he also his directorial debut. Subsequent to this, Favreau would go on to become better known as a director than an actor and made a number of high-profile films including the hits of the first two Iron Man films.
The plot of Elf seems to have thrown together by someone who was clearly thinking of Miracle on 34th Street (1947). The early part of the film heads off on a reprise of Miracle on 34th Street with its plot of a North Pole denizen come to New York City and mistakenly getting a job at a department store where his patent insistence in the reality of Santa and Christmas ends up having him believed mad but also inspires the department store to think of Christmas spirit over profit – although this plotline is soon abandoned. There is also a good few dashes of the delightful bodyswap film Big (1988) – both films feature outward-seeming adults who are or at least have the mental age of a child; both also feature said character becoming involved with a curmudgeonly father figure who manufactures product for children (toys in Big, children's books here) and showing him how to be child-like again.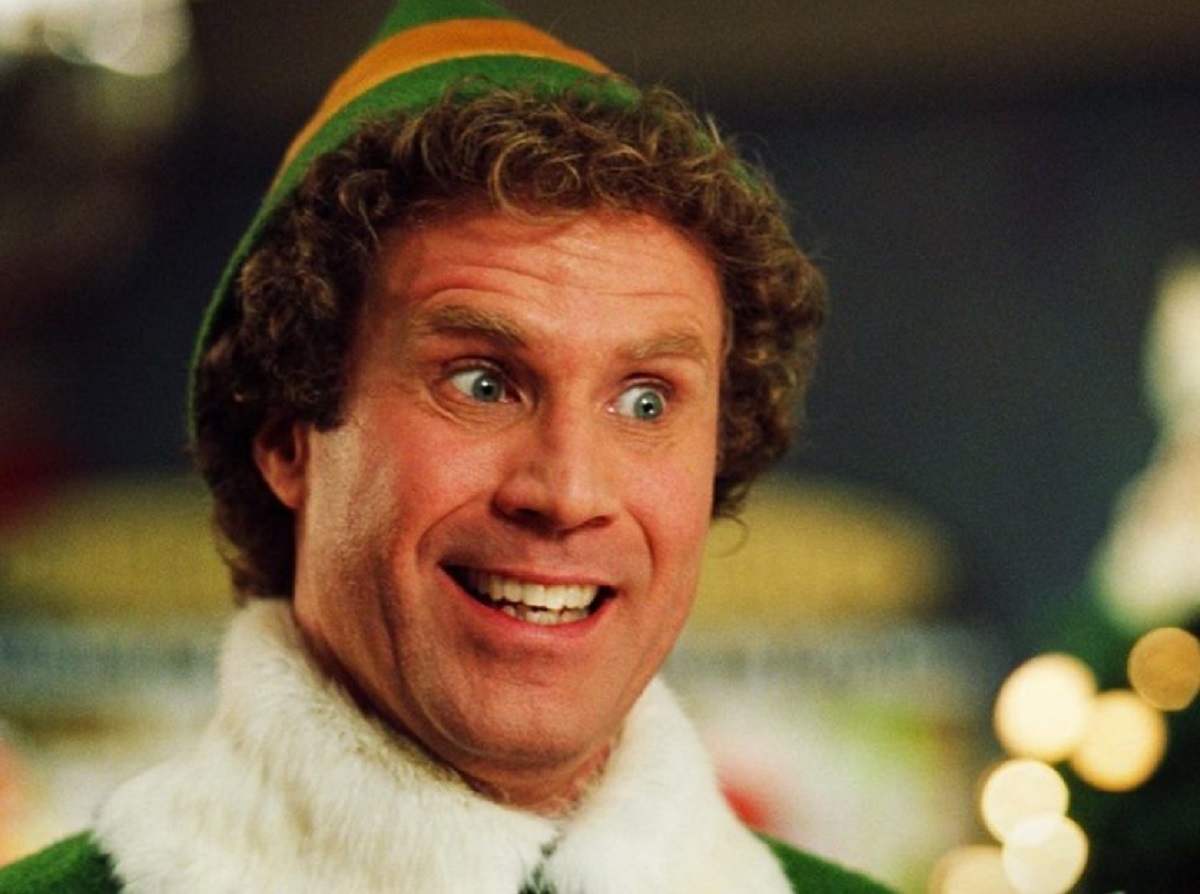 For all Jon Favreau's indie movie credentials, one feels that Elf should have been more than it is. Certainly, Favreau indulges an eccentricity at times – including encounters with stop-motion animated creatures crafted by the Chiodo Brothers – snowmen, whales and journeys through a candy cane forest that look as though they have strayed in from a Tim Burton film. This is a film that needs a certain manic giddiness to its silliness to work but Jon Favreau directs in far too mannered a way and crucially never particularly winds any situation up.
About the only thing going for the film is Saturday Night Live (1975– ) alumnus Will Ferrell, who subsequently became an A-list name after his breakout performance here. The basic concept of the film is 6'3″ Ferrell as a mismatched elf out of water. It is the sort of role you could imagine Robin Williams having a field day with but the way that Will Ferrell plays the part is as a simple-minded kid of around pre-school age. It is a one-note performance – Ferrell spends the entire time skipping around in a big green suit and hat, getting giddy and excited and wanting to give everybody hugs.
That is about the sum total of Elf as a concept. You might compare Elf to Big, which did the concept of a young child in a man's body with a genuine poignance – alas, Jon Favreau seems a little standoffish when it comes to sentiment and the film never does anything except play off the laughs of a grown man acting like a kid.
Jon Favreau's casting coup proves to be James Caan. For anyone who comes to Elf with memory of James Caan's history in tough guy, men's men roles, the idea of seeing him cast as a misanthropic curmudgeon whose character arc is slowly to have his heart warmed up throughout, this is a near-perfect piece of casting. Only, Jon Favreau fumbles it. Apart from a couple of his initial scenes, Caan never gets to play a Scrooge-like curmudgeon – at most his character seems a run-of-the-mill workaholic. All the meanness of someone sending out children's books with the last pages missing is swept under the carpet and instead the central drama of the film focuses around him trying to find a new publishing hit (although these scenes do feature a very funny scene-stealing performance from Peter Dinklage). We never have any scenes where James Caan gets to tear his hair out because of Will Ferrell's antics.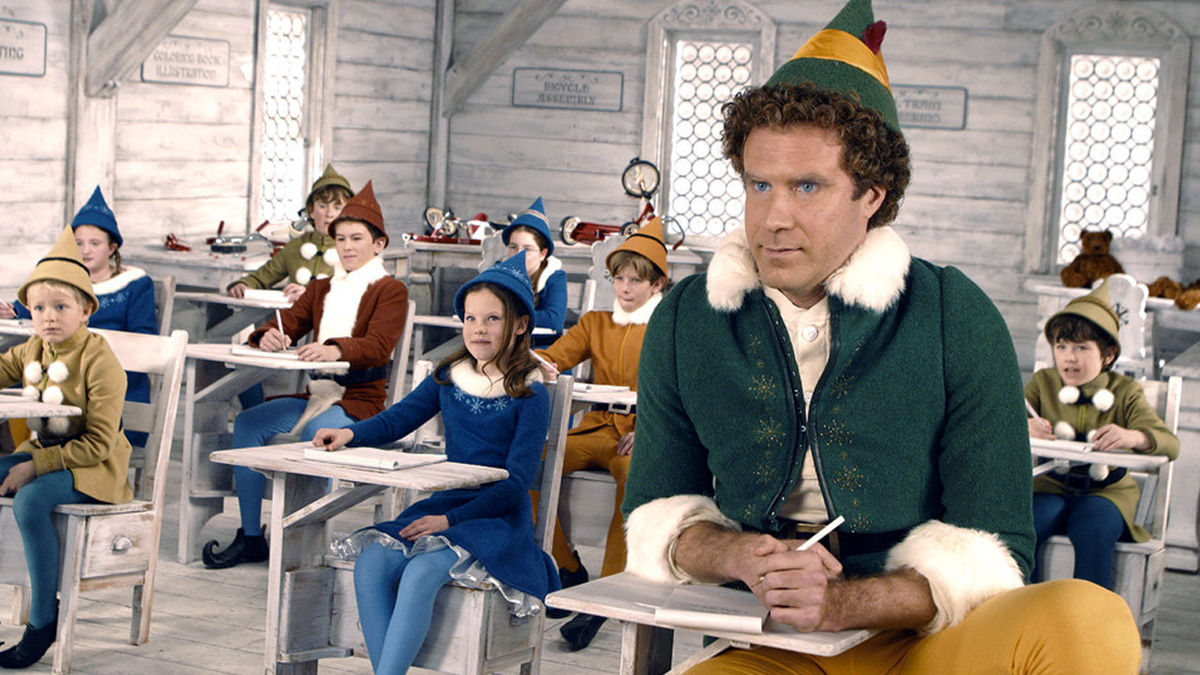 Caan gets a redemption later on when he walks out on a business conference because his younger son needs him, but this is a redemption that seems poorly motivated – for one, it should have been Will Ferrell he walked out for, not the less significant character of his other son, and secondly because this seems to come out of the blue without any motivation or moral wavering. At the end, Caan joins in the Christmas Carol singalong but even this has to come with a little prodding – in a film like this, it should have been a character transformation akin to Scrooge's suddenly bursting out into song and dancing with the joy of life at the end of A Christmas Carol (1843).
Jon Favreau next stayed in the fantasy genre and proved himself with the surprisingly good children's film Zathura: A Space Adventure (2005), then went onto the Marvel Comics adaptation Iron Man (2008) and its sequel Iron Man 2 (2010), the science-fiction Western Cowboys & Aliens (2011) and the live-action versions of The Jungle Book (2016) and The Lion King (2019). He also acts as executive producer on the post-catastrophic tv series Revolution (2012-4), Iron Man Three (2013), Avengers: Age of Ultron (2015), Avengers: Infinity War (2018) and Avengers: Endgame (2019).
(No. 7 on the SF, Horror & Fantasy Box-Office Top 10 of 2003 list).
---
---