---
Crew
Director – Frank Coraci, Screenplay – Steve Koren & Mark O'Keefe, Producers – Jack Giarraputo, Steve Koren, Neal H. Moritz, Mark O'Keefe & Adam Sandler, Photography – Dean Semler, Music – Rupert Gregson-Williams, Visual Effects Supervisor – Peter G. Travers, Visual Effects – Sony Pictures Imageworks, Remote Menu – Blackbox, Additional Visual Effects – FrameFlow, Lola Visual Effects, Pixel Magic & Yannix Technologies, Special Effects Supervisor – John Hartigan, Makeup Effects Supervisor – Rick Baker, Makeup Effects – Cinovation Studios, Production Design – Perry Andelin Blake. Production Company – Happy Madison Productions/Original Films/Columbia/Revolution Studios.
Cast
Adam Sandler (Michael Newman), Christopher Walken (Morty), Kate Beckinsale (Donna Newman), David Hasselhoff (John Ammer), Henry Winkler (Ted Newman), Jake Hoffman (Ben Newman 22-30 Years Old), Julie Kavner (Trudy Newman), Jennifer Coolidge (Janine), Sean Astin (Bill Hurley), Joseph Castanson (Ben 7 Years Old), Jonah Hill (Ben 17 Years Old), Tatum McCann (Samantha 5 Years Old), Cameron Monahan (Kevin O'Doyle), Rachel Dratch (Alice/Alan), Nick Swardson (Bed, Bath & beyond Guy), Lorraine Nicholson (Samantha 14 Years Old), Katie Cassidy (Samantha 22-30 Years Old), Sophie Monk (Stacy), Michelle Lombardo (Linda)
---
Plot
Architect Michael Newman feels frustrated with his job and family and at not having gotten where he wants to be in life. He goes to a department store seeking a universal remote that will help sort out his confusion over the various remote controls in his house. In a back room, he meets the strange Morty who gives him a new experimental remote control but warns that it cannot be thrown away. Michael soon finds that the remote will do more than control his tv set and will also pause, mute and fast forward real life as well, even access previous chapters and a commentary menu. He uses this to mute or fast-forward through the dull and uninteresting parts of his life and to get ahead at work. However, he soon finds that the remote's learning function has taken over and is skipping through parts of his life without any control. Skipping years at a time into the future, he finds that he is speeding past crucial events of his life and that his wife has left him and his father has died without him even having been there.
---
Click feels like a film that some people might have thought was a good idea after several beers. Indeed, it feels like someone had sat down after watching The Truman Show (1998) and thought of the next logical step beyond that – of going from someone whose life is a tv show, to thinking what if you had a remote control and interactive menu to said tv show. It's a light fantasy concept that a more frivolous episode of The Twilight Zone (1959-63) might have construed had such things as video/dvd remotes been around in its heyday.
Click has been construed as a vehicle for Adam Sandler. Adam Sandler came to prominence in the last few years with films such as The Wedding Singer (1998), The Waterboy (1998), Big Daddy (1999), Little Nicky (2000), Mr Deeds (2002), Punch Drunk Love (2002), Anger Management (2003), 50 First Dates (2004), I Now Pronounce You Chuck and Larry (2007), You Don't Mess With the Zohan (2008), Bedtime Stories (2008), Grown-Ups (2010), Jack and Jill (2011), Pixels (2015), The Ridiculous 6 (2015) and Hubie Halloween (2020). Most of Adam Sandler's films are comedies that sit in a vulgar place.
For the most part, Click trades in familiar Adam Sandler-esque crude humour – jokes about racial caricatures (Arabs and Japanese), about ugly and overweight girls, gags about Sandler farting in David Hasselhoff's face and one scene where Sandler sits in a hospital bed playing with a flap of fat on his stomach right throughout for some reason. For its most part, Click is an underdog fantasy – one that plays into a familiar arc wherein someone is given a fantastical device/ability that allows them to get one over the people who give them a raw deal in life.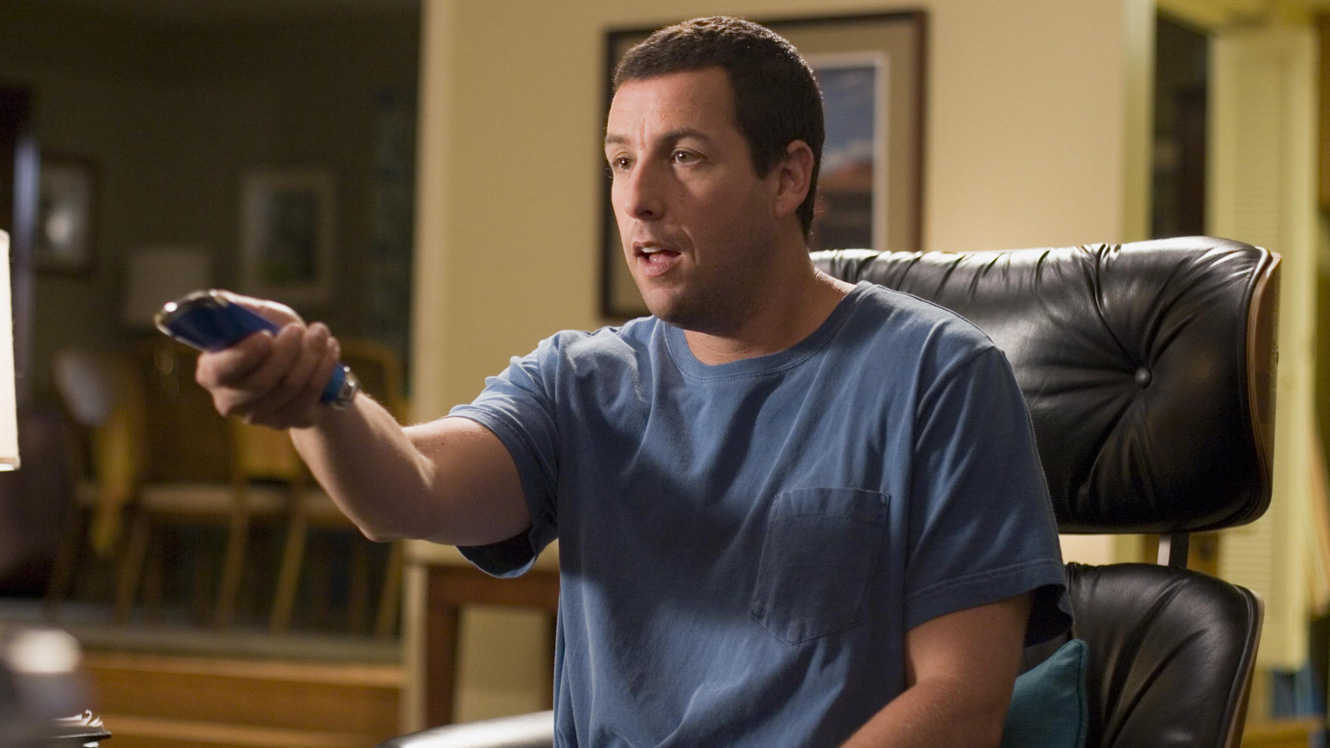 Alas, with Adam Sandler in the central role, this underdog fantasy emerges mean-spiritedly – we get scenes of him laughing at being able to run over the obnoxious kid next door's robot dog or pausing a scene to let a baseball smack the kid in the face; or makes fun of caricatured characters like Jennifer Coolidge's multiple divorcee or David Hasselhoff's jerk of a boss. Moreover, Adam Sandler's persona is too cocky and self-assured to seem convincing as the person downtrodden by life that these underdog roles need – Click is a film that needs someone like Ben Stiller who can do the whole angry underdog role to perfection, rather than the smugly mocking Sandler.
Adam Sandler films vie between the peculiar extremes of vulgar humour and maudlin sentiment. It is a sometimes incongruous balance that overbalances into the nauseatingly twee – as in Big Daddy. (Although there are times that Sandler is capable of surprising – such as the delightful 50 First Dates). There is that same balance of the twee and the vulgar here in Click – in the midst of a death scene where Sandler is trying to tell his family how much they mean to him, he has to sidetrack off from the supposedly poignant moment to give the finger to Sean Astin. In addition, Click is also burdened with a phoney sense of moralism. The latter half of the film heads off into a diatribe about Sandler having missed out on the small things of life, yet you cannot help but notice that the film's comedy and indeed trailer is premised around enjoying the comic (ie frivolous) possibilities that the remote control device offers.
The last half of Click does surprise as it goes from a vulgar underdog fantasy to become a time travel film as it follows Adam Sandler in huge leaps through the rest of his life and into the future (where the film does definitely venture into the science-fictional). There are times that Click almost becomes a variant on Slaughterhouse Five (1972), which had the aging Michael Sachs travelling back and forward throughout his own life. This section surprised one, as it is an unexpectedly serious turn and conceptual tangent for an otherwise non-intellectual and vulgarly focused film to take.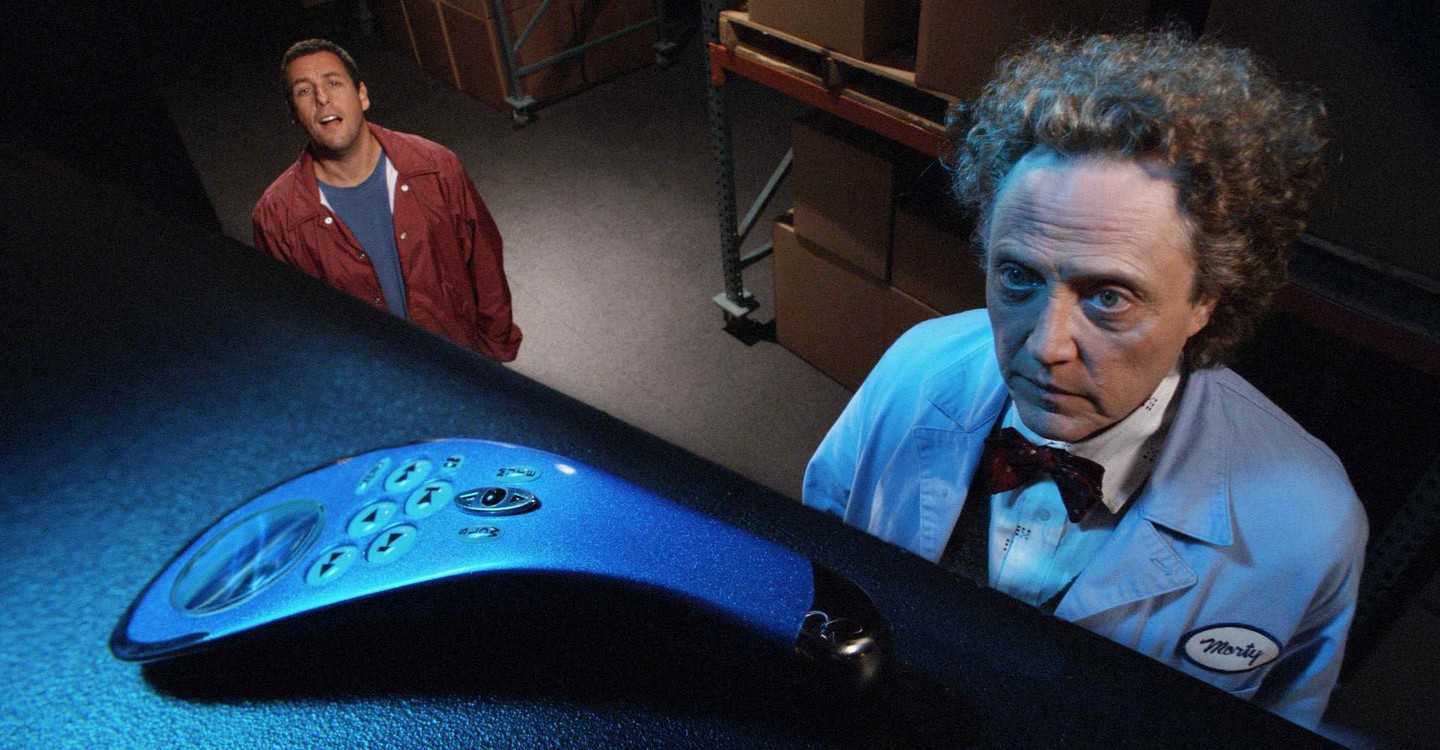 Ultimately though, Click only places all of this towards a conservative fantasy – another cliché that we received as a result of The Twilight Zone – that of the man who is granted a fantastical gift that makes remarkable changes to his life but then sees the downside and realises that he is better off with what he had and regains an appreciation of the small overlooked things of life rather than aspiring to changing anything.
It is clear here that Click is also clearly a film that has been made by Adam Sandler who has just started to discover himself as a family man – he became a father for the first time a month before Click was released and the end credits dedicate the film to Sandler's family. Here though, the film's theme of a man having missed many of the ordinary things about his family is laid on with a trowel.
Click is directed by Adam Sandler regular Frank Coraci who has been an Adam Sandler regular, also directing The Wedding Singer (1998), The Waterboy (1998), Blended (2014) and The Ridiculous 6 (2015). Coraci also ventured into genre material with the flop Jackie Chan comedy Around the World in 80 Days (2004), I'm in Hell (2007) about a banker who returns from Hell, and the Sandler produced Zookeeper (2011) where talking animals in a zoo help out a zookeeper with romantic advice.
---
---