---
Crew
Director/Screenplay – John W. Doyle, Producers – Paul Pope & Jennice Ripley, Photography – Brian R.R. Hebb, Music – Eric Cadesky & Nick Dyer, Production Design – Pam Hall. Production Company – Film East Inc.
Cast
Raoul Bhaneja (John the Baptist), Mary Walsh (Marietta), Andy Jones (Rick), Jordan Canning (Alison), Rick Boland (Pope Innocent XVI), Greg Malone (Cardinal Vignetti), Janet Michael (Virgin Mary)
---
Plot
On November 1, 1999, The Virgin Mary appears to The Pope to announce that God has decided to shut the human experiment down. John the Baptist is sent to Earth to find one last shred of hope. Arriving in St John's, Newfoundland, John is taken in by Rick, an electronics repairman, and Marietta, his wife who hosts a local tv talkshow. An innocent in the ways of the 20th Century, John is talked into posing as a millennial expert on Marietta's show where his prophesying of the end of the world in four days' time suddenly gains him a following.
---
Among the profusion of films that were either commissioned or tried to cash in on the millennium, Extraordinary Visitor is one of the few that used the date with any significance. Among the majority of other millennial films, the date is of almost to no relevance. The crucial question should be whether it makes any difference to the story whether the film is set around the millennial crunch point or upon another date, to which in most cases the answer is invariably a resounding no. See The First Night of My Life (1998) for a good example.
This Newfoundland-made production concerns itself with the Biblical End Times prophecies etc etc. The hysteria is gently deflated by an engaging sense of humour. For one, the film plays upon John the Baptist's turning up in Newfoundland, somewhere that is generally regarded by the rest of Canadians as being the hayseed boondocks of the country.
For the most part, Extraordinary Visitor doesn't concern itself too much with the theological issues but rather sets itself up as a highly amusing outsider comedy with St John played as an innocent amid civilisation. The contrasts of cultures between John circa 0 A.D. and the present are wittily played: "Do you think they know we're watching them?" John asks upon watching television for the first time.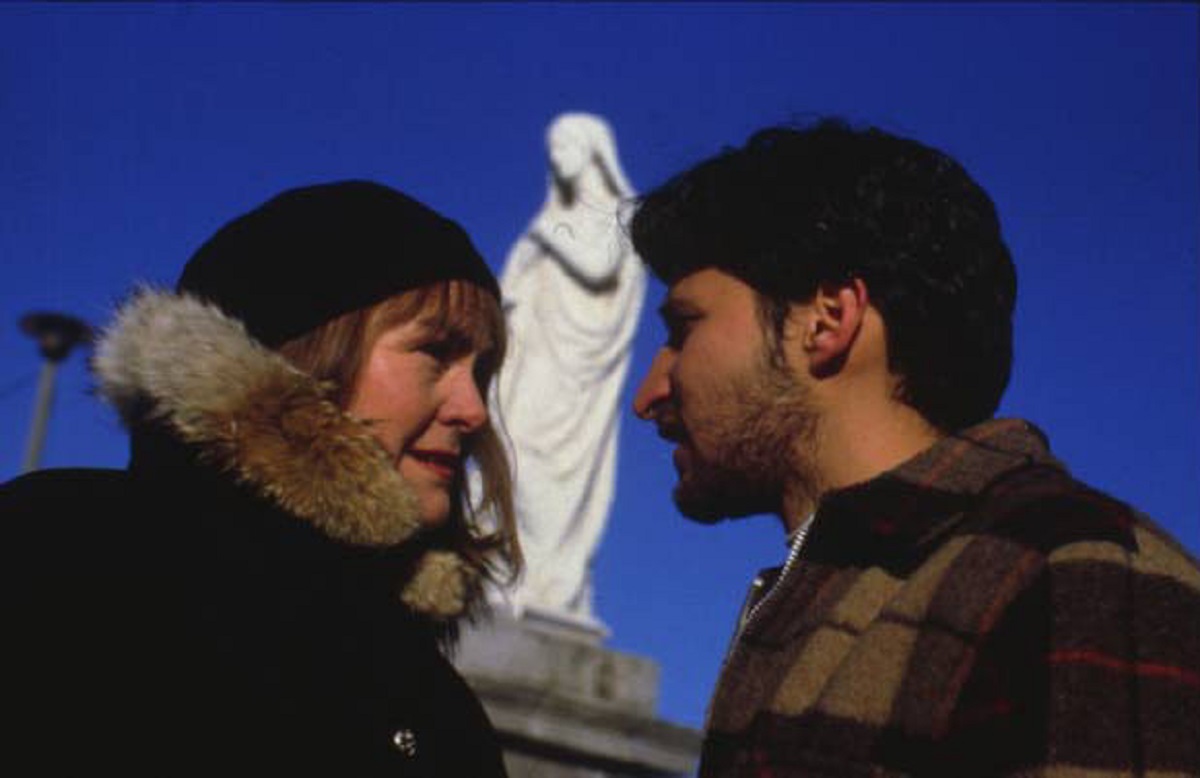 Director/writer John W. Doyle also jabs a number of irreverent jokes at the Catholic Church – with the Pope being brought ordained animal biscuits and being seen being given a pedicure by an obeisant nun; and in one bawdy joke having a drunken John throwing up while in telepathic prayer communication with The Pope.
John W. Doyle's greatest ability, aside from a wonderful sense of humour, is to get the best from an excellent ensemble cast. Raoul Bhaneja affects just the right balance of serene aloofness and naive earnestness as John. Mary Walsh's performance, blind to most of what is going on is marvellous – there is a conversation between her and Raoul Bhaneja that has her misinterpreting his Christ-like proclamations, "I am not a man," to hysterical effect.
(Nominee for Best Actress (Mary Walsh) at this site's Best of 1998 Awards).
---