---
Crew
Director – Taylor Hackford, Screenplay – Tony Gilroy & Jonathan Lemkin, Based on the Novel by Andrew Neiderman, Producers – Anne Kopelson, Arnold Kopelson & Arnon Milchan, Photography – Andrzej Bartkowiak, Music – James Newton Howard, Visual Effects Designer – Richard Greenberg, Visual Effects Supervisor – Stephanie Powell, Visual Effects Consultant – Rob Bottin, Special Effects Supervisor – Connie Brink, Demons Created by Rick Baker, Production Design – Bruno Rubeo. Production Company – Kopelson Entertainment.
Cast
Keanu Reeves (Kevin Lomax), Al Pacino (John Milton), Charlize Theron (Mary Ann Lomax), Judith Ivey (Alice Lomax), Jeffrey Jones (Eddie Barzoon), Tamara Tunie (Jackie Heath), Craig T. Nelson (Alexander Cullen), Connie Nielsen (Christabella), Debra Monk (Pamela Garrety), Ruben Santiago-Hudson (Leamon Heath), Christopher Bauer (Lloyd Getties), Heather Matarazzo (Barbara)
---
Plot
Kevin Lomax is a high-flying criminal defence attorney in Gainesville, Florida who has never lost a case. While defending a teacher accused of molesting an underage pupil, Kevin realizes his client is guilty but presses on and demolishes the girl's case. Afterwards he is approached by the top firm of Milton, Chadwick & Waters and offered a job that has virtually unlimited benefits. He accepts and moves to New York City with his wife Mary Ann. There Kevin enjoys considerable success in his new position. At the same time, Mary Ann starts to fall apart mentally, which worsens as Kevin increasingly neglects her for his work. As Kevin befriends John Milton, the charismatic head of the firm, he comes to the realization that Milton is The Devil. Milton claims he has chosen the legal profession as the best means of furthering his diabolic work. Moreover, he wants to choose Kevin as his successor.
---
At the time The Devil's Advocate came out, most were quick to make a comparison, likening it to the then recent Tom Cruise legal thriller The Firm (1993) but with the young lawyer hero finding his legal firm is headed by The Devil instead of The Mafia. One's own comparison would maybe liken it to The Firm by way of Angel Heart (1987). There are a number of similarities to Angel Heart – both are A-films with a more literate than average journey into the darkness of the soul at the heart of the story; a similar richly polished look; and the climactic revelation where the supporting big name actor is shown to be The Devil. Although the film that The Devil's Advocate compares to far more so than The Firm is surely Wall Street (1987) – think of Al Pacino's The Devil instead of Michael Douglas's banker but with the same plot structure of a young high flyer being seduced by the wealth and success then having to make a moral decision about whether to sacrifice all or lose his soul.
The basic premise of The Devil as the head of a law firm is one that should surely be played either as comedy or as a wild metaphor. The Devil's Advocate bravely chooses to play the idea seriously. Almost despite itself, it emerges as a far better film than one might expect. (If the film had gone ahead under Joel Schumacher of Batman & Robin (1997) notoriety as was originally announced, it would almost certainly have been one of the worst films of its year). At the time The Devil's Advocate came out, a number of critics immediately called it silly but it has slowly gained a reasonable reputation. For such a basically silly idea, the film is very well written and served by some exceptional dialogue. Al Pacino gets the lion's share of this, especially the soliloquy he delivers at the end about God as absentee landlord, which is quite magnificent.
Amid the relative crudity of most films concerning The Devil, which never rise above possession or the supporting cast being skewered by lightning bolts, The Devil's Advocate is welcome for its literate reduction of the question of damnation to one of moral choices. It is one of the few Devil films that engages on a theological level – the last one to even point in the same general direction was probably The Exorcist (1973). (Al Pacino's character is even named John Milton after the author of the classic poem Paradise Lost (1667), which concerns Satan's rebellion against Heaven. Keanu Reeves gets to quote one of the most famous lines from Paradise Lost at one point – "Better to reign in Hell than serve in Heaven").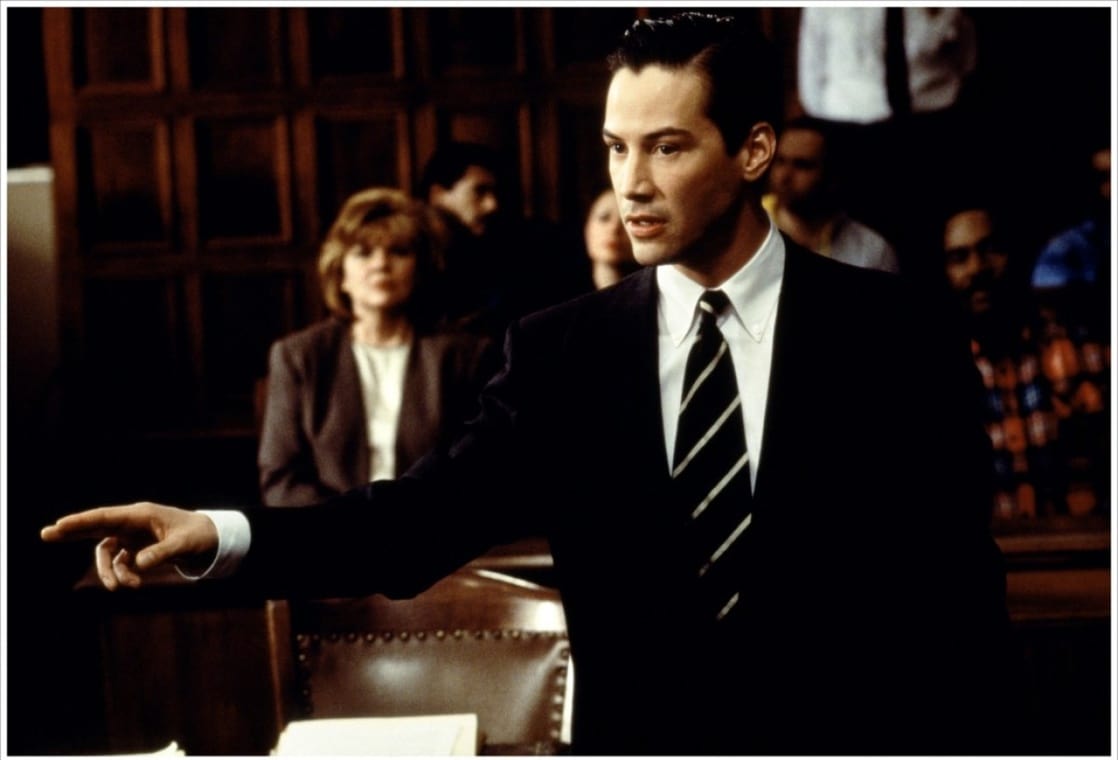 It is directed with a seductive and subtle sheen by Taylor Hackford, who is usually known for dramas like The Idolmaker (1980), An Officer and a Gentleman (1982), Against All Odds (1984), White Nights (1985), the non-horror Stephen King adaptation Dolores Claiborne (1995), Proof of Life (2000) and Ray (2004).
The trompe l'oeil manifestations of the demonic amid the everyday are conducted with subtle effect – Charlize Theron thinking she is seeing Tamara Tunie transform into a demon in a changing room, Charlize and Connie Nielsen's faces changing into one another during a love sequence – even though they use tiresome morphing effects.
The film is very nicely photographed and exquisitely dressed. Some of the sets – Al Pacino's angular rooftop pool, which seems to flow right over the edges, or his circular office with a fireplace sunken into recesses in the wall, and particularly the giant relief of souls writhing in the Inferno, which comes to life at the climax in one striking effect (something that is missing from most tv and video prints after an artist sued, claiming that the design had been stolen from one of his works) are breathtaking.
Even Keanu Reeves makes some effort to give a not too bad performance. Al Pacino barnstorms with entertainingly over-the-top regard and steals much of the show whenever he is around. Charlize Theron in her first major starring role was quickly picked up on and praised for her performance. During the early scenes, she emerges with a sunny and unaffected warmth and at age 22 with just the right amount of girlish cuteness to come across with a naturally sexy screen presence. On the other hand, the part seems to constrict her to only two modes of acting – either sexy and sweetly innocent or mentally ill. Her character suffers from poor motivation – while we can believe her in the first half, it is never made clear the cause of her abrupt and sudden descent into all-absorbing mental illness in the second half. (The impression given is more the old Victorian notion of mental illness as a moral malaise – that proximity to all the deviltry has corrupted her innocence and caused her to collapse).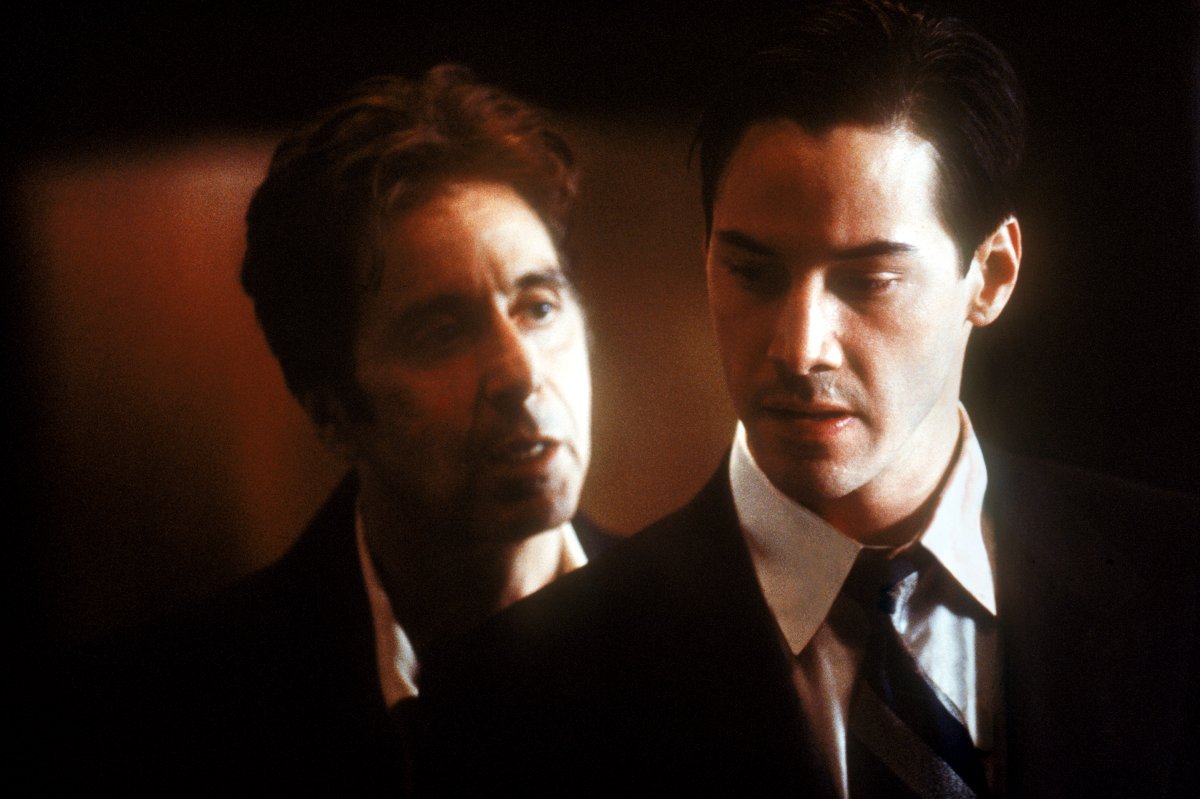 For all the literacy of its writing, The Devil's Advocate never gets around a central idea that seems more like the ending of a shaggy dog story or a lawyer joke than an A-list film. Taylor Hackford conjures effective moments of Keanu Reeves abandoning Charlize Theron for the job and the film gains enormous life whenever Al Pacino is around, weaving his seductive spell. Less subtle are the film's likening of New York to Babylon with Keanu Reeves's mother (Judith Ivey)'s portents being underscored by crudely metaphoric shots of the New York skyline with clouds scudding by in speeded-up motion, leaving us with the tiredly cliched suggestion that things have gotten out of control.
What is perhaps surprising for a film that seems literate on other levels of writing is its preparedness to take a fundamentalist mindset as its baseline. The only character who is right in the film is Keanu Reeves's fundamentalist mother where her point-of-view is portrayed as wholesomely correct, not as one of blind ignorance – something that one finds unpalatable.
The Devil's Advocate comes from a 1990 novel by Andrew Neiderman. Andrew Neiderman is best known for an extraordinary number of Gothic potboilers written under the name of V.C. Andrews of Flowers in the Attic (1987) fame subsequent to her death. Neiderman's original works under his own name have also formed the basis of a number of genre films including Pin (1988), Duplicates (1992), The Maddening (1995), Tender Loving Care (1997) and Perfect Little Angels (1998), as well as the Virginia C. Andrews pastiches Fallen Hearts (2019), Gates of Paradise (2019) and Web of Dreams (2019).
(Nominee for Best Adapted Screenplay, Best Supporting Actor (Al Pacino), Best Supporting Actress (Tanmara Thunie) and Best Cinematography at this site's Best of 1997 Awards).
---
---