---
Crew
Director – Alan Smithee, Screenplay – Chris Bittler, David Markov & Kevin Rock, Story – Stens Christensen & Chako Van Leeuwen, Producer – Chako Van Leeuwen, Photography – Bryan England, Music/Music Supervisor – Terry Plumeri, Visual Effects Animation – Digital Magic, Special Effects Supervisor – Larry Fioritto, Makeup/Creature Effects – Alterian Studio, Production Design – Brooke Wheeler. Production Company – Chako Film International.
Cast
Sean Patrick Flanery (Chris D'Amico), Michael Paré (Colin Gramercy), Diane Ladd (Sister Kate), Monet Mazur (Lila Ridgeway), Shelley Winters (Grandma Ruth), Arielle Dombasle (Megan)
---
Plot
Struggling L.A. rock musician Chris D'Amico is kicked out of his own band due to his alcohol abuse. While the band goes onto success, Chris pulls his life together, even though he and his girlfriend Lila Ridgeway are penniless. She auditions for a job with Colin Gramercy, a musician who heads the Coalition for World Unity and preaches that the whole world can be brought together in peace by spiritually enlightening people teaching them they can be their own gods. However, once Lila gets the job, she is seduced away from Chris by Colin. Chris then meets the Gospel preacher Sister Kate and learns that he and Lila have been caught up in a spiritual war being fought between the forces of Heaven and the demons that control Colin.
---
Raging Angels is part of a new growing genre of recent years – evangelical Christian cinema. This has seen a number of films such as The Omega Code (1999), Time Changer (2002), Book of Days (2003), Gone (2003), Six: The Mark Unleashed (2004), The Visitation (2006), Fireproof (2008), Suing the Devil (2011) and the abstention romance A Walk to Remember (2001), Revelation Road: The Beginning of the End (2013) and sequels, God's Not Dead (2014), Heaven is For Real (2014), Miracles from Heaven (2016) and The Shack (2017). The Toronto-based Lalonde Brothers and their Cloud Ten Pictures delved into End Times themes in their tetraology Armageddon (1998), Revelation (1999), Tribulation (2000) and Judgment (2001), and a further series Left Behind (2000), Left Behind II: Tribulation Force (2002) and Left Behind: World at War (2005), as well as the big-budget remake Left Behind (2014).
These differ over previous Christian-themed films, such as the Biblical spectaculars of the 1950s, in that they are made by faith-based production companies, rather than mainstream studios, but employ Hollywood leads in a clear attempt to sell the films to a crossover audience. Subsequently the Christian cinema genre went massive with hits like The Passion of the Christ (2004), The Exorcism of Emily Rose (2005) and The Chronicles of Narna: The Lion, the Witch and the Wardrobe (2005).
It is not long before Raging Angels heads right into evangelical Christian territory – Gospel choirs, faith healing and so on. It knows and uses all the doubletalk of the trade – 'gifts of discernment', 'spiritual deliverance'. Michael Paré's villain is a generic Anti-Christ figure who embodies all the evils the Anti-Christ is seen as representing – the One World Government, spreading the philosophy that people are their own gods and the peculiarly American belief that world peace and socialism would somehow rob people of national sovereignty. (None of which seems a bad idea on the face of it – it may well say something about the mindset of the people behind the film when the person preaching self-determination and liberal politics is seen as representative of The Devil and that the one who is dismissed by other politicians as a paranoid crank is seen to be correct all along).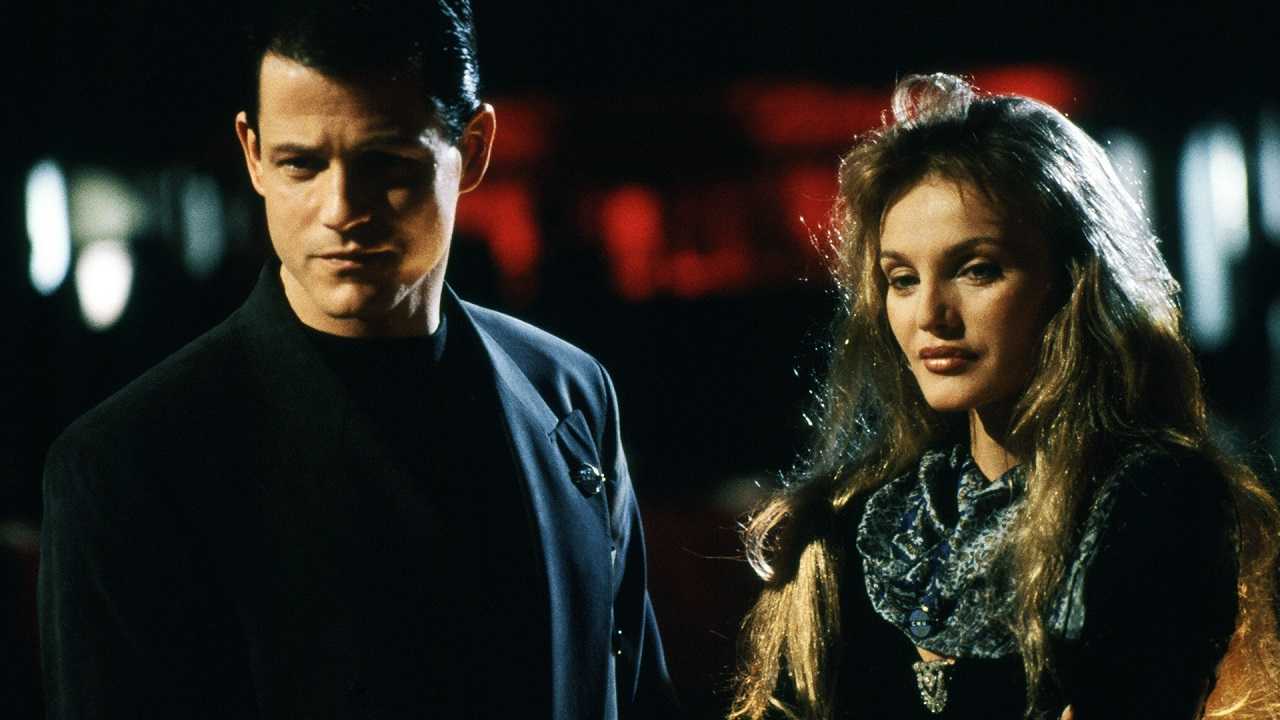 Despite throwing in the Anti-Christ and whipping up a war between angel and demons, all that Raging Angels offers is a dull and predictable variant on the theme of the hero trying to save his innocent girlfriend from a corrupt demonically-empowered music promoter – see films like The Phantom of the Paradise (1974) and Rock and Rule (1983). When it comes down to it, the film's theology is shaky. Its' demonic war plot, which was conducted much more imaginatively in the secular The Prophecy (1995), smacks more of Zoroastrianism than Christianity – the Lord's Prayer is less a statement of faith than it is a magic invocation to banish demons, while crucifixes and the very name of Jesus Christ are used exactly like magical artifacts in a game of Dungeons and Dragons.
The two kids – Sean Patrick Flanery and Monet Mazur – are good-looking and entirely vapid. Michael Paré, usually a stolid leading man in B action films, gets the polished smoothness down reasonably well as the Anti-Christ. French actress Arielle Dombasle, usually known for taking her clothes off, has no other point in the film than to vamp and strut about airily. The film was made by Dutch producer Chako Van Leeuwen, previously only known for Piranha (1978) and Piranha II: Flying Killers (1981). The director, in clear contempt of the exercise, hides behind the generic Director's Guild pseudonym Alan Smithee, their real name not currently being known.
For a Christian film, Raging Angels has surprisingly more of an 'adult' edge than the usual moral censorship advocated by most Christians might make one think. There is a surprising number of four-letter words and even a love scene between the hero and (unmarried) heroine – although it is a PG-rated love scene where we see no more than her naked back as she sits astride him, nevertheless … The soundtrack is filled with excruciating Christian heavy metal groups such as Holy Soldier, Candlebox, Kingdom Come, Golden Earring, Stryper, Mozart and Army of Lovers.
---
---