---
Crew
Director – Jerry Rees, Screenplay – Jerry Rees & Joe Ranft, Story – Joe Ranft, Jerry Rees & Brian McEntee, Based on the Novella The Brave Little Toaster: A Bedtime Story for Small Appliances by Thomas M. Disch, Producers – Donald Kushner & Thomas C. Wilhite, Music – David Newman, Songs – Dale Van Parks, Art Direction – McEntee. Production Company – Kushner-Locke/Hyperion
Voices
Deanna Oliver (Toaster), Tim Stack (Lamp), Jon Lovitz (Radio), Timothy E. Day (Blanky/The Master), Thurl Ravenscroft (Kirby)
---
Plot
A group of household appliances – a toaster, a radio, a lamp, an electric blanket and a vacuum-cleaner – miss their young master who no longer comes up to a remote mountain holiday cabin to see them. When the cabin is placed up for sale, they decide to set forth to find him. After a little experimentation, they wire up a battery to a wheeled chair to power themselves and set forth on a quest into the outside world. However, their quest proves to be one fraught with many perils.
---
This is a rather sweet and touching film. It is made with an unadorned simplicity. The animation is simple – it is not a film carried by epic animation but rather its softness and anthropomorphism. The characters are delightfully voiced, most plaintive being the heartbreakingly lonesome character of the child-like electric blanket. (Although some of the character voicings quite defy belief – like the lightshade that does a Peter Lorre impersonation or the air conditioner that seems to be modeled on Jack Nicholson).
Both the film and the original 1986 novella by celebrated science-fiction writer Thomas M. Disch that it is based on have a dual level charm to them – a soft children's story on one level and on the other a good many sly jokes that cleverly play around the central metaphor of anthropomorphic appliances. Some of the writing – like where the Toaster tries to explain to the Lamp what caring is like, comparing it to the joy of finding a fresh loaf of bread or popping up a piece of warm toast – is quite lovely.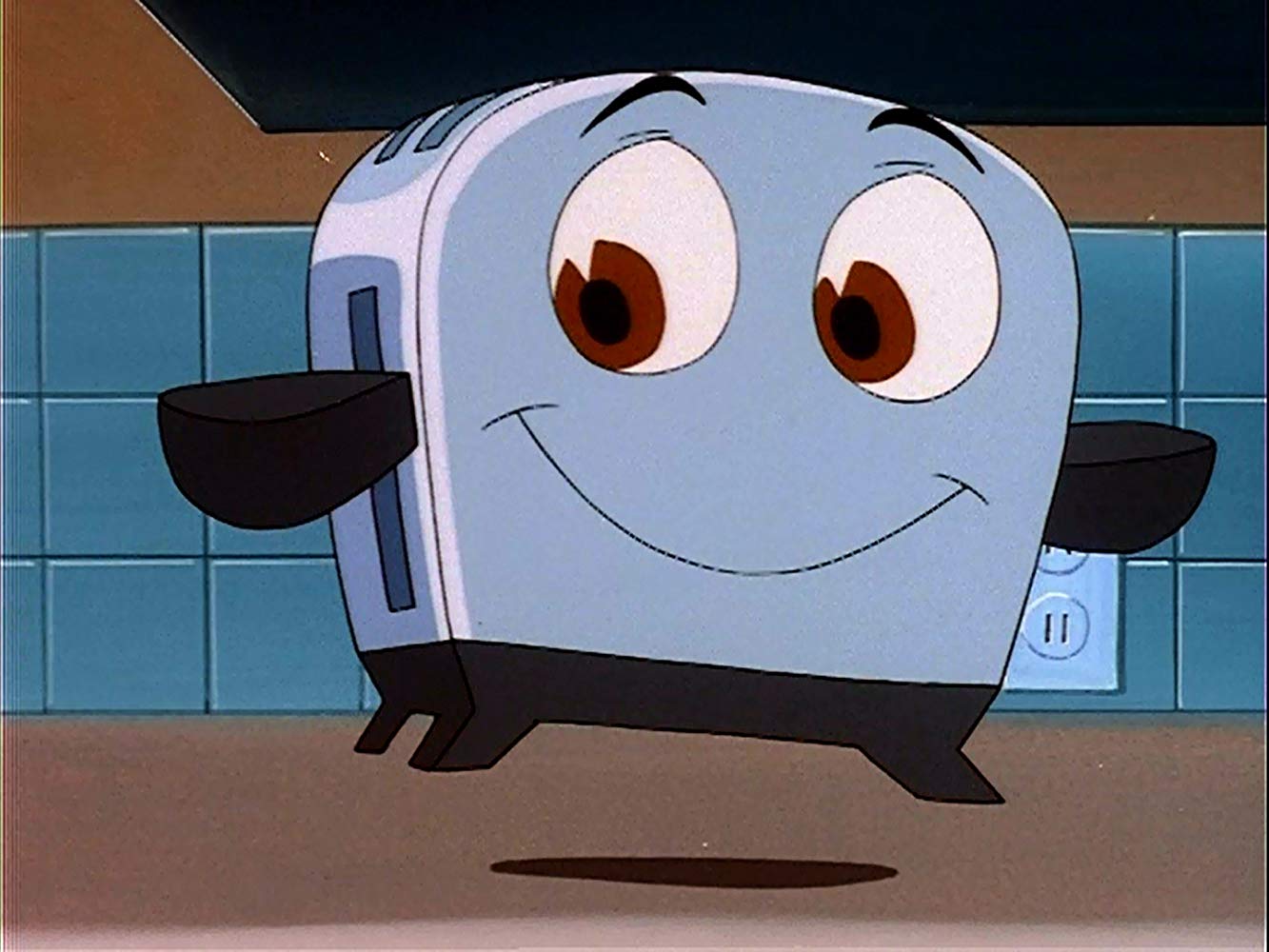 The film was originally a work pitched to Disney in the early 1980s by Pixar founder John Lasseter who had the idea of making it what would have been the world's first computer-animated film. The idea was turned doiwn because of the cost of computer animation at the time. (Many of the ideas found their way into Pixar's first film Toy Story (1995), particularly the quest of the inanimate objects missing their young master). The rights to the book were taken by former Disney employees who set up their own company. The film premiered at Sundance but then had a sporadic release campaign, seeing almost no cinematic release and not finding the reputation it richly deserves.
The film has gained a slow reputation and was followed by two video-released sequels – The Brave Little Toaster to the Rescue (1997) and The Brave Little Toaster Goes to Mars (1997).
---
---