---
Crew
Director – Don Bluth, Screenplay – Don Bluth, Will Finn, Gary Goldman & John Pomeroy, Based on the Novel Mrs Frisby and the Rats of N.I.M.H. by Robert C. O'Brien, Producers – Mel Griffen, Richard H. Irvine & James L. Stewart, Animation Supervisors – Don Bluth, Gary Goldman & John Pomeroy, Music – Jerry Goldsmith. Production Company – Don Bluth Associates.
Voices
Elizabeth Hartman (Mrs Brisby), Dom de Luise (Jeremy), Derek Jacobi (Nicodemus), Hermione Baddely (Auntie Shrew), Paul Shenar (Jenner), Peter Strauss (Justin), Shannen Doherty (Teresa), Wil Wheaton (Martin), John Hicks (Cynthia), Ian Fried (Timothy), Arthur Malet (Mr Ages), John Carradine (Owl)
---
Plot
Widowed rat Mrs Brisby learns that her home is in the path of a tractor that is plowing up the field where she lives. With her youngest boy sick, she sets out to find a way of moving her four children and home to safety. She seeks the guidance of the Great Owl. She is directed to find the Rats of N.I.M.H., lab rats that have escaped from the National Institute of Mental Health, the results of successful experiments to raise their intelligence, and have built a wondrous underground city of their own.
---
In 1979, Don Bluth led a team of seventeen animators who quit Disney Studios, vowing to make a return to the classical style of Disney animation. Since Walt Disney's death in 1966 – and in the opinion of many purists, since at least World War II – Disney's classic animation form had become a neglected art. Under director Wolfgang Reitherman, Disney animation of the 1970s and 80s languished and become increasingly sporadic with the studio's animated output being overtaken by their output of live-action comedies. The Disney animation name during this era was associated with the banal likes of Robin Hood (1973), The Rescuers (1977) and Oliver & Company (1988). Bluth himself had worked on many of these – Robin Hood, The Rescuers and Pete's Dragon (1977). Bluth and his animators saw that the time was right to return to make a return to the classic Disney animated artform.
The results that emerged from Don Bluth's team was The Secret of N.I.M.H. The film is an exquisitely beautiful celebration of animation as pure artform – raindrops glisten, supernatural energies glow with fluorescent brilliance, characters are seen distorted through glass and the N.I.M.H rats' underground city is a beautifully airbrushed psychedelic wonderland. The Secret of N.I.M.H. glows with a magical sense of wonder and equally one that is not afraid to be scary in the way that the best Disney films did. Everything in the film works perfectly. The comic sidekicks are enormously endearing with Dom de Luise stealing a large part of the show as a cowardly crow. Moreover, there are no songs to bore the children.
This is an animated film clearly made by people who care – indeed, it is a perfect testament to what talented people can make when they are given an environment that promotes artistic freedom. Most telling was the Disney film that came out just before The Secret of N.I.M.H., The Fox and the Hound (1981), which had a forgettable, conveyor-belt banality in comparison. The film does make some changes to the award-winning children's 1975 story but despite occasional conceptual cramming, it straddles a beautiful line between coy children's story and a strange knowing wisdom for adults. The Secret of N.I.M.H. was, up until the modern Disney and the Pixar renaissance, one of the best examples of animation as pure art.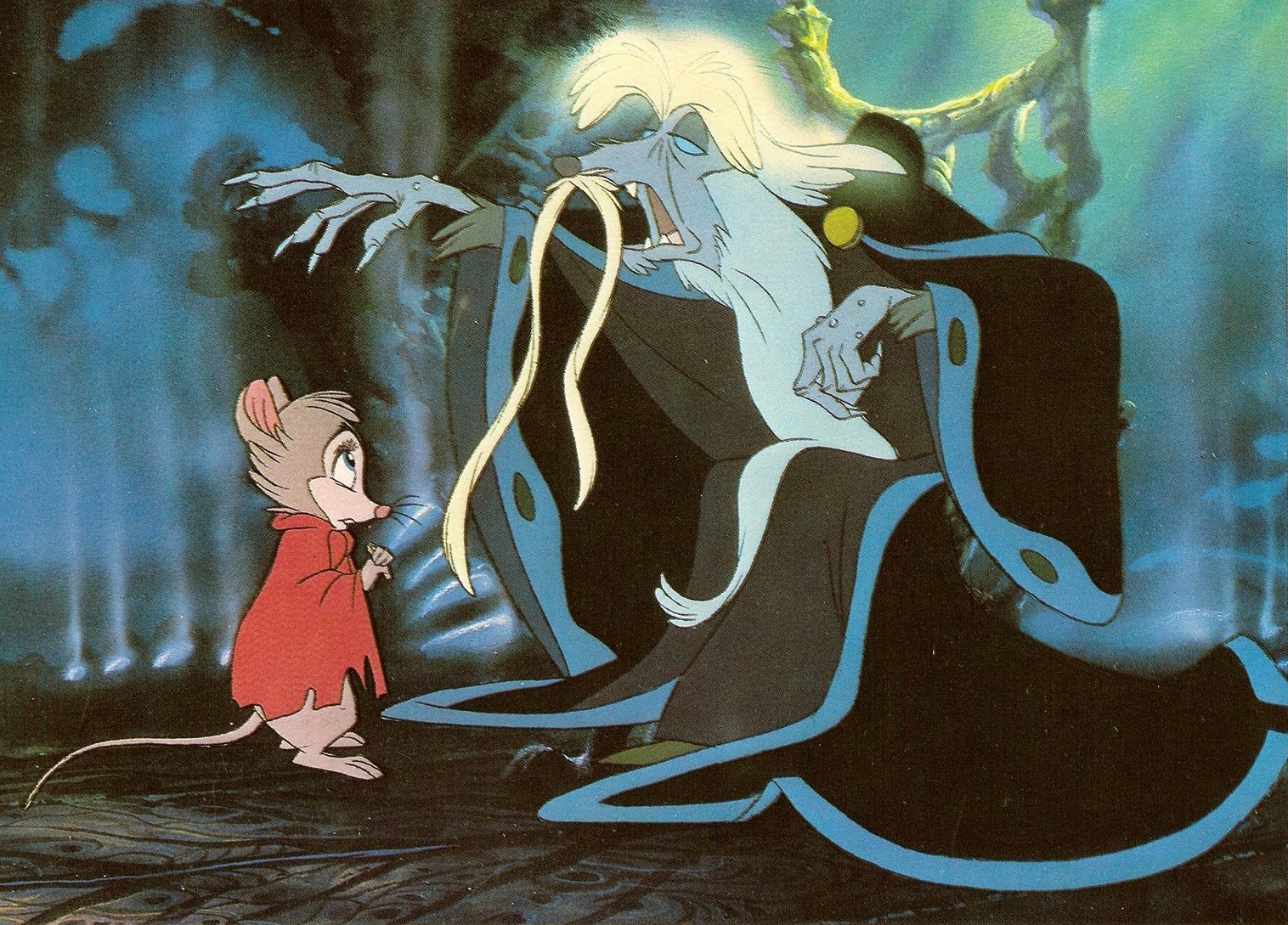 The greatest shame is that The Secret of N.I.M.H. was a financial failure for Don Bluth. It is rarely seen in the tv wastelands today and deserves to be wider recognised. Bluth's career since has been highly uneven. Subsequently, he moved into the orbit of Steven Spielberg who became his patron as Executive Producer for a couple of middle-of-the-road films – An American Tail (1986) and The Land Before Time (1988), both of which were multiply sequelised on video sans Bluth in the 1990s. Alas, Bluth was operating on lower budgets and the films lack the artistic flourishes of N.I.M.H. Bluth then established his own studio based in Ireland and produced a string of increasingly banal theatrical and video releases – All Dogs Go to Heaven (1989), Rock-a-Doodle (1991), Thumbelina (1994), A Troll in Central Park (1994), The Pebble and the Penguin (1995) and Bartok the Magnificent (1999) – most of which are far more insipid than anything Disney was producing when Bluth quit.
The double irony of Bluth's career was that in the 1990s, under new management, Disney began a concerted effort to capture the high artistic quality of their heyday and again became leaders in the field following Beauty and the Beast (1991). Bluth then found himself in employ by other studios seeking to jump the bandwagon of the Disney renaissance. There Bluth made two reasonable films – Anastasia (1997) and the space opera Titan A.E. (2000) – which returned to the quality that had been missing in his work since The Secret of N.I.M.H. Anastasia was a modest success; alas, Titan A.E. was a massive financial disaster that placed doubt over the future of Bluth's career.
The Secret of N.I.M.H.: Timmy to the Rescue (1998) was a video-made sequel, made without Don Bluth's involvement, and with none of the artistic care that went into this.
---
---