---
Crew
Director – Joel Crawford, Screenplay – Paul Fisher, Dan Hageman, Kevin Hageman & Bob Logan, Story – Kirk DiMicco & Chris Sanders, Producer – Mark Swift, Music – Mark Mothersbaugh, Visual Effects Supervisor – Betsy Nofsinger, Animation Supervisors – Hans Dastrup, Antony Gray, Fabio Lignini, Rani Naamani & Liron Topaz, Production Design – Nate Wragg. Production Company – DreamWorks.
Voices
Nicolas Cage (Grug), Emma Stone (Eep), Ryan Reynolds (Guy), Peter Dinklage (Phil Betterman), Catherine Keener (Ugga), Kelly Marie Tran (Dawn Betterman), Leslie Mann (Hope Betterman), Cloris Leachman (Gran), Clark Duke (Thunk)
---
Plot
The Croods continue on in their search for a home. As they curl up in a sleep pile, Grug is dismayed to overhear Guy telling Eep about plans to leave and start their own family. They wake in the morning to find themselves in front of a vast wall. On the other side, they find a palatial wonderland filled with plentiful food. They are then trapped in a net and meet the owners Phil and Hope Betterman. Guy recognises them as the people that took him in after he was orphaned. As the rest of the Croods relish the civilised comforts the Bettermans have built, Grug feels useless. The Bettermans want to separate Guy from Eep and pair him with their daughter Dawn, while banishing the Croods back to the wilds. However, the presence of the Croods disrupts the Betterman's life with Eep taking Dawn outside from her sheltered life for the first time. Meanwhile, Grug's eating of all of Phil's prized bananas leaves them vulnerable to threats beyond the walls.
---
The Croods (2013) was an animated film from DreamWorks Animation that proved a modest and likeable hit in its rehashing the basics of the prehistoric comedy a la The Flintstones (1960-6). A sequel had originally been announced for 2017 release but was then cancelled. A year or more later the project was revived for a projected 2020 release. However, the Corona Virus pandemic of 2020 meant that the animation staff had to complete work remotely from their own homes. The film did make a theatrical premiere in the US in November 2020 but quickly went to streaming.
The directors of The Croods, Kirk DiMicco and Chris Sanders, are absent from the director's chair. Sanders was busy directing the live-action The Call of the Wild (2020) and DeMicco working on the subsequently released animated film Vivo (2021) for Sony, although both contribute the story for A New Age. The director's chair is inherited by Joel Crawford who had worked as a story artist on various DreamWorks animated films including Bee Movie (2007), Shrek Forever After (2010), Rise of the Guardians (2012) and all of the Kung Fu Panda films, before making his directorial debut with Trolls Holiday (2017) tv special. He is next slated to direct another DreamWorks' sequel Puss in Boots: The Last Wish (2022).
I enjoyed The Croods but I don't have much enthusiasm for watching animation these days. It has become endlessly repetitive, focused on creating franchises that shuffle familiar characters around in only slightly different adventures. I didn't enter The Croods: A New Age with very high expectations – the absolute nadir of the modern animate franchise is the interminable sequels to Ice Age (2002) produced by Blue Sky Studios and you could easily see The Croods, being a similar prehistoric adventure, albeit set a few epochs later, going the same way.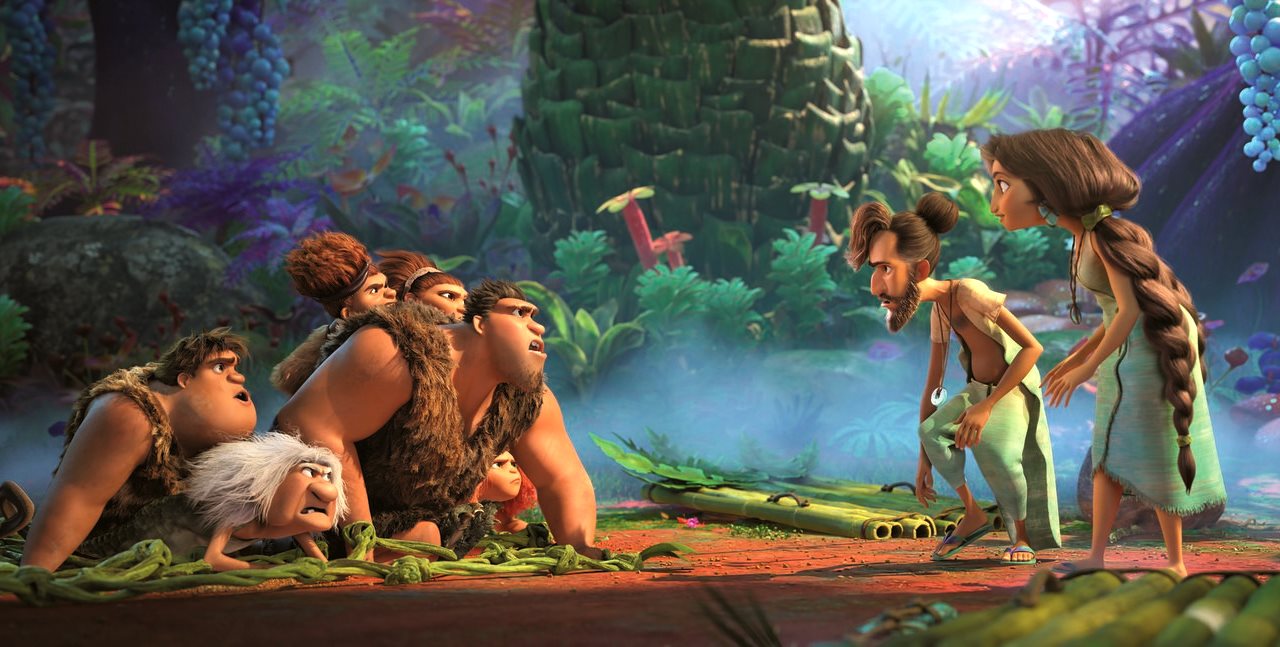 I am happy to report that my low expectations were in vain and The Croods: A New Age quickly begins to entertain. Joel Crawford uses an incredibly vibrant visual palette with in particular the flora, fauna and tropical beach lagoon designs of Tomorrow Land bursting out of the screens in ways that manage to use every single colour of the rainbow.
The film gets a great deal of mileage out of doing the old Flintstones gag of finding prehistoric equivalents of contemporary things – talk about putting seatbelts on while they set off on Chunk or Eep treating him like a motorcycle, or of Thunk becoming entranced by a window that offers a view of scenery just like a television. Eep complains about Thunk reading her diary, which turns out to be etchings on rocks. The Tomorrow Land scenes play on a series of gags depicting the Bettermans as the prehistoric equivalent of a prosperous family living in a gated community.
The film also features a colourful menagerie of creatures from wolf spiders to land sharks and especially the Punch Monkeys (whose language consists of hitting one another), as well as a King Kong-like giant ape that emerges in the climactic scenes. All of which adds up to a pleasingly entertaining animated outing.
---
Trailer here
---