---
Crew
Director – Robert C. Ramirez, Screenplay – Willard Carroll, Producers – John Bush, Donald Kushner & Tom Wilhite, Music – Alexander Janko, Song Music – William Finn, Lyrics – Ellen Fitzhugh, Art Direction – Dave Dunnet. Production Company – Hyperion Pictures/Kushner-Locke.
Voices
Deanna Oliver (Toaster), Roger Kabler (Radio), Eric Lloyd (Blanky), Tim Stack (Lampy), Thurl Ravenscroft (Kirby), Andy Milder (Ratso), Chris Young (Rob McGroaty), Jessica Tuck (Chris), Eddie Bracken (Sebastian), Jay Mohr (Mack McGro), Brian Doyle-Murray (Wittgenstein), Alfre Woodard (Maisie), Andy Daly (Murgatroyd), Danny Nucci (Alberto), Kevin Meaney (Computer), Victoria Jackson (Mouse), Jonathan Benair (Jim Bob)
---
Plot
The Master, Rob McGroaty, is now a veterinary student and has transferred Toaster and his beloved appliances to his laboratory, where he also tends a number of injured animals. A computer glitch abruptly causes his thesis to vanish. The appliances take it upon themselves to retrieve it but this means finding a new valve for Wittgenstein, the obsolete computer in the basement. During the course of their adventure, they discover that The Master's scheming lab assistant Mack is planning to sell the animals off to be experimented on.
---
The Brave Little Toaster (1987), an animated picaresque concerning a group of talking appliances, was a delightful and charming children's adventure. Although it was not a financial success, it clearly gained enough popularity in subsequent video release to spawn a series of direct-to-video sequels nearly a decade later, a la the likes of other animated films such as An American Tail (1986), The Land Before Time (1988) and almost all of Disney's back product during this period.
The Brave Little Toaster to the Rescue was the first of the Brave Little Toaster sequels produced by Kushner-Locke and was followed by The Brave Little Toaster Goes to Mars (1997). Both were filmed back-to-back, employing several of the voice talents from the original in the same continuing parts.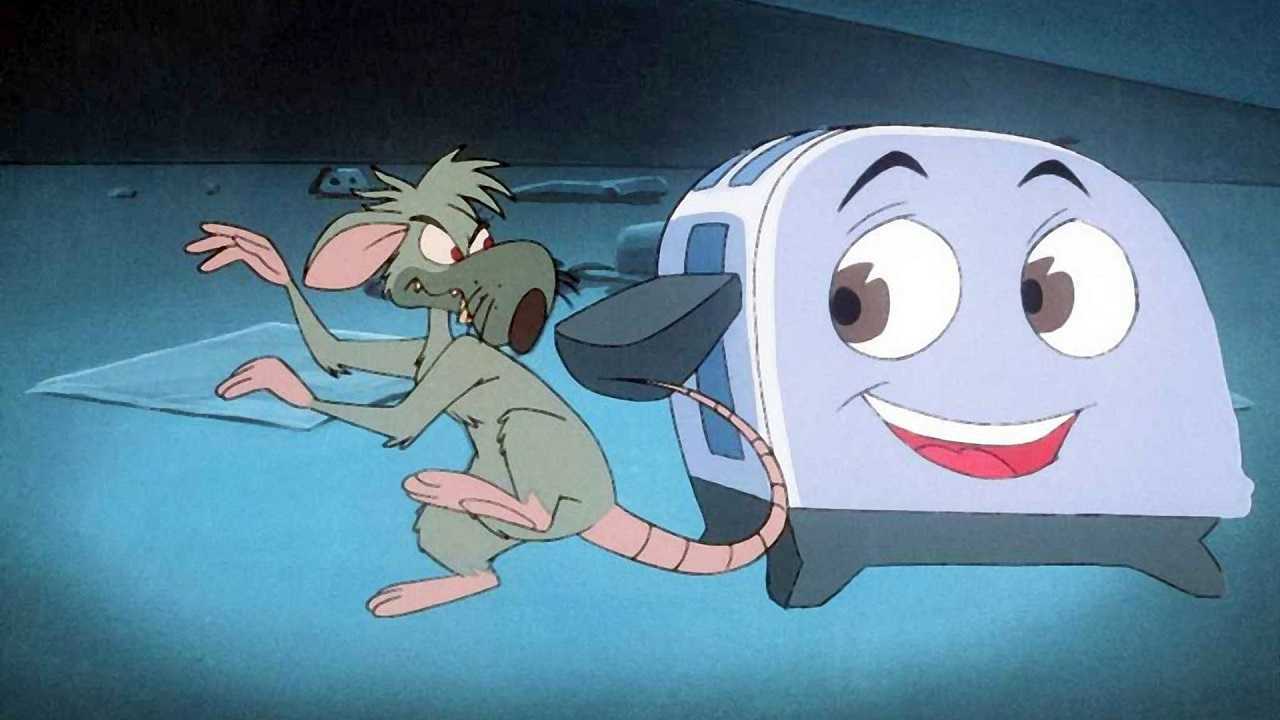 The Brave Little Toaster to the Rescue conforms a good deal more to the standard children's animation formula than The Brave Little Toaster did. There is a hissable villain, songs, a contrived rescue plot and a host of talking animals that have to be saved from being sent to their fate in experimentation labs. As such, these early scenes prove somewhat banal.
Now in has come the idea of updating The Brave Little Toaster to incorporate the changes wrought by the internet era. Although this tends to lead to a rather bizarre view of anthropomorphic appliances – computers and fax machines that act like dancing dogs, the apparent inter-connectedness of all electrical systems, and the notion that a computer virus is something that infects a computer with old age.
Things picks up with the introduction of the computer Wittgenstein who has a good song Chomp and Munch, while the middle of the film has a modestly sweet plot about the search to retrieve the radio valve for Wittgenstein, along with Radio's saddening sacrifice.
---
Trailer here
Full film available online here:-
---