---
Crew
Director/Screenplay – Adam Resnick, Story – Adam Resnick & Chris Elliott, Producers – Tim Burton & Denise Di Novi, Photography – Steve Yaconelli, Music – Steve Bartek, Makeup Effects – Doug Beswick & Tony Gardner, Production Design – Steve Legler. Production Company – Steve White Productions/Touchstone.
Cast
Chris Elliott (Nathaniel Mayweather), Melora Walters (Trina), Ritch Brinkley (Captain Greybar), James Gammon (Paps), Brion James (Big Teddy), Brian Doyle-Murray (Skunk), Andy Richter (Kenny), Ann Magnuson (Calli), Mike Starr (Mulligan), Russ Tamblyn (Chocki), Ricki Lake (Figurehead)
---
Plot
At boarding school, Nathaniel Mayweather is hated by everybody because of his scornfully derisive upper-class superiority. He goes to join his father in Hawaii. However, due to a mix-up, he instead ends up aboard the squalid scow The Filthy Whore, which sets sail before he finds out he is on the wrong ship. The crew so detest him they make him the cabin boy and give him the filthiest jobs. In attempting to turn the ship around, Nathaniel ends the crew up in the notorious stretch of ocean known as Hell's Bucket. There he and the crew have various encounters with a legendary half-man half-shark, ice giants, and a six-armed seductress and her angry giant husband. Nathaniel also fishes from the ocean Trina, a girl who is engaged in a record-breaking attempt to swim round the world, and falls in love with her even though she rebuffs his every advance.
---
Cabin Boy is one of the few efforts that the charmedly eccentric touch of Tim Burton, director of Batman (1989), Edward Scissorhands (1990) and Ed Wood (1994), failed to make into a box-office hit (at least during Burton's heyday in the 1990s). Burton only took a producing credit, along with his producing partner Denise Di Novi, while direction was turned over to Adam Resnick, previously a gag writer for David Letterman and The Larry Sanders Show (1992-8).
Cabin Boy flopped badly and was savagely trounced by critics. Part of the problem could well have been Touchstone's difficulty in finding a niche to sell the film in – it seems, but isn't a children's film; it is a comedy but is not particularly funny; it is a fantasy but comes with a bizarrely absurdist nonchalance that does not have many cinematic precedents.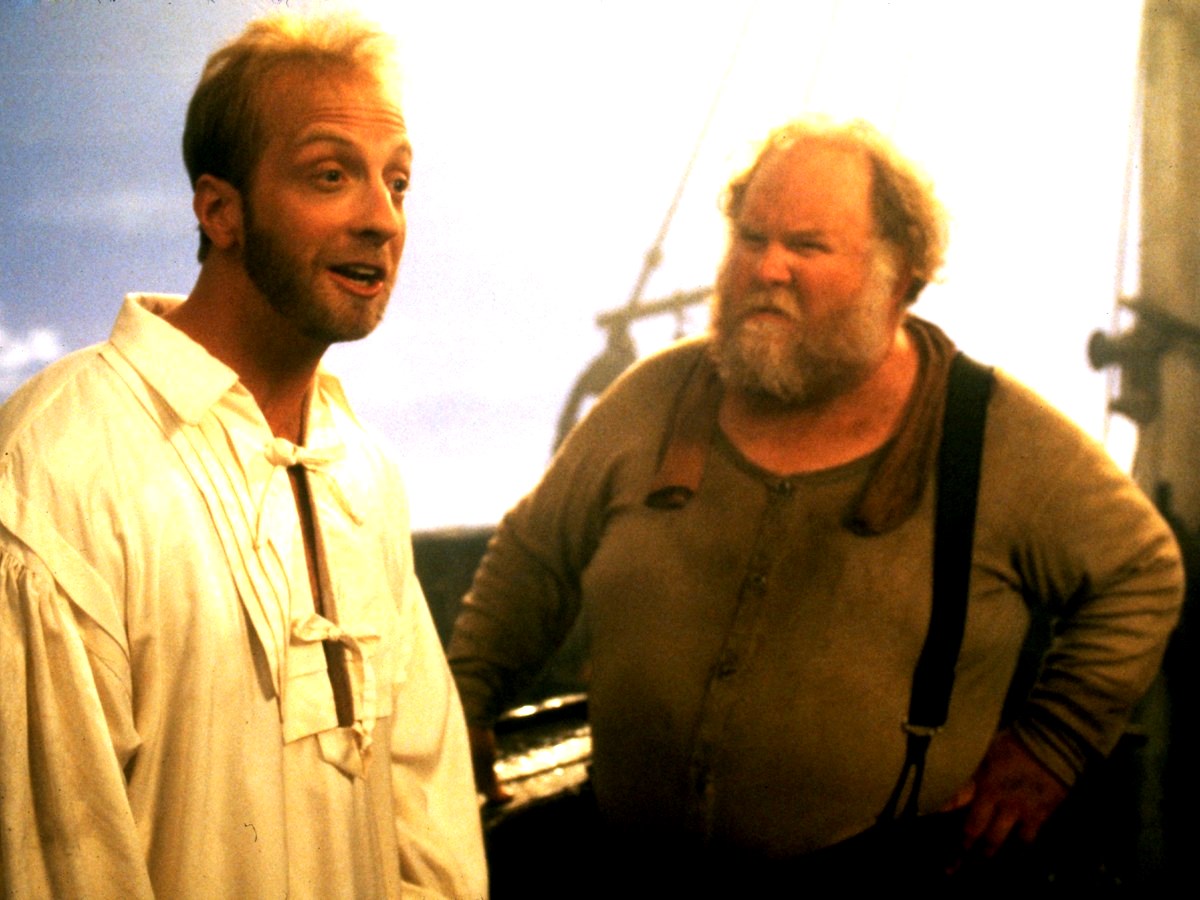 One of the nearest equivalents to Cabin Boy is the bizarrely hyper-real absurdism of Tim Burton's own Pee-Wee's Big Adventure (1985). The film definitely has a surreal Burton-esque eccentricity to it – when the ship is blown by the winds we see the faces of clouds puffing away in the sky; the Moon has a face; the ship's figurehead (played by no less than talkshow queen Ricki Lake) is animate; there are encounters with ice giants, a half-man half-shark and a six-armed, blue-skinned seductress who is married to a giant who has renounced hunting to run a hardware store; and, in the most Burton-esque moment, the hero, suffering from heat exhaustion, has hallucinations of giant cupcakes and the ghost of a drowned crewmember. All of this is presented as perfectly natural and accepted without question by the characters in the film.
The hero of the piece is played by Chris Elliott who has built a career of sorts playing grown men who have failed to leave behind their adolescence. This is clearly a personal project for Chris Elliott who provided the film's story and even cast his own father as his character's father. Elliott plays the role in the Pee-Wee Herman vein – an obnoxious character whose blithe arrogance and self-assumed superiority is presented with such extravagant flourish that his comic rebuffs by the rest of the world are naturally deservous. It is what literature calls the conte cruel.
In this regard, Cabin Boy is perhaps the closest any American film has come to the black absurdism of Monty Python – it has much in common with, in particular, Terry Gilliam's Jabberwocky (1977). In both Jabberwocky and Cabin Boy, the hero of the piece has a naivete that borders on complete idiocy; in both cases, the hero travels through various fantastic situations, during which they become the butts of black, almost sadistic, directorial misfortune. Both profess romantic yearnings toward the heroine only to be constantly rebuffed – "I'm always flattered when a psychotic becomes smitten with me," Melora Walters tells Chris Elliott at one point. It is notable that where Cabin Boy allows its hero acceptance at the end of the film, Jabberwocky ends on a more pessimistic note.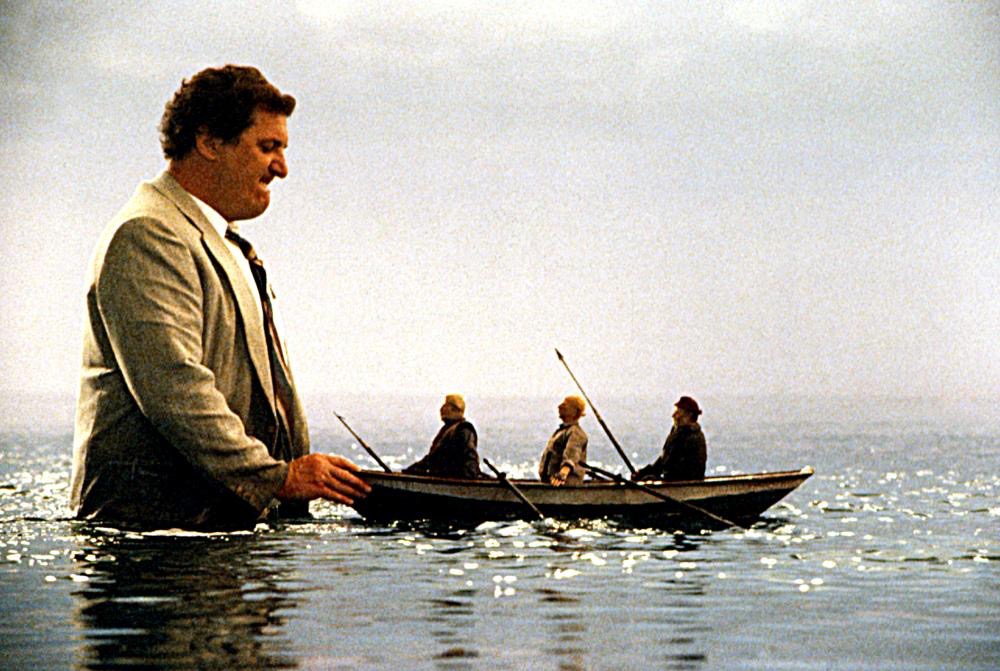 Cabin Boy is more bizarre than it is ever funny. Certainly, it does have its moments in many of the scenes where Chris Elliott is rebuffed and carries on without even noticing. There is an amusing encounter with Ann Magnuson's six-armed seductress, which spoofs the cryptic riddles of heroic quests – upon returning to win the heroine, Chris Elliott announces: "I'm now going to show you everything I've been taught – I only pray that I'm not thrown off by your lack of four additional arms." Unusually so for a Tim Burton film, the effects sequences are weak – the stop-motion animation of the ice giants being particularly so-so.
Adam Resnick has yet to direct another film. He went on to write Lucky Numbers (2000) about a lottery scandal and the Danny DeVito directed Death to Smoochy (2002), a black comedy about a psychotic children's tv host.
---
---