---
Crew
Director – Jennifer Liao, Screenplay – Christina Ray, Producers – Sandy Kellerman & Jennifer Liao, Photography – Benjamin Lichty, Music – Marina Molinari & Rohan Staton, Special Effects Prop Design – Warren Keillor, Production Design – David Orin Charles. Production Company – Indiecan Entertainment Inc./Believerville Productions/Telefilm Canada/Sok Productions.
Cast
Mark O'Brien (Jason), Carolyne Maraghi (Janet Krimple), Paulino Nunes (Mr. Godfrey), Janet Porter (Misty), Anna Ferguson (Esther Godfrey), Paul Sun-Hyung Lee (Mort), Yulia Petrauskas (Oola)
---
Plot
The employees at Godfrey Global Inventory reach the end of their workday, having been told that the company is closing down. Mr Godfrey and his aging twin sister Esther persuade them to attend a party that evening to collect their severance bonuses. Godfrey offers them all one last shift where the entire inventory has to be packaged up before dawn. In return for working overtime, they will receive a one million dollar bonus. When Mort declines the offer and wants to go, Godfrey pulls out his timecard and clicks it with a hole punch, causing Mort to collapse dead. The others fearfully get to work. When Janet complains of the workload, Godfrey resurrects Mort as a zombie to help. The others gradually realise the end of the world will occur at dawn and in processing the inventory they are actually aiding in the process. Amongst themselves, they try to think of ways to delay this from coming about.
---
End of Days, Inc. is a directorial debut for Canadian director Jennifer Liao who had previously had a number of credits as an actress and made a handful of short films. End of Days, Inc. made the rounds of several festivals. The title leads you almost to think of some sort of sequel to the Arnold Schwarzenegger Devil Returns to Earth at the Millennium film End of Days (1999) but this is not the case.
End of Days, Inc. comes with a quirky appeal. The idea could almost have been taken from Hal Hartley's The Book of Life (1998), which has a few background scenes with a legal firm preparing for the end of the world. Jennifer Liao's idea is to take the typical material of an office comedy and given it a spin that has the staff working overtime in preparation for what they gradually realise is the last day of the world. Who their employer Mr Godfrey is is never made clear – we get the impression he might be The Devil but Paulino Nunes has a line where he ridicules the notion.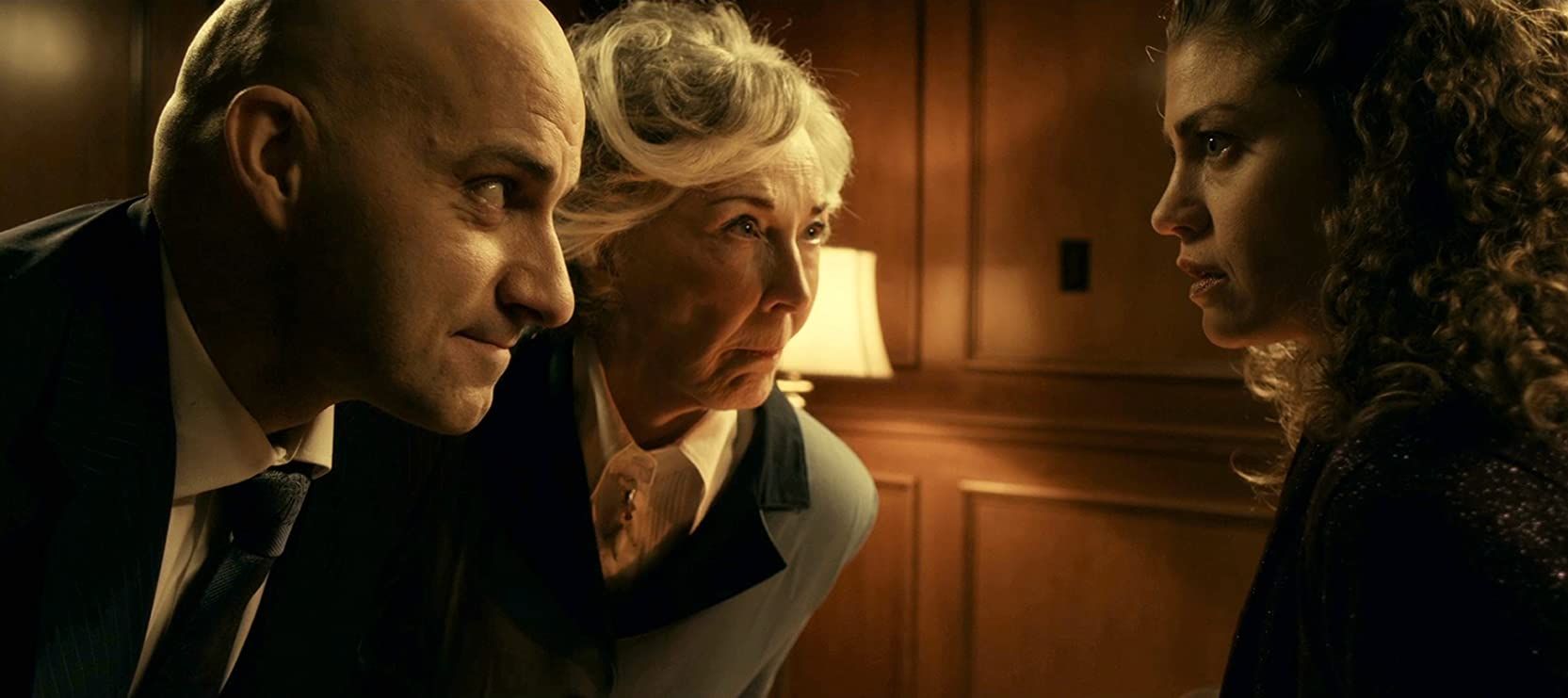 The problem is that this is a great idea for a short film but what we get often feels padded full of none-too-funny sequences with zombified Paul Sun-Hyung Lee or the minatory Paulino Nunes. You can feel Liao and the cast straining to give the material more punch than it comes out with on screen. What the film needed was an approach something to akin to the feel and dark bite of the Coen Brothers' The Hudsucker Proxy (1994), whereas Jennifer Liao tends to approach it as farce (Like The Hudsucker Proxy, this is also set in a stylised retro world dominated by old-fashioned office equipment, console radios, pneumatic tubes and punch cards).
Nevertheless, if you eventually persist with the film, Liao and the cast delve into some blackly funny scenes, especially with the attempts to get rid of a body and some of the latter scenes involving Paul Sun-Hyung Lee's zombie. The journey, despite some patches that badly feel like they need more energy, is not unworthwhile.
---
---