---
Crew
Director – Tim Burton, Screenplay – Jane Goldman, Based on the Novel by Ransom Riggs, Producers – Peter Chernin & Jenno Topping, Photography – Bruno Debonnel, Music – Michael Higham & Matthew Margeson, Visual Effects Supervisor – Frazer Churchill, Visual Effects – Double Negative (Supervisors – Andrew Lockley & Ollie Rankin), Exceptional Minds, MPC (Supervisor – Christian Irles), One of Us (Supervisor – Dominic Parker), Rodeo FX & Scanline VFX (Supervisor – Jelmer Boskma), Stop Motion Animation – Darren Walsh, Special Effects Supervisor – Neil Corbould, Makeup Effects Design – David White, Makeup Effects – Altered States, Production Design – Gavin Bocquet. Production Company – Chernin Entertainment/Tim Burton Productions/TSG Entertainment/Scope Pictures/St Clearwater Film Commission/Ingenious Media.
Cast
Asa Butterfield (Jake Portman), Eva Green (Miss Alma Peregrine), Ella Purnell (Emma Bloom), Samuel L. Jackson (Mr Barron), Chris O'Dowd (Franklin Portman), Terence Stamp (Abe Portman), Allison Janney (Dr Golan), Finlay MacMillan (Enoch O'Connor), Lauren McCrosbie (Olive Abroholos Elephants), Hayden Keeler Stone (Horace Somnusson), Milo Parker (Hugh Apiston), Pixie Davies (Bronwyn Bruntley), Georgia Pemberton (Fiona Fruanfeld), Raffiella Chapman (Claire Densmore), Judi Dench (Miss Avocet), Rupert Everett (John Lemmon), Cameron King (Millard Nullings), Kim Dickens (Jake's Mom), O-Lan Jones (Shelley), Helen Day (Miss Edwards), Scott Handy (Mr Gleeson), Shaun Thomas (Dylan), Justin Davies (Worm)
---
Plot
Jake Portman is a teenager working a dead end supermarket job in Florida. He goes to visit his grandfather Abe only to find that he has been attacked. Before he dies, Abe makes Jake promise to find the island and The Loop. Afterwards, Jake is placed into therapy to get over the loss. Among his grandfather's things, Jake finds a postcard from Alma Peregrine on Cairnholm Island in Wales dated in the last couple of years. This makes Jake think that his grandfather's stories of Miss Peregrine and her home for children with peculiar gifts might be true. Jake's psychologist encourages him to find the island and so he and his father travel to Wales and arrive on Cairnholm. Jake searches for Miss Peregrine's home only to find that it was destroyed in a bombing raid in 1943. In the ruins, he encounters strange figures and follows them into a cave to find himself back in 1943 where the home still exists. He is welcomed by Miss Peregrine who introduces him to the Peculiars – other children who all have peculiar gifts such as invisibility, super-strength, being able to start fires with their hands, make plants grow, bring inanimate objects to life, project their dreams and so on. Jake is drawn to Emma Bloom who is lighter than air and has to wear weighted shoes. Miss Peregrine reveals how the house is kept in The Loop on September 3rd, 1943 where every day she rewinds time to just before the bomb falls. As Jake moves between 1943 and the present, he realises that the location of The Loop is being sought by Mr Barron, who leads The Wights, a group of former Peculiars transformed into unearthly creatures by a failed experiment who can only retain their human form by devouring the eyes of Peculiars.
---
Tim Burton used to be the great hope of fantastic cinema. After making his directorial debut with Pee-Wee's Big Adventure (1985), Burton for a time delivered hit after hit, each made with a dazzling synthesis of production design, costuming and music and his own individual stamp of oddball eccentricity. See the likes of Beetlejuice (1988), Batman (1989), Edward Scissorhands (1990), Batman Returns (1992), The Nightmare Before Christmas (1993) and Ed Wood (1994). By the late 1990s, this started to falter in weaker nevertheless fun Burton efforts such as Mars Attacks (1996) and Sleepy Hollow (1999).
For Burton however, the 2000s and after became a lost cause that saw most of those who celebrated his name in the 1980s and 90s greeting each new work he turned out with disappointment and eventual desertion. Effort after effort – Planet of the Apes (2001), Big Fish (2003), Charlie and the Chocolate Factory (2005), Sweeney Todd: The Demon Barber of Fleet Street (2007), Alice in Wonderand (2010), Dark Shadows (2012), Frankenweenie (2012), Big Eyes (2014) and Dumbo (2019) – seemed a dud that was only drawing on 'the Tim Burton look' but where the heart seemed to have disappeared and all that was being made was another kooky private party seemingly made for the amusement of Burton and regular collaborators.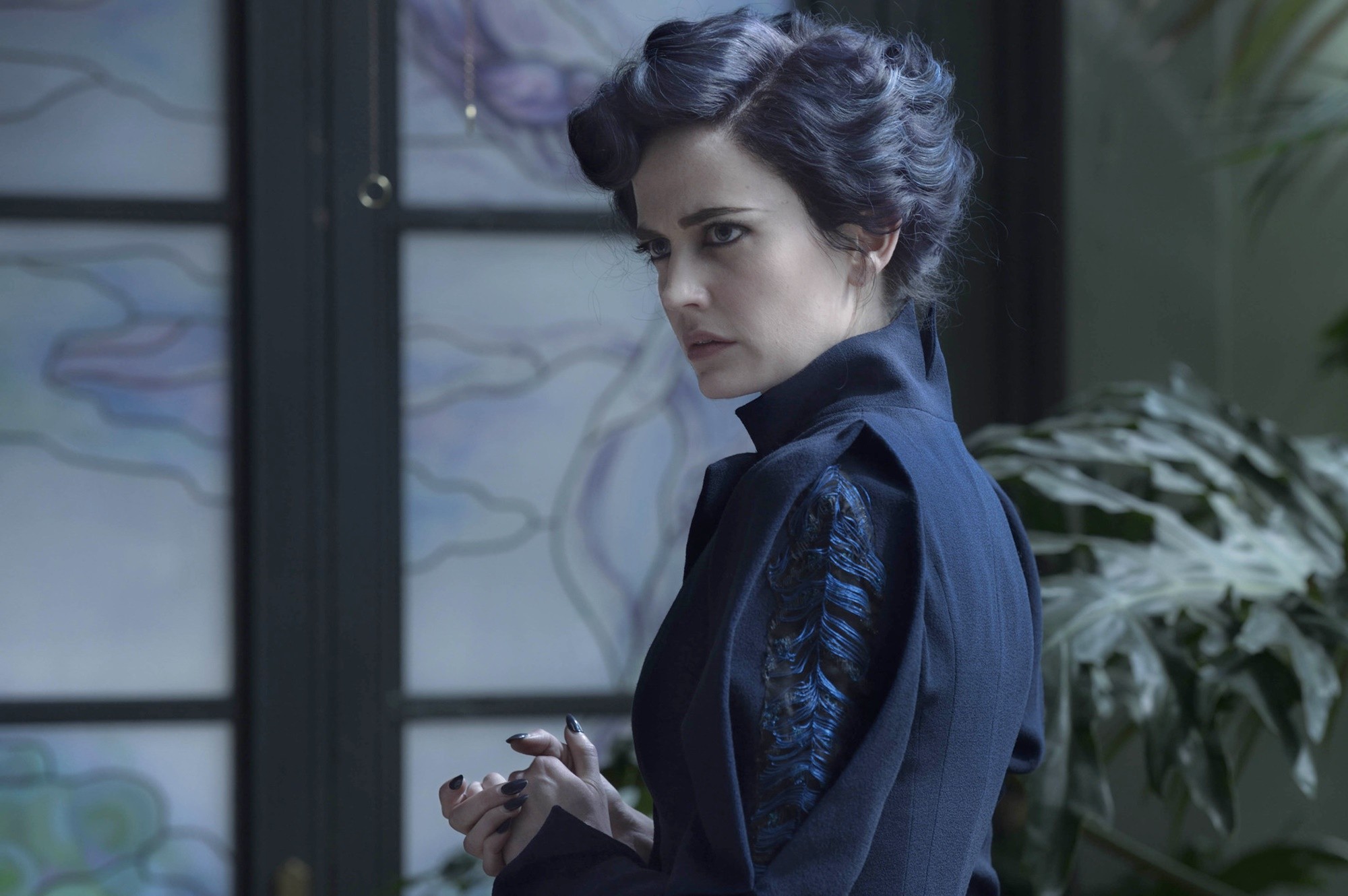 Miss Peregrine's Home for Peculiar Children sees Burton trying to do something different. He is without familiar collaborators like Johnny Depp, Helena Bonham Carter (who you suspect would have nailed Miss Peregrine perfectly but split up from her relationship with Burton in 2014), as well as musician Danny Elfman. In fact, the only former collaborator that Burton is working with again is Eva Green who had previously appeared in Dark Shadows.
Furthermore, Burton has eschewed much in the way of his usual offbeat look, even a good deal in the way of visual effects, preferring to instead rely on physical effects. It seems a concerted effort on Burton's part to change direction. Quite whether it means a different outlook, it is too early to say. It at least results in a film that feels less artifice than usual for him – everything he has made for the better part of a couple of decades has felt like the real world has been banished to the soundstage door. It feels weird writing in calling a film about child mutants and giant rampaging stilt creatures realistic but it feels as though the door has been opened back to the real world at least.
The film is based on Miss Peregrine's Home for Peculiar Children (2011), a Young Adult debut novel by Ransom Riggs, a former writer for Mental Floss. Riggs took his inspiration from a series of Found Photographs depicting various turn of the century circus freaks. The book was a success and Riggs has released two sequels Hollow City (2014) and Library of Souls (2015).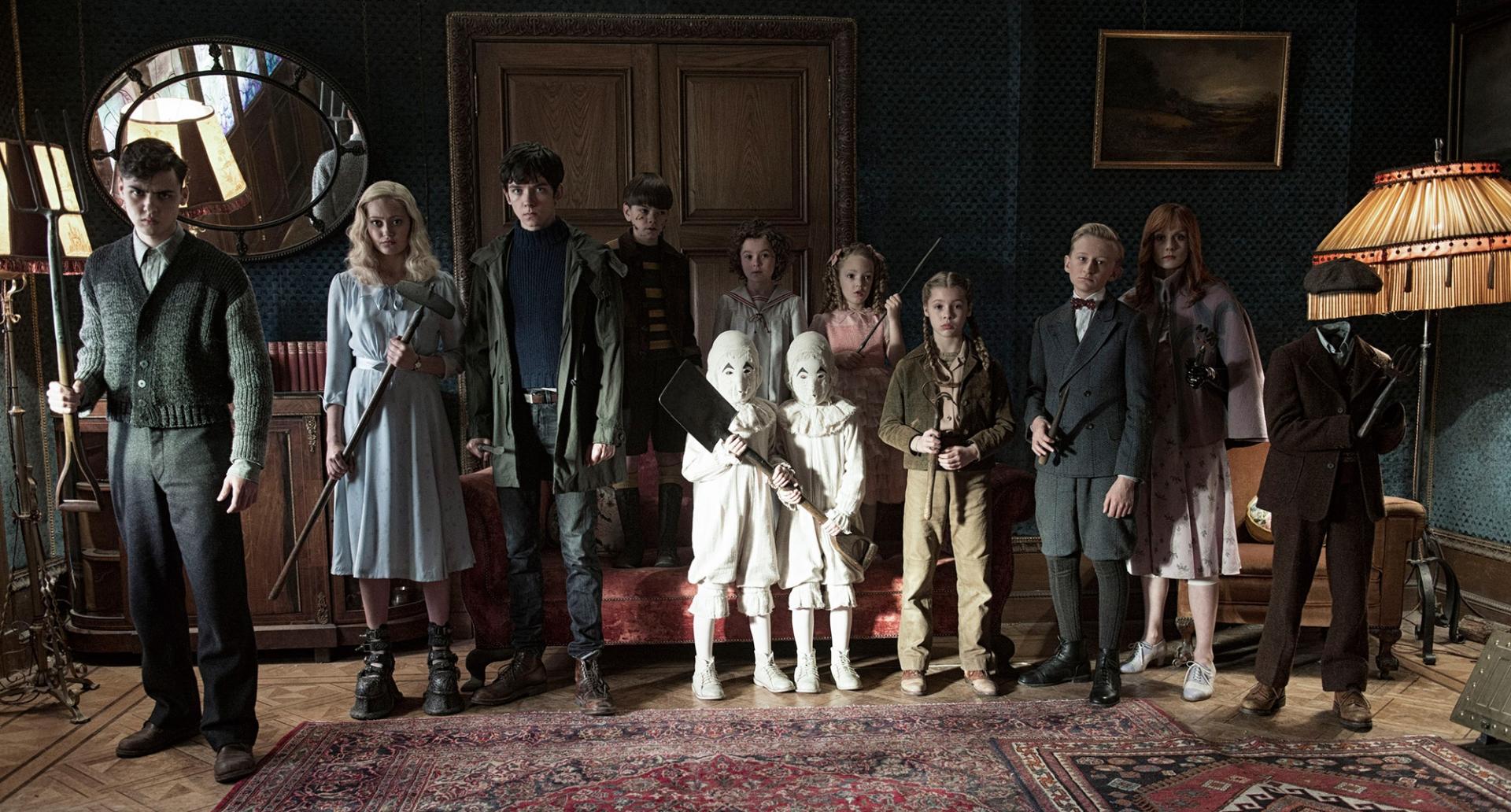 Miss Peregrine's Home for Peculiar Children emerges as okay fun. I neither hated it like I had recent Burton films like Sweeney Todd, Alice in Wonderland and Dark Shadows. On the other hand, neither did it feel like it was a work that had me bursting out in delight. If anything, the film seems to have been construed as a fantasy take on Professor Xavier's School for Gifted Youngsters. It is often fun watching the kids with their various powers in action, although the complaint might be that the best of these had their main punchline given away by the trailer.
The most magical moment is when Ella Purnell takes Asa Butterfield down to the sea floor into a sunken ship and exhales the air in her lungs to create an airtight room around them. The climactic battle between the Peculiars and the Wights is okay fun, even if it doesn't sing with the joy of the superheroic combat that you get in the X-Men or Marvel Cinematic Universe films. That said, Tim Burton has a blast coming up with a battle between Hollows and reanimated skeletons on the Blackpool Pier – Burton is a stop-motion animation fan and here he has clearly taken more than a few leaves from Ray Harryhausen and Jason and the Argonauts (1963).
Tim Burton's other films of genre interest include the kitsch Pee-Wee's Big Adventure (1985); the bizarre ghost story Beetlejuice (1988); Batman (1989); the genteel artificial boy fairy-tale Edward Scissorhands (1990); Batman Returns (1992); Ed Wood (1994), a biopic of the world's worst director; the alien invasion comedy Mars Attacks! (1996); the ghost story Sleepy Hollow (1999); the remake of Planet of the Apes (2001); Big Fish (2003) about an habitual teller of tall tales; Charlie and the Chocolate Factory (2005); the stop-motion animated Gothic Corpse Bride (2005); the horror musical Sweeney Todd: The Demon Barber of Fleet Street (2007); Alice in Wonderland (2010); the film remake of the tv series Dark Shadows (2012); the stop-motion animated Frankenweenie (2012); and the live-action remake of Dumbo (2019). Burton also produced Henry Selick's darkly brilliant stop-motion animated fantasies The Nightmare Before Christmas (1993) and James and the Giant Peach (1996); as well as the live-action conte cruel Cabin Boy (1994), Batman Forever (1995), the animated 9 (2009), Abraham Lincoln, Vampire Hunter (2012) and Alice Through the Looking Glass (2016). The Death of "Superman Lives": What Happened? (2015) is a fascinating documentary about Burton's failed Superman Lives project.
---
---