---
USA. 1994.
Crew
Director – Alex Proyas, Screenplay – David J. Schow & John Shirley, Based on the Graphic Novel by James O'Barr, Producers – Jeff Most & Edward R. Pressman, Photography – Dariusz Wolski, Music – Graeme Revell, Visual Effects – DreamQuest Images (Supervisors – Alex & Andrew Mason), Special Effects Supervisor – J.B. Jones, Makeup Effects Supervisor – Lance Anderson, Production Design – Alex McDowell. Production Company – Crowvision Inc.
Cast
Brandon Lee (Eric Draven), Ernie Hudson (Albrecht), Michael Wincott (Top Dollar), Rochelle Davis (Sarah), Tony Todd (Grange), Bai Ling (Myca), Jon Polito (Gideon), David Patrick Kelly (T-Bird), Lawrence Mason (Tin-Tin), Michael Massee (Funboy), Angel David (Skank), Anna Thomson (Darla)
---
Plot
On Devil's Night, hoods burst into the apartment of rock musician Eric Draven and kill he and his girlfriend Shelly Webster. One year later, Eric claws his way up out of his grave where he finds that he is now impervious to bullets and cuts. Painting his face in black and white makeup and aided by a crow whose eyes he can see through, he sets about exacting a violent and brutal death to each of the hoods that killed him.
---
The main attention The Crow attracted in the mainstream press prior to release was the tragedy of star Brandon Lee's death on the set. Lee was accidentally shot with a loaded prop gun just prior to the end of filming. The press made full light of the tragedy's fateful symbolism – how Brandon was cut down at the height of his career (The Crow marked his breakthrough as a serious actor after parts in B action movies); the similarities to the way Brandon's father, martial arts superstar Bruce Lee, had also died at the height of his career peak with Enter the Dragon (1973); the suspicious circumstances in which both Brandon and Bruce were killed, which fuelled all manner of conspiracy theories about Oriental curses to hit squads assassinating them for violating secret martial arts codes; and how The Crow's story about a youth brutally killed in his prime so ironically reflected events in real life. Providentially, Brandon Lee's death occurred towards the end of shooting thus not depriving the world of this superb film and fine testament to his abilities as an actor.
Adapted from James O'Barr's 1989 graphic novel, The Crow is a marvellously dark and exciting film. It wilfully celebrates the Gothic nihilism of the modern graphic novel and was the most darkly exhilarating of filmed comic-book adaptations to emerge in the wake of Batman (1989). Former music video director Alex Proyas employs an MTV cut-up style that has a high-energy kick. The action set-pieces are immensely exciting.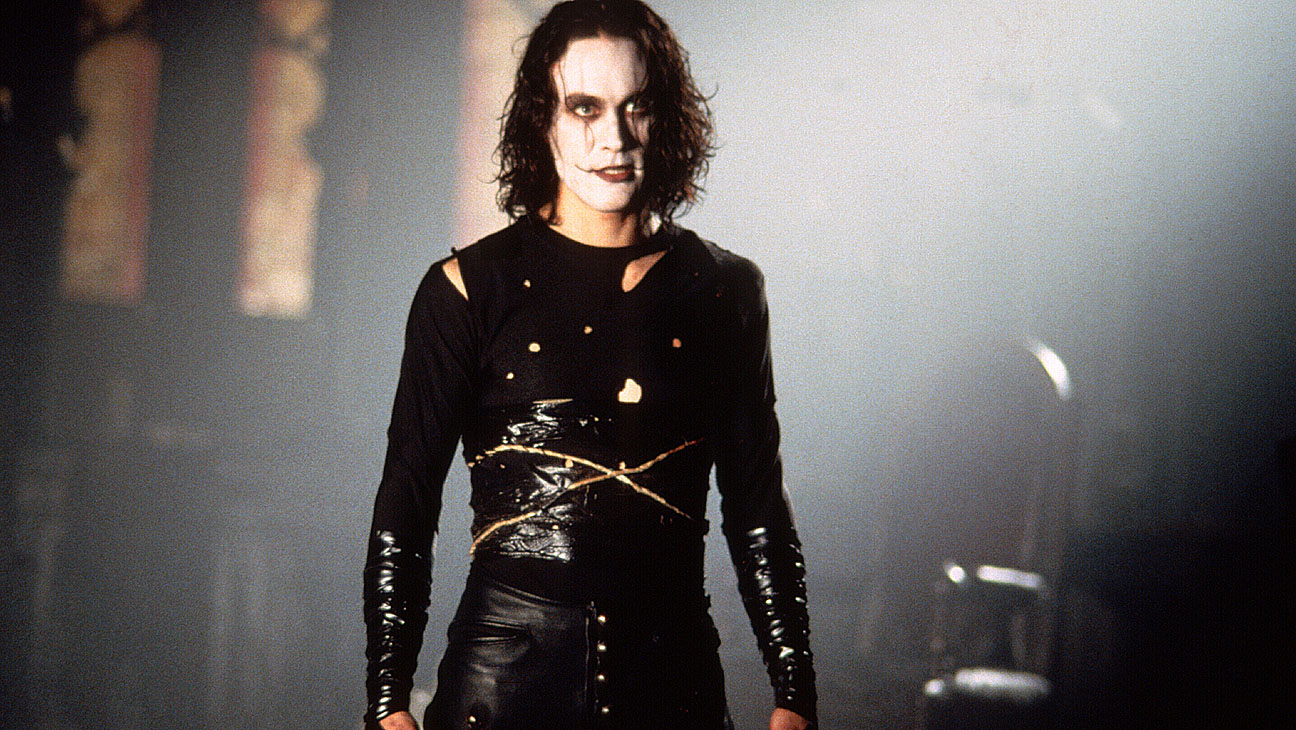 The graphic novel was drawn in black-and-white and in the film all the colours have been bled out of the frame until it is a glistening black with only a few flashes of white – particularly notable being the grotesque parody of clown makeup on Brandon Lee's face. The streets are contained to within one fantastically dark and glistening enclosed milieu, with the camera effortlessly, sinuously zipping up to roof-height to follow the flight of the crow. (The city was in fact one seamlessly stylised blend of models and sets).
There is an extraordinary script from splatterpunk writer David J. Schow and hard-edge science fiction author John Shirley, which beautifully contrasts the dark emotions with a beatific innocence. The ornateness of Schow and Shirley's dialogue is often hauntingly beautiful – "Mother is the name of God on every child's lips," [a line borrowed from W.P. Thackeray] or Brandon Lee's reflection "Little things used to mean so much to Shelly. I used to think they were trivial. Believe me, nothing is ever trivial." Brandon Lee gives a good performance – although one in which the script plays no small part – proving a master of the dark ironies. For once, the script has the character spouting one-liners that do not detract from the horror but instead grimly underline it.
The Crow is an immensely exciting film. It was followed by three increasingly more disappointing sequels – The Crow: City of Angels (1996), The Crow: Salvation (2000) and The Crow: Wicked Prayer (2005) – and a tv series The Crow: Stairway to Heaven (1998-9). A remake has been announced for 2010s.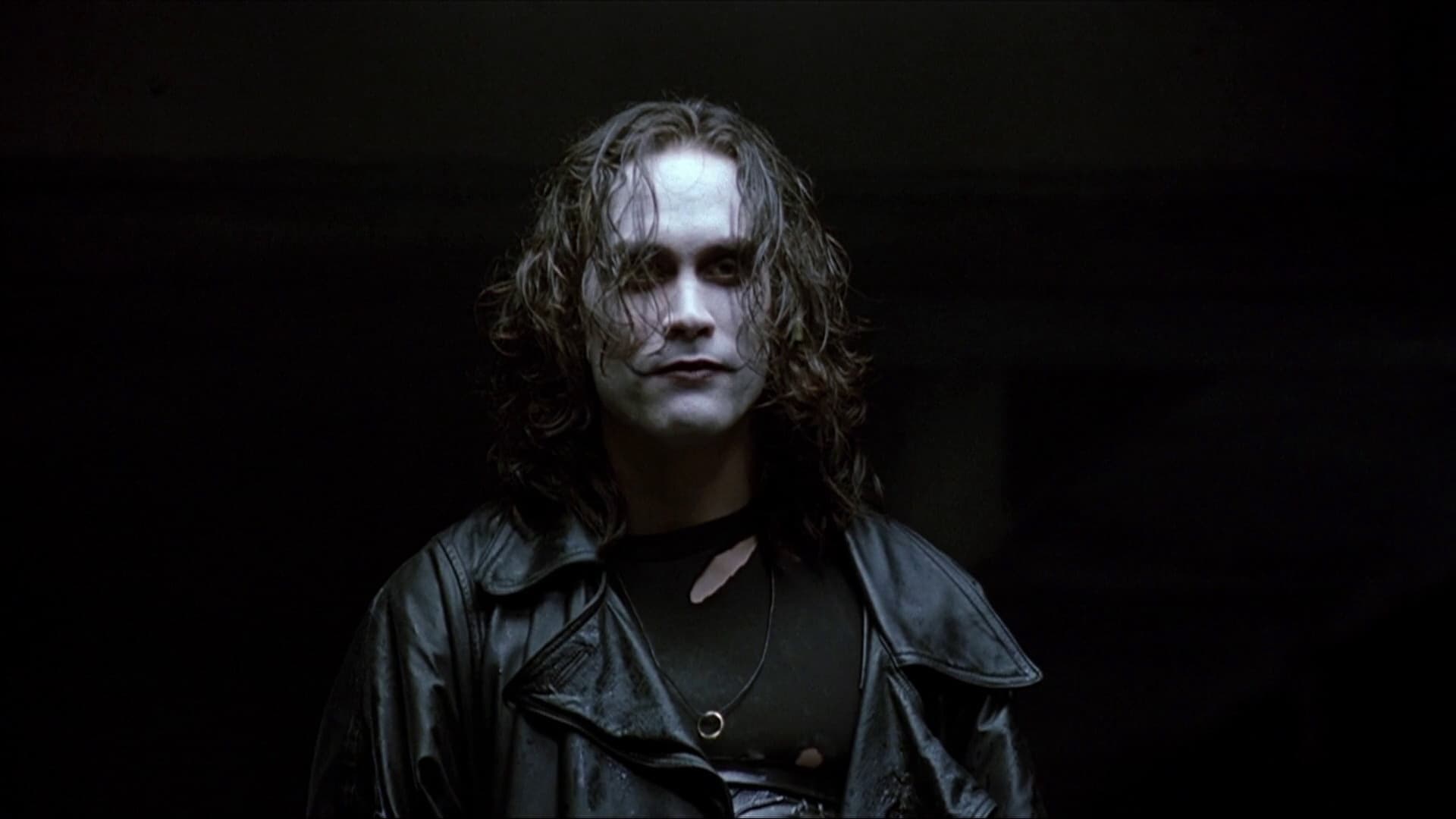 Director Alex Proyas had earlier made the little seen arty post-holocaust film Spirits of the Air, Gremlins of the Clouds (1987). He subsequently went onto make Dark City (1998), which is surely the finest, most conceptually challenging and underrated sf films of the 1990s, followed by I, Robot (2004), Knowing (2009) and Gods of Egypt (2016). Proyas has also executive produced the unsold tv pilot for Riverworld (2003) based on the Philip Jose Farmer afterlife books.
David J. Schow is a well-known horror writer and has written for the screen with the likes of Leatherface: Texas Chainsaw Massacre III (1990), Critters 3 (1991), Critters 4 (1992), The Texas Chainsaw Massacre: The Beginning (2006) and The Hills Run Red (2009). Co-writer John Shirley is known for his horror and Cyberpunk novels and also wrote the screenplay for the modernised Edgar Allan Poe adaptation Ligeia (2009).
(Winner in this site's Top 10 Films of 1994 list. Nominee for Best Director (Alex Proyas), Best Adapted Screenplay, Best Actor (Brandon Lee), Best Supporting Actress (Bai Ling) and Best Cinematography at this site's Best of 1994 Awards).
---
---