---
Crew
Director – Pitof, Screenplay – John Brancato, Michael Ferris & John Rogers, Story – John Brancato, Michael Ferris & Theresa Rebeck, Based on Characters Created by Bob Kane, Producers – Denise Di Novi & Edward McDonnell, Photography – Thierry Arbogast, Music – Klaus Badeldt, Music Supervisor – Dawn Soler, Visual Effects Supervisor – Ed Jones, Visual Effects – Christov Effects, Circle-S Studio, ESC Entertainment (Supervisor – Kim Libreri), Frantic Films, Matte World Digital, Meteor Studio, Pacific Title and Digital & Tippet Studio (Supervisors – Joe French & Eric L. Reynolds), Special Effects Supervisor – Tony Lazarowich, Production Design – Bill Brzeski. Production Company – Di Novi Pictures.
Cast
Halle Berry (Patience Phillips/Catwoman), Benjamin Bratt (Detective Tom Lone), Sharon Stone (Laurel Hedare), Lambert Wilson (George Hedare), Alex Borstein (Sally), Frances Conroy (Ophelia Powers), Michael Massee (Armando), Christopher Heyerdahl (Rocker Neighbour)
---
Plot
Patience Phillips is a downtrodden graphic artist working for Hedare Beauty, managed by the tyrannical George Hedare and his wife Laurel, a model who has passed her prime. Working late one night, Patience leaves the building only to overhear a discussion where she learns that Beau-line, Hedare's new upcoming product, has a deadly side effect that destroys a user's face and that the Hedares are planning to market it uncaring. Patience is then discovered, pursued and flushed out a waste pipe. Left for dead, cats come and surround Patience and breathe life back into her. Afterwards, Patience discovers that she now has remarkable agility and cat-like senses. Adopting a scanty leather costume and a black mask, she becomes what the media dub Catwoman. However, as she tries to investigate the circumstances of her murder, she ends up being blamed for a further series of deaths as the Hedares eliminate other witnesses.
---
Cat Woman is one of the essential characters of the Batman mythos. Indeed, Cat Woman is about the only character to consistently offer an injection of sexuality into Bruce Wayne's bachelor world and his decidedly dubious relationship with the teenage Robin. She appeared in the very first issue of Batman's first comic-book Batman #1 in 1940, although there she was a jewel thief known only as The Cat. The costume and mask appeared a few issues later and she was redubbed Cat Woman. She has since become a recurring villain of the Batman universe and has even appeared in several of her own short-run titles. Of all the Batman villains, she has the greatest ambiguity, hovering between villainy and love interest (a number of alternate world scenarios for the Batman universe have her and Bruce Wayne settling down).
Cat Woman has appeared in a number of the Batman screen incarnations – she was played by two different actresses, Julie Newmar and Eartha Kitt, in the Batman (1966-8) tv series and by Lee Merriwether in the movie spinoff Batman (1966); appears in the animated Batman series (1992-4) voiced by Adrienne Barbeau; in the short-lived tv live-action tv series spinoff Birds of Prey (2002-3) where she has even had a daughter with Bruce Wayne who now operates as a heroine The Huntress played by Ashley Scott; and as a young girl played by Camren Bicondova in the Batman origin tv series Gotham (2014-9). Cat Woman was subsequently incarnated by Anne Hathaway in The Dark Knight Rises (2012) and Zoe Kravitz in The Batman (2022), and received a further film of her own with the much superior animated Catwoman: Hunted (2022) where she was voiced by Elizabeth Gillies.
The most memorable of Cat Woman's screen appearances was her incarnation by Michelle Pfeiffer in Tim Burton's Batman Returns (1992). The response to Pfeiffer's Cat Woman was so intense that the idea of a separate Catwoman film was announced almost straight after the film came out. The project was in development for more than a decade under Burton's former producing partner Denise Di Novi. Michelle Pfeiffer bowed out of repeating the role, citing the uncomfortableness of wearing the cat suit, and various actresses including Sean Young and Ashley Judd were touted in the part in the ensuing decade.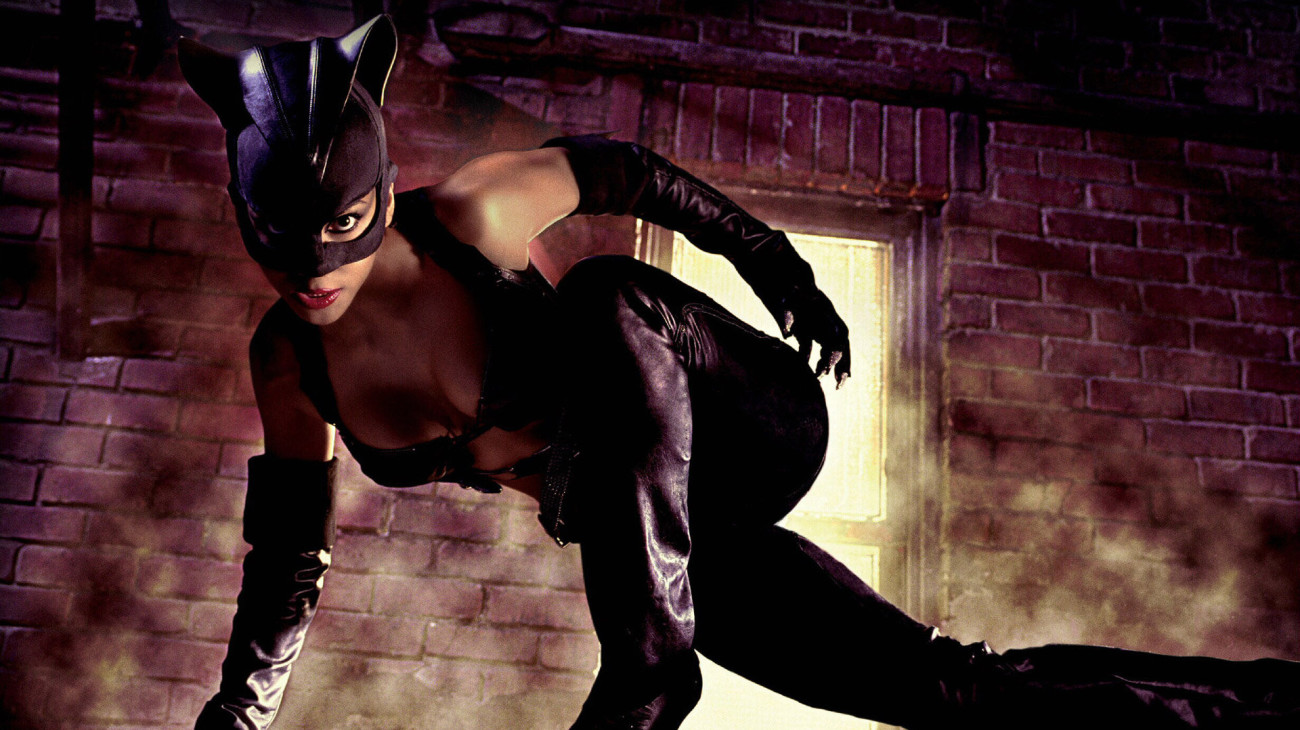 Before it even opened, largely on the basis of its trailer, Catwoman was being regarded as a total dog by comic-book fans. And when it did open, the film attracted some of the most contemptuous reviews since, well, the last entry in the cinematic Batman franchise, Joel Schumacher's Batman & Robin (1997). Catwoman might not be down at the level of Batman & Robin, which is one of the worst films ever made, but there is so much that the film could have been. In Batman the comic-book, the character of Cat Woman has a moral ambiguity where she vies between villainness and love interest, something that was brought to life with a fetishistic sizzle in Batman Returns. Alas, Catwoman is an infantile movie, conceived, written and directed as though it were a distillation of comic-book movie clichés and all played as though written for kids.
Much of the problem with Catwoman can be laid at the hands of its director and a poor script. The director's chair went to the French-born Pitof (real name Jean-Christophe Comar). It is probably soon likely to become a rule of thumb that any director who goes only by a single name – good examples being McG of Charlie's Angels (2000) fame and Kaos of Ballistic: Ecks vs. Sever (2002), the last big-budget film to get the sort of bad reviews that Catwoman does – is young and absorbed in their own empty-headed stylistic pretensions. Pitof comes from a visual effects background in his native France where he has acted as supervisor on films such as Delicatessen (1991), Les Visiteurs (1993), The City of Lost Children (1995), Alien: Resurrection (1997), Asterix and Obelix vs Caesar (1999) and The Messenger: The Story of Joan of Arc (1999). Pitof made his directorial debut with the visually extravagant period detective story/supernatural mystery Vidocq/Dark Portals: The Chronicles of Vidocq (2001), an extraordinary film that exists at almost 180 degrees remove from Catwoman.
In Catwoman, Pitof has tried to graft the vertiginous swinging and wall-bouncing acrobatics that became a feature of the recent Spider-Man (2002) onto the comic-book – although, if anything, it is more a case of Catwoman trying to mimic the aforementioned Charlie's Angels and its silly style-heavy aesthetic. This certainly gives Catwoman a kinetic busyness but the scenes feel grafted on and without conviction. One scene where Halle Berry and Benjamin Bratt tumble on a catwalk above a nightclub seems more concerned with the acrobatics and swinging spotlights than making dramatic sense. Some of Pitof's scenes would have looked naff no matter how they were directed – the impromptu basketball game, the encounter with a rocker neighbour, Halle Berry's whip-wielding antics on the dancefloor.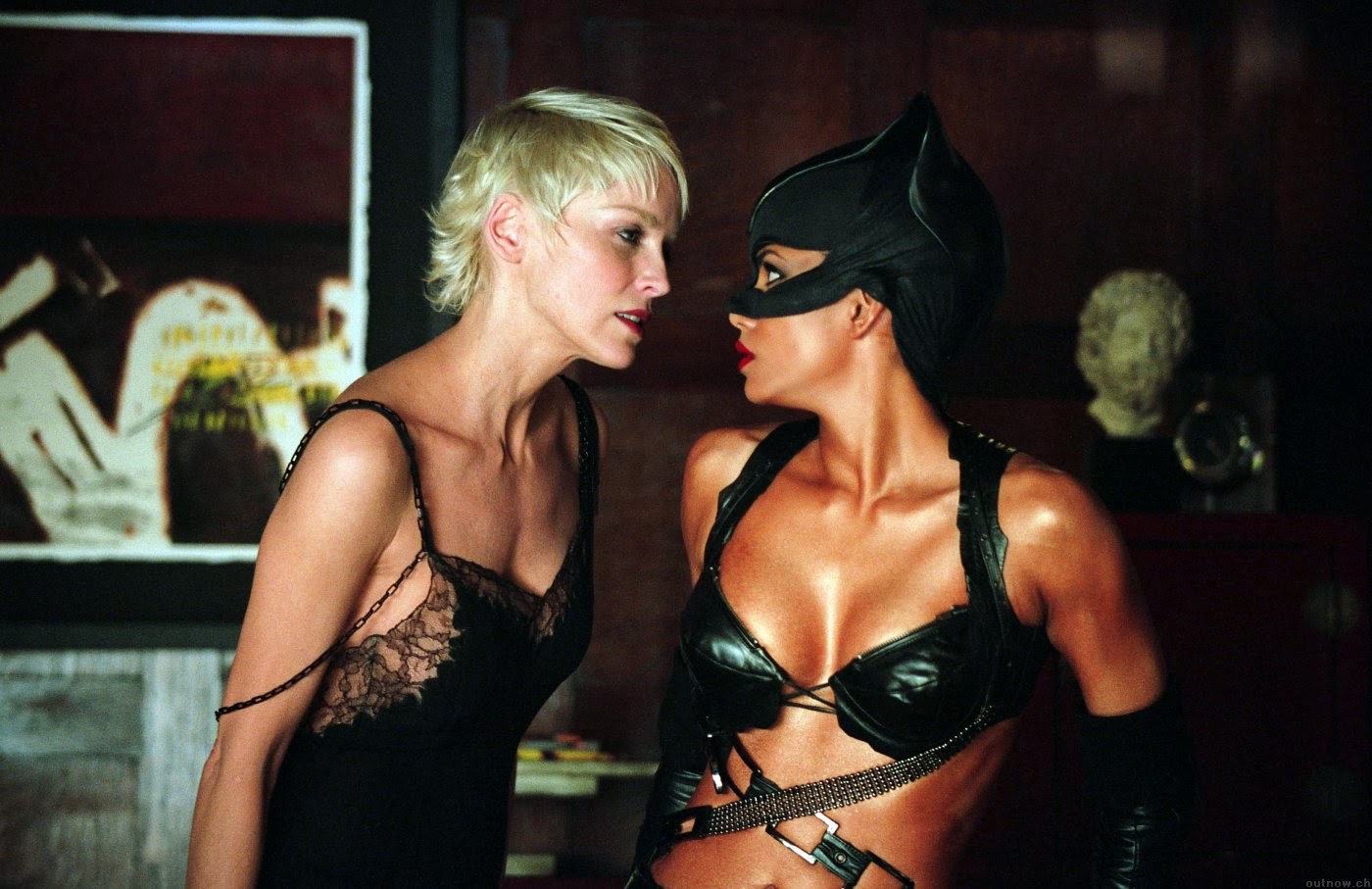 The script comes from John Brancato and Michael Ferris, the duo who also wrote the woeful Terminator 3: Judgement Day (2003) and The Net (1995), and is one-dimensional in terms of credible psychology, character motivation and even its villainy. The two writers' idea of sophistication is throwing up a maximum of cat-related puns and jokes – lines like "cat got your tongue?" and "purr-fect". Furthermore, it is a scratch of the paw to the head trying to work out exactly how Catwoman fits into the Batman mythos. In the comic-books and films, Catwoman's name is Selena Kyle but in this film she has been renamed Patience Phillips. Here she also receives an an arsenal of fantastical cat-like abilities compared to the comic-book character whose abilities were always mundane. The origin story follows the one told in Batman Returns reasonably closely but there is no mention of Gotham City, Batman or any of the other elements of the comic-book and films. You could be tempted to think that this might have been for some complicated copyright reason – that the filmmakers had obtained the right to Cat Woman but not Batman or any of the rest – excepting for the fact that the credits prominently note the character as being the same one created by Bob Kane and as published by DC Comics. There is no particular reason that this could not also have been the Selena Kyle Catwoman. Perhaps though, one should not be too hard on the film for this – after all, although Cat Woman appeared in the Batman comic-books ever since the beginning, it was not until into the 1950s that she was given an origin story, mostly she was conceived as a feminine foil, playing off the feline aspect in much the same way that Batman was a take on bat themes.
After much casting speculation, the role of Catwoman eventually went to Halle Berry. With the film's thorough trashing by audiences and critics, there ended up being a good many "What's a talented Oscar-winning actress like Halle Berry doing in a piece of junk like this?" comments. I tend to see the question differently. More like it being one of "How did a thoroughly overrated actress like Halle Berry end up winning an Oscar in the first place?" I look through a list of Halle Berry's film credits and strain to think of a single film where she has given a memorable performance – okay, she has a moderate degree of sizzle as the seductive secretary (coincidentally also named Sharon Stone) in The Flintstones (1994) but elsewhere proved a terrible Bond girl in Die Another Day (2002), made no distinction on the X-Men franchise in her one other superheroic outing, failed to carry the lead in Gothika (2003) or Perfect Stranger (2007), and then there was ahem her famous breast-baring scene in the entirely terrible Swordfish (2001).
It is not that Halle Berry is particularly bad here – it is more that she has an incredibly limited range as an actress. As Patience, she is characteristically introverted and withdrawn, as though she were suffering from stage fright. As Catwoman, she struts her seductive stuff but fails to see when a performance falls into camp or not. There seems no limit on the silliness that Pitof is prepared to put her through or what she is prepared to lower herself to do – be it licking out tins of tuna, kicking in doors and facing down bad boy rockers, cracking a whip on a nightclub dancefloor or sniffing catnip. (About the only thing we do not get is her coughing up furballs and chasing balls of wool, although the film is so silly that you half expect something of the sort).
Sharon Stone reveals possibilities as a campy super-villainness but the part is so severely underdeveloped in terms of writing that she is left stranded. The only other one with potential is Alex Borstein who has a likeable comic presence as the best friend – something you could easily expect to see her to playing out as a role in a sitcom.
Director Pitof subsequently went onto make the sword-and-sorcery film Fire & Ice (2008).
(Winner in this site's Worst Films of 2004 list).
---
---