---
Crew
Director – Marc Webb, Screenplay – Alex Kurtzman, Roberto Orci & Jeff Pinkner, Story – Alex Kurtzman, Roberto Orci, Jeff Pinkner & James Vanderbilt, Producers – Avi Arad & Matthew Tolmach, Photography (3D) – Dan Mindel, Music – Hans Zimmer and The Magnificent Six, Visual Effects Supervisors – Jerome Chen & Gregory L. McMurray, Visual Effects – MPC (Supervisor – Erik Nordby) & Sony Pictures Imageworks, Special Effects Supervisor – John Frazier, Makeup Effects – KNB FX Group Inc (Supervisors – Howard Berger & Greg Nicotero), Production Design – Mark Friedberg. Production Company – Marvel Enterprises.
Cast
Andrew Garfield (Peter Parker/Spider-Man), Emma Stone (Gwen Stacy), Jamie Foxx (Max Dillon/Electro), Dane DeHaan (Harry Osborn/The Green Goblin), Sally Field (Aunt May), Campbell Scott (Richard Parker), Paul Giamatti (Alexei Systevich/Rhino), Colm Feore (Donald Menken), Felicity Jones (Felicia), [uncredited] Chris Cooper (Norman Osborn), Embeth Davidtz (Mary Parker), Marton Csokas (Dr Ashley Kafka), Michael Massee (Gustav Fliers)
---
Plot
Peter Parker continues to fight crime as Spider-Man, apprehending the brutish Alexei Systevich as he rampages through the streets in a stolen truck of radioactive vials. Peter is still very much in love with Gwen Stacy but is mindful of his oath to her father to stay away from her. Despite this, the two of them renew their affection for one another. Meanwhile, Max Dillon, a nerdish electrician at Oscorp, falls into a tank of electric eels and emerges with the power to manipulate and control electricity. As Spider-Man, Peter confronts Dillon as his electrical powers go amok in Times Square. At the same time, Peter's best friend Harry Osborn inherits control of Oscorp after the death of his father. Harry then discovers that he is dying. Realising that Spider-Man's powers came from the Oscorp mutant animals, Harry begs Spider-Man (not realising it is his best friend) for a transfusion of blood to save him. Having discovered his father's secret lab and realised that the spider venom was keyed to his DNA by his father, Peter refuses. Harry then injects himself with a concentrate of the spider venom – only to emerge as a hideous green-skinned goblin creature.
---
The Amazing Spider-Man 2 is another entry amid the massively popular series of Marvel Comics adaptations on the big screen in the 2000s and 2010s. See also the likes of Blade (1998), X-Men (2000), Daredevil (2003), Hulk (2003), The Punisher (2004), Elektra (2005), Fantastic Four (2005), Ghost Rider (2007), Iron Man (2008), Captain America: The First Avenger (2011), Thor (2011), The Avengers (2012), Guardians of the Galaxy (2014), Ant-Man (2015), Deadpool (2016), Doctor Strange (2016), Black Panther (2018), Venom (2018), Captain Marvel (2019), Black Widow (2021), Eternals (2021), Shang-Chi and the Legend of the Ten Rings (2021) and various sequels, with sequels to almost all of the listed, as well as the tv series' Agents of S.H.I.E.L.D. (2013-20), Daredevil (2015-8), Agent Carter (2015-6), Jessica Jones (2015-9), Luke Cage (2016-8), The Defenders (2017), Inhumans (2017), Iron Fist (2017-8), The Punisher (2017-9), Runaways (2017-9), The Falcon and the Winter Soldier (2021- ), Hawkeye (2021- ), Loki (2021- ), WandaVision (2021- ), Moon Knight (2022- ), Ms Marvel (2022- ), She-Hulk: Attorney at Law (2022- ) and Secret Invsion (2023).
The Amazing Spider-Man 2 is a sequel to The Amazing Spider-Man (2012) and features return appearances from director Marc Webb and cast members Andrew Garfield, Emma Stone and Sally Field. This in turn had been a reboot of the earlier trilogy of Spider-Man films that had come out amongst the Marvel Comics cinematic renaissance with Spider-Man (2002), Spider-Man 2 (2004) and Spider-Man 3 (2007) under director Sam Raimi and starring Tobey Maguire in the title role.
The Amazing Spider-Man did a number of things particularly well in ways that (when combined with The Amazing Spider-Man 2) makes Marc Webb's interpretation of the character preferable to Sam Raimi's. For Raimi, Peter Parker was a winsome boy scout who existed in a world of black-and-whites. Webb, by contrast, darkened that vision, took the story down to a level of realist action and psychological motivation that made his Spider-Man series work with a far greater degree of complexity than we had seen before. Both Andrew Garfield and Emma Stone made a winning pairing on screen.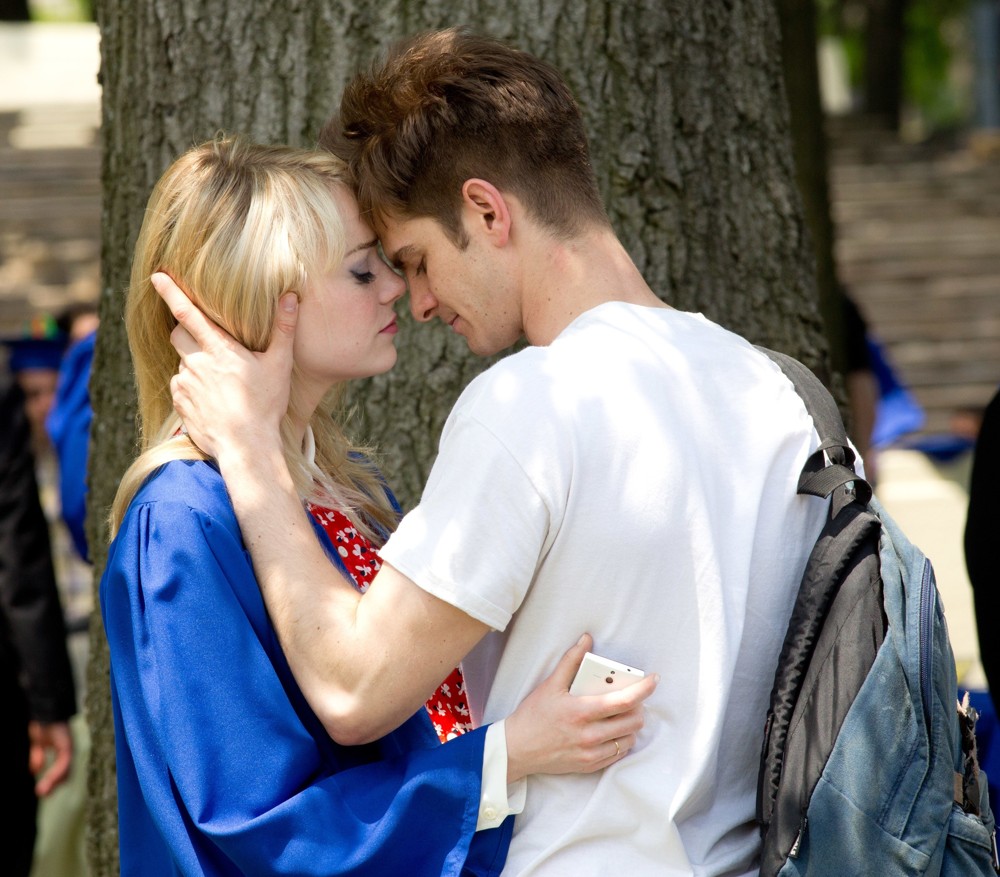 The Amazing Spider-Man 2 immediately kicks in in ways that make you go wow. It both builds on what went before and compensates for some of the weaknesses of the previous film to work much more satisfyingly. What astonishes about The Amazing Spider-Man 2 is the way the entire Spider-Man backhistory has been set up to fall into place over successive films. With The Avengers, we had Marvel layering hints and clues throughout preceding films leading up to that point but each film was largely its own story entity. This is far more than that, where the filmmakers have taken the major aspects and characters of the Spider-Man mythos and staggered them out into a vast saga that is clearly intended to run to multiple films – I mean, we are two films in and haven't even arrived at Peter Parker working for the Daily Bugle or met Jonah Jameson yet (although we do see an email addressed from him here). Not to mention have yet to be introduced to Mary Jane Watson.
With this, the Amazing Spider-Man series has taken a huge gamble and fired off a bunch of story arcs that are clearly intended to see fruition over successive films. Gwen Stacy is a character that has seen little attention in any other Spider-Man screen incarnation (apart from a minor appearance from Bryce Dallas Howard in Spider-Man 3) and yet, though she is an integral character in the Spider-Man backstory, the films have taken the confident step of holding Mary Jane Watson back as love interest and focusing on Gwen for two films now, of course leading to her fate here, which is every bit as emotional as one expects it to be. I very much like the colossal ambition of the storytelling task that these films have chosen for themselves.
The Amazing Spider-Man felt like Marc Webb was just trying out the Spider-Man franchise for size – it was, after all, only his second film as director – and doing a pretty good job of it too. However, The Amazing Spider-Man 2 feels like he and Andrew Garfield hitting in at the peak of their game. The opening sequence with Spider-Man racing around the streets trying to stop Rhino (an unrecognisable Paul Giamatti) in a stolen truck that is being pursued in the biggest police car chase since The Blues Brothers (1980) makes you gasp, laugh and cheer all the same time. The way that Webb flips between jaw-dropping web-slinging action and vehicular mass destruction, with Spidey's acrobatics alternated with him having to duck off to save innocents in between trading rapid-fire quips with Rhino and answering calls from Gwen on his cellphone hit in with a lightning-paced adroitness that make you applaud its adeptness.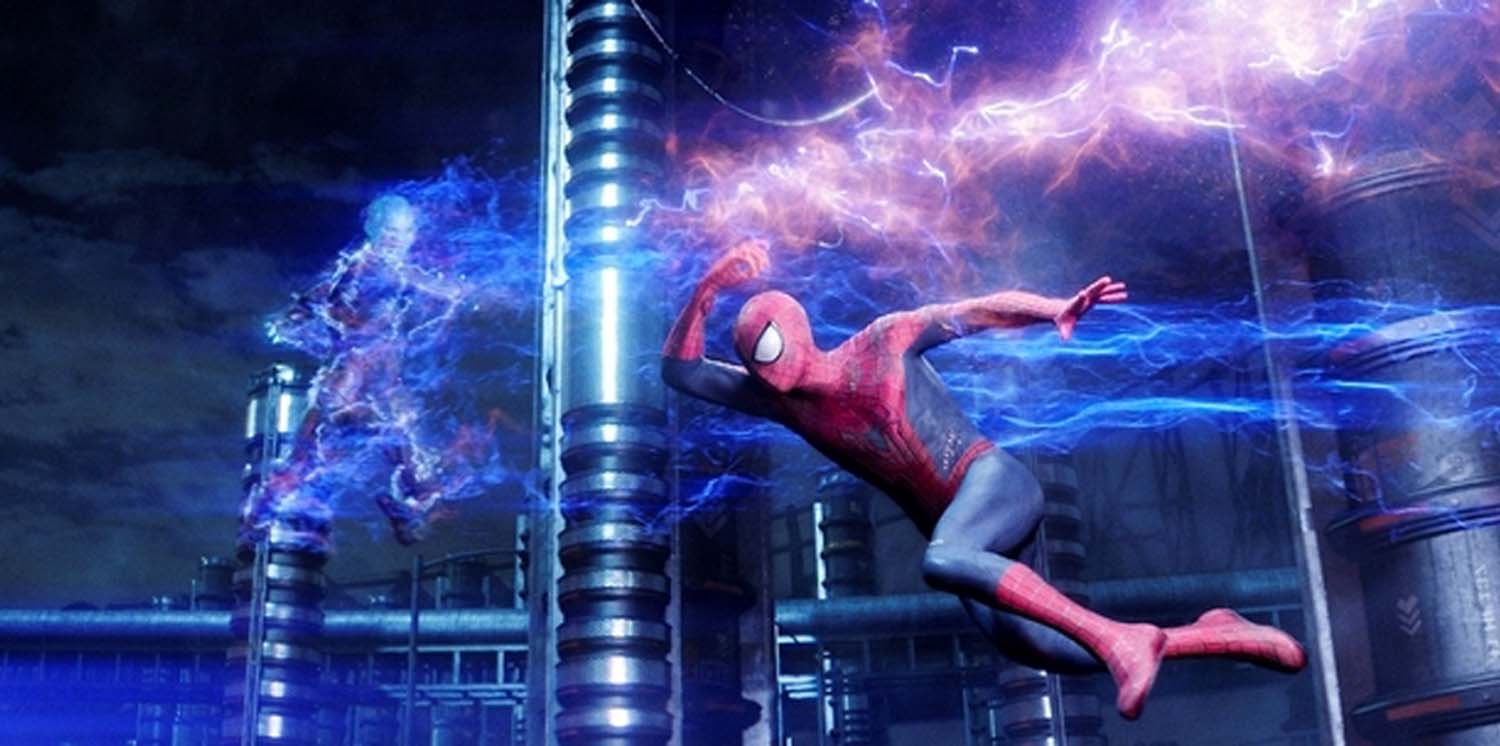 There has been the tendency ever since Batman Returns (1992) to up the number of villains present when it comes to superhero sequel. This is no different and offers up three different super-villains from Spider-Man comics – The Green Goblin, Electro and Rhino. (There are also hints in the background of the introduction of the Sinister Six, which Sony announced as a potential spinoff film, as we tour the inner Oscorp laboratories and see various power-suits, including one that we know will become the suit for Dr Octopus, although plans were subsequently dropped with this film's poor box-office performance).
All three super-villains' continuity has been considerably rewritten in order to fit into the mythos that The Amazing Spider-Man series is building. Perhaps the most notable example of this is when it comes to the introduction of The Green Goblin – according to the Spider-Man comic-book, it is Harry Osborn's father Norman who was The Green Goblin and Harry who puts on the suit to become Green Goblin Mark II following his father's death. While we have Harry's father here (an uncredited Chris Cooper), there is no mention of his activities in the Green Goblin suit and all indication that, as a result of Harry's ingestion of the spider venom, it is he who becomes the first Green Goblin.
My only real complaint with the rewrites of the villains is that the film never does much with them. Rhino is negligible as a character – only there in two major action sequences at the beginning and end. Jamie Foxx's Electro gets the most amount of screen time of any of these, although even there his character is no more in depth than the sycophantic and socially adjusted nerd underdog who gains super-powers as per Jim Carrey's Riddler in Batman Forever (1995). The disappointment of Electro as a character is how one-dimensional he is when you have an actor of Jamie Foxx's calibre in the role. Harry Osborn gets the most substantial writing of any of the villains, although the disappointment of his Green Goblin is that he only turns up for a single scene at the end, before being dispensed with.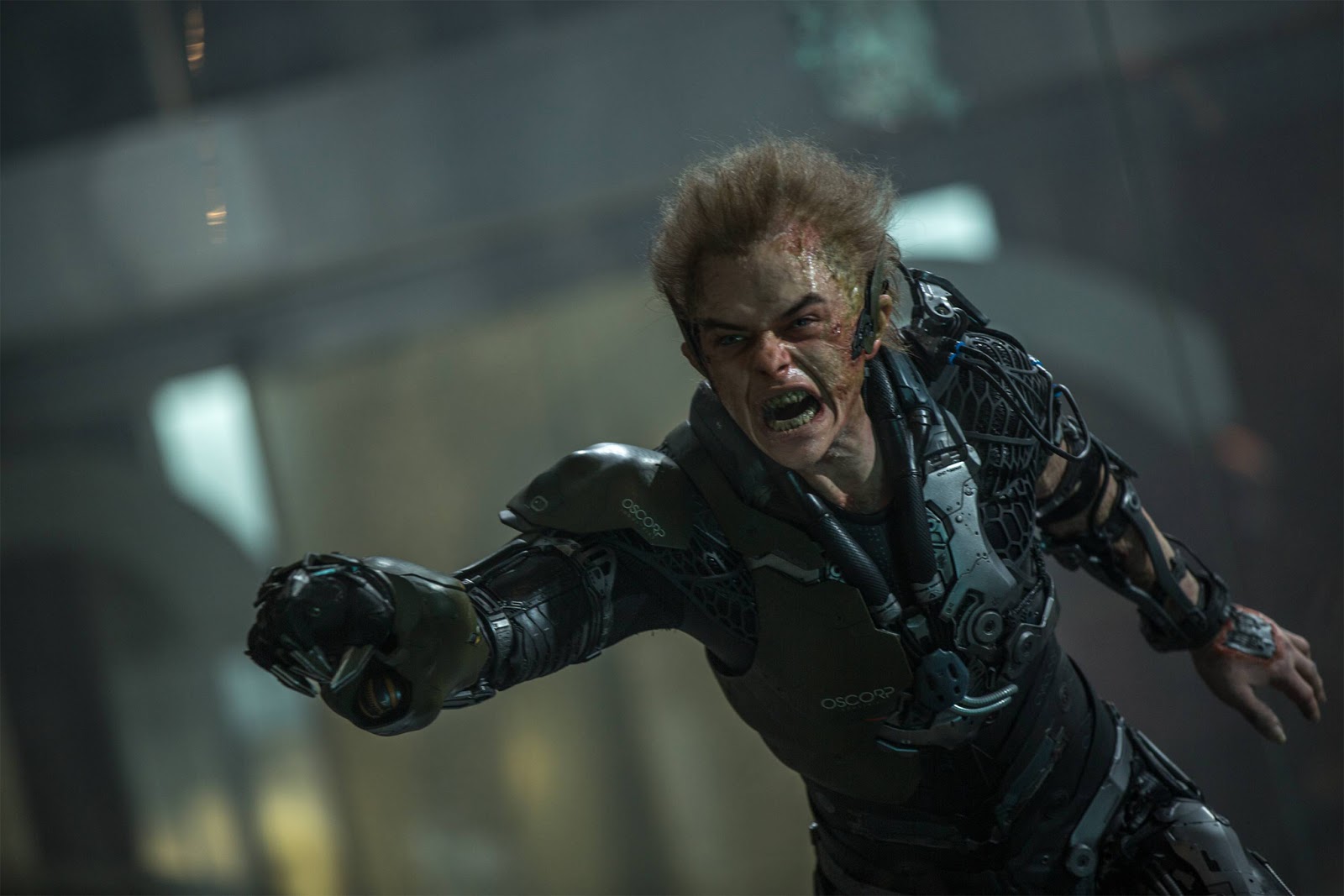 One of the weaker aspects of The Amazing Spider-Man was that Marc Webb did not seem much interested in the special effects. He more than compensates for that here. The film opens on a vertiginous sequence where Webb's camera takes Spidey's point-of-view as he swings from building to building in great leaps through the New York sky that looks fantastic in 3D and sets the film up fantastically for what is to come. The battles with Electro are dazzling. Webb and the effects team have determined to avoid the cliche of a character with animated lightning bolts flashing from his fingertips and turn in an amazing series of scenes with Jamie Foxx lighting up at the mains, coursing with electricity from an entire transformer grid, casually tossing around police cars, he and Spider-Man blasting between buildings through the skies during the massive climactic battle and a virtuoso sequence where Spider-Man has to web an entire crowd of people fleeing up stairs to prevent their hands from touching the electrified rails.
If the villains leave a little lacking as characters, what the film never does is fall down in the superheroic action department. Between the dextrous confidence of Webb and Garfield at home in the Spider-Man mythos, the awe-inspiring superheroics and the emotional strength of the tragic character arc the film charts, what we have here surely emerges as one of the best of the modern Marvel film adaptations.
For reasons not entirely clear to this author, both critics and audiences responded negatively to The Amazing Spider-Man 2 and it was regarded as a flop (despite being the twelfth highest box-office grossing film of the year). We then received yet another reboot of the series that went back to Peter Parker's high school years with Spider-Man: Homecoming (2017), featuring Tom Holland, followed by Spider-Man: Far from Home (2019) and Spider-Man: No Way Home (2021). The latter also features a reappearance from Andrew Garfield and Jamie Foxx as Electro. Holland's Spider-Man also merged with the Marvel Cinematic Universe in Captain America: Civil War (2016), Avengers: Infinity War (2018) and Avengers: Endgame (2019). In addition, there was also the animated Spider-Man: Into the Spider-Verse (2018) and Spider-Man: Across the Spider-Verse (2023). Venom (2018) and its sequel Venom: Let There Be Carnage (2021), and Morbius (2022) were further spinoffs of the Spider-Man universe.
(Nominee for Best Special Effects at this site's Best of 2014 Awards).
---
---