---
Crew
Director/Screenplay/Music – Bertrand Bonello, Producers – Bertrand Bonello, Judith Lou Levy & Eve Robin, Photography – Yves Cape, Visual Effects – Mikros Image (Supervisor – Cedric Fayolle), Production Design – Katia Wyszkop. Production Company – My New Picture/Les Films du Bal/Arte France Cinema/Playtime/La Region Ile-de-France/Ad Vitam/Arte France/Canal+/Cine+/Indiefilms 7/Cofinova 15/Cinemage 13.
Cast
Louise Labeque (Fanny), Wislanda Louimat (Melissa), Katiana Milfort (Katy), Mackenson Bijou (Clairvius Narcisse), Adile David (Salome), Ninon Francois (Romy), Mathilde Riu (Adele), Ginite Popote (Francine), Nehemy Pierre-Dahomey (Baron Samedi), Sayyid El Alami (Pablo)
---
Plot
In present-day France, the teenage Fanny attends an exclusive girls' boarding school for the children of parents who have been awarded the Legion of Honour. She befriends Melissa, whose mother came from Haiti, and invites Melissa to join the secret late night circle that she and three other friends hold. Melissa tells them how she is the child of a zombi, how her father was made a zombie in 1962 and used as a slave in the sugar plantations but then regained his life after eating meat. Fanny longs for when she can meet her boyfriend Pablo in several weeks. He then abruptly breaks things off with her. Overcome with grief, Fanny goes to Melissa's aunt Katy, a voodoo mambo, and pleads with her to conduct a dangerous ritual that will unite her and Pablo's soul.
---
French director Bertrand Bonello has been at work since the late 1990s, making works such as The Pornographer (2001), Tiresia (2003), House of Tolerance (2011), Saint Laurent (2014) and Nocturama (2016), among others. These are all non-genre works and have accrued a number of award nominations.
The title leaves you with the assumption that Zombi Child is yet another venture into the genre of the Zombie Film that has become heavily overworked to the point of creative exhaustion since the mid-2000s. This is what I assumed when I started watching but such turns out to be far from the case and what we are watching is actually a film about Voodoo. Zombies do appear but they are not the flesh eating, shoot-them-in-the-head variety but are drawn from the original voodoo conception of the zombie – although we do get some scenes with the girls joking about enjoying watching zombie films. Indeed, Zombi Child may have the distinction of being the only zombie film to screen at the Cannes Director's Fortnight, which shows just what a different arena it is operating in in contrast to the rest of the genre.
There have been a great many films about voodoo but almost all of these have been in the realm of B movie voodoo featuring curses, native rituals and little that digs into the myth and religion that lies beneath this. There have been some notable exceptions such as White Zombie (1932), the first film about voodoo, and I Walked with a Zombie (1943). In more modern times, we have had the cheap Ritual (2002) and especially Wes Craven's vibrant The Serpent and the Rainbow (1988). In its exploration of the culture and religion, Zombi Child quickly becomes one of the best works on the subject to date.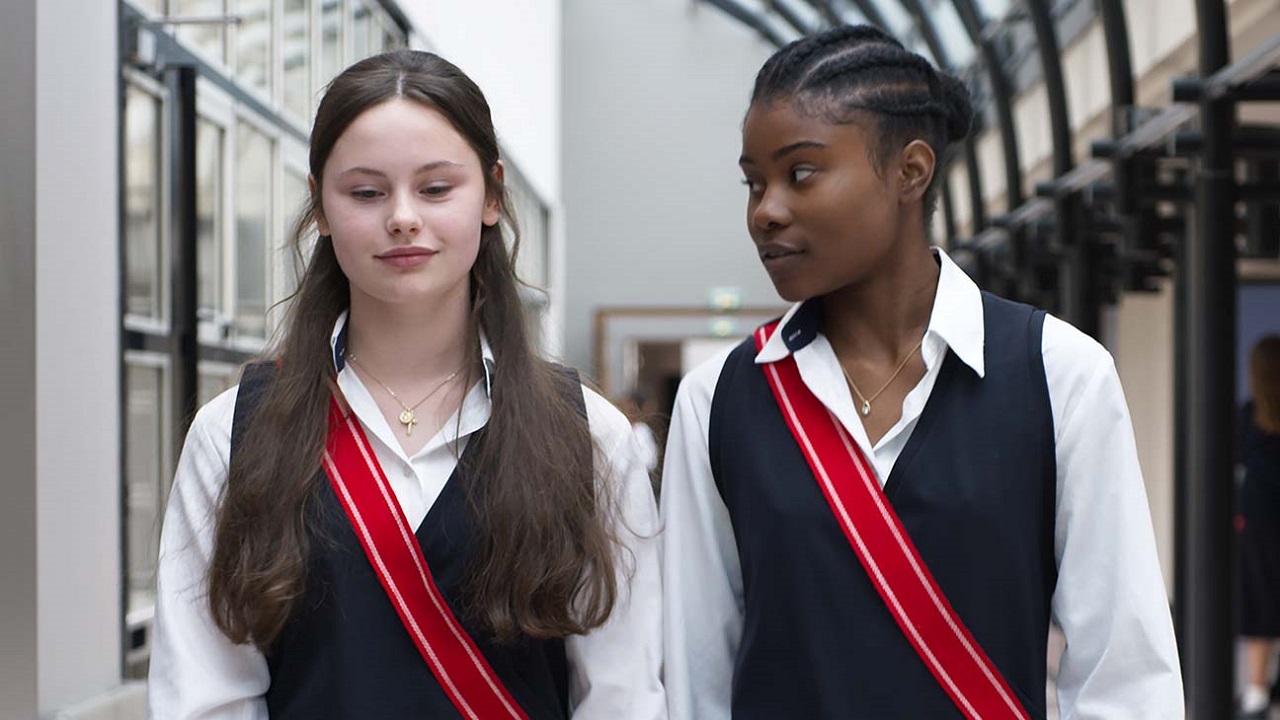 The film opens in 1962 as we get a montage of scenes (which actually were shot in Haiti) where Mackenson Bijou has powder place in his shoes, causing him to stumble and fall dead in the streets, followed by a traditional funeral and then his being dug up and put to work as a slave in the sugar plantations. This is then abruptly contrasted with the present-day scenes that take place at a girl's boarding school in France. In a jolt juxtaposition, these feature a series of classroom discussions about colonialism and the ongoing French revolution.
The contrast of the scenes of zombies as slaves and the school, which is surely the epitome of conservatism (all the children are those of parents who have been awarded the Legion d'Honneur) shows the very interesting idea of the repurposing of voodoo and zombie themes as a metaphor for colonial repression and guilt in much the same way as Hammer films like The Stranglers of Bombay (1959) and The Reptile (1966) showed Britain's colonial past in India as a repressed guilt emerging into the placidity of British society.
The film comes with an equally fascinating story arc. The girl's school environment with its detached talk of social politics and secret midnight societies where the girls share poetry and dance together could not be further removed from the opening scenes in Haiti. It is with considerable fascination when Wislanda Louimat is introduced into the group and then begins to open up about her past with the fascinating idea that she is the child of a zombie. There is the eerie moment during their mutual dance where Wislamd turns to Louise Labeque and tells her "I am going to eat you" – it is a scene that holds a sinister charge but also remains unexplained (I was never sure if it was a manifestation of Baron Samedi or some quirk of the subtitles).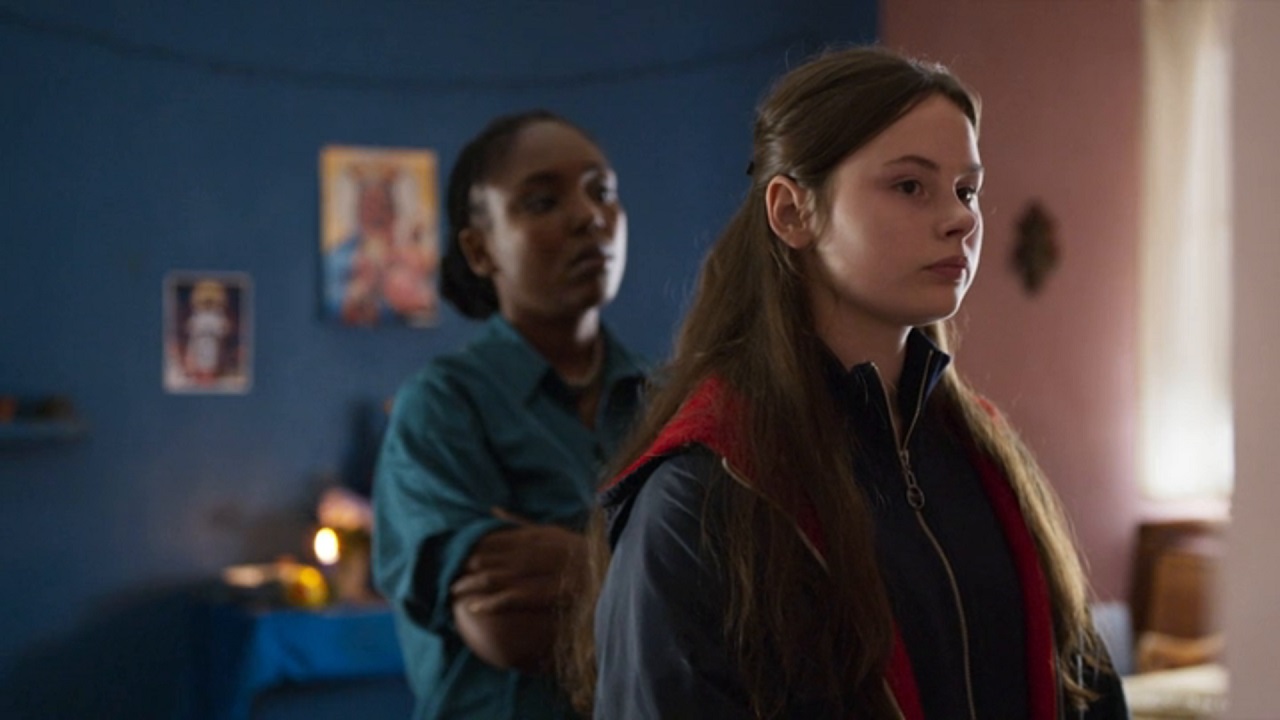 Throughout this we have been introduced to Louise Labeque who could not seem a greater ideal of beauty and youthful innocence. She has spent much of her time communicating in text messages to her love (Sayyid El Alami) seen in her daydream as a gorgeous teen with ripped bare chest walking through the woods while she waits on a motorcycle. Then comes the shock when he decides to break up with her. This is never more effectively conveyed than a scene where Betrand Bonello's camera slowly pans along a line of choir girls singing a Christmas carol to arrive at Louise Labeque on the end, her face tormented in grief.
Her sadness and depression becomes a palpable thing. The considerable jolt that comes is when she pays a visit to Wislanda's aunt (Katiana Milfort), a voodoo mambo, and then begs her to conduct a voodoo ceremony to unite her and Pablo's souls. Despite warnings from Katiana not to do this and of the considerable dangers presented, least of all by Louise's lack of understanding about the culture, the ceremony proceeds by which time you get the clear idea that things are not going to end well. Of course there comes undeniable shock effect when Louise Labeque is then taken over and possessed by Baron Samedi and begins manifesting a deep voice.
(Winner in this site's Top 10 Films of 2019 list).
---
Trailer here
---