---
USA. 1990.
Crew
Director/Producer – Warren Beatty, Screenplay – Jim Cash & Jack Epps Jr, Based on the Comic Strip Created by Chester Gould, Photography – Vittorio Storaro, Music – Danny Elfman, Songs – Stephen Sondheim, Visual Effects – Buena Vista Visual Effects Group (Supervisors – Harrison Ellenshaw & Michael Lloyd), Miniature Supervisor – Mark Stetson, Special Effects Supervisor – Larry Cavanaugh, Makeup Effects – John Caglione Jr & Doug Drexler, Production Design – Richard Sylbert. Production Company – Touchstone/Mulholland.
Cast
Warren Beatty (Dick Tracy), Madonna (Breathless Mahoney), Al Pacino (Big Boy Caprice), Charlie Korsmo (The Kid), Glenne Headly (Tess Trueheart), William Forsythe (Flattop), Mandy Patinkin (88 Keys), Dick Van Dyke (D.A. Fletcher), Charles Durning (Chief Brandon), Dustin Hoffman (Mumbles), Ed O'Ross (Itchy), R.G. Armstrong (Pruneface), Paul Sorvino (Lips Manliss)
---
Plot
When detective Dick Tracy stands up to crack down on organised crime, the gangs and all the uglies in town decide to settle their differences and come together under the leadership of Big Boy Caprice to eliminate Tracy.
---
The solidly two-dimensional character of Dick Tracy was first created as a daily strip by Chester Gould in 1931 in The Detroit Mirror and was the most successful of the comic-strip detectives. Tracy and his accompanying assortment of bizarre nemeses stayed in the funny pages for more than half a century and underwent several successful media incarnations. There was first a series of four serials starring Ralph Byrd as Tracy – Dick Tracy (1937), Dick Tracy Returns (1938), Dick Tracy's G-Men (1939) and Dick Tracy vs Crime Inc (1941) – and then a series of films starring both Morgan Conway and Ralph Byrd – Dick Tracy (1945), Dick Tracy vs Cueball (1946), Dick Tracy's Dilemma (1947) and Dick Tracy Meets Gruesome (1947), and both a live-action and an animated tv series, before this $35 million revamping.
The Dick Tracy film had been a pet project of director/star Warren Beatty since the early 1980s. However, it was not until the success of the Tim Burton Batman (1989) that comic-books suddenly came back into vogue and Beatty was able to mount his project. Alas, Dick Tracy was not a success. Beatty had not had any popular hit since Heaven Can Wait (1978) – he had directed the critically acclaimed Reds (1981) but the only other film he had appeared in during the 1980s was the disastrous flop Ishtar (1987).
Unlike Batman, most of the youth audience that Dick Tracy was pitched did not know or for that matter care who Dick Tracy was. The film's failure was something that showed it up for the transparent and hollow promotional exercise it was, something that became abundantly apparent in the strained attempts to turn Tracy's yellow trench coat into a mass-market item and spin memorabilia out of the film and comic-book.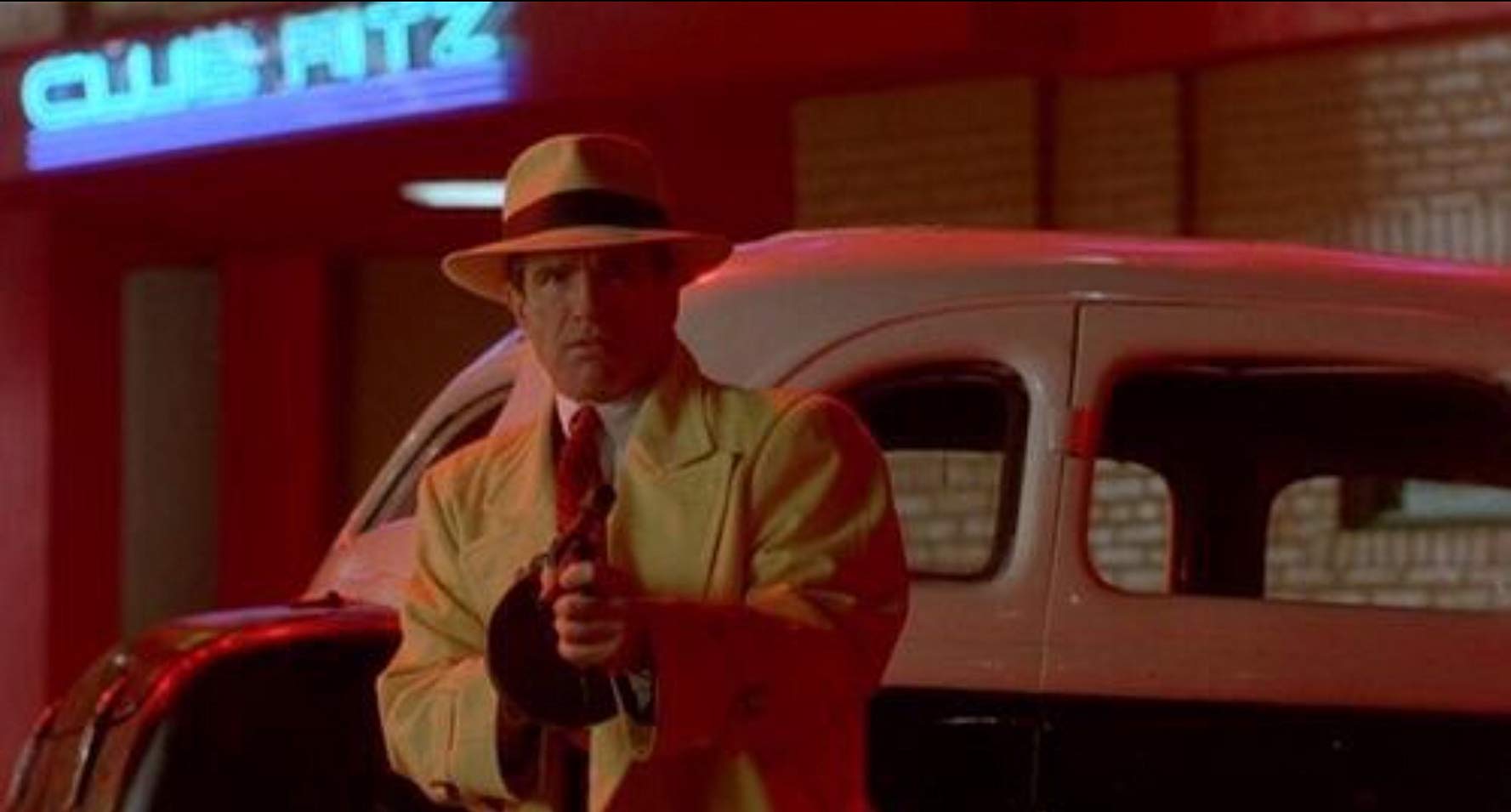 Warren Beatty makes for a dopey-looking Tracy and is entirely lacking in the stalwart certainty that the character has on the comic-book page. Madonna, whose short-lived off-camera thrash under the duvet with Beatty obtained more headlines than the film itself did, slinks across the screen, turning every line into a double-entendre – which is all that the role requires her to do.
The rest of the big names are hidden behind the elaborate makeups recreating Chester Gould's facially distinctive villains – this is one of those films conceived as a star party where an audience is made to suffer watching big names play up. The ones who emerge the most noticeably are Al Pacino (who inexplicably received an Academy Award nomination for his amazingly over-the-top performance) and Dustin Hoffman – although both probably give what must count as the silliest performances of their respective careers. The actors who emerge most successfully are in fact those without the makeups – Charlie Korsmo and Glenne Headly, who provide some emotional depth and plaintiveness in a film where two-dimensionality is considered an advantage.
What is most noticeable about the film is the stylised ambience. The entire film has been designed using only the six primary colours the original comic-book was drawn in. The results are certainly eye-popping – one comes out of the film feeling giddy at the sheer visual assault of such overwhelming stretches of bold colour. Vittorio Storaro's lighting is top-notch and the effects team's attempts to build the cartoon never-never land into a three-dimensional world is excellent – this is a film that can actually make flat mattes work for it.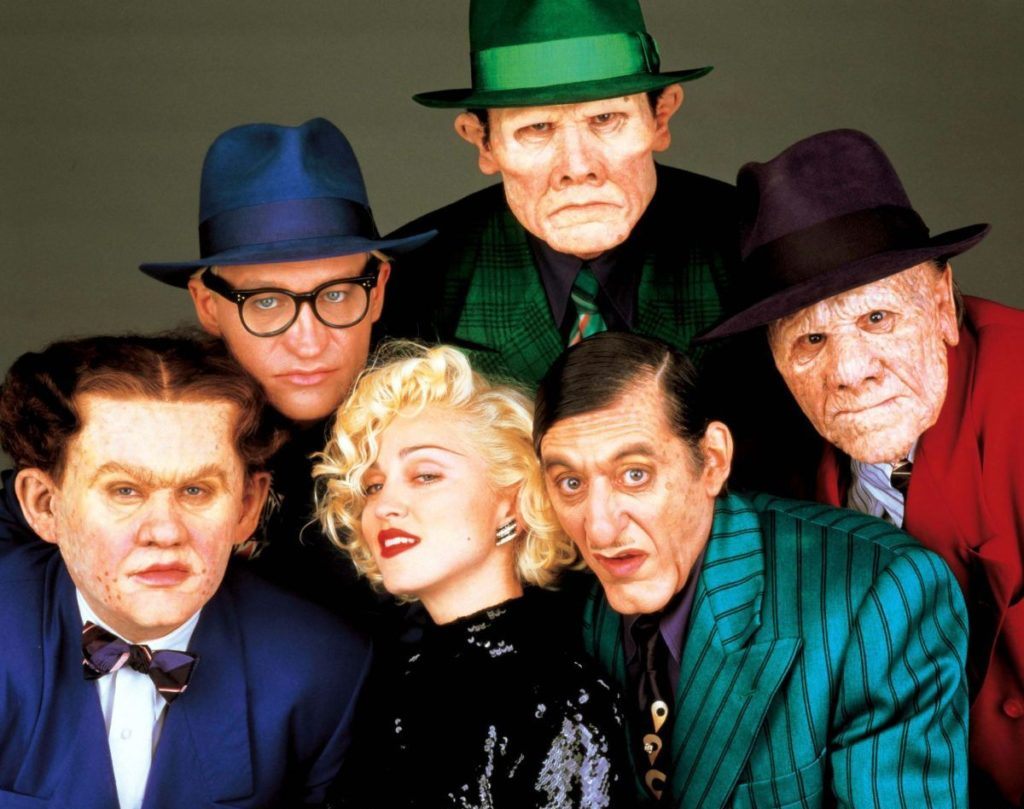 Ultimately though, Dick Tracy feels like a film that leaves one never less than conscious of the degree of talent assembled, yet never manages to animate them into anything more than the sum of their parts. It feels less like a film adapted from a comic-book than it does of people self-consciously creating a filmed comic-book in quote marks. It makes for interesting comparison to the aforementioned 1989 Tim Burton Batman. Both have many similarities – both are films adapted from comic-books, both are set in a stylised cityscape, both feature villains with grotesque faces and both also feature scores from Danny Elfman.
The crucial difference between Dick Tracy and Batman is that Batman made everything as part of a seamless mood, it delved into the dark psychology of the funny faces and the contorted cityscape was there echoing that mood. On the other hand, there is no psychological investiture in Dick Tracy, it is just an artistic folly of people playing at attempting to create a two-dimensional comic-book on film. The crucial difference might be that strip Dick Tracy of all the sets, costumes and funny faces and it is only a routine and simplistic crime story. There is nothing that holds one to it.
Despite the film's lack of major box-office success, Warren Beatty has expressed interest in making a sequel, most recently (2005) having sued Tribune Media, accusing them of holding up the copyright.
---
---