---
Crew
Directors – Justin Copeland & Sam Liu, Screenplay – Mairghread Scott, Producers – Sam Liu & Amy McKenna, Music – Frederik Wiedmann, Animation – Digital eMation, Inc., Animation Directors – Gyungho Choi, Yung-Won Jung, Sunki Kang, Seungkyung Lee & Seungbong Lim. Production Company – Warner Bros. Animation.
Voices
Rosario Dawson (Wonder Woman/Diana Prince), Jeffrey Donovan (Steve Trevor), Marie Angeropoulos (Vanessa Kapetalis/Silver Swan), Adrienne Moore (Etta Candy), Nia Vardalos (Julia Kapetalis), Constance Zimmer (Veronica Cale), Kimberly Brooks (The Cheetah/Giganta), Michael Dorn (Ferdinand), Cree Summer (Queen Hippolyta), Courtenay Taylor (Dr Poison), Mozhan Marno (Dr Cyber)
---
Plot
Five years ago, pilot Steve Trevor crashed through the invisible barrier that hid the Amazonian island Themyscira from the rest of the world. He was rescued and nursed back to health by Princess Diana, the daughter of Themyscira's Queen Hippolyta. However, Diana defied her mother to free Steve and accompany him back through the barrier to what she calls Man's World. Doing so meant that the location of Themyscira was erased from her memory. In Washington D.C., she was given a home by anthropologist Julia Kapetalis who was eager to learn about Amazonian culture. Julia's teenage daughter Vanessa felt neglected by her mother and resentful of Diana. Diana moved out on her own where she decided to aid Man's World as Wonder Woman. She now receives a call from Julia telling her that Vanessa has stolen valuable artifacts and is planning to sell them to Dr Cyber and Dr Doom. Diana prevents this but finds that Vanessa had been injected with a virus that is taking over her body and giving her silver armour and wings. The only way to stop the virus is to use Amazonian technology but that means finding the location of Themyscira and reconciling with her mother.
---
This was the 36th of the DC Universe Animated Original Movies following Superman Doomsday (2007), Batman: Gotham Knight (2008), Justice League: The New Frontier (2008), Green Lantern: First Flight (2009), Superman/Batman: Public Enemies (2009), Batman: Under the Red Hood (2010), Justice League: Crisis on Two Earths (2010), Superman & Batman: Apocalypse (2010), All-Star Superman (2011), Batman: Year One (2011), Green Lantern: Emerald Knights (2011), Batman: The Dark Knight Returns Part I (2012), Justice League: Doom (2012), Superman vs. The Elite (2012), Batman: The Dark Knight Returns Part II (2013), Justice League: The Flashpoint Paradox (2013), Superman Unbound (2013), Batman: Assault on Arkham (2014), Justice League: War (2014), Son of Batman (2014), Batman vs. Robin (2015), Justice League: Gods and Monsters (2015), Justice League: Throne of Atlantis (2015), Batman: Bad Blood (2016), Batman: The Killing Joke (2016), Justice League vs Teen Titans (2016), Batman and Harley Quinn (2017), Justice League Dark (2017), Teen Titans: The Judas Contract (2017), Batman: Gotham By Gaslight (2018), The Death of Superman (2018), Suicide Squad: Hell to Pay (2018), Batman: Hush (2019), Justice League vs The Fatal Five (2019), Reign of the Supermen (2019), Justice League Dark: Apokolips War (2020), Superman: Man of Tomorrow (2020), Superman: Red Son (2020), Batman: Soul of the Dragon (2021), Batman: The Long Halloween Part One (2021), Batman: The Long Halloween Part Two (2021), Injustice (2021), Justice Society: World War II (2021), Batman and Superman: Battle of the Super Sons (2022), Catwoman: Hunted (2022), Green Lantern: Beware My Power (2022), Batman: The Doom That Came to Gotham (2023), Justice League: Warworld (2023) and Legion of Super-Heroes (2023).
This is not the first time that the DC Universe Animated Original Movies have dealt with Wonder Woman. There was the previous animated Wonder Woman (2009), which did a not too bad job of retelling her origin story. That apparently was not a huge sales success as Warner Bros. Animation saw fit not to make any other animated Wonder Woman adventures for a decade and stayed with the tried and true of Batman, the Justice League and occasionally Superman. Certainly, Wonder Woman has been a core member of every Justice League film. Bloodlines was almost certainly made following the huge box-office success of the live-action Wonder Woman (2017) starring Gal Gadot.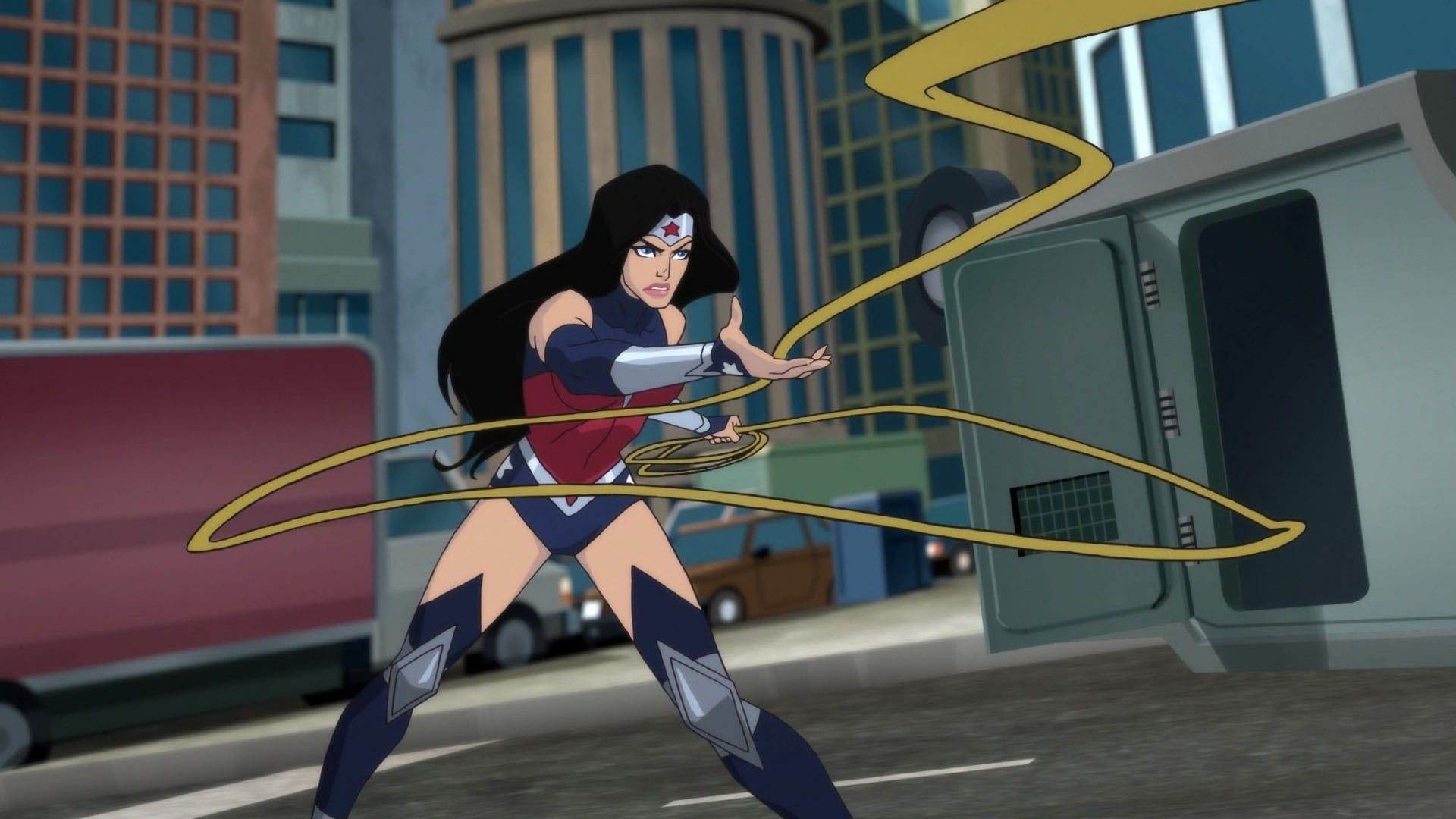 Bloodlines is the oddity of the fourth major screen incarnation of Wonder Woman – following the Linda Carter tv series The New Original Wonder Woman/Wonder Woman (1975-7), the 2009 animated film and the 2017 Gal Gadot film – in which each of them sees fit to retell Wonder Woman's origin story. Each film also does so in slightly different ways – the potted retelling we get at the start here is the most variant of all of these, actually having Diana defy her mother and break Steve Trevor out. (By contrast, the tv series and 2009 film have her enter a games to win the right to be the champion that will accompany him back to Man's World.
Moreover, the location of Themyscira is wiped from her mind (an important plot set-up for later in the film) – an idea that has never appeared in comic-book canon. We also get other aspects of her story that have been introduced in retcons – like the time spent between her leaving Themyscira and going into action as a superheroine during which she goes to stay with Julia and Vanessa Kapetalis (who have not appeared in any other filmed version) in order to set up the characters for later in the story, although these scenes end up being something that drags the show out.
The other bugbear of Bloodlines is the apparent mandate from above that it fit in with The New 52 continuity (even though this had been abandoned by DC Comics following Rebirth in 2016). Thus we get Wonder Woman in her ugly navy and red outfit, although she does change back into the classic red, blue and gold version later in the film. As with The New 52, Etta Candy is now rewritten as African-American (although, unlike the comic books, has gone from a secretary to being much more active in the intelligence community, including providing Wonder Woman with her invisible plane appropriated from an experimental military project). Wonder Woman does get involved with Steve Trevor, although there is reference made back to how she was dating Superman. The most appealing of the characters is the introduction of the Minotaur, who gets named Ferdinand, and is voiced by Michael Dorn, no less than Worf of Star Trek: The Next Generation (1987-94) fame, and is last seen acting as Wonder Woman's chef.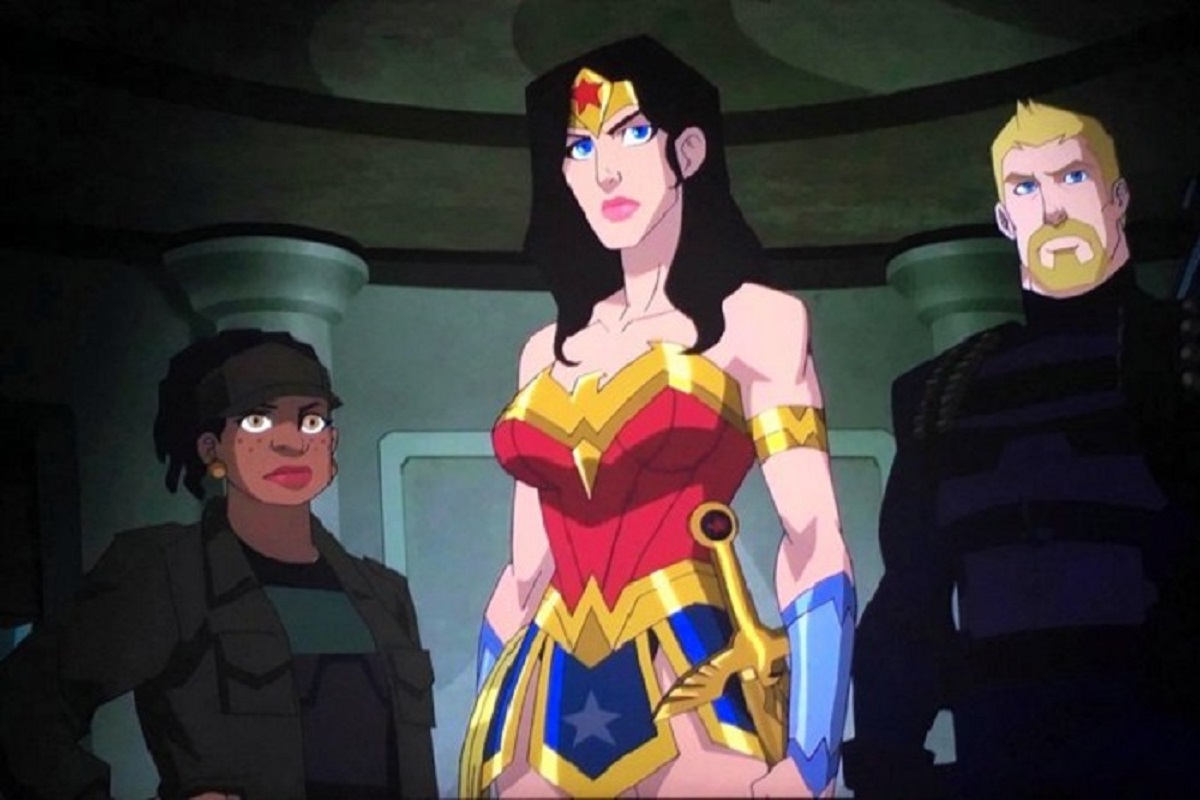 Wonder Woman: Bloodlines is a passable entry in the DC Universe Animated Original Movies but I didn't think it a standout one. It is co-directed by Sam Liu, not one of the more inspired directors of the series. Liu's superheroic action sequences seem by the numbers – indeed, the ones with Wonder Woman fighting Giganta and Cheetah are very generic, if not at times a little silly – I mean, Wonder Woman fighting a giantess. Things do pick up somewhat at the climactic fight with the Medusa.
Although this is part of the problem with the film – it seems packed with pieces that someone decided to introduce (no less than seven regular Wonder Woman super-villains) and several regular supporting characters. It is never a plot that seems to be dramatically impelled along so much as it is there to introduce more characters – there is no real need to raise the Medusa or have to visit the Labyrinth, for instance.
---
---