---
Crew
Director/Screenplay – David Ayer, Based on the Comic Book Created by John Ostrander, Producers – Charles Roven & Richard Suckle, Photography (3D) – Roman Vasyanov, Music – Steven Price, Visual Effects Supervisor – Jerome Chen, Visual Effects – Digital Domain 3.0, Lola, Mammal Studios, MPC (Supervisors – Seth Maury & Robert Winter), Scanline VFX & Sony Pictures Imageworks (Supervisor – Mark Breakspear), Special Effects Supervisor – Michael Innanen, Makeup Effects – KNB EFX Group Inc & Legacy Effects, Production Design – Oliver Scholl. Production Company – Warner Brothers/DC Comics/Atlas Entertainment/Ratpac-Dune Entertainment.
Cast
Will Smith (Deadshot/Floyd Lawton), Margot Robbie (Harley Quinn/Dr Harleen Quinzel), Jared Leto (The Joker), Joel Kinnaman (Rick Flag), Jay Hernandez (Diablo/Chato Santana), Jai Courtney (Captain Boomerang/Digger Harkness), Viola Davis (Amanda Waller), Adewale Akinnuoye-Agbaje (Killer Croc/Waylon Jones), Cara Delevingne (Enchantress/June Moore), Karen Fukuhara (Katana/Tatsu Yamashiro), Ben Affleck (Batman/Bruce Wayne), Shailyn Pierre-Dixon (Zoe Lawton), Adam Beach (Slipknot/Christopher Weiss), Scott Eastwood (Lieutenant G.Q. Edwards), Aidan Devine (Chairman), Alain Chanoine (Incubus), Common (Monster T), Jim Parrack (Johnny Frost), Corina Calderon (Grace Santana), Ezra Miller (The Flash)
---
Plot
Amanda Waller persuades US government officials to allow her to form Suicide Squad, a black ops team made up of the worst criminals. Heading the team is former Navy SEAL Rick Flag and filling out its ranks are Floyd Lawton, aka Deadshot, an assassin who has a reputation of never missing; Chato Santana, aka Diablo, a pyrokinetic who torched his entire family; Waylon Jones, aka Killer Croc, who has a skin condition that makes him resemble a reptile; former Arkham Asylum psychologist Harleen Qunizel, aka Harley Quinn, who fell in love with The Joker; the Australian bank robber Digger Harkness, aka Captain Boomerang; archaeologist June Moore who became possessed by an ancient witch spirit known as Enchantress after she unearthed an artifact; and Slipknot, a specialist in rope work. Enchantress makes an escape from Flag's control and awakens her brother who possesses a man's body and begins to open a portal between worlds in Midway City. With a promise of time off their sentences, the Suicide Squad is sent in to stop Enchantress's brother.
---
Suicide Squad is a team of DC Comics super-villains. In the same way that there is a great appeal in seeing the company's various superheroes come together as the Justice League, there has also been some popularity to seeing the villains come together. We have seen various DC super-villain teams over the years with the likes of The Anti-Justice League, The Injustice League, The Legion of Doom and The Secret Society of Super-Villains, even the Crime Syndicate of America, a parallel world version where the Justice League are the villains and the familiar villains play the heroes. Suicide Squad had its origins in a 1959 story arc in The Brave and the Bold, which featured a squad of non-super-powered mercenaries fighting fantastical menaces. The Suicide Squad that appears here was a revival created by John Ostrander in a four-issue arc in the crossover title Legends in 1987, which introduced Amanda Waller and the idea, modelled on the film The Dirty Dozen (1967), of various principally Batman super-villains being recruited into a black ops team. The only holdover between this and the original Suicide Squad was the team leader Rick Flag (where the original was later retconned to be Rick Flag Sr). The Squad has undergone various revivals and changes of line-up between then and the present, although is always comprised of C-list villains rather than the big name ones.
The Suicide Squad has made occasional appearances in film and tv. They have appeared in episodes of both Smallville (2001-11) and Arrow (2012-20), as well as the animated Justice League/Justice League Unlimited (2001-5), although there it had to be renamed Task Force X because the word 'suicide' could be not be mentioned on children's television. The most prominent of their film appearances have been in the animated film Batman: Assault on Arkham (2014).
Suicide Squad emerges as the third of the DC Cinematic Universe films – following Man of Steel (2013), Batman V Superman: Dawn of Justice (2016) and followed by Wonder Woman (2017), Justice League (2017), Aquaman (2018), Shazam! (2019), Black Adam (2022), The Flash (2023) and Blue Beetle (2023) – as part of DC's long-overdue attempt to challenge Marvel Comics' dominance of box-office superheroics. Suicide Squad is executive produced by Zack Snyder and has a number of continuity tie-ins to the rest of the DC Cinematic Universe. This is most notable in several scenes featuring Ben Affleck's Batman who apprehends Deadshot and rescues Harley Quinn from a crashed car, as well as a post-credits scene where Affleck obtains a dossier on the prospective Justice League members from Amanda Waller. There is also a scene where Captain Boomerang is caught by the Ezra Miller version of The Flash. The film also takes place in Midway City, which is supposed to be the fictional hometown of Hawkman, while the death of Superman is referred to by Amanda Waller.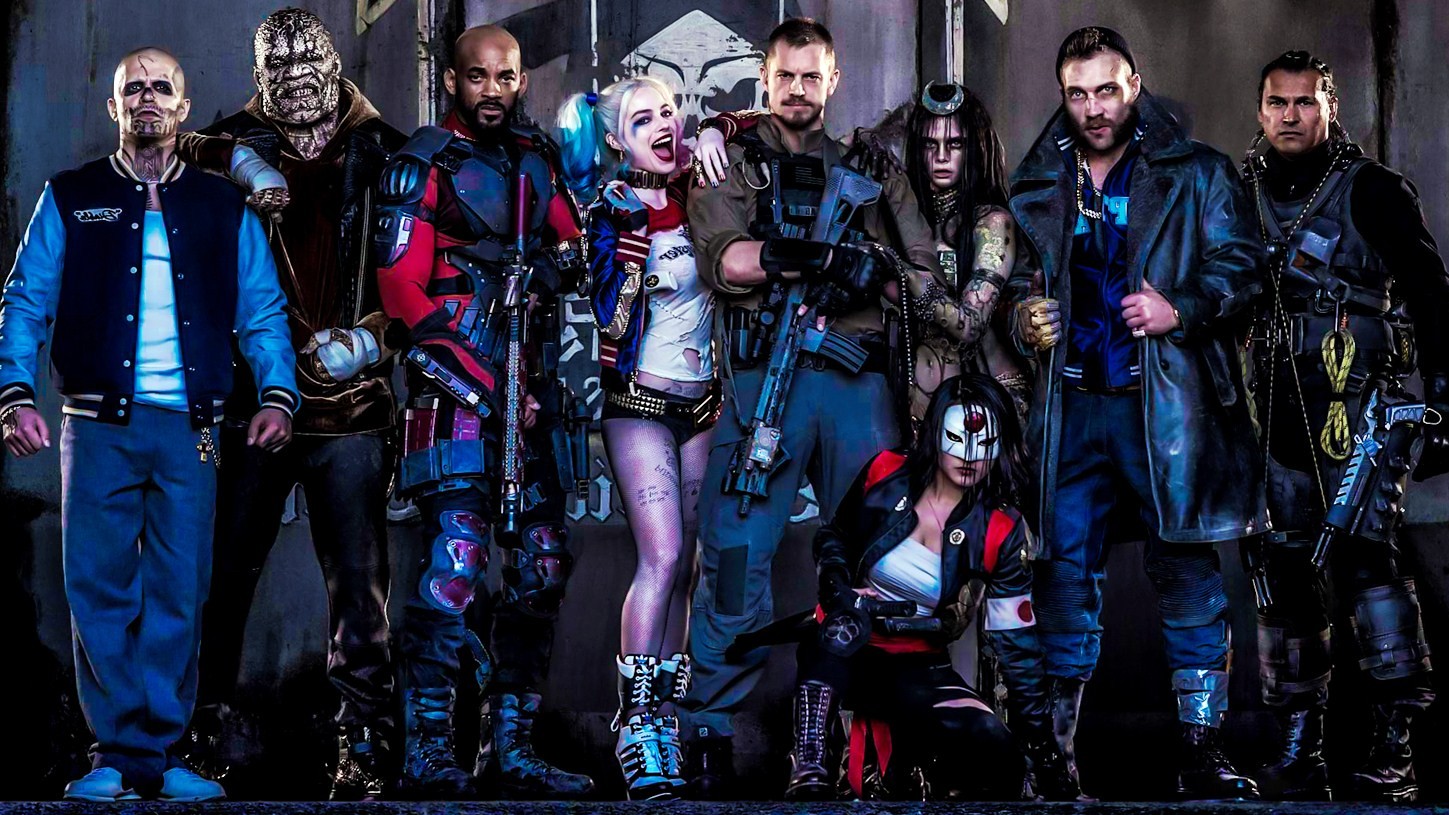 As such, Suicide Squad feels like an oddity. While DC is only just getting itself going on cinema screens and the film versions of A-listers like Wonder Woman, The Flash and Aquaman are still only in the pre-production stages, they have leap-frogged over all of these to make a film about a team-up of C-list villains. And we're talking the nobodies here – I mean, as villains go it is hard to get more lame than Captain Kangaroo (a villain who throws boomerangs – which we rarely see him do in the film. And of the one that he does, it behaves in a most un-boomerang-like way ie. it appears not twirl at all by dint of the fact that it is stable enough to have a camera mounted on it), and Slipknot whose superpower is … tying ropes.
David Ayer plays around with the Suicide Squad line-up. There is Rick Flag and Amanda Waller, of course. We have Deadshot, originally a minor Batman villain who gained his fame as one of the mainstays of Suicide Squad. Deadshot had previously made live-action appearances in episodes of Smallville and Arrow, played by Bradley Striker and Michael Rowe respectively, as well as the animated film Batman: Gotham Knight (2008). Captain Boomerang is one of the few members of the Squad who is not Batman villain but originally appeared as a nemesis of The Flash. There are also two comic-book versions of Captain Boomerang – Digger Harkness, the one the film goes with who in comic-book continuity was later killed and the role inherited by his son Owen. Boomerang had previously appeared in an episode of Arrow played by Nick Tarabay. Diablo (or more commonly El Diablo) started out in 1970 in All-Star Western where he was a Caucasian named Lazarus Lane who was resurrected with a Native American spirit to become a vigilante. A new version was created in 1988 as Rafael Sandoval who becomes possessed by an Aztec spirit. Created in 1966, Enchantress started out as a Supergirl nemesis – an artist who became possessed after going to a costume party in a castle. She fought various heroes before becoming a mainstay of Suicide Squad. Katana was a Batman nemesis/ally first appearing in 1983 and becoming a member of the superhero team The Outsiders (although has never actually joined the comic-book Suicide Squad). Slipknot started as a Firestorm villain in 1984 but gained his greater fame as a Suicide Squad member. Killer Croc has been a regular Batman villain since 1983 where he is always characterised as a human with a condition that makes him seem reptilian (to more or lesser degrees depending on the artist). He has made numerous animated appearances in Batman (1992-4), The Batman (2004-8) and Batman: The Brave and the Bold (2008-11), as well as Batman: Gotham Knight. He has not appeared in live-action before and is not a member of the comic-book Suicide Squad.
The one oddity among these is Harley Quinn who is a character that has also not appeared in the comic-book Suicide Squad and in fact did not even have her origins in comics. She was originally created as a character on the animated Batman (1992-4) tv series to act as a foil and girlfriend to The Joker. The response to her was such that she was quickly incorporated as a regular in Batman comic-book canon and even gained her own title from 2001. She did previously appear in live-action in Birds of Prey (2002-3) played by Mia Sara. Shortly after the audience response to the character here, she was also spun out in the live-action Birds of Prey and the Fantabulous Emancipation of One Harley Quinn (2020), a girl-gang version of this starring Margot Robbie, her own animated film Batman and Harley Quinn (2017) and the animated tv series Harley Quinn (2019- ).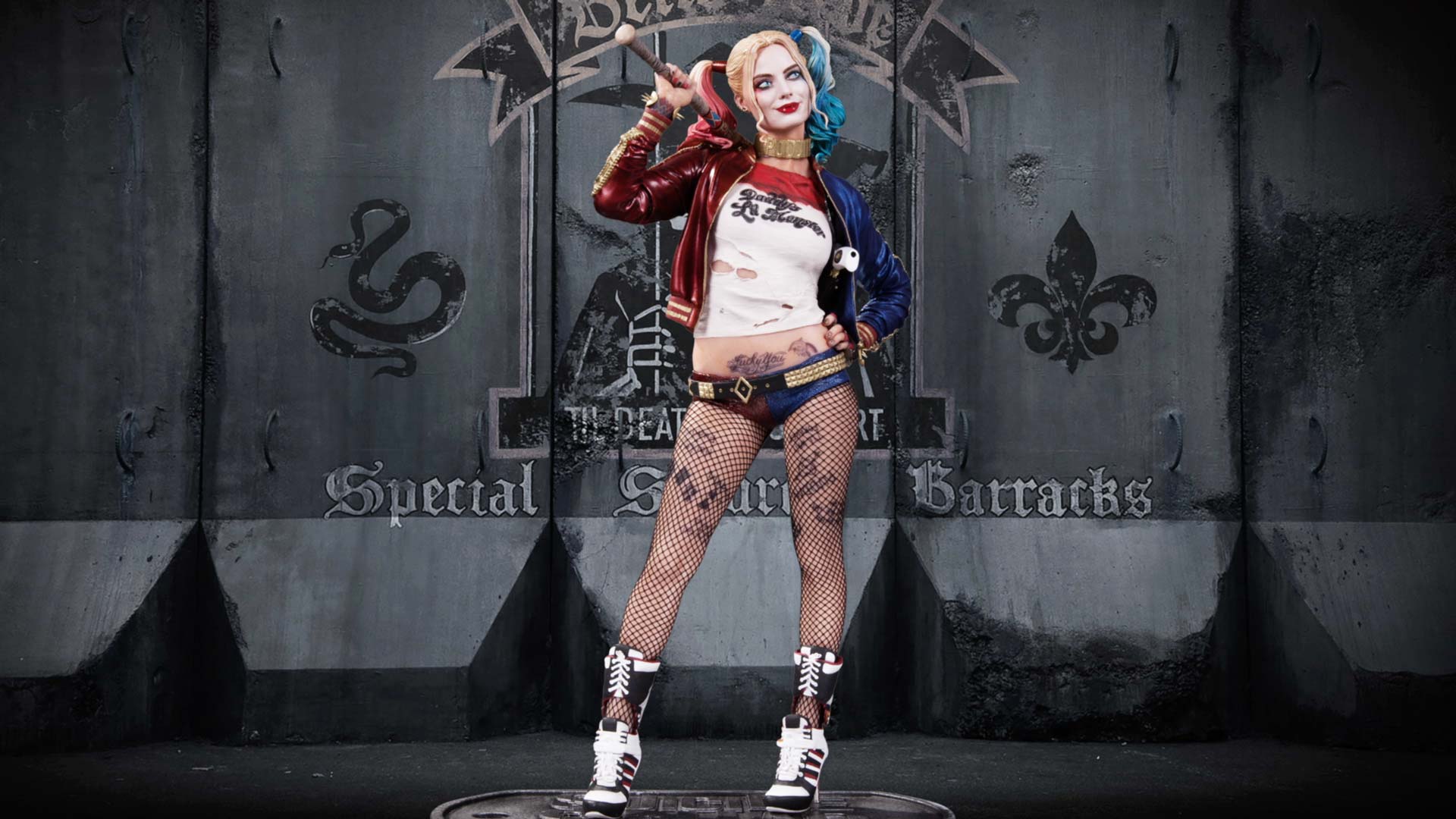 Suicide Squad was the sixth directorial outing for David Ayer. Ayer started in the industry as a screenwriter, gaining a name with his scripts for U-571 (2000), The Fast and the Furious (2001), Training Day (2001) and S.W.A.T. (2003). Ayer made his directing/writing debut with Harsh Times (2005), followed by Street Kings (2008), End of Watch (2012), Sabotage (2014) and the war film Fury (2014). The majority of these are gritty crime dramas.
Suicide Squad was preceded by reports of the studio panicking and ordering reshoots after the negative critical reaction to Batman V Superman and of both they and David Ayer simultaneously editing different versions of the film. (On the positive side, Ayer maintains that the version we see is his one). Just like Batman V Superman, the film premiered to great box-office but negative audience and critical response. You suspect that, like Batman V Superman, Suicide Squad is going to find an afterlife soon after in a director's cut. That said, DC and Warners execs need to sort their product out fairly soon. Marvel has gone without these behind-the-scenes hitches – Ant Man (2015) maybe excepted – for the simple reason that there seems a smooth chain between studio, comic-book and film crew, and crucially there is one person overseeing the content. The DC Universe seems to lack anyone in overall charge, excepting perhaps Zack Snyder – although it should be noted that he has gained a unliked reputation, including online petitions to have him removed. DC needs to have some kind of critical success soon – their films need more than to exist in an afterlife of post-theatrical cuts that fans recognise as the true vision but mass audiences couldn't care less about.
As might be expected from the behind the scenes tinkering, Suicide Squad emerges as all over the place on screen. You can appreciate where David Ayer is trying to make it go, although it is hard to tell what is intentional and what is the result of material that has been cut or rearranged. The lead-up to the action seems to jump about in terms of narrative. Character introductions seem to have been dumped in random places. In a plot that feels like it should have been given far more time, Enchantress is introduced and before we even get to know much about her (or her relationship with Rick Flag) she is rapidly whipped through a series of scenes where she resurrects her brother and he then turns into a monster that seems to engulf all of Midway City in a vortex that belongs in something more like Ghostbusters (2016) (or perhaps Justice League Dark). Who the brother is and what the vortex represents other than a generic world-destroying menace is sketched in frustratingly vague strokes.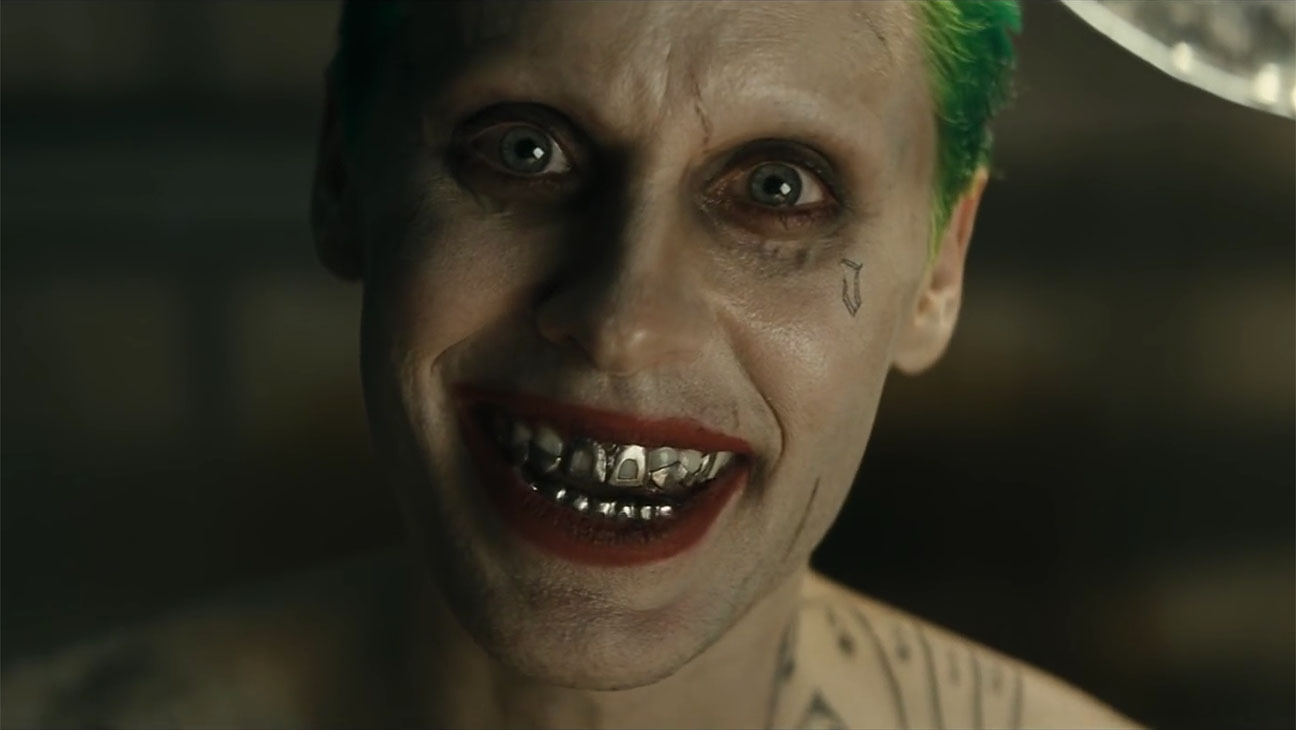 As much could be said for The Joker. The pre-publicity made a great deal out of him being a major character in the film and tried to pump up lots of drama about Jared Leto's deranged on-set antics to get into character – only for the big anti-climax to be that The Joker is not actually a member of Suicide Squad. In fact, he has no real place in the film dramatically. He has several flashbacks scenes, which are mostly there to flesh out Harley Quinn. He has a major scene in the middle of the drama where he turns up to rescue her with guns blazing – only for the helicopter to crash and he be left thought for dead and Harley to go back and join the team she just abandoned as though nothing had happened.
If the script is a mess, Suicide Squad at least does one thing well – and that is it gets most of the characters right. Will Smith takes an uncommonly villainous turn and gives another solid reliable performance as Deadshot, proving to be the moral backbone of the group. The scene-stealer of the show is Margot Robbie who gets Harley's Kewpie Doll gone wrong and gleefully insane characterisation just right – bar the trademark harlequin costume (which we do see her in in one flashback), she could have stepped right out of the 1992-4 animated series. The others emerge passably well, the best probably being Jay Hernandez as Diablo.
Jared Leto's The Joker is another question. Coming after some great incarnations of the role – Jack Nicholson in Batman (1989), Heath Ledger in The Dark Knight (2008) and Mark Hamill in the 1992-4 animated Batman and Batman: The Killing Joke (2016), he has some big clown shoes to fill. However, the choice to eschew the classical Joker portrayal in purple zoot suit in favour of Leto's pierced, tattooed, bare-chested, heroin-chic Joker seems a little off. Leto seems appropriately insane but he seems too lean to fill the stage with grandiloquent theatricality the same way that Nicholson, Ledger and Hamill did.
A sequel was made with the much more successfully The Suicide Squad (2021) directed by James Gunn, featuring return performances from Margot Robbie, Joel Kinnaman, Viola Davis and Jai Courtney. The Suicide Squad were subsequently given their own animated film with Suicide Squad: Hell to Pay (2018) and appear in Justice League Dark: Apokolips War (2020). Jared Leto's Joker later made a reappearance in Zack Snyder's Justice League (2021).
David Ayer and Will Smith subsequently reteamed for the urban fantasy Bright (2017).
(Winner for Best Actress (Margot Robbie) at this site's Best of 2016 Awards).
---
---