---
USA. 2018.
Crew
Director/Producer – Sam Liu, Screenplay – Alan Burnett, Music – Robert J. Kral, Animation – DR Movie. Production Company – Warner Bros. Animation
Voices
Christian Slater (Deadshot/Floyd Lawton), Tara Strong (Harley Quinn/Harleen Quinzel), Vanessa Williams (Amanda Waller), Billy Brown (Bronze Tiger/Ben Turner), Liam McIntyre (Captain Boomerang/George Harkness), Gideon Emery (Copperhead/Sameer Park), C. Thomas Howell (Professor Zoom/Eobard Thawne), Kristen Bauer van Stratten (Killer Frost/Crystal Frost), Jim Pirri (Vandal Savage/Vertigo), Greg Gunberg (Maxum Steel/Doctor Fate), Dania Ramirez (Scandal Savage), Cissy Jones (Knockout), Julie Nathanson (Silver Banshee/Jewelee), Trevor Devall (Punch), Dave Boat (Two-Face/Harvey Dent), Dave Fennoy (Blockbuster/Tobias Whale), James Urbaniak (Professor Pyg)
---
Plot
Deadshot, Harley Quinn, Captain Boomerang, Killer Frost, Copperhead and Bronze Tiger are recruited by Amanda Waller to form Task Force X, informally known as Suicide Squad. They will earn time off their prison sentences if they are successful in their mission, while explosive devices are implanted in their necks to ensure cooperation. Their orders are to find Maxum Steel and retrieve a card he possesses. They find Steel working as a stripper in Las Vegas. Steel explains that he was granted a magical helmet that allowed him to become the sorcerer hero Doctor Fate. In the collection of magical artifacts he inherited was a card that allows anybody holding it when they die to go straight to Heaven. Waller has been diagnosed with cancer and is seeking to possess the card. As they seek the card, the Squad face off against two another teams, one made up of Professor Zoom, Silver Banshee and Blockbuster, and a further team consisting of Vandal Savage's daughter Scandal and her lover Knockout, who are all seeking to obtain possession of the card.
---
Suicide Squad: Hell to Pay is another of the DC Universe Original Animated Movies, which have so far included Superman: Doomsday (2007), Batman: Gotham Knight (2008), Justice League: The New Frontier (2008), Green Lantern: First Flight (2009), Superman/Batman: Public Enemies (2009), Wonder Woman (2009), Batman: Under the Red Hood (2010), Justice League: Crisis on Two Earths (2010), Superman & Batman: Apocalypse (2010), All-Star Superman (2011), Batman: Year One (2011), Green Lantern: Emerald Knights (2011), Batman: The Dark Knight Returns Part I (2012), Justice League: Doom (2012), Superman vs. The Elite (2012), Batman: The Dark Knight Returns Part II (2013), Justice League: The Flashpoint Paradox (2013), Superman Unbound (2013), Batman: Assault on Arkham (2014), Justice League: War (2014), Son of Batman (2014), Batman vs. Robin (2015), Justice League: Gods and Monsters (2015), Justice League: Throne of Atlantis (2015), Batman: Bad Blood (2016), Batman: The Killing Joke (2016), Justice League vs Teen Titans (2016), Batman and Harley Quinn (2017), Justice League Dark (2017), Teen Titans: The Judas Contract (2017), Batman: Gotham By Gaslight (2018), The Death of Superman (2018), Batman: Hush (2019), Justice League vs The Fatal Five (2019), Reign of the Supermen (2019), Wonder Woman: Bloodlines (2019), Justice League Dark: Apokolips War (2020), Superman: Man of Tomorrow (2020), Superman: Red Son (2020), Batman: Soul of the Dragon (2021), Batman: The Long Halloween Part One (2021), Batman: The Long Halloween Part Two (2021), Injustice (2021), Justice Society: World War II (2021), Batman and Superman: Battle of the Super Sons (2022), Catwoman: Hunted (2022) and Green Lantern: Beware My Power (2022).
Hell to Pay is being billed as the first Suicide Squad film in the DC Universe Original Animated Films, although this is untrue – they had previously appeared in Batman: Assault on Arkham, although there they were not considered well known enough to have top-billing at that point and the film was instead sold as a Batman film. Hell to Pay of course comes out after the highly successful live-action Suicide Squad (2016). This builds on that film and stays with its main players – Deadshot, Amanda Waller, Captain Boomerang, and Harley Quinn, even though she was never a member of Suicide Squad in the comic-book. Added to this however are a great many other Suicide Squad members from the comic-book page, including Blockbuster, Bronze Tiger, Copperhead, Killer Frost, Punch and Jewelee, and Count Vertigo, not to mention quite a number of other super-villains present who have no Squad association.
Naturally the number of characters running around on screen – two different incarnations of Suicide Squad, one team seen in the prologue and then the main one introduced shortly after, plus two different teams of villains pursuing them – leads for a very busy film where it becomes difficult to keep track of who is who. I was very confused about what I assumed was The Joker and Harley running around during the prologue scenes, wielding a green crystal as an energy weapon and employing flying shoes, before being killed – only to later find it was an entirely different duo of villains Punch and Jewelee. The resemblance in the costuming, right down to even having someone voice Jewelee with a high-pitched register as most Harley characterisations do, proves entirely confusing.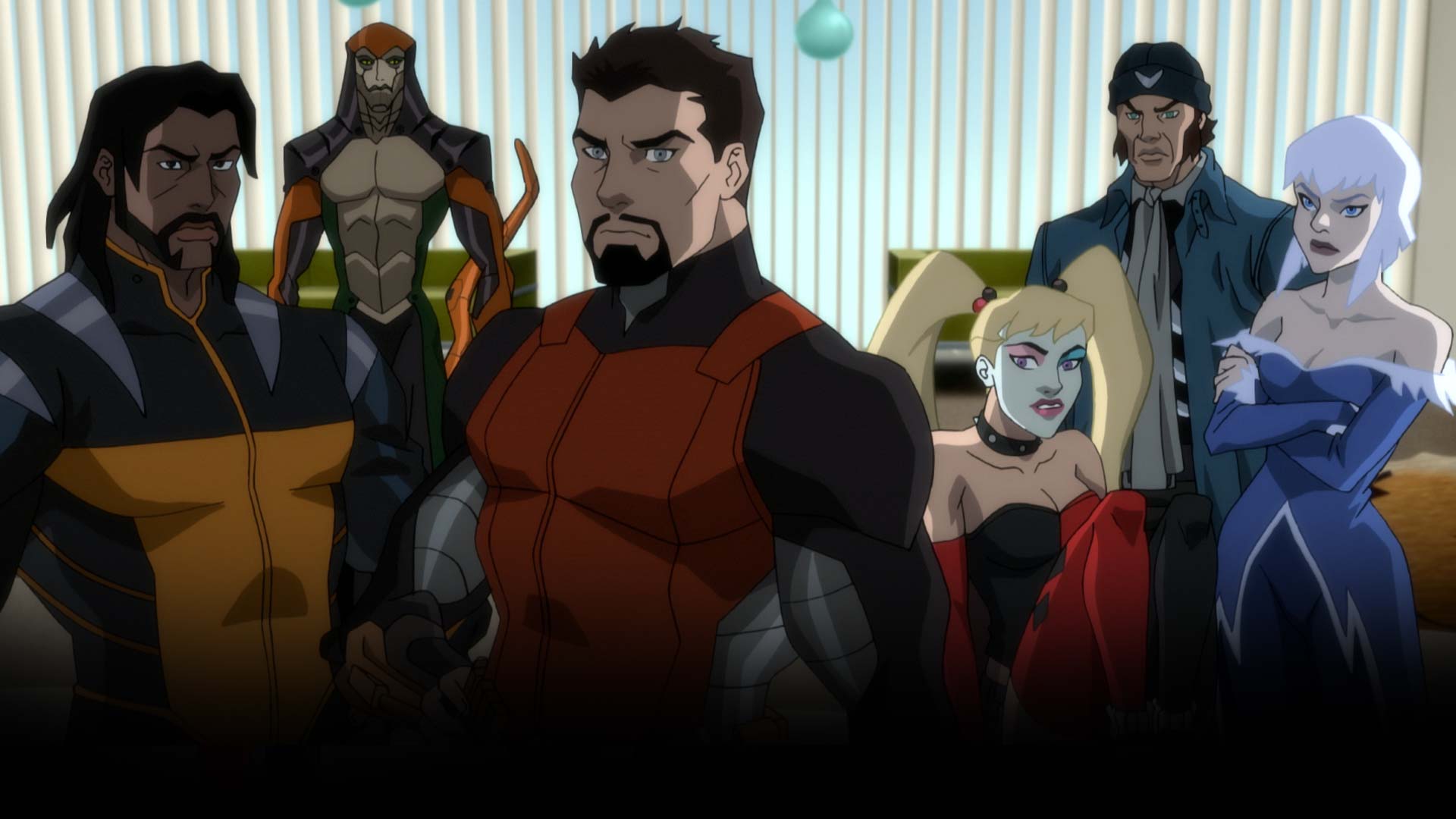 It has become increasingly evident as you watch each successive DC Universe Original Animated Film that the filmmakers have been itching to get away from the kid's entertainment efforts that the films are sold as and create something more adult. The occasional sexual reference or joke aimed at the grown-ups will slide by as though the production team have been daring themselves to see what they can get away with. This reached a point of eye-opening outrageousness with Batman and Harley Quinn with Harley seducing Robin and making jokes about her vibrator and hits a peak with Hell to Pay, which received an R-rating.
On the other hand, the way this manifests on screen results in a film that seems to have been pitched down to a horny fifteen-year-old schoolboy. To wit:- the plot requires that the Suicide Squad go on a tour of strip clubs, where the character of Doctor Fate is introduced and is revealed to be a male stripper (a newly invented alter ego different to any of Doctor Fate's other incarnations). The comic-book characters of Scandal Savage and her lesbian lover Knockout are introduced and have a scene where they kiss and then Knockout strips off to do a nude walkaway as they taunt a bound Dr Pyg – it is hard to think of a more male titillation-centric way of presenting what were characters intended to expand DC's diversity base. Even the security guard in the building is introduced watching porn on his tv monitor.
---
---