---
Crew
Director – Stephen Fung, Screenplay – Cheng Hsiao Tse & Zhang Jialu, Story – Chen Kuofu, Producers – Wang Liqun, Wang Zhongjun & Zhu Jing, Photography (3D) – Du Jie, Lai Yiu Fai & Ngor Chi Kwan, Music – Katsunori Ishida, Visual Effects Supervisors – Chau Chau Chi Shing, Kim Ho Pui Kin, A Law & Ng Yuen Fai, Visual Effects – Beijing Miracle Film & TV Co, Ltd. (Supervisor – Chang Song), CNFX (Supervisor – Wang Zhuang), Different Digital Design Limited (Director – Kam Lau), Fat Face Production Limited (Supervisors – Chau Chi Shing & Ho Pul Kim), Menford Electronic Art & Computer Design Co, Ltd. (Director – Eddie Wong), Special Effects Supervisors – Chan Shing, Cheung Shui Kim & To Kwok Keung, Makeup Effects – Wu Jiang, Production Design – Yip Kam Tim, Action Director – Sammo Hung. Production Company – H. Brothers/Diversion Pictures/Huayi Brothers Media Corporation/Huayi Brothers International Limited/Shanghai Stone-Capital Culture Investment (LLP)/Hunan Richland Culture Media Venture Partnership.
Cast
Jayden Yuan (Lu Chan/The Freak), Tony Leung Ka-fai (Uncle Laborer/Chen Chang Xin), Eddie Peng Yu-Yen (Feng Zi Jing), Angelbaby (Chen Yu Niang), Mandy Lieu (Claire Heathrow), Bruce Leung Su-Lung (Master Dong), Feng Tsui Fan (Grand Uncle), Ying Da (Governor), Shen Si (Brother Tofu)
---
Plot
China in the 19th Century. Lu Chan, known as The Freak, is employed by the army of the Divine Truth Cult. Lu Chan has been born with a rare horn-like protrusion on the side of his head, a condition known as Three Blossoms on the Crown. When the horn is struck, this causes Lu Chan to erupt into a berserker rage where he attacks all in his path with ferocious kung fu skill. After the latest battle, Lu Chan collapses. A doctor diagnoses that if continued to be struck, the Three Blossoms will turn black and kill him. He advises Lu Chan to learn Chen Style kung fu, which harness Tai Chi to harmonise the body's inner energies. Lu Chan sets out on a quest to the remote Chen Village to learn the skills from Chen Style master Chen Chang Xin. Instead, he is turned away by the villagers who say they do not teach the Chen Style to outsiders. In his efforts to get in, he is repeatedly beaten up and thrown out the gates. Eventually, a lowly labourer he befriends suggests that Lu Chan start imitating the moves that those who throw him out are using against him. By this means, he starts to have some success. Meanwhile, Feng Zi Jing, a former villager, has failed in his attempts to persuade the village to allow a railroad to pass through Chen Village. He now returns with a steam-powered tank train and an army from the British East India Company and announces that he will demolish the village if the villagers do not voluntarily tear down their homes to allow the railroad through.
---
Taichi Zero is another of the modern Chinese-backed Wu Xia films that have taken off in recent years following international hits like Crouching Tiger, Hidden Dragon (2000), Hero (2002) and House of Flying Daggers (2004). This revival has seen the pulp martial arts genre that was created in Hong Kong in the 1980s remounted as lavish costume dramas and with the employment of modern CGI effects to allow the flying swordsmen to take flight.
Hong Kong-born director Stephen Fung emerged as an actor in Hong Kong films of the 1990s, gaining stardom with the hit Gen X Cops (1999), while he has also released several albums as a singer. He made his debut as director on one of the segments of Heroes in Love (2001) and then on the feature-length gangster comedy Enter the Phoenix (2004), followed by the hit martial arts comedy House of Fury (2005) and the dance film Jump (2009) and subsequent to the Taichi films with the non-genre caper/action film The Adventurers (2017).
I had high hopes for Taichi Zero. The poster with the hero with glowing eyes like something out of The Last Airbender (2010) seemed extremely cool, while the film was given a big promotional campaign beyond the usual Chinese-language audiences – in Vancouver, you could see posters plastered all over the downtown, for instance. Not to mention that the title suggested a lineage going all the way back to Wu-ping Yuen's classic The Tai Chi Master (1993) – although, as it transpires, is entirely unconnected.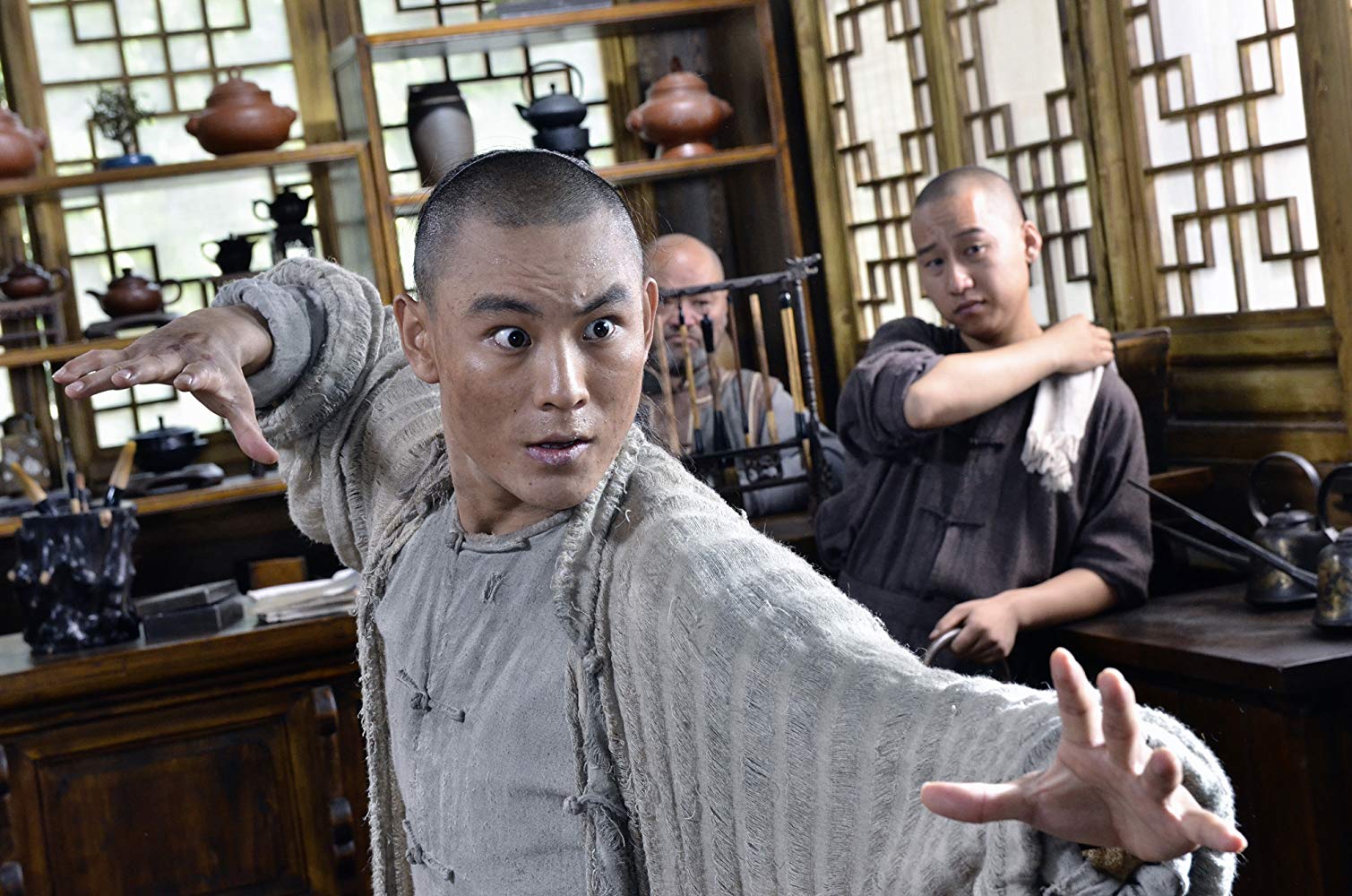 I ended up being heavily disappointed with Taichi Zero. It could have been a martial arts/Wu Xia epic and I was expecting it to be. However, Stephen Fung falls prey to trying to be hip and cool. Even the idea of a tongue-in-cheek Wu Xia film has been made to work before with Stephen Chow's delightful Kung Fu Hustle (2004) – although you could just as easily argue that all Wu Xia fairly much is tongue-in-cheek. In Stephen Fung's hands though, we get a film that comes out as something akin to the hyperkinetically self-conscious visuals of Scott Pilgrim vs. the World (2010).
Here Stephen Fung seems in love with his own cuteness as a director. The screen is frequently broken up with diagrams and arrows pointing out parts of the town, even noting irrelevant background elements like flagpoles and side doors to buildings. The gates are slammed on the hapless hero and an onomatopoeic cartoon 'Bam!' appears on screen. In an effect borrowed out of Wanted (2008), someone is hit with a Mah Jong board and the pieces go flying through the air to spell the Chinese letters for Mah Jong. Fung is constantly introducing characters who appear, not just with an on-screen listing of who the character is but of the actor playing them and a brief précis of said actor's significance in either classic Shaw Brothers films or as some contemporary martial arts champion.
In between all this self-conscious style and the goofy slapstick common to Hong Kong cinema, it becomes hard to accept any suspension of disbelief. Taichi Zero feels like a film that is constantly getting in your face to show you how cute and visually playful it is and you just wish that Stephen Fung would forget about this and get on with the film. The film is probably at its silliest at the climax where the villagers repel the Western soldiers by throwing eggs, fruit and vegetables at them.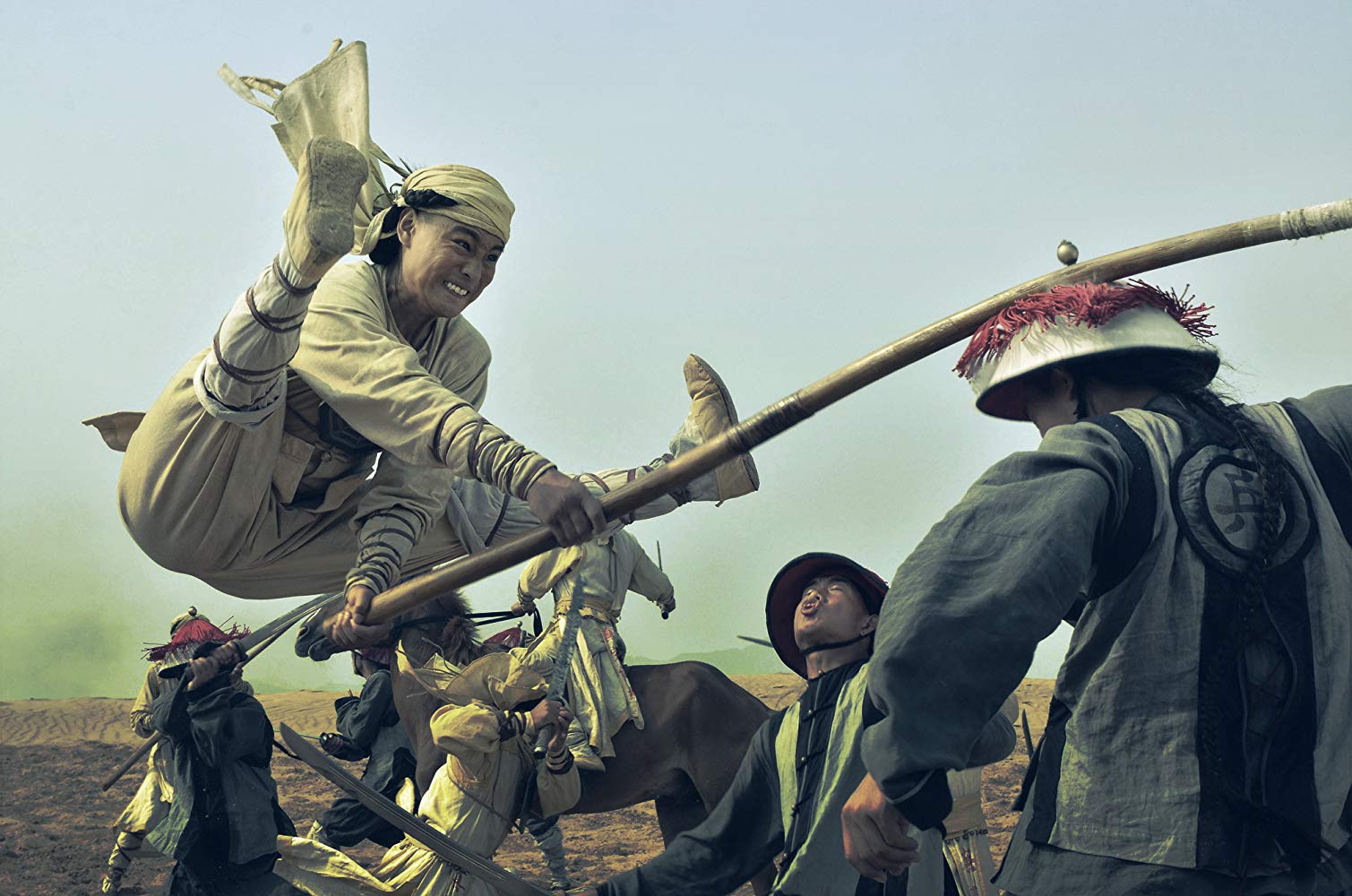 Stephen Fung has employed Sammo Hung, a martial arts star, director and action choreographer from the 1980s onwards, to choreograph the fight scenes. Alas, Sammo Hung fails to give Taichi Zero any of the energy that a film like this needs and there is simply nothing remarkable about the fight scenes in any way. Whereas other films in the modern Chinese Wu Xia renaissance have pushed the genre to amazing heights thanks to the employment of CGI, the film here fails to do anything interesting. The film also has the problem endemic to many superhero introduction films in that the bulk of its time is spent with its hero powerless and unskilled in the fighting format he is destined for, thus the entire film becomes a waiting game until the promised sequel in terms of its superheroic promise.
One of the more interesting elements is that the film is designed in a Steampunk style, which became an alternate fashion fad around the time the film was made. This is occasionally interesting if the film never does anything much with it other than offer up a giant mechanical steam tank-train. What is perhaps more interesting is the associations that underlie the film where the side of bad is associated with Western progress – machinery and the good old movie Western plot device of wanting to drive a railroad through the town, and where the Westernised Chinese villain wears a top hat and frock coat, while the side of decent peasantry is represented by simple ordinary folk who nevertheless lead a rigidly controlled lifestyle that is exclusionary to all outsiders without exception.
Stephen Fung has announced Taichi Zero as the first in a trilogy. It was followed by Taichi Hero (2012), although a third chapter has yet to emerge.
---
---