---
Crew
Director – Stephen Fung, Action Director – Sammo Hung, Screenplay – Cheng Hsiao Tse & Zhang Jialu, Story – Chen Kuofu, Producers – Wang Liqun, Wang Zhongjun & Zhu Jing, Photography (3D) – Du Jie, Lai Yhu Fai & Ngor Chi Kwan, Music – Katsunori Ishida, Visual Effects Supervisors – Chas Chau, Chi Shing, Kim Ho, Ng Yuen Fai, A Law & Pui Kin, Visual Effects – Beijing Miracle Film&TV Co, Ltd (Supervisor – Chang Song), Bluebee Media Co, Ltd, CG Eye Animation (Director – Chiu Wai Chun), Different Digital Design Limited (Director – Ken Law), Fat Face Production Limited (Supervisors – Chau Chi Shing, Ho Pui Kin & Ng Yuen Fai), Free-D Workshop Ltd (Supervisors – Yee Kwok Leung, Lei Man Chun & Lin Chun Yue Jules), Lightbox, Menford Electronic Art & Computer Design Co, Ltd (Director – Eddy Wong), Shunjin Visual Effects Studio (Supervisor – Huang Shujun), Special Effects Supervisors – Chan Shing, Cheung Shui Kim, Fok Kim Tong & To Kwok Keung, Makeup Effects – Cinemorphy SFX Limited, Production Design – Yip Kam Tim. Production Company – Huayi Brothers Media Corporation/Huayi Brothers International Limited/Shanghai Stone Cultural Investment (LLP)/Hunan Richland Culture Media Venture Partnership/Diversion Pictures.
Cast
Jayden Yuan (Yang Lu Chan), Angelababy (Chen Yu Niang), Tony Leung Ka-Fai (Chen Chang Xing), Feng Shao Feng (Chen Zai Ying), Eddie Peng Yu-Yen (Fang Zi Jang), Yuan Biao (Li Qiankun), Peter Stormare (Flemming), Yuan Wen Kang (Prince Dun), Patrick Tse (The 10th Grandmaster), Daniel Wu (Mad Monk)
---
Plot
Yang Lu Chan and Chen Yu Niang are about to be married so that he might become part of the Chen Village and be allowed to learn Chen Style kung fu. The ceremony is interrupted by the arrival of her long-absent brother Zai Ying. He brings warning of the Bronze Bell Prophecy, a caution given by a mad monk that if they were to teach their kung fu to any outsiders a vast bronze bell would ring spelling the doom of the village. After they are married, Yu Niang demands that Lu Chan sleep on the floor rather than the bed, obey her in every matter and address her only as master. She also begins his kung fu training. Lu Chan's head is then struck, causing him to go into a berserker rage throughout the village, whereupon the bell begins to ring. As the elders are convened to banish Lu Chan, Chen Chang Zing pushes him into a fight with Zai Ying. This exposes that Zai Ying's kung fu is due to clockwork body attachments and that he is an agent of the British East India Company. Driven out, Zai Ying is captured and inadvertently confesses to the newly appointed governor Fang Zi Jang that Lu Chan was previously a member of the outlawed Divine Truth Cult. Fang Zi Jang then uses the extermination of the cult as pretext to gather an army and cannons to attack the village in overwhelming force.
---
Stephen Fung's Taichi Zero (2012) was one of the biggest crossover successes from the Chinese Wu Xia cycle in the West in recent years. On the other hand, the promotion the film received, not to mention its announcement as a series of films – Taichi Hero was released only a month after Taichi Zero, for instance – was not supported by the film on display. There the standard flying martial artist action seemed somewhat weak, while the entire film seemed wrecked by Stephen Fung's self-conscious hyperactive visuals and pop-up infographics.
Taichi Hero is fairly much the same as Taichi Zero but a somewhat better film. The infographic introductions of characters is lesser (mostly because we have met all the characters in the previous film and it doesn't bother reintroducing them). Stephen Fung's visuals are still self-conscious and showoffy – shots reflected off the eyes of humans and owls or a silly sequence where Jayden Yuan sets out to pass the twelve gateholders and learn the final secrets of Tai Chi where each of the various encounters are shown in a montage that is made to look like a lottery wheel.
There are more of the same bizarre Steampunk inventions – most notably this time, the invention of a mechanical ornithopter. Not to mention the bizarre moment where Jayden Yuan kicks Eddie Peng Yu-Yen and he explodes in a shower of clockwork mechanical parts (your first impression, no doubt a result of having watched too many science-fiction films, is that he is a clockwork android replica). The main problem for audiences coming to the Taichi franchise without having seen the first film is the problem that faces all middle chapters in a series – that the film and character relations don't make much sense without having seen the first film.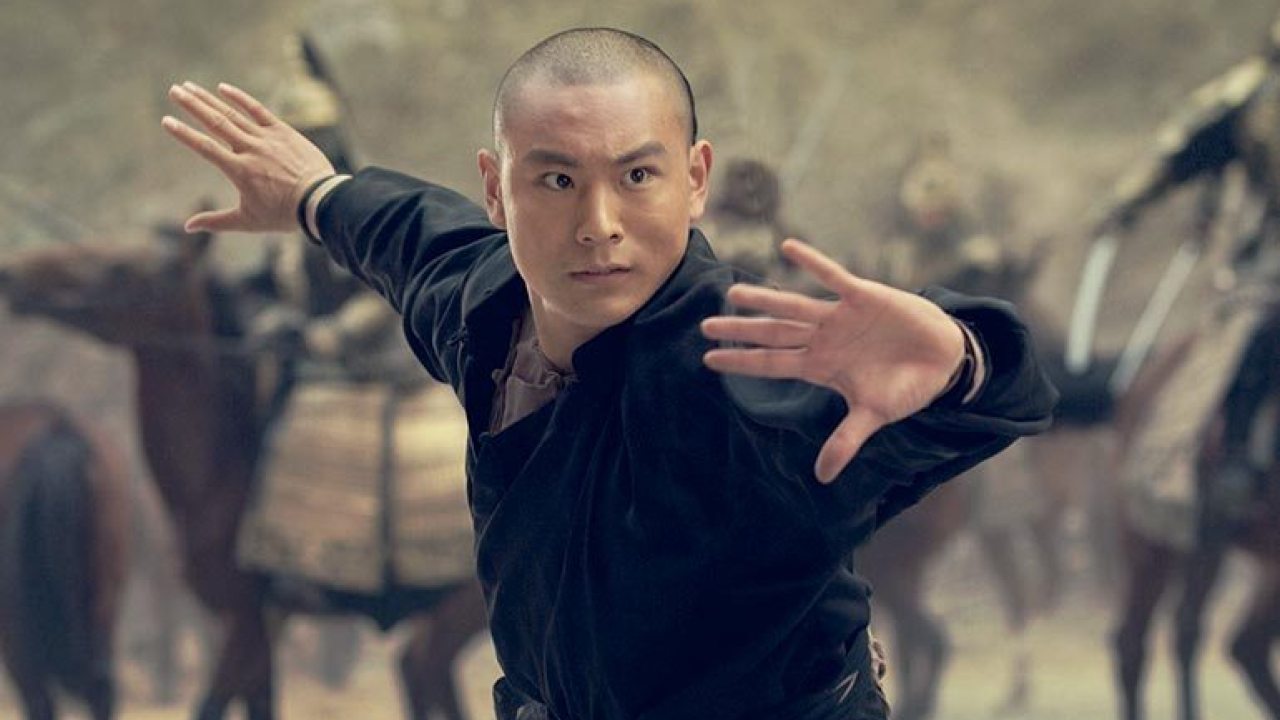 With Stephen Fung's visuals more restrained, Taichi Hero works far more as a standard Wu Xia film than Taichi Zero did. The first film was all about the hero learning the use of his powers – the plot mostly centered around his comic attempts to be accepted into the village and featured very little in the way of actual action scenes. Here his training is over and done with relatively soon and the film opens up with more in the way of action scenes. Fung sets up an epic-sized scene where Tony Leung Ka-Fai, along with Jayden Yuan and his wife Angelababy, take on the army attacking the village using martial moves that knock out horses and down dozens of soldiers at once, before making an escape by grabbing onto the wings of Eddie Peng Yu-Yen's ornithopter.
This certainly gets the film going; on the other hand, even though Stephen Fung has classic action choreographer/director/actor Sammo Hung directing the action scenes, you cannot help but think that a classic Wu Xia director would have made something completely amazing out of it. Fung and Hung put together a far better scene at the climax with Jayden Yuan and the master fighting on the tops of a maze of walls in a kitchen while beneath them the cooks and servants prepare an imperial banquet with painstaking detail.
Stephen Fung had announced intentions to make the Taichi series into a trilogy, although a third chapter has yet to emerge. His next film as director was the non-genre heist film The Adventurers (2017).
---
---