USA. 2012.
Crew
Director/Story – The RZA, Screenplay – Eli Roth & RZA, Producers – Marc Abrahams, Eric Newman & Eli Roth, Photography – Chi Ying Chan, Music – Howard Drossin & RZA, Visual Effects – Centro Digital Pictures, Ltd. (Supervisor – Don Ma), Gradient Effects (Supervisors – Thomas Tannenbaum & Olcun Tan), Gradient Effects Istanbul, Post Matters (Supervisor – DJ Chan), Special Effects Supervisor – Arthur Lau Kai Wit, Makeup Effects – Howard Berger & Gregory Nicotero, Production Design – Drew Boughton. Production Company – Strike Entertainment/Arcade Pictures.
Cast
RZA (Thomas Henry Smith), Russell Crowe (Jack Knife), Lucy Liu (Madam Blossom), Byron Mann (Silver Lion), Rick Yune (Zen Yi, The X-Blade), Dave Bautista (Brass Body), Jamie Chung (Lady Silk), Daniel Yu (Poison Dagger), Cung Le (Bronze Lion), Grace Huang (Gemini Female), Andrew Lin (Gemini Male), Zhu Zhu (Chi Chi), Gordon Liu (Abbott), Kuan Tai Chen (Golden Lion)
---
Plot
After Golden Lion, the leader of the Lion Clan, is assassinated by Poison Dagger, Silver Lion assumes command and immediately takes a more warlike stance. He sets out to hunt down and eliminate the rightful heir to the Lion Clan, Golden Lion's son Zen Yi. Various factions converge on Jungle Village. There the freed slave Thomas Henry Smith works as the blacksmith creating custom weapons for the clans. He is trying to save money so that he can buy his love Lady Silk's freedom from the brothel of Madam Blossom. When the blacksmith refuses to divulge the whereabouts of Zen Yi, Silver Lion amputates both of his arms. With the aid of a British colonel, these are replaced with iron fists. As the various warring clans converge in a to-the-death battle, Thomas stands up to take revenge.
---
For those who exist in the world outside of film, RZA (sometimes also listed on the credits here as The RZA), or as his mother might more mundanely know him Robert Fitzgerald Diggs, is the most prominent name associated with the rap group Wu-Tang Clan. (The name Wu-Tang Clan itself is taken from a fictional organisation that appears in several Hong Kong martial arts films, including Shaolin vs Wu-Tang (1983) and The Bride with White Hair (1993)). While other members of Wu-Tang have come and gone, RZA remains its central creative force and has produced all of their albums since 1992. RZA is also prolific as a solo and collaborative artist, as a music producer for others and as a soundtrack producer for films such as Ghost Dog: Way of the Samurai (1999), Blade Trinity (2004), Unleashed (2005), War (2007) and Babylon A.D. (2008). He has made a number of acting appearances in films such as Coffee and Cigarettes (2003), American Gangster (2007), Repo Men (2010), The Next Three Days (2010), A Very Harold & Kumar 3-D Christmas (2011), G.I. Joe: Retaliation (2013) and Brick Mansions (2014).
The RZA is a self-proclaimed martial arts movie fanatic. Aside from the Wu-Tang Clan name, numerous other song and album titles reference classic Shaw Brothers martial arts titles – albums like Enter the Wu Tang (36 Chambers) (1993) and 8 Diagrams (2007). The Man with the Iron Fists was RZA' directorial and screenwriting debut. Here he has combined forces with Eli Roth, director of Cabin Fever (2002), Hostel (2005) and The Green Inferno (2013). (The IMDB and a number of sources credit Roth as the co-director of The Man with the Iron Fists but RZA's name is the only one on the credits as director, although Roth both co-produces and co-writes the script). Also on board is Quentin Tarantino who 'presents' the film. Roth and in particular Tarantino's love of 1970s exploitation cinema is legion and so it is no surprise that they combine to back The RZA's directorial debut, which is construed as a homage to the Shaw Brothers martial arts films of the 1970s.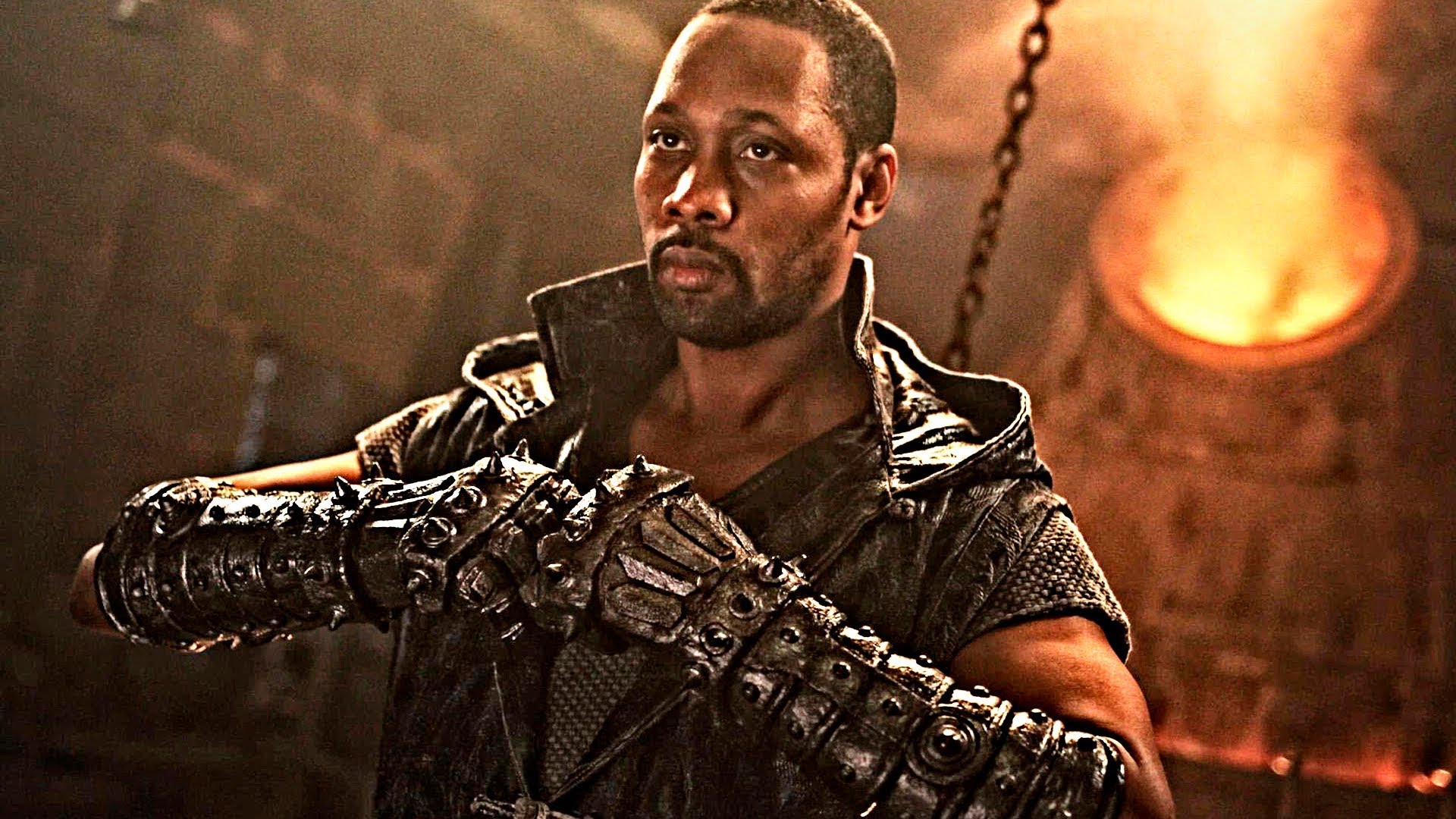 As US-made homages to Shaw Brothers martial arts and Wu Xia cinema go, The Man with the Iron Fists leaps light years ahead of the competition – particularly when you look at pallid imitators of the form such as The Golden Child (1986), Bulletproof Monk (2003), The Forbidden Kingdom (2008) and Man of Tai Chi (2013), or the embarrassment of Jackie Chan's venture into English language mainstream. (The exception to this might be the Wachowski Brothers with The Matrix (1999) but they did unique things that turned the genre into its own synthesis. You could also include among the exceptions Big Trouble in Little China (1986) where John Carpenter played around with the form in likeable ways). RZA does a number of things that stand him in good stead – he has gone to shoot in China and employs a number of Chinese actors in respective roles. Most importantly, he has engaged Corey Yuen, the action director of a number of classic Shaw Brothers films and Lethal Weapon 4 (1998), X-Men (2000), Red Cliff (2008-9), The Expendables (2010), as well as a director in his own right with Above the Law (1986), Ghost Renting (1991), Saviour of the Soul (1991), The Bodyguard from Beijing (1994), The New Legend of Shaolin (1994), The Enforcer (1995) and the English-language The Transporter (2002) and DOA: Dead or Alive (2006), to choreograph the martial arts scenes.
The effort results in a solid martial arts film. The combatants' fire off martial blows, engage in sword fights, twist and twirl in mid-air, conduct lightning fast flips and reversals. The action is not as wildly fantastical as the full-on Wu Xia that took over the Hong Kong genre after around 1983 in efforts such as Zu: Warriors from the Magic Mountain (1983), A Chinese Ghost Story (1987), the Swordsman series and others. Certainly, we do get some fantastical flying swordsman moves, power punches and a character (Dave Bautista) who has the power to turn his body into all-over brass armouring (an unnecessary CGI effect). Nevertheless, RZA does produce some of the authentic goods and occasionally creates several set-ups that dazzle in their own way, even if the original Hong Kong counterparts still hold the edge any day. The Man with the Iron Fists is by no means an embarrassed showing that leaves egg over RZA's face as is the case with most of the aforementioned Shaw Brothers copies. The one complaint might be that RZA is too low key a performer for an action film like this. He never does much in the way of either the tight-lipped and monosyllabic or the sympathetic hero thing. He is too quiet as a presence and as a result ends up being out-acted by almost everybody around him.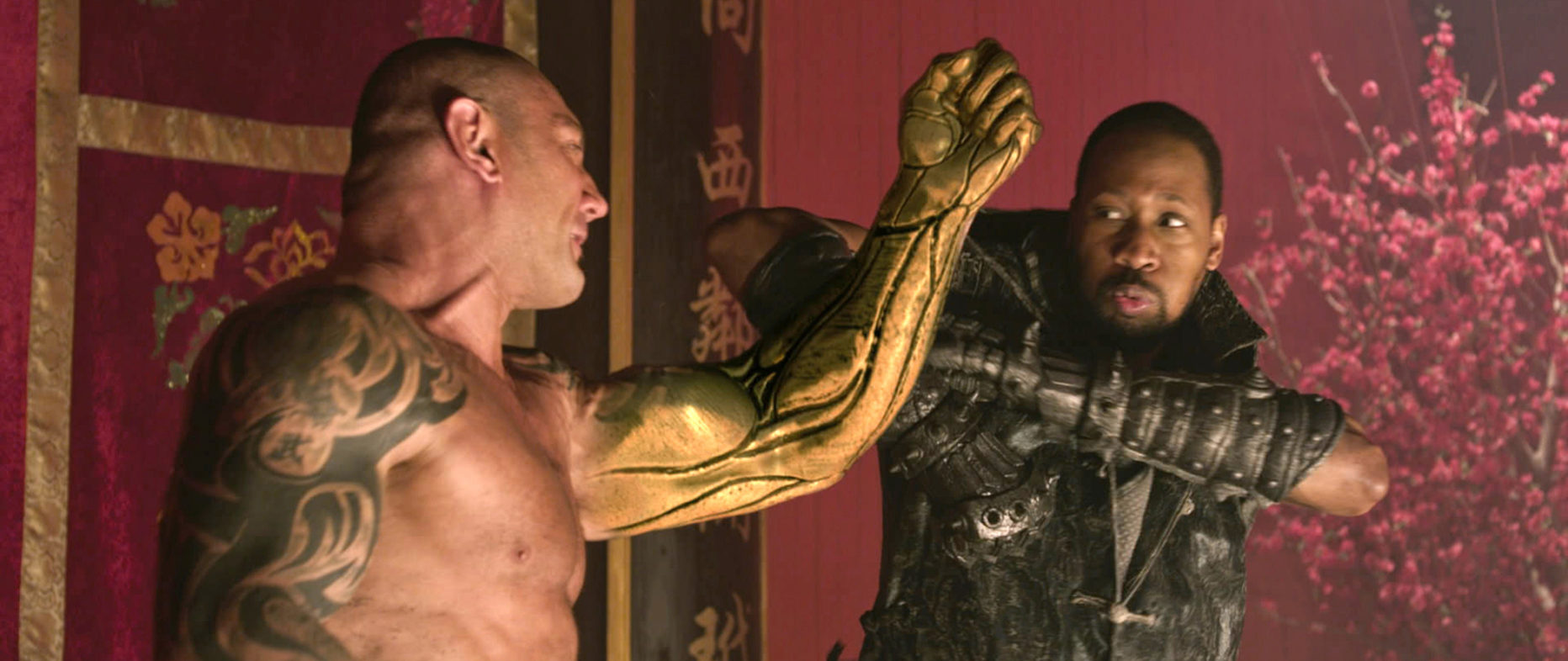 What might be said of The Man with the Iron Fists is that it is a decent homage to Shaw Brothers, although not quite the genuine article. There are often tiny little touches and assumptions that make it seem distinctly an American film rather than a Hong Kongese one. For one, what we end up with seems an odd cultural melange. Russell Crowe's gregarious character seemed to have stepped in from a Western or at least a US Civil War drama. And there is the other part of the film that seems to sit with one foot in the gangsta genre. You wonder for much of the film what the African-American RZA is doing in a town that is supposed to be in historical China (although this is eventually given a justification in flashback that tells his story as a freed, shipwrecked slave). There is also RZA's voiceover narration that comes filled with dialogue that is contemporary ghetto rather than anything that would have been said by anybody period or in a Shaw Brothers film – referring to people as "motherfuckers", slang usages like "missin'" and "get the fuck outta Jungle Village." Another of the oddities is the film's quotation of familiar lines – the "Are we men or are we beasts? We are men," line from The Island of Lost Souls (1932), Mark Twain's "reports of my death have been greatly exaggerated" and the Sean Connery line "never bring a knife to a gunfight" from The Untouchables (1987). Both of these seem oddly incongruous in a way that ruptures the suspension of disbelief.
The Man with the Iron Fists 2 (2015) was a sequel, featuring a return performance and script from RZA, although he does not direct this time.
The RZA did not direct again until an episode of the tv series Iron Fist (2017-8), followed by the hip hop film Love Beats Rhymes (2017). He has also produced the parody Meet the Blacks (2016).
---
Trailer here
---