---
Crew
Director – Gavin Millar, Screenplay – Dennis Potter, Producers – Rick McCallum & Kenith Trodd, Photography – Billy Williams, Music – Max Harris & Stanley Myers, Creatures – The Henson Creature Organisation (Supervisor – Lyle Conway), Production Design – Roger Hall. Production Company – Thorn EMI.
Cast
Coral Browne (Alice Hargreaves), Peter Gallagher (John Dolan), Nicola Cowper (Lucy), Amelia Shankley (Young Alice), Ian Holm (Reverend Charles Dodgson/Lewis Carroll), Jane Asher (Mrs Liddell)
---
Plot
In 1932, Alice Hargreaves, once the inspiration for Lewis Carroll's Alice in Wonderland but now in her eighties, arrives in New York to receive an honorary degree from Columbia University to mark the centenary of Carroll's birthday. Escaping the reporters who mob her and relaxing in her hotel room, Mrs Hargreaves dreams of Carroll (in reality the Reverend Charles Dodgson) and his love for her as a child. She imagines the characters from 'Alice' appearing to her, trying to tell her something. However, she is old and set in her ways of Victorian propriety and now finds such things merely childish. Meanwhile, ambitious reporter John Dolan makes a play for the heart of her young companion Lucy and appeals to Mrs Hargreaves's vanity to convince her to accept lucrative offers for advertising endorsements. Through it all, Alice begins to find the secret message that Reverend Dodgson left for her in his book.
---
Dennis Potter (1935-94) may well have been the single most remarkable television writer of his generation. When he died in 1994, Potter left an extraordinary body of work behind him, any item of which can give ample evidence that television is not the vulgar medium it is often dismissed as.
A good deal of Dennis Potter's work can be read as fantasy. A recurrent theme in his work is of characters who prefer fantasy or the invented worlds of fiction and musicals to the real world – Michael Gambon's psoriasis sufferer dreaming up the world of a cheap detective fiction in The Singing Detective (1986), filmed as The Singing Detective (2003); people who daydream in musical fantasies in Pennies from Heaven (tv mini-series 1978, filmed 1981) and Lipstick on Your Collar (1993); or else Blackeyes (1989) where the female character in a cheap sensationalistic sex novel decides she doesn't like the sexist role the story casts her in; the peculiar blurring of a scriptwriter's script and reality in Karaoke (1996); and Potter's last work, the oddly autobiographical Cold Lazarus (1996) where the memories of a cryogenically frozen writer are ransacked for entertainment by denizens of the future. The theme of imagined fantasy vying with equal strength against the real world can be found in almost every Dennis Potter work.
In Dreamchild, Dennis Potter addresses the story of Alice Hargreaves, the real-life model for Lewis Carroll's Alice in Wonderland. Potter was clearly fascinated with Alice's Adventures in Wonderland (1865) and had earlier written a tv movie adaptation Alice (1965), which likewise approached the story from the perspective of the relationship between Reverend Dodgson and Alice Liddell.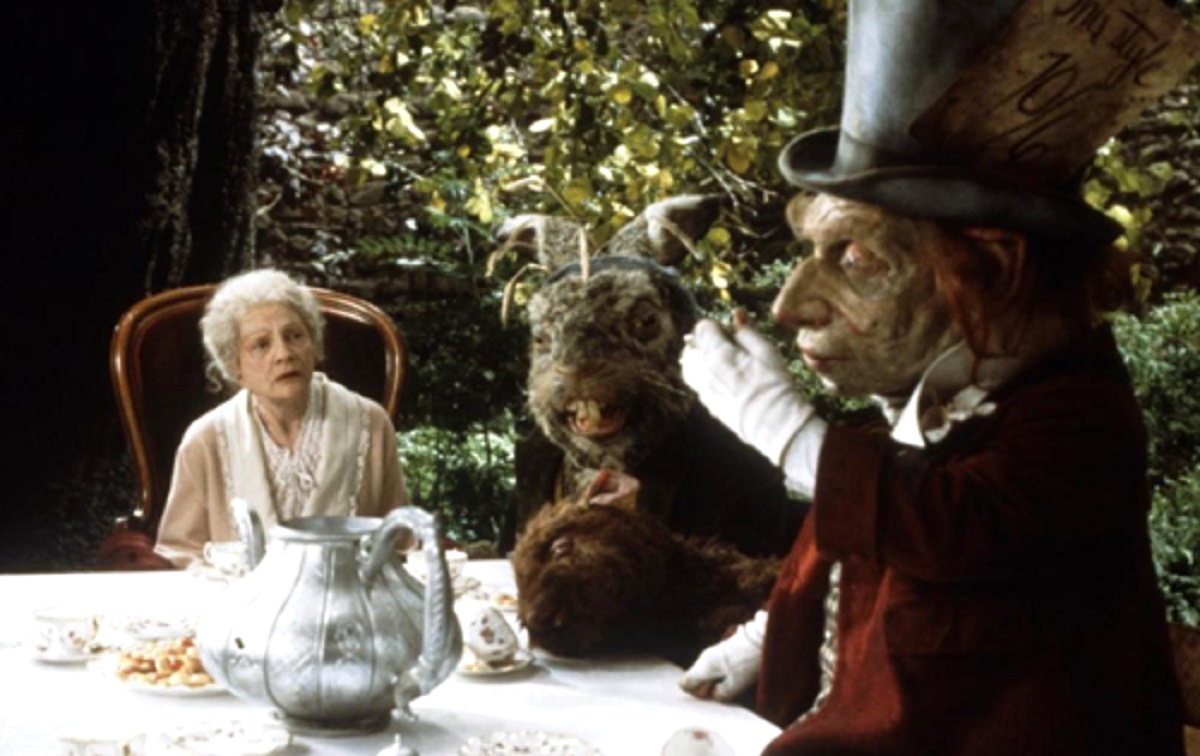 Expectedly of Dennis Potter, the strength of Dreamchild comes in the contrasts between the aging Alice, set in her ways and sense of Victorian propriety, and scenes where the characters from the book come to life to eventually teach her a lesson about the childhood she has dismissed and forgotten. This is affectingly conveyed, although Dennis Potter's comic contrast of Victorian virtue against American vulgarity is strainingly caricatured at times. Nevertheless, Dreamchild comes with a great deal of warmth and wit.
Characteristically, Dennis Potter prefers to improve on reality for happier endings. One might take charge with the film's papering over and forgiving of the less savoury side of Charles Dodgson/Lewis Carroll's character. Carroll/Dodgson clearly had paedophile intent – he took dozens of naked photographs of young pre-pubescent girls. Considering the contemporary outrages against such similarly indecent tendencies in in particular the Catholic priesthood, one suspects that were Carroll/Dodgson a contemporary and not the writer of a classic novel he would be publicly vilified for this. Dreamchild tends to sweep all hint of indecency under the carpet in favour of a more platonic 'love' – indeed, the childhood flashbacks are shot with a gauzy romanticism.
Coral Browne (Mrs Vincent Price) gives a standout performance as Alice Hargreaves– full of presence and preposterously haughty but where she undergoes a heart-warming change by the end. It is a performance that manages to be wonderfully sly and intelligent. She should have been in award consideration for this performance, although sadly Dreamchild was not widely distributed.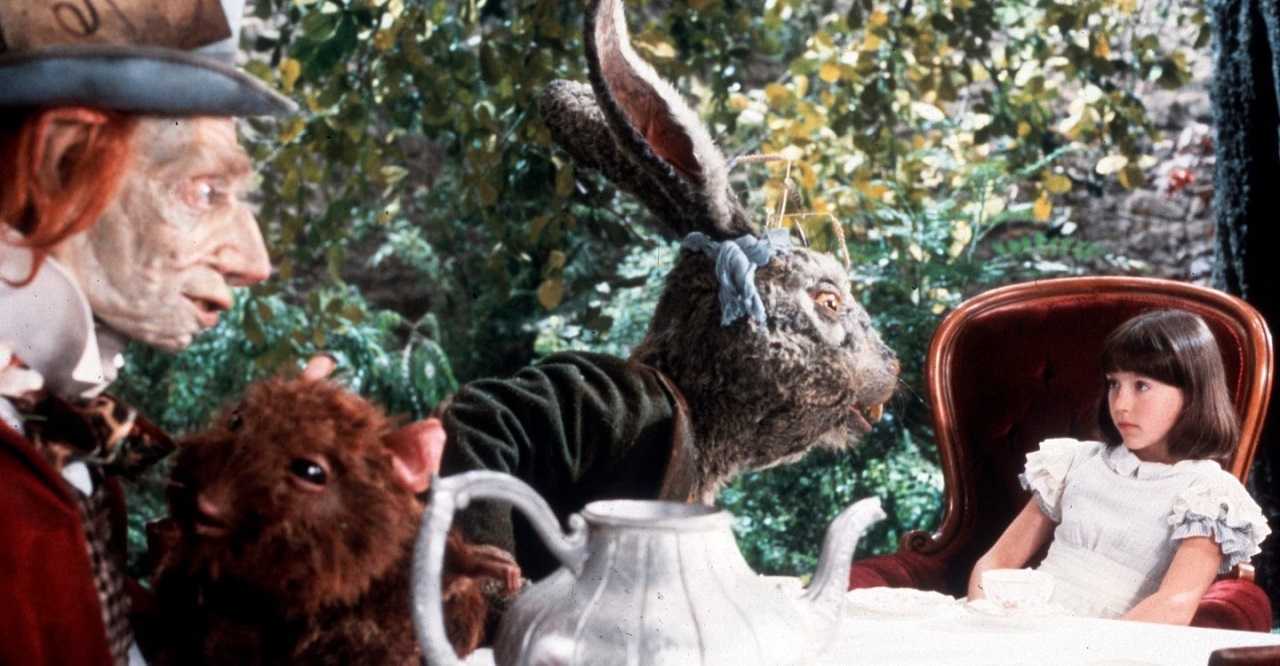 There is also an excellent performance from young Nicola Cowper as Mrs Hargreaves' naive companion Lucy – Cowper is required to run an impressive array of naked and plaintive emotions throughout. Nicola Cowper sadly never went onto consolidate her career – she appeared in the Clive Barker adaptation Underworld/Transmutations (1985) and the disaster-laden Journey to the Center of the Earth (1988) and then fairly much vanished into British television. Young Amelia Shankley gives a fresh and appealing performance as the child Alice.
Dreamchild makes do with a slim budget but comes out well. Particularly good are the Henson Creature Workshop's recreations of the Wonderland characters, which are given a much darker characterization than they are usually depicted with.
Dennis Potter's other genre works are:– the tv play Alice (1965); the highly controversial tv play Son of Man (1969), a Passion Play that depicts Jesus Christ as racked with anxiety and doubt; the tv play Angels Are So Few (1970) about a housewife who receives a visit from a man who claims to be angel; the meta-fiction Follow the Yellow Brick Road (1972) where a man believes he is a character in a tv show; Brimstone and Treacle (1976/1987) about a man who claims to be The Devil; the mini-series Pennies from Heaven (1978) concerning Depression-era people who are constantly expressing their inner turmoils in lip-synched musical fantasy sequences; the tv play Blue Remembered Hills (1979) where Potter conducted the unique device of depicting his childhood during the War with adults cast in the roles of children; Pennies from Heaven (1981), the Hollywood remake of the earlier mini-series; Brimstone and Treacle (1982), a film remake of the tv play; The Singing Detective (1986) where a man in a hospital bed, his buried past and the plot of a cheap detective novel blur together into a dazzling meta-fiction; the surreal Track 29 (1988) with Gary Oldman as Theresa Russell's possibly imaginary lost son; the mini-series Blackeyes (1989) where the character in a trashy sex novel comes to life to protest her exploitation; Lipstick on Your Collar (1993) where the people in a government office in the 1950s express their fantasies in musical numbers; the tv play Midnight Movie (1994) where an old horror movie screening on tv and a mysterious unsolved murder in the present blur together; Cold Lazarus (1996), the final work written by Potter where the memories of dead writer are ransacked by the people of the future; and The Singing Detective (2003), the posthumous film adaptation of his tv mini-series.
Scottish-born Gavin Millar is a director whose work has almost entirely been in British television. He subsequently ventured onto cinema screens with Danny the Champion of the World (1989), directed the Iain Banks tv mini-series The Crow Road (1996) and had previously directed Dennis Potter's work with the tv play Cream in My Coffee (1980). Gavin Millar's other works of genre note are the Iain Banks adaptation Complicity (2000), as well as the revisionist Cinderella tale Ella and the Mothers (2002).
---
---