---
Crew
Director – Brian Gibson, Teleplay – Dennis Potter, Producer – Kenith Trodd, Photography – Nat Crosby, Music – Marc Wilkinson, Special Effects – Peter Day, Designer – Richard Henry. Production Company – BBC.
Cast
Michael Elphick (Peter), Colin Welland (Willie), Robin Ellis (John Harris), Helen Mirren (Angela), Janine Duvitski (Audrey), John Bird (Raymond), Colin Jeavons (Donald Duck)
---
Plot
The Forest of Dean during the midst of World War II. Fearful of imminent attack by Germans, a group of seven children, five boys and two girls, play in the woods and a nearby barn,
---
I have said it before and will say it again – Dennis Potter (1935-94) is the greatest writer to have ever emerged in the televised medium. Beginning in the 1960s and up until his death in 1994, Potter delivered an extraordinary series of tv plays, mini-series and occasionally films that include the likes of Brimstone and Treacle (1976), Pennies from Heaven (1978), The Singing Detective (1986), Track 29 (1988) and Lipstick on Your Collar (1993), among others. (See below). These frequently brim over with recurrent Potter-esque themes – of characters having their lives exposed in harsh and unsentimental ways; a nebulous line between fiction and Potter's autobiography; and of seeing banal everyday life and daydream, fiction, memories of childhood or the larger-than-life sentiments in Golden Oldie songs blur together.
Blue Remembered Hills is one of Potter's classic works. It aired as a 72-minute film on the BBC's Play for Today (1970-84). The title comes from a poem by A.E. Housman (the section that contains the line is recited over the closing credits by Potter himself). Once asked in an interview, Potter regarded it as one of his three best works. Potter's script was later adapted into a stage play.
The central idea is a simple but ingenious conceit – a depiction of childhood where the children are all played by adult actors. Potter had previously pioneered the technique in the flashback scenes in an earlier tv play Stand Up Nigel Barton (1965), although here extends this to the entire film – there are no adult characters anywhere throughout. We are never given the ages of the children – you presume somewhere around 5-8.
It is initially bewildering watching adults – some of the actors have subsequently become well known – delivering performances that become quite infantile and well childlike. Not to mention that all of these performances are delivered through thick West Country accents. It is a show that asks you to bear with it, give it the rope of these indulgences to fully gain its effect. (Try and imagine a film asking an audience to do this today).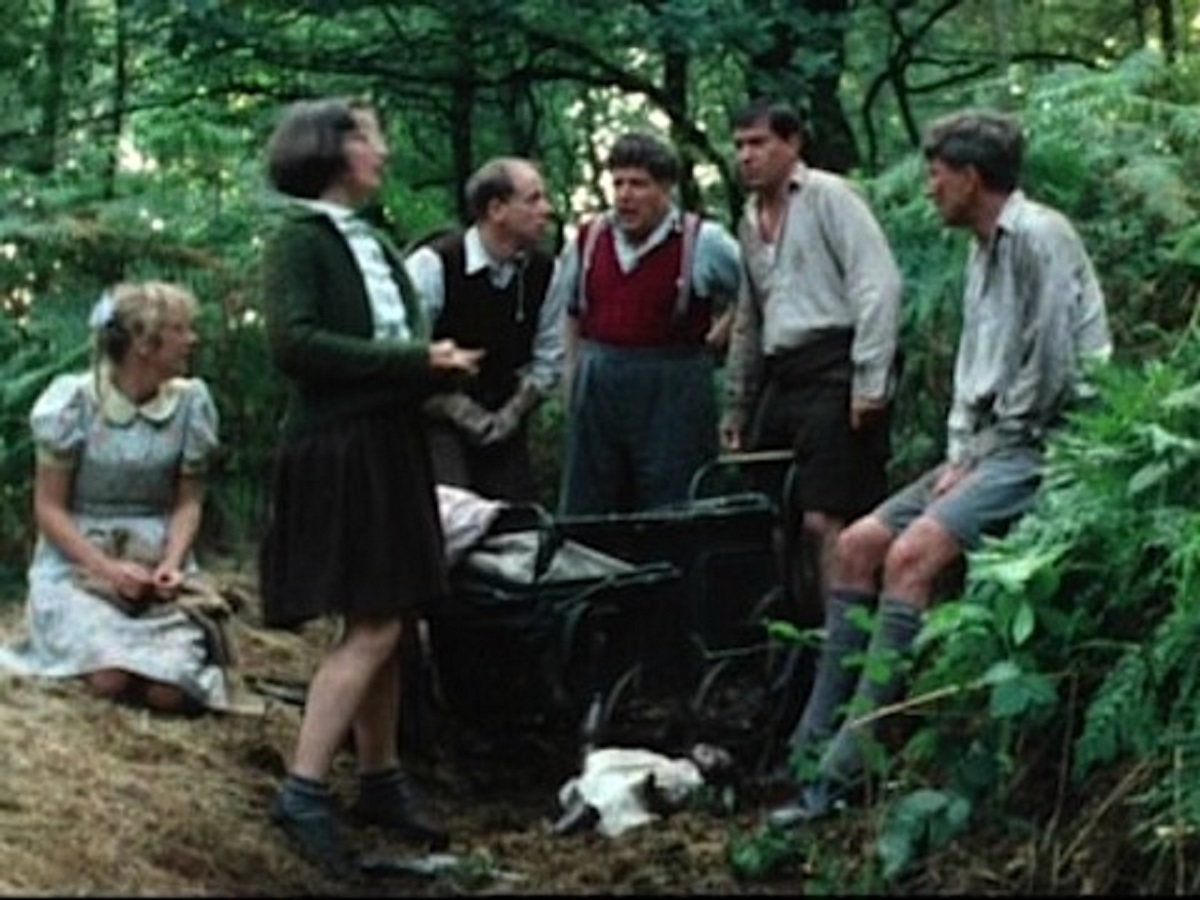 There is nothing too much more to Blue Remembered Hills, plotwise at least, than the central idea of the film – of watching adults play children. Potter gives us different scenarios as the children run around the forest, play with model planes, dolls and prams. The film is about watching their silly, playful imaginings, their partial grasp on the adult world, their petty bullyings and cruelties, the embarrassment of boys liking girls, the fear of the never-seen Germans. The film reaches a particularly bleak and horrible ending.
There is no particular reason that the film was set in the time and locale that it is – it could just as easily have been set in any woods in contemporary England. But then you take a look at Dennis Potter's biography and realise that he is writing another of his autobiographical works – he grew up in the Forest of Dean and would have been eight in 1943, around the same age the children are meant to be. You could even say that John Bird, who plays the cowboy-costumed Raymond, resembles Potter. There is no record as to whether Potter was witness to the death of another child as we get here.
The film features an impressive cast of names who have since gained more prominence than they did at the time The most famous name is that of Helen Mirren who needs no introduction and subsequently went on to win multiple awards. Michael Elphick went on to become a regular actor on British television, most notedly in the tv series Boon (1986-92); Colin Jeavons became a regular face on British tv, best remembered as Inspector Lestrade in The Adventures of Sherlock Holmes (1984-94). Both John Bird and Robin Ellis maintained careers in British television. Colin Welland had a minor acting career but his greatest credit was as screenwriter of the film Chariots of Fire (1981).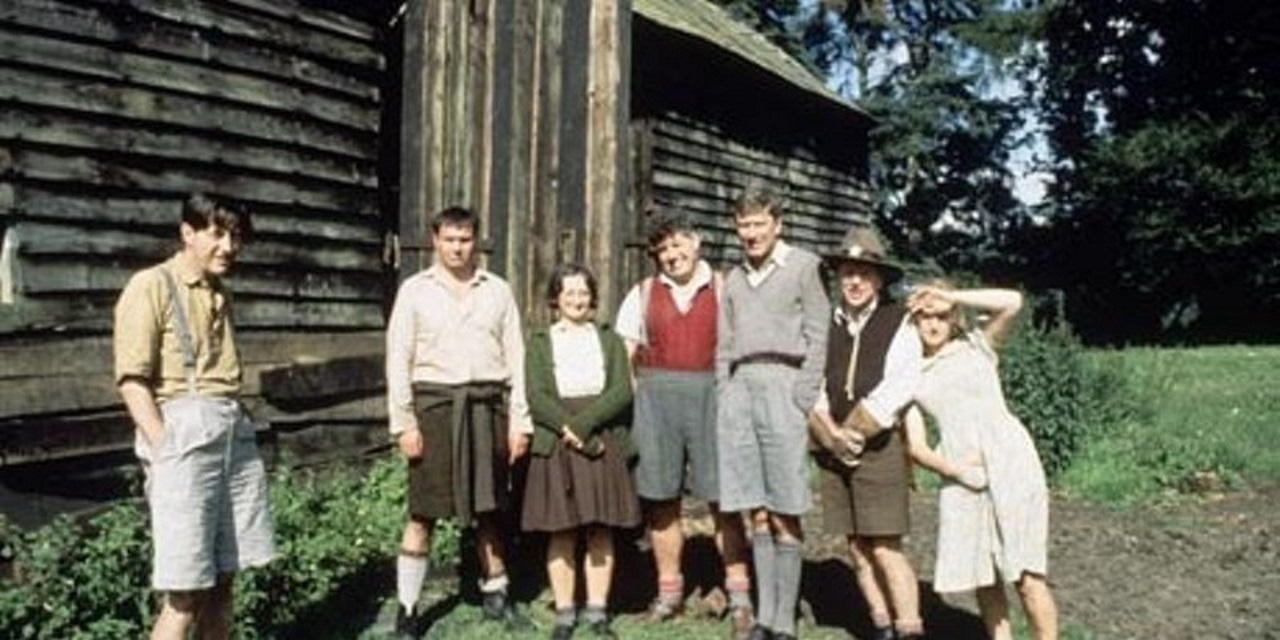 Director Brian Gibson later went on to make the rock film Breaking Glass (1979), the Tina Turner biopic What's Love Got to Do With It (1993) and other occasional films like The Juror (1994) and Still Crazy (1998). His one other genre outing was as director of Poltergeist II: The Other Side (1986).
Dennis Potter's other genre works are:– the tv play Alice (1965), part an adaptation of Alice in Wonderland (1865), part an examination of the relationship between Lewis Carroll and Alice Liddell; the highly controversial tv play Son of Man (1969), a Passion Play that depicts Jesus Christ as racked with anxiety and doubt; the tv play Angels Are So Few (1970) about a housewife who receives a visit from a man who claims to be angel; the meta-fiction Follow the Yellow Brick Road (1972) where a man believes he is a character in a tv show; the controversial tv play Brimstone and Treacle (1976/1987) about a man who claims to be The Devil; the mini-series Pennies from Heaven (1978) concerning Depression-era people who are constantly expressing their inner turmoils in lip-synched musical fantasy sequences; Pennies from Heaven (1981), the Hollywood remake of the earlier mini-series; Brimstone and Treacle (1982), a film remake of the tv play; Dreamchild (1985) about the life of the aging Alice Liddell; The Singing Detective (1986) where a man in a hospital bed, his buried past and the plot of a cheap detective novel blur together into a dazzling meta-fiction; the bizarrely surreal Track 29 (1988) with Gary Oldman as Theresa Russell's possibly imaginary lost son; the mini-series Blackeyes (1989) where the character in a trashy sex novel comes to life to protest her exploitation; Lipstick on Your Collar (1993), a work very similar to Pennies from Heaven where the people in a government office in the 1950s express their fantasies in musical numbers; the tv play Midnight Movie (1994) where an old horror movie screening on tv and a mysterious unsolved murder in the present blur together; Cold Lazarus (1996), the final work written by Potter where the memories of dead writer are ransacked by the people of the future; and The Singing Detective (2003), the posthumous film adaptation of his tv mini-series.
---