---
UK. 1981.
Crew
Director/Producer – Terry Gilliam, Screenplay – Terry Gilliam & Michael Palin, Photography – Peter Biziou, Music – Mike Moran, Special Effects – John Bunker, Production Design – Millie Burns. Production Company – Handmade Films.
Cast
Craig Warnock (Kevin), David Rappaport (Randall), Kenny Baker (Fidgit), Jack Purvis (Wally), Mike Edmonds (Og), Malcolm Dixon (Strutter), Tiny Ross (Vermin), David Warner (Evil), Sean Connery (Agamemnon), Ralph Richardson (Supreme Being), Ian Holm (Napoleon), John Cleese (Robin Hood), Peter Vaughn (Ogre), Katherine Helmond (Mrs Ogre), Michael Palin (Vincent), Shelley Duvall (Pansy)
---
Plot
Young Kevin's bedroom is suddenly invaded by six dwarves that appear out his wardrobe. The dwarves tell Kevin that they are God's helpers who aided Him in the creation of the universe but were demoted to the repairs department because of shoddy workmanship. They have now stolen a map that shows the holes in the fabric of time and have come up with a scheme to travel through these and plunder the treasures of the ages. Kevin joins them and they travel through a series of encounters with a diminutive and insecure Napoleon; a Robin Hood who philanthropically relieves them of their treasure; to Mycenae where Agamemnon adopts Kevin as his son; and the deck of the Titanic. Finally, they are drawn to the Fortress of Ultimate Darkness in the Time of Legends where Evil himself wants the map so that he can escape imprisonment.
---
Time Bandits was the second solo directorial outing of Terry Gilliam. Terry Gilliam of course had emerged as one of the core members of the Monty Python troupe in the tv series Monty Python's Flying Circus (1969-74). Although he appeared on-screen less than the others, Gilliam was a principal co-writer and was responsible for the wacky animation gags. After the first Monty Python theatrical outing And Now For Something Completely Different (1972), Gilliam made his directorial debut, co-directing Monty Python and the Holy Grail (1975) with Python compatriot Terry Jones. Gilliam's first solo film was Jabberwocky (1977), an enjoyably sardonic take on the chivalric quest shot through with Gilliam's dark humour, which alas was not a wide success.
However, it was Time Bandits that made Gilliam's name as a director. Gilliam would go onto make such striking and originals genre works as Brazil (1985), The Adventures of Baron Munchausen (1989), The Fisher King (1991), Twelve Monkeys (1995), Fear and Loathing in Las Vegas (1998), The Brothers Grimm (2005), Tideland (2005), The Imaginarium of Doctor Parnassus (2009), The Zero Theorem (2013) and The Man Who Killed Don Quixote (2018). Also of interest is Lost in La Mancha (2002) about Gilliam's disastrous attempts to film Don Quixote.
Time Bandits uncreditedly owes its source to Little Nemo in Slumberland (1905-14), Winsor McCay's cult comic-strip about the surrealistic dream adventures of a young boy that flourished in the first two decade of the century – Time Bandits is sort of Little Nemo's History of the World Part I. Terry Gilliam co-writes with Monty Python compatriot Michael Palin and their script is packed with a sly wit. Especially amusing is Ralph Richardson's God who is like an absent-minded High Anglican cleric, delivering droll asides – upon preparing to depart, he resurrects his downed dwarves: "Being dead is no excuse for not working" and gathers them all around: "Come on, we had better get back to creation or they'll say I've been making mistakes again and put it all down to evolution."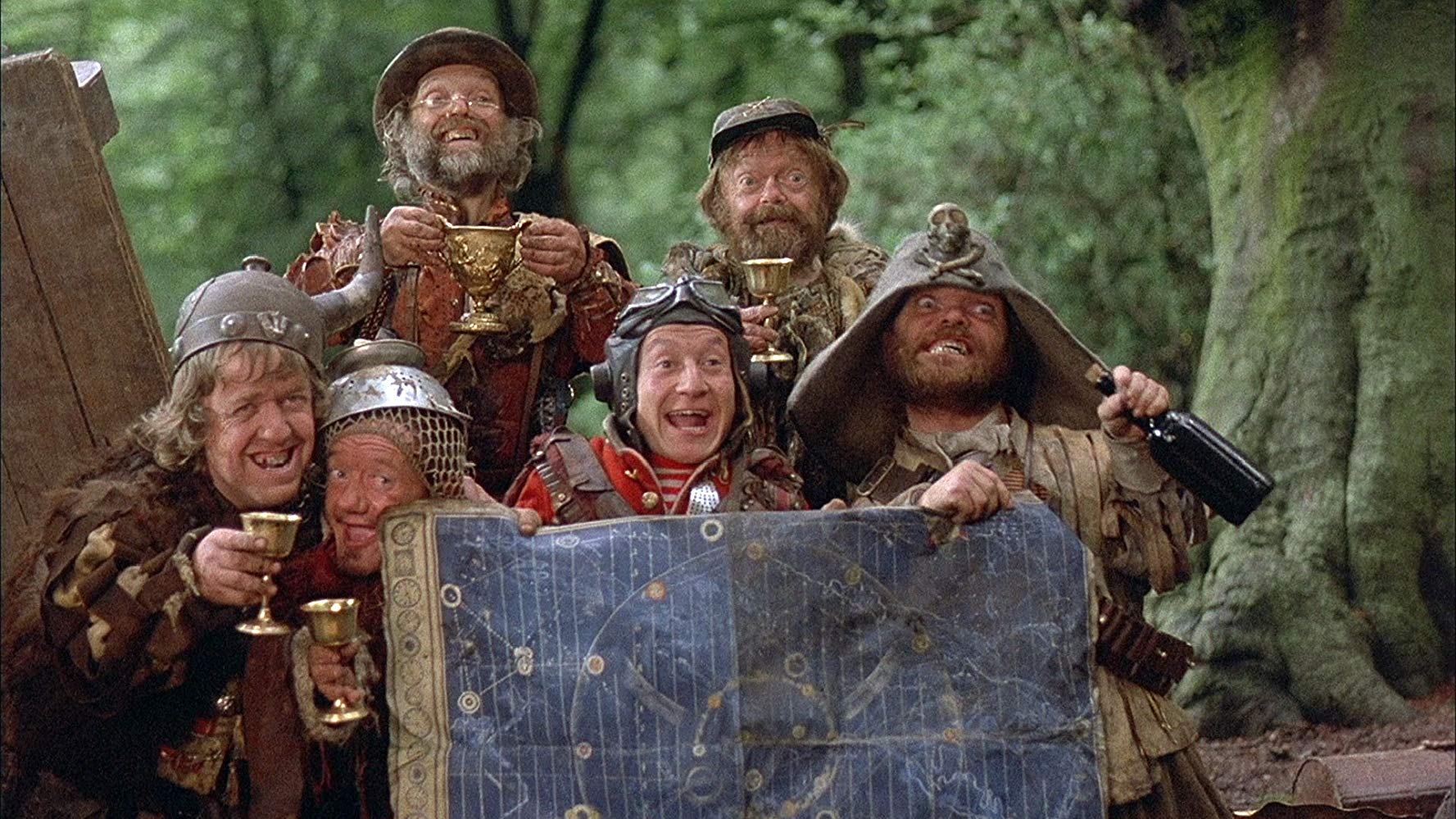 There is a vaguely anti-technology theme running through the film but not one that Terry Gilliam appears to be taking too seriously. Monty Python comrade John Cleese makes an amusing brief appearance as a Robin Hood who is played as a total twit who says "jolly good" to everything. "How long have you been a robber?" he addresses the dwarves. "About four foot two," comes the answer.
However, the film's episodic structure is also highly uneven. Later Terry Gilliam films like The Fisher King and Twelve Monkeys are all the better for Gilliam's framing them inside tight scripts. Gilliam's earlier films like Brazil and The Adventures of Baron Munchausen often tend to a spectacular indulgence that isn't always connected to the main thread of plot.
Certainly, Time Bandits feels like an often unconnected series of sequences that are only loosely knitted together. Some episodes are great – the climax, the Napoleon encounter – but others pale quickly – the slight Robin Hood sequence, a sketch about a tv gameshow Your Money or Your Life. The Ogre episode and the image of the ship the dwarves are aboard rising out of the ocean as the head-dress of a giant has nothing to do with the rest of the film's historical romp. The Mycenaean scenes seem to belong to another more wistful film altogether – they are like a sincere Boys' Own fantasy that the film often hearkens towards but gets sidetracked from.
---
Trailer here
Full film available online here:-
---