---
Crew
Director/Screenplay – Woody Allen, Producer – Robert Greenhut, Photography (colour + some scenes b&w) – Gordon Willis, Music – Dick Hyman, Production Design – Stuart Wurtzel. Production Company – Orion Pictures.
Cast
Mia Farrow (Cecilia), Jeff Daniels (Tom Baxter/Gil Shepard), Danny Aiello (Monk)
---
Plot
Cecilia, a mousy Depression-era housewife trapped in a marriage with a layabout husband Monk, takes refuge in the movies. She returns to see the romantic comedy 'The Purple Rose of Cairo' again and again. One day, Tom Baxter, the film's archaeologist hero, abruptly steps out of the screen to join Cecilia, amazed to keep seeing her there. However, Tom's nobility and screen perfection prove out of place in the real world – he not knowing what a pregnant woman or sex is, and waiting for the fadeout after kissing Cecilia. Meanwhile, the theatre management is left in a panic, and Gil Shepard, the actor playing the hero, arrives in an attempt to halt the negative publicity to his career.
---
The Purple Rose of Cairo is a Woody Allen film. It received considerable critical acclaim when it came out in 1985 – it even won Best Picture at that year's BAFTA Awards and was nominated for a Best Screenplay Academy Award – although has faded somewhat in the Woody Allen pantheon since then. Nevertheless, The Purple Rose of Cairo does have Allen in the playful, whimsical and overtly fantastical state of mind that he likes to visit every so often.
The Purple Rose of Cairo retreads similar territory that Woody Allen delved into in Play It Again Sam (1972). Indeed, The Purple Rose of Cairo is fairly much an expansion of the joke at the heart of Play It Again Sam, which had Humphrey Bogart appearing to offer frequently inappropriate tough guy romantic advice to the neurotic Allen. The Purple Rose of Cairo makes a similar play between the stylised unreality of 1930s black-and-white drawing room dramas and bittersweet reality – in this case represented by The Depression, which comes shot in muted downbeat autumnal browns and greys.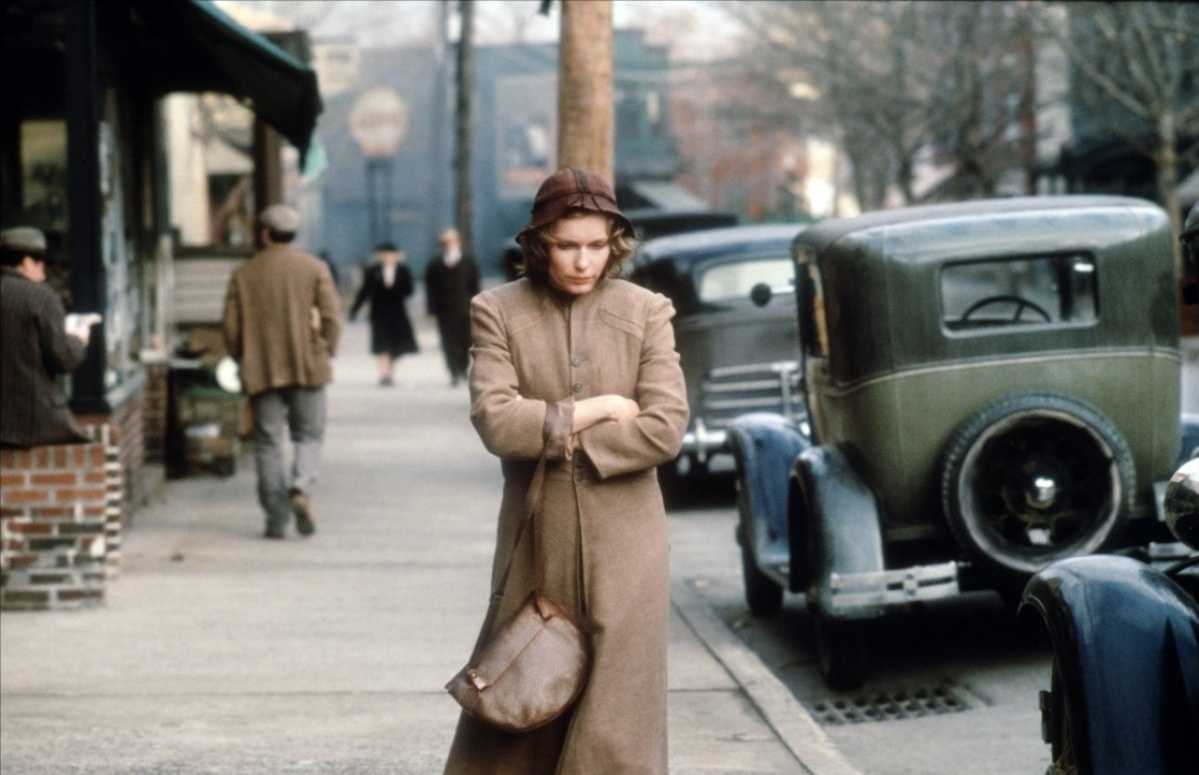 Overall, The Purple Rose of Cairo is a more subdued Woody Allen film but it is nevertheless very funny. Allen wittily compounds the central idea. There are some particularly amusing moments deflating the balloon of cinematic illusion perpetuated by 1930s films – like Jeff Daniels' character out in the real world not knowing what a pregnant woman, a soup kitchen or a brothel is. Or when he kisses Mia Farrow and turns puzzled expecting a fadeout. Elsewhere, Woody Allen punctures the 1930s screen code of moral decency – Jeff Daniels heroically challenges Danny Aiello to a fight and is beaten up because he expects his opponent to 'play fair'.
Both Mia Farrow and Jeff Daniels give fine performances. Mia Farrow is an actress that has a vast untapped comic talent. Allen, who was living de facto with her when he made this (before their bitter high-profile split-up) steps back from the actor's chair and gives her the show all to herself. Jeff Daniels has the bland good looks and uppity cheer of a perfect 30s matinee idol and gives fine straight-faced support in his first major screen role.
The ending of the film comes with a decidedly downbeat crunch. Here Allen leaves heroine Mia Farrow abandoned by both Tom and Gil. It seems a decided downer until one realizes that it is Woody Allen saying he is not unaware that the medium he is conducting his send-up of cinematic cliches in is cinema too. Almost cruelly, he nudges us out of not just the romantic illusions he is deflating in the film within the film, but also this movie's romantic illusion to us. It is his reminder to us that no matter what expectations we might have of characters on a screen that happy endings do not always work out in real life.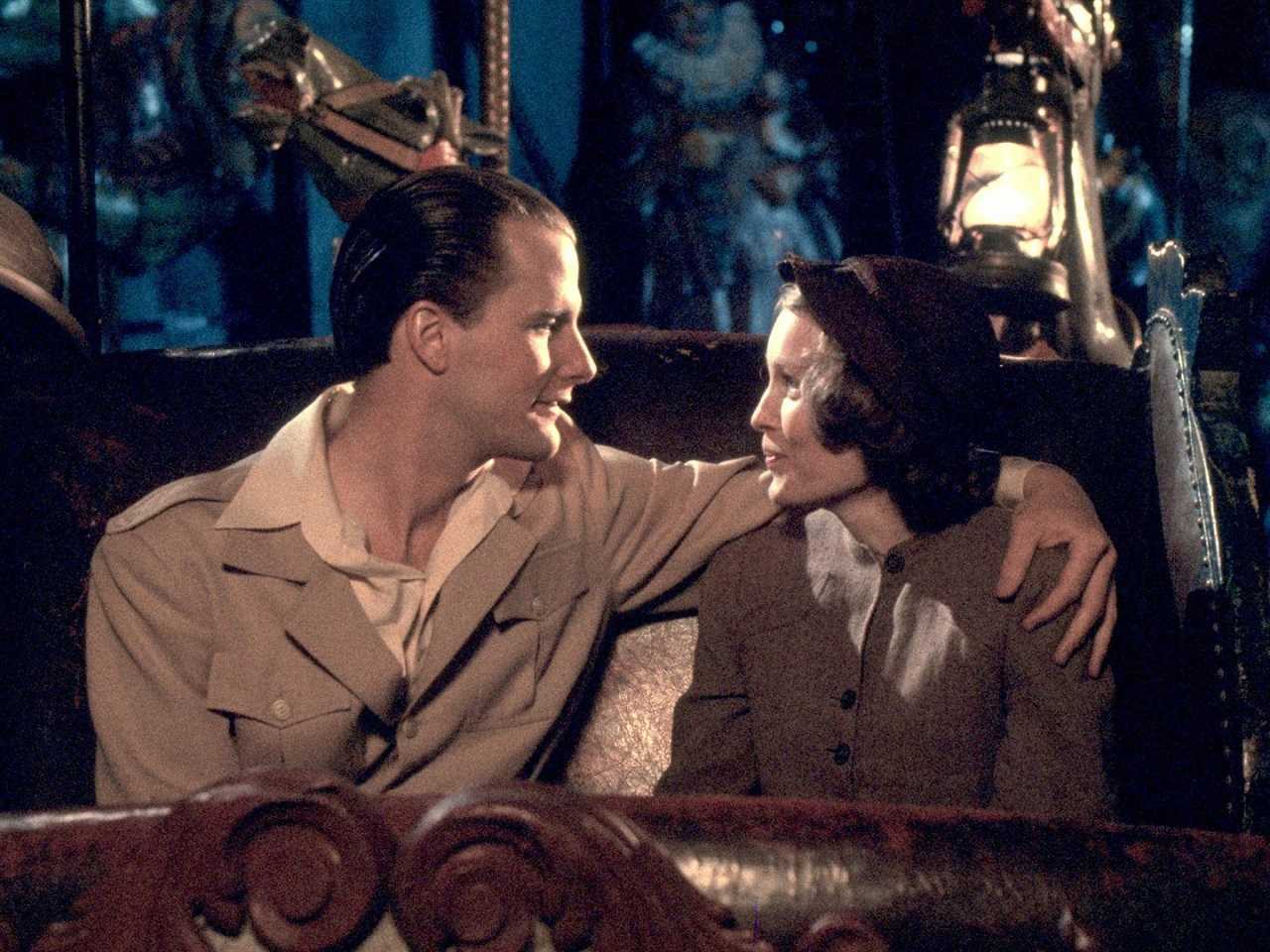 The Purple Rose of Cairo was the first film to venture into the theme of meta-fictions wherein the cinema screen is treated as having an ontological existence of its own with characters stepping in and out of the screen. Later films taking up this theme include Who Framed Roger Rabbit? (1988) and its imitators, the underrated Last Action Hero (1993), Wes Craven's New Nightmare (1994) and Rubber (2010), and the films of Maurizio Nicchetti, who has been called the 'Italian Woody Allen', in particular Nichetti's The Icicle Thief (1989), which was strongly influenced by Purple Rose. Pleasantville (1998) does similar things with television. (For more detail see Meta-Fiction Films).
Woody Allen's other genre films are:– Play It Again Sam (1972), Everything You Always Wanted to Know About Sex * But Were Afraid to Ask (1972), Sleeper (1973), Love and Death (1975), A Midsummer Night's Sex Comedy (1982), Zelig (1983), New York Stories (1989), Alice (1990), Shadows and Fog (1991), Mighty Aphrodite (1995), Everyone Says I Love You (1996), Deconstructing Harry (1997), Match Point (2005), Scoop (2006), Midnight in Paris (2011), To Rome with Love (2012) and Magic in the Moonlight (2014).
---
---