aka Futurecop
---
Crew
Director/Producer – Charles Band, Screenplay – Danny Bilson & Paul De Meo, Photography – Mac Ahlberg, Music – Richard Band, Makeup – Mechanical and Makeup Imageries (Supervisor – John Carl Buechler), Production Design – Jeff Staggs. Production Company – Empire.
Cast
Tim Thomerson (Jack Deth), Helen Hunt (Leena), Michael Stefani (Martin Whistler), Art La Fleur (McNalty), Anne Seymour (Ashe), Richard Herd (Spencer), Telma Hopkins (Engineer Raines)
---
Plot
In the 23rd Century, the ruling council recalls police officer Jack Deth from retirement. He is sent back in time to 1985 to inhabit the body of his ancestor and hunt down the crazed genius Martin Whistler. Whistler has vowed to assassinate the ruling council's ancestors and has created an army of 'trancers', weak-willed humans that he has turned into zombies. Deth must find and stop Whistler before he erases the future.
---
Trancers was one of the more likable films to emerge from father and son Albert and Charles Band's Empire Productions in the mid-1980s. For a time, the Bands had on their payroll the producing-writing team of Danny Bilson and Paul De Meo who made four of their most enjoyable and wittily intelligent low-budget sf films – Trancers, Eliminators (1986), Zone Troopers (1986) and Arena (1989). Danny Bilson and Paul De Meo later went onto write the screenplay for Rocketeer (1991) and create/produce genre tv series such as The Flash (1990-1), Viper (1994-5, 1996-8) and The Sentinel (1996-9), although none of these come with the enjoyability that their genre-savvy scripts for the Bands do.
Trancers unabashedly steals from both Blade Runner (1982) and The Terminator (1984). Blade Runner started the stylistic blend of Cyberpunk future and pastiche of a hard-boiled 1940s detective thriller. Trancers actually serves as a far grander film noir parody than Blade Runner ever aspired to – with Tim Thomerson giving a hilarious performance, waking in the morning to rub grease through his hair, lighting cigarettes with matches flicked alight from his teeth and dressed in shabby raincoat with several day old stubble as though someone had recast Philip Marlowe with Bill Murray or John Belushi.
Bilson and De Meo toss in nifty ideas – the image of an L.A. that has sunken into the ocean after the collapse of the San Andreas faultline; Deth's watch, which has the ability to compress the flow of time.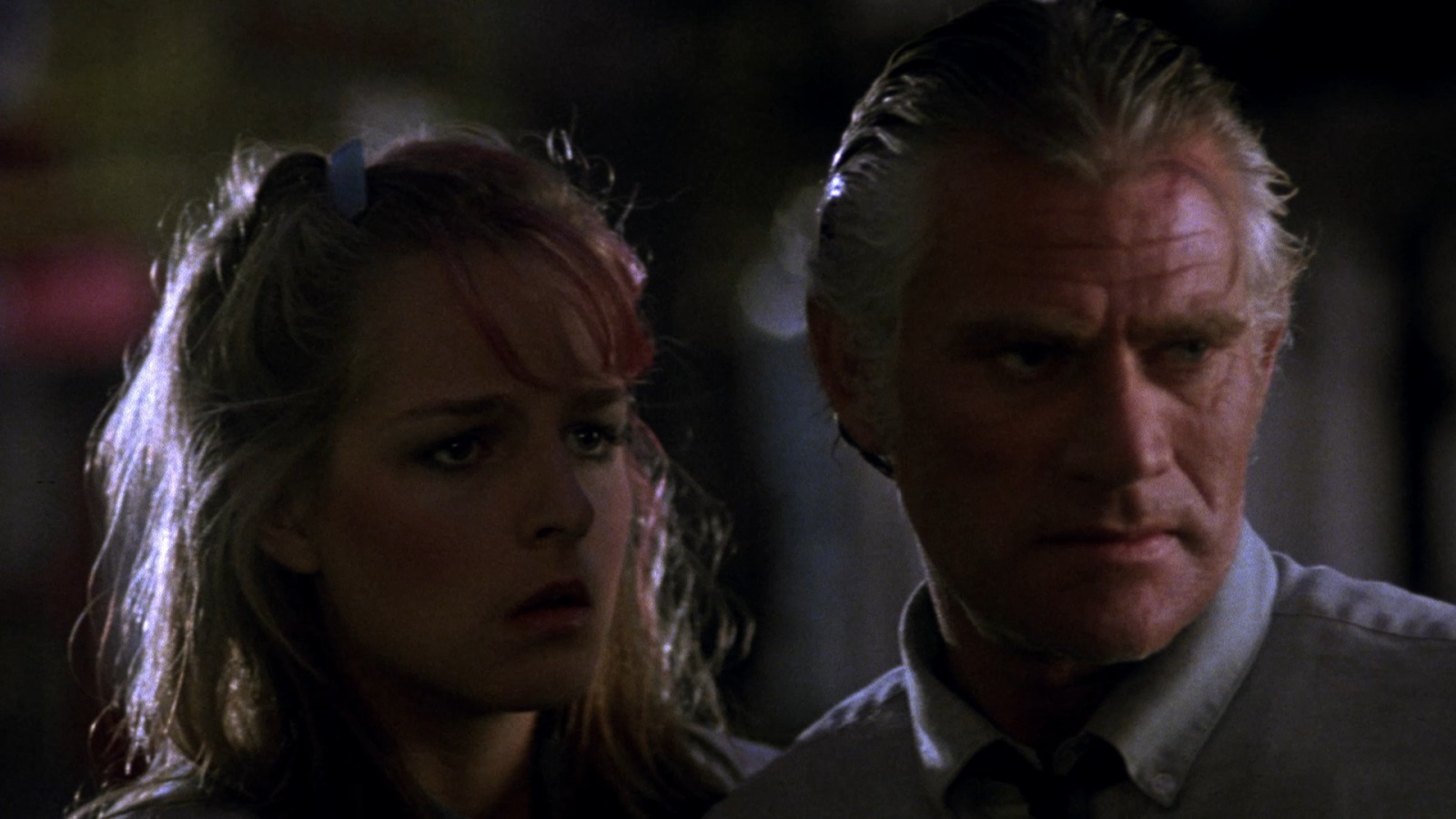 On the other hand, some aspects definitely need more explanation – like exactly how Whistler creates his trancers, with he seeming to act as little more than a hypnotist, which somehow causing the trancers to develop zombie-like makeup and even disintegrate into vapour in a red glow when killed. Plot holes seem to abound – if it is possible for people to go back in time and inhabit the bodies of their ancestors why do the counsellors not simply inhabit their own bodies and move them to safety out of Whistler's way? Why do the other counsellors have memories of their erased ancestors – surely if the ancestor was killed then they would never be born and nobody would remember them? Why for that matter does Whistler go all the way back to 1985 rather than simply a few days or a few years earlier and eliminate the counsellors themselves – the further back one edits a timeline the greater the cumulative possibility for sweeping change in the present. (The answer of course is that it is much cheaper for the Bands to shoot contemporary than in the future). The action scenes, bar one forced-looking motorcycle chase, are competently conducted.
For a Band/Empire film (Empire being the Band's company that would also produce Ghoulies (1985) and Re-Animator (1985) the same year as Trancers), Trancers is an amazingly unpretentious and even entertaining film. Tim Thomerson established a witty presence and soon became a regular actor for the Bands and in other B-budget parts. One can also see a young pre-Academy Award Helen Hunt as the love interest – how these Trancers films must have been an embarrassment to her later.
The Bands and Tim Thomerson made a number of sequels to Trancers:– Trancers II/Trancers II: The Return of Jack Deth (1991), Trancers III (1992), Trancers 4: Jack of Swords (1994), Trancers 5: Sudden Deth (1995) and Trancers 6 (2002). The first two pit Tim Thomerson against further trancers throughout time. The fourth takes him to an alternate dimension and the fifth into a fantasy world. The sixth revisits the present again, this time with Tim Thomerson inhabiting his daughter's body.
Charles Band has produced over 200 films. As director, his other genre films include:- Crash (1977), Parasite (1982), The Alchemist (1983), Metalstorm: The Destruction of Jared-Syn (1983), an episode of The Dungeonmaster/Ragewar: The Challenges of Excalibrate (1984), Pulse Pounders (1988), Crash and Burn (1990), Meridian (1990), Doctor Mordrid (1992), Dollman Vs. the Demonic Toys (1993), Prehysteria! (1993), Head of the Family (1996), The Creeps/Deformed Monsters (1997), Hideous (1997), Mystery Monsters (1997), Blood Dolls (1999), Puppet Master: The Legacy (2003), Dr Moreau's House of Pain (2004), Decadent Evil (2005), Doll Graveyard (2005), The Gingerdead Man (2005), Evil Bong (2006), Petrified (2006), Dead Man's Hand (2007), Decadent Evil II (2007), Dangerous Worry Dolls (2008), Evil Bong II: King Bong (2009), Skull Heads (2009), Evil Bong 3D: The Wrath of Bong (2011), Killer Eye: Halloween Haunt (2011), The Dead Want Women (2012), Devildolls (2012), Puppet Master X: Axis Rising (2012), Ooga Booga (2013), Unlucky Charms (2013), Gingerdead Man vs Evil Bong (2013), Trophy Heads (2014), Evil Bong 420 (2015), King of Cult (2015), Evil Bong: High 5 (2016), Evil Bong 666 (2017), Puppet Master: Axis Termination (2017), Evil Bong 777 (2018), Barbie & Kendra Save the Tiger King (2020), Barbie & Kendra Storm Area 51 (2020), Corona Zombies (2020) and Evil Bong 888: Infinity High (2022).
---
---