---
Italy/Spain/Mexico. 1983.
Crew
Director – Lucio Fulci, Screenplay – Gino Capone, Jose A. de la Loma Sr. & Carlos Vasallo, Story/Producer – Giovanni Di Clemente, Photography – Alejandro Alonso Garcia, Music – Claudio Simonetti, Makeup Masks – Franco Rufini, Art Direction – Massimo Lentini. Production Company – Clemi Cinematografica s.r.l./Golden Sun/Produciones Esme S.A.
Cast
George Rivero (Mace), Andrea Occhipinti (Ilias), Sabrina Sellers [Sabrina Siani] (Ocron), Conrado San Martin (Zora)
---
Plot
Ilias is given a magical bow that once belonged to Chronos and sent forth to find his destiny. He intervenes to save a tribe of primitive people who have been captured by the evil masked queen Ocron and her beast men. Pursued, he is saved by the barbarian Mace. Mace invites Ilias to journey with him. However, Ocron seeks revenge and sends her beast people and then the god Zora against the two of them.
---
Conquest was one of the films from the cult Italian director Lucio Fulci. Lucio Fulci was prolific in the horror genre, having made a number of extremely gory zombie films with the likes of Zombie – Flesh Eaters (1979), City of the Living Dead/The Gates of Hell (1980), The Beyond/The Seven Doors to Death (1981)and The House By the Cemetery (1981). (See below for a list of Lucio Fulci's other genre films).
Conquest was one of a host of Italian sword-and-sorcery films made in the period circa 1982-4 when Conan the Barbarian (1982) had just come out and inspired a fledgling new fantasy genre. Italy produced a number of cheap copies of Conan the Barbarian with the likes of Ator the Fighting Eagle (1982), which produced several sequels, The Sword of the Barbarians (1982), Hearts and Armour (1984) among others, as well as several Italian-shot US-backed production such as Hercules (1983), The Barbarians (1987), Gor (1987) and Sinbad of the Seven Seas (1989).
Lucio Fulci's horror films are almost incoherent, even by the usual loose standards of Italian exploitation cinema. They seem based solely around surreal novelty set-pieces and way out gore effects. As Conquest opens, things don't seem too different, even though Lucio Fulci is operating in the fantasy genre this time. A few minutes in, we have a bizarrely surreal sequence where a tribe are abducted by the beast people, a man is taken and ritually has the top of his head lopped off in gory detail, a naked girl is torn limb from limb, her head severed and then her brains eaten before hero Andrea Occhipinti appears wearing a blank face mask and shoots laser arrows that penetrate the body of the priestess (Sabrina Siani) as she writhes naked with a snake crawling all over her.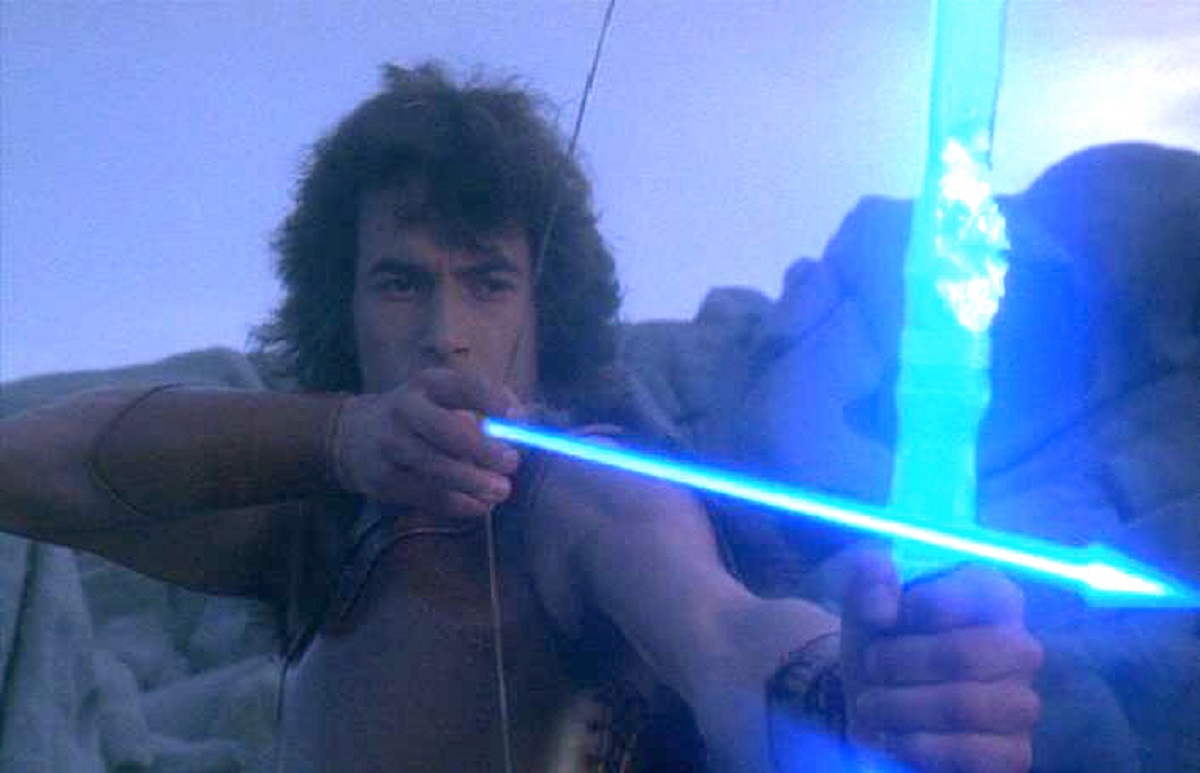 There is also an imaginative scene where George Rivero gets crucified – a typical fate for sword-and-sorcery heroes of this era – see also Conan the Barbarian and The Sword and the Sorcerer (1982) – falls to the bottom of a lake as he tries to free himself before he is aided by dolphins that come to his rescue and chew through the ropes. You cannot deny that Lucio Fulci gives the usual cheap fare of Italian sword-and-sorcery a directorial flair of sorts that perks the genre up from its usual tawdriness.
Conquest is a strange film. It has minimal dialogue and often seems to take place more in the grunts of a prehistoric drama like One Million Years B.C. (1966). With Lucio Fulci's typical disregard for plot, it is also frequently difficult to work of what is going on. The film seems like a random series of encounters with zombies, beast-masked people and other creatures as the two heroes wander through the wilderness. This lack of plot gives Conquest no dramatic momentum – the heroes never seem to be questing for anything, there is no urgency in what they do, they only seem to wander from encounter to encounter.
The cheapness does undeniably show through, although not too badly as in say the Ator films. The entire film appears to have been shot out of doors with no sets having been constructed. The film's shoddiest point is surely when George Rivero and Andrea Occhipinti have to duck from a volley of arrows that have all been animated.
Lucio Fulci's other genre films are:– Perversion Story (1969), Lizard in a Woman's Skin (1971), Don't Torture a Duckling (1972), Dracula in the Provinces (1975), The Psychic (1977), Zombie – Flesh Eaters (1979), City of the Living Dead/Gates of Hell (1980), The Beyond/The Seven Doors to Death (1981), The Black Cat (1981), The House By the Cemetery (1981), The New York Ripper (1981), Manhattan Baby/Eye of the Evil Dead/The Possessed (1982), Cyclone (1983), Rome 2072 A.D. (1983), Murderock (1984), The Devil's Honey (1986), Aenigma (1987), Touch of Death/When Alice Broke the Mirror (1988), Zombi 3 (1988), Demonia (1990), A Cat in the Brain.Nightmare Concert (1990), Voices from Beyond (1991) and Door to Silence (1992). Aenigma: Lucio Fulci and the 80s (2017) and Fulci for Fake (2019) are documentaries about Fulci.
---
---