aka Dragon Warriors
---
Crew
Directors/Screenplay – Maclain Nelson & Stephen Shimek, Producers – Kristi Shimek, Stephen Shimek, Jake Sorensen & David Wulf, Photography – Cammon Randle, Music – Robert Allen Elliott, Visual Effects – Ast Studios (Supervisor – Adam Tenenbaum), Crazy Arts (Supervisor – Lion Puga) & Digikore Studios, IFX (Supervisor – Steve Shimek), Mechanical Effects – Clark Edmunds, Production Design – Jonas Sappington. Production Company – Escapology/Main Dog Productions/Perfect Pictures Entertainment.
Cast
Adam Johnson (Ramicus), Maclain Nelson (Camilan), James Marsters (Lord Tennsley), Kaitlin Doubleday (Ennogard), Jake Van Wagoner (Samton), Erik Denton (Shokdor), Clare Niederpruem (Larec), Shannon Engemann (Belveeda), Luke Perry (Lorash), George Nelson (Eggore), Leslie Nelson (Ellsei), Lauryn Kent (Idaria)
---
Plot
The evil sorcerer Lord Tennsley desires to marry his cousin Ennogard but she despises him. To torment her, he has tamed the Dolvarnög dragon and sends it forth to kill anyone who openly displays love. Camilan wants to marry the elf Larec but his parents refuse as he as their heir and marrying a non-human would mean the loss of his birthright and their lands. Camilan goes to his brother, the carefree bounty hunter Ramicus, to ask him to marry and continue the birthright so that he can be with Larec but Ramicus laughs at the idea. As they talk, a magical dragonfly sent by Ennogard lands and delivers a message begging for help and saying she will marry any warrior who rescues her. Camilan and Ramicus decide to set forth on the quest to save her and stop Tennsley.
---
I first encountered actor/director Maclain Nelson with the excruciatingly unfunny vampire comedy Vamp U (2011), which starred Adam Johnson as a vampire university professor. Aside from the non-genre Once I Was a Beehive (2015), Dudes & Dragons is Nelson's third film as director while he has also appeared in several other films as an actor. His co-director Stephen Shimek has also made a number of other low-budget genre films with Dragon Hunters (2009), The Maze (2010), The Adventures of RoboRex (2014) and Nocturne (2016).
The film was made on a $216,000 budget raised on Kickstarter. It started out as the far more anonymous Dragon Warriors but was retitled Dudes & Dragons for commercial release. With it, Nelson and Shimek are taking on the epic fantasy film as patented by Peter Jackson in the Lord of the Rings and The Hobbit trilogies. The film has an oddness of tone where you are not entirely sure if it was conceived as a comedy/parody at the outset or they realised it was so bad they started not taking it seriously. Or perhaps more likely, fannish enthusiasm got carried away and they started clowning around on set and when it came to editing felt unable to cut all the precious bits out.
As a fantasy film, Dudes & Dragons comes out as passably cheap. The action is okay, although there is an over-reliance on delivering action shots in epically posed slow motion 300 (2007)-style. The dragon effects are adequate for a moderate budgeted film, although the film shows far too obviously that it was been digitally shot and the image post-processed. The least convincing aspect is actually the blonde wig that Maclain Nelson wears.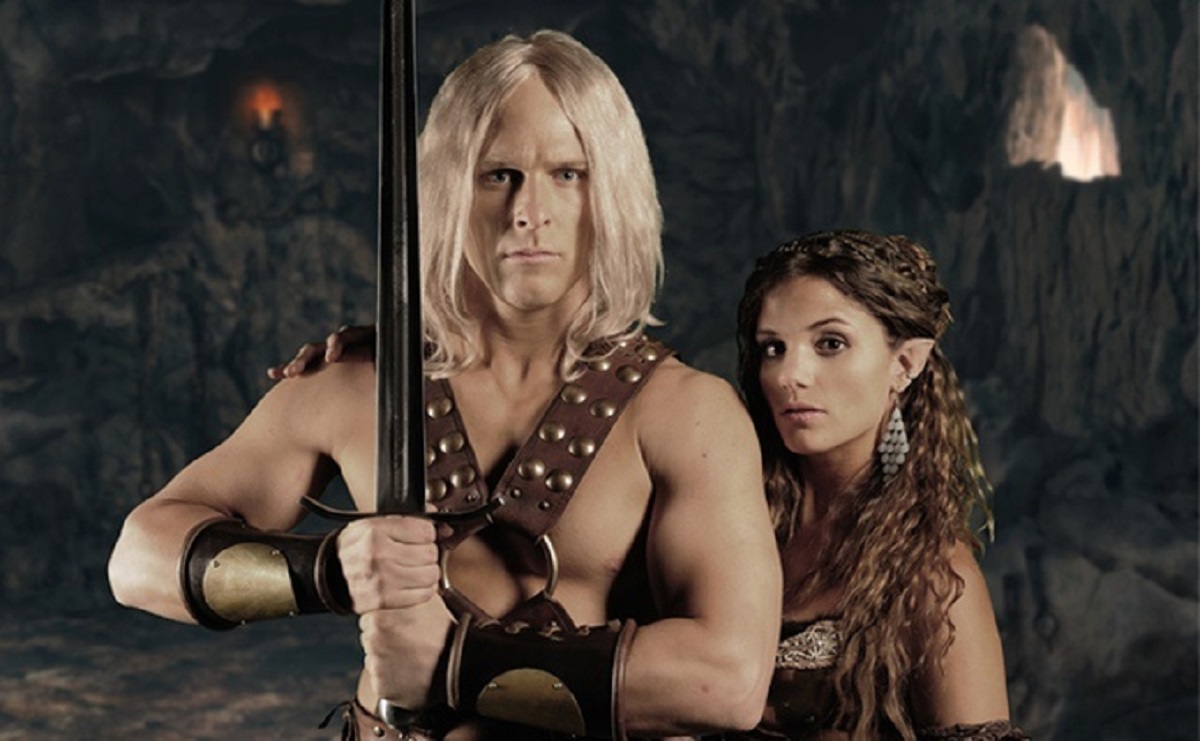 What kills the show off is the grating intrusion of either flip one-liners or modern anachronistic phrases. Adam Johnson is constantly tossing off lines like "Doing it for the bounty or the booty?" or "There goes the After Party". While trying to rescue the girl tied up before the dragon, he quips: "Sacrificial virgins need love too." There are also frequent scenes where the filmmakers have just given up any attempt at seriousness and started throwing in modern movie quotes – Kailtin Doubleday's magic hologram starts quoting lines from Princess Leia in Star Wars (1977); or the sequence that puts Erik Denton in drag and has he and Jake Van Wagoner waltzing to The Blue Danube (1866) or posing at the Titanic (1997) prow scene.
Cast as a standard hero type in only the prologue, Luke Perry does a bad job in struggling to keep a straight-face. The same could be said for Adam Johnson in the lead role. He barely seems to hold in the desire to be treating none of the show seriously and the bulk of his performance consists of flip one-liners. The only other recognisable name present, James Martsers, a seasoned pro at this kind of thing, gives it his best and delivers a performance as ripe as a three-week old ham. One of the most amazingly silly aspects of the film is the climactic scene where Marsters has Adam Johnson imprisoned in a forcefield and is beating him up with a giant set of Green Lantern fists.
---
---