---
USA. 1992.
Crew
Director – Ted Nicolaou, Screenplay – Jackson Barr, Story – Charles Band, Producer – Keith Payson, Photography – Adolfo Bartoli, Music – Blue Oyster Cult, Music Supervisor – Pat Siciliano, Visual Effects Supervisor – Phil Meador, Creature & Robot Effects – Criswell Productions (Supervisor – Greg Aronowitz), Animatronics – John Criswell, Special Effects Supervisor – John Cazin, Production Design – Cecily Hughes. Production Company – Full Moon Entertainment.
Cast
Paul Hipp (Dangerous Dan O'Dare), Martha Quinn (Lisa Cummings), Victor Rogers (Sheriff Earl Hickman), Michael Huddleston (Corky Bradford), Aaron Lustig (Vernon Locknut), Roumel Reaux (Flip Humble), Melissa Behr (Nurse Glagher), Daryl Strauss (Bunny Palmer), Ian Patrick Williams (Dr Payne), Sonny Carl Davis (Peanut), Charlie Spradling (Cookie), Ania Sava (Katrinka Shinklova)
---
Plot
KDUL, a newly opened radio station in Pahoota, is conducting a promotional stunt where DJ Dangerous Dan O'Dare is playing the same polka record around the clock over and over until someone rings in and guesses the combination to the chains he is tied up in. When one caller does guess correctly, TV journalist Lisa Cummings is sceptical and accuses O'Dare of a set-up. While there, she sees a UFO come down but is ridiculed for saying so. An alien invades the radio station. They watch as it infects the studio with fungus and then uses a device that remotely focuses on various girls, allowing them to think they are dancing before shrinking them and putting them in bottles. However, O'Dare's attempt to broadcast what is happening is taken as another promotional stunt and the broadcast proceeds to attract 10,000 listeners.
---
Bad Channels is a deliberately cheesy, wilfully bad film, the sort that producers Charles and Albert Band specialised in for a time in the 1980s. (Director Ted Nicolaou and the Bands also made the even cheesier TerrorVision (1986), which had a very similar plot of an alien monster coming through a tv set and taking over a family house). The film comes with a mildly amusing premise – it is sort of a reversal on the Orson Welles War of the Worlds (1938) broadcast panic, where here a real invasion does occur at a radio station but everyone takes it to be a hoax.
Bad Channels never has much more going for it other than this single idea – and that quickly wears out. The film is directed with a deliberate cheesiness that is meant to disarm any critical comment. Unfortunately, this does not necessarily make for a particularly good film. The alien effects are cheaply done.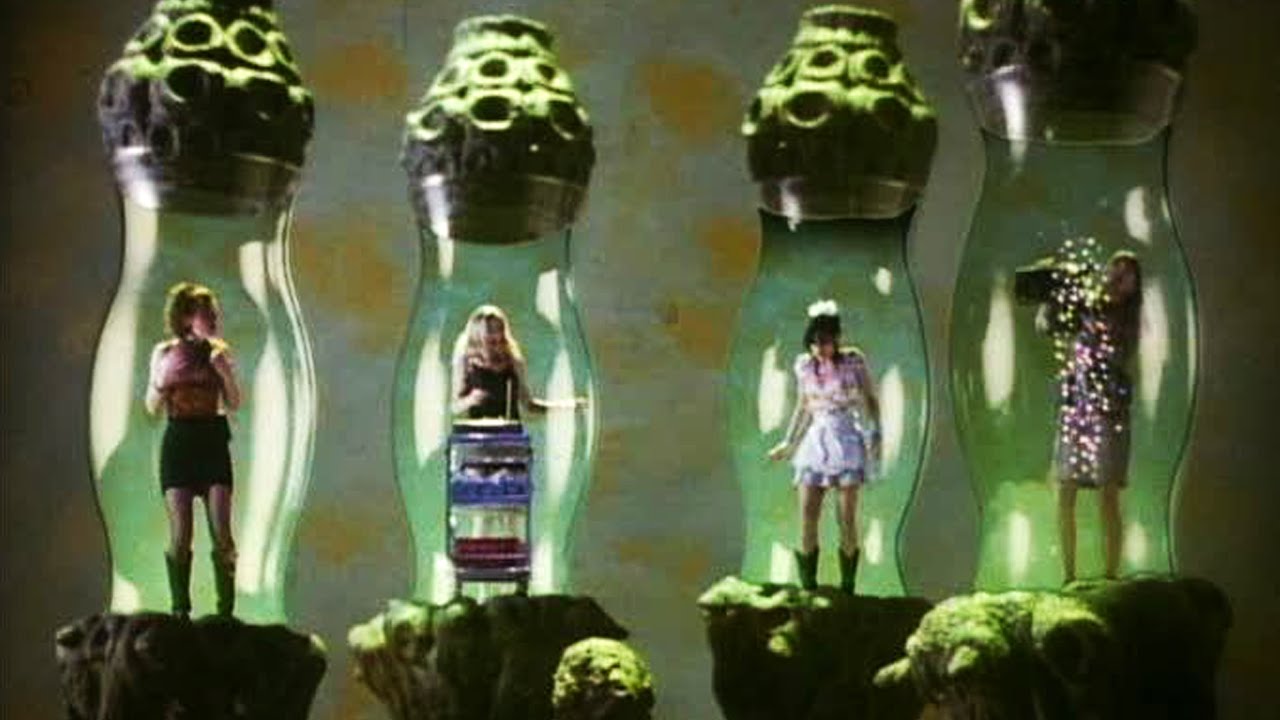 The film deems it necessary to pad out its short running time with a series of extraneous musical interludes – as each bimbo is abducted, they break into a daydream that consists of them dancing with a rock band. The musical numbers do have the oddity of coming from the legendary 1970s rock group Blue Oyster Cult.
Full Moon's later Dollman Vs the Demonic Toys (1993) offered a sequel of sorts in which Melissa Behr's miniaturised nurse became the heroine, encountering various other characters from Full Moon's films.
Ted Nicolaou's other genre films as director include:- one of the segments of The Dungeonmaster (1984), TerrorVision (1986) Subspecies (1991), Bloodstone: Subspecies II (1993), Remote (1993), Bloodlust: Subspecies III (1994), Dragonworld (1994), Leapin' Leprechauns! (1995), Leapin' Leprechauns! 2/Spellbreaker: Secret of the Leprechauns (1996), Magic in the Mirror (1996), Magic in the Mirror: Fowl Play (1996), Vampire Journals (1997), The Shrunken City (1998), Subspecies 4: Bloodstorm (1998), Dragonworld: The Legend Continues (1999), Ragdoll (1999), The Horrible Dr Bones (2000), In the Shadow of the Cobra (2004), Puppetmaster vs Demonic Toys (2004), The Etruscan Mask (2007) and Don't Let Her In (2021).
---
Trailer here
---