---
USA. 2014.<p.
Crew
Director/Screenplay – Woody Allen, Producers – Letty Aronson, Stephen Tenenbaum & Edward Walson, Photography – Darius Khondji, Visual Effects – Boxmotion (Supervisor – Andrew Lim), Production Design – Anne Seibel. Production Company – Dippermouth/Gravier Productions/Perdido Productions/Ske-Dat-De-Dat Productions.
Cast
Colin Firth (Stanley Crawford), Emma Stone (Sophie Baker), Simon McBurney (Howard Burkhan), Eileen Atkins (Aunt Vanessa), Hamish Linklater (Brice Catledge), Jacki Weaver (Grace Catledge), Marcia Gay Harden (Mrs Baker), Jeremy Shamos (George Catledge), Erica Leerhsen (Caroline Catledge), Catherine McCormack (Olivia)
---
Plot
1928. Stanley Crawford has great international fame as the stage magician Wei Ling Soo. His childhood friend, fellow magician Howard Burkhan comes to visit and implores Stanley's help. He has been hired to debunk the medium Sophie Baker who has inveigled her way into the household of the wealthy Catledge family. Instead, Howard has become so awed by Sophie that he believes that her abilities are real. Stanley cancels his holiday with his fiancee and travels to France where Sophie is with the Catledge family, determined to prove that her abilities are fraudulent. He goes in posing as a business friend of the family but the charming Sophie sees through and deduces his real identity. As Stanley begins testing her apparent abilities, an attraction grows between the two of them. As Sophie begins to open up new ways of seeing the world to the rationalistic Stanley, he comes to the conclusion that her abilities are indeed real.
---
Woody Allen is one of the great cinematic icons. Whether you think him a comedic genius, a great filmmaker or whose side of the scandals about his personal life you come down on, you cannot dispute his cinematic legacy and career, which has travelled from stand-up comedy in the 1950s and 60s, the slapstick heights of the 1960s and 70s, to his rebranding as a serious filmmaker in the 1970s and beyond, including some twenty-five Academy Award nominations.
Though it is not something you would think about him at first thought, Woody Allen is a surprisingly prolific dabbler in the fantasy genre – see a full list of the genre films he has directed below. Throughout a number of his films – New York Stories (1989), Shadows and Fog (1991), The Curse of the Jade Scorpion (2001), Scoop (2006), You Will Meet a Tall Dark Stranger (2010) – Allen has a fascination with shabby stage magicians who may or may not have real powers. That said, Magic in the Moonlight, while it concerns itself with a medium, is less a fantasy film than a film that deflates belief in the fantastic.
Magic in the Moonlight is Allen's 45th film and is one of slighter efforts. The film feels creaky – more like an old-fashioned 1930s drawing room drama/comedy. Ask yourself this, if Magic in the Moonlight did not come with the Woody Allen pedigree would end up with the cinematic release that it has? Would the script on its own attract the calibre of A-list actors that the film has? I have strong doubts.
Colin Firth is set-up as a pompous figure in a way that he has a crashingly obvious character arc ahead for him of having to fall for Emma Stone's charms and magical outlook. Everything feels like it has been done before, especially by Allen – the older man whose head gets turned by the younger, more carefree, pixieish dream girl. Certainly, there is something about the writing of it that feels personal on Allen's part – he, after all, is the older man with the notedly cynical, if not at times misanthropic, outlook on life whose head was famously turned by Soon-Yi Previn (a woman thirty-eight years his junior).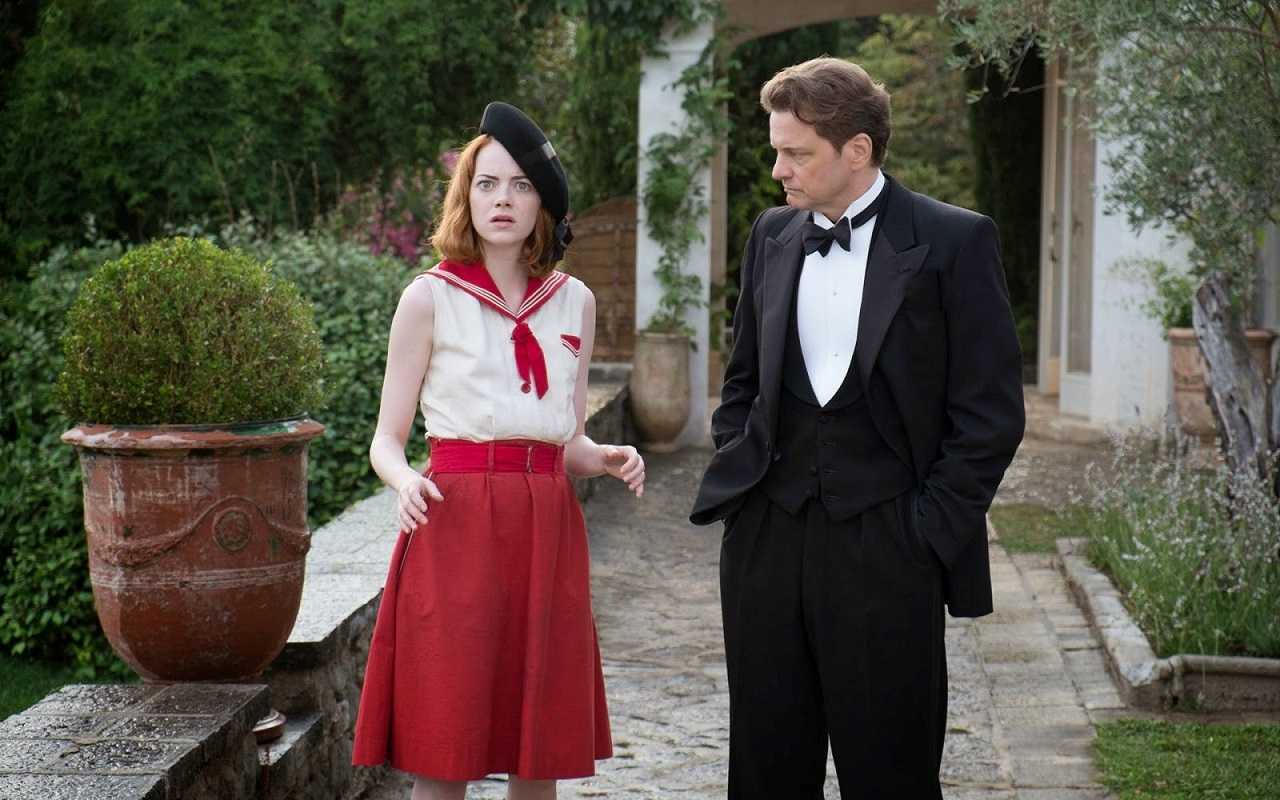 Even so, there is not much invested in the romance. The two leads never seem to connect – Colin Firth flounces about with an opiniated pomposity that looks bizarre more than it ever convinces. Emma Stone has been a radiant star on the rise in recent years but seems nervous and awkward when together with Firth – not to mention has her usual blonde hair replaced by an unbecoming red hair dye job.
Despite its predictability, Allen does some clever things once he has the central dialectic set up – the predictable arc of the cynical rationalist who is drawn in by the carefree and non-rational girl who seems to confirm that the fantastical is real takes up fully three-quarters of the film and seems written by the numbers. However, there comes this point where Allen throws all of this on its head [PLOT SPOILERS] in a scene that has Colin Firth praying for his aunt's life and abruptly stopping and wondering what he is doing, which leads to a surprise twist that turns the entire arc of the show on its head. This is a great piece of storytelling, even if it comes embedded in a not-terribly-well-made film.
However, what kills Magic in the Moonlight is the ending. [PLOT SPOILERS CONTINUE] The film would have worked extremely well as one of Allen's deflation of expectations – like the ones we see in The Purple Rose of Cairo (1985) and Match Point (2005) where he is telling us that happy wrap-up endings don't always come true in real life – at the point when Colin Firth walks out on Emma Stone: "If you want forgiveness, ask God or a priest" "But you don't believe in God." "Exactly." However, what does the film in is when Allen goes back on this and turns Colin Firth into a soft-headed marshmallow who has a cringe-inducing scene where he returns and asks Emma Stone to take him back. It's a happy ending but it feels like a film that betrays what it sets out to do in order to get there.
Woody Allen's other genre films are:– Everything You Always Wanted to Know About Sex * But Were Afraid to Ask (1972), Play It Again Sam (1972), Sleeper (1973), Love and Death (1975), A Midsummer Night's Sex Comedy (1982), Zelig (1983), The Purple Rose of Cairo (1985), New York Stories (1989), Alice (1990), Shadows and Fog (1991), Mighty Aphrodite (1995), Everyone Says I Love You (1996), Deconstructing Harry (1997), Match Point (2005), Scoop (2006), Midnight in Paris (2011) and To Rome with Love (2012).
---
---