---
Crew
Director – Robert Greenwald, Screenplay – Richard Christian Danus & Marc Reid Rubel, Producer – Lawrence Gordon, Photography – Victor J. Kemper, Music – Barry DeVorzon, Songs Written by John Farrar & Jeff Lynne, Visual Effects – R/Greenberg Associates, Inc. (Supervisor – Richard Greenberg), Animation Sequence – Don Bluth Productions, Production Design – John W. Corso. Production Company – Universal.
Cast
Michael Beck (Sonny Malone), Olivia Newton-John (Kira), Gene Kelly (Danny McGuire), James Sloyan (Simpson), Dimitra Arliss (Helen), Fred McCarren (Richie)
---
Plot
In Los Angeles, Sonny Malone has failed to make it on his own as a freelance artist and is forced to return to the job he dislikes painting large-sized promotional blow-ups of record covers. In the street while roller-skating, he meets a beautiful Kira and is surprised when he subsequently finds her in the photo for a record cover he is painting. He continues to keep bumping into her. During the course of this, he meets aging clarinettist Danny McGuire who ran a club back in the 1940s. Danny tells Sonny his dream of opening a new club if only he could find the right place. With Kira's inspiration, Sonny finds a disused location. Danny takes it over to create the lavish roller disco Xanadu, making Sonny his partner. During the course of this, Sonny and Kira realises they are falling for one another. She then reveals the truth to him – she is a muse who has been sent to inspire him to create the Xanadu and their love has been forbidden by the gods.
---
Xanadu is a film that exists in legend. Not in the same way that classic films do but it is a work that has attracted a bad movie bizarreness. It featured prominently in the very first Golden Raspberry Awards in 1980, although the actual Worst Picture that year went to another disco film Can't Stop the Music (1980). The film was not exactly a financial flop as is frequently stated – it did earn $22 million in its day, which places it slightly less than Martin Scorsese's Raging Bull (1980) and more than the critically acclaimed Fame (1980) – but it was critically trashed. In fact, the film's soundtrack album, which produced two number 1 hits for Olivia Newton-John, ended up far out-selling box-office tickets for the film.
On one level it is not hard to see that the line-up involved should have made for a hit – singer Olivia Newton- John who had been the female lead in the box-office smash of Grease (1978) and was a queen on the pop charts; 1970s super-group ELO on the soundtrack; and for good measure Gene Kelly, the actor/dancer best known for Singin' in the Rain (1952), brought out of mothballs.
There is a thorough bizarreness to the conception and execution of Xanadu that was surely only inspired by early 80s cocaine madness. The whole film was premised on the popularity of disco despite the fact that the genre was waning by 1980. Not to mention that someone thought that the concept of roller disco (combining rollerskating and disco) would be the big new phenomenon or even that audiences would want to see a film about it. (To no particular surprise, people didn't).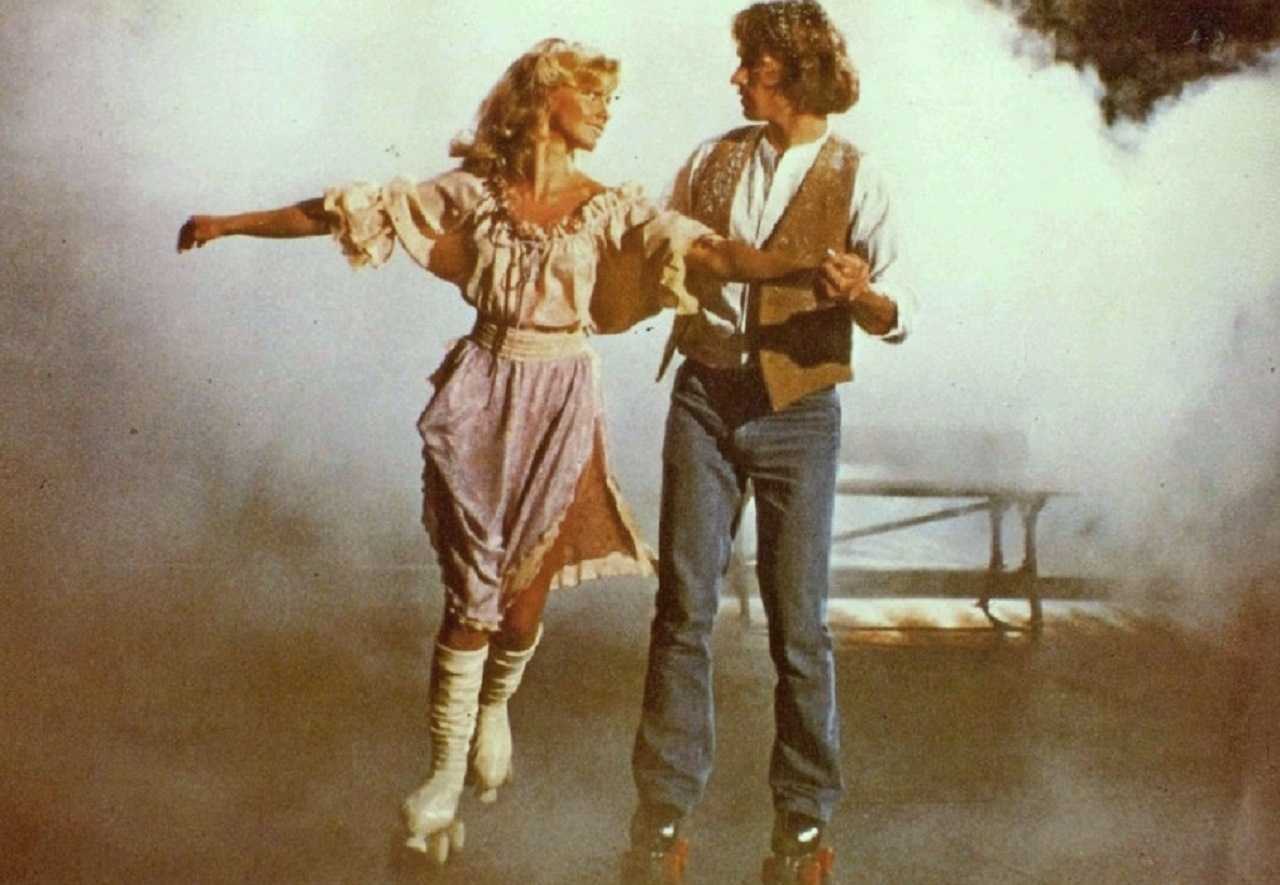 To see his famous poem Kublai Khan (1816) serving as the launching pad for a disco fantasy is the sort of thing that would no doubt have Samuel Taylor Coleridge spinning in his grave – although in that the poem was originally inspired by Coleridge's indulgence in opium maybe not. (In Coleridge's poem, Xanadu was the extravagant summer palace of the Chinese emperor that was described by Marco Polo). The actual plot of the film is an uncredited overhaul of the 1940s light fantasy Down to Earth (1947), which had the goddess Terpsichore (Rita Hayworth) coming down to Earth to inspire a Broadway producer and ending up falling in love with him.
There are cute bits to the film – the opening is an amusing parody of the Universal Studios logo with the biplane that circles the world metamorphosing into a 747, followed by a Concorde and then a UFO with each circle. And the first few minutes are a colourful fanfare of effects as the muses appear out of a mural on an alley wall and race across LA on rollerskates, leaving streaks of rainbow-coloured light as they run along the freeways and up the sides of skyscrapers, with Olivia Newton-John lighting up the Hollywood sign as she passes. It's a film made with lots of neon pastel colours and light effects.
However, this soon gives way to an excess for its own sake that frequently leaves you scratching your head – like the dressing-room follies with Gene Kelly in cowboy costumes and dinner-suits, with mannequins that come to life and form a back-up line popping out of the shelves and Kelly appearing in a pink clown car. Elsewhere, Kelly dances around giant pinball machines and chorus lines of spider-women. In the number by The Tubes, the band choreography comes with bizarre images like one of the band members holding a woman in his arms and playing her like a guitar and the drummer playing with a woman seated on his shoulders playing air drums. In one sequence, Michael Beck and Olivia Newton-John turned into animated fish – the sequence was purportedly placed there to add another song and was animated by Don Bluth, later the director of The Secret of N.I.M.H. (1982) and other films.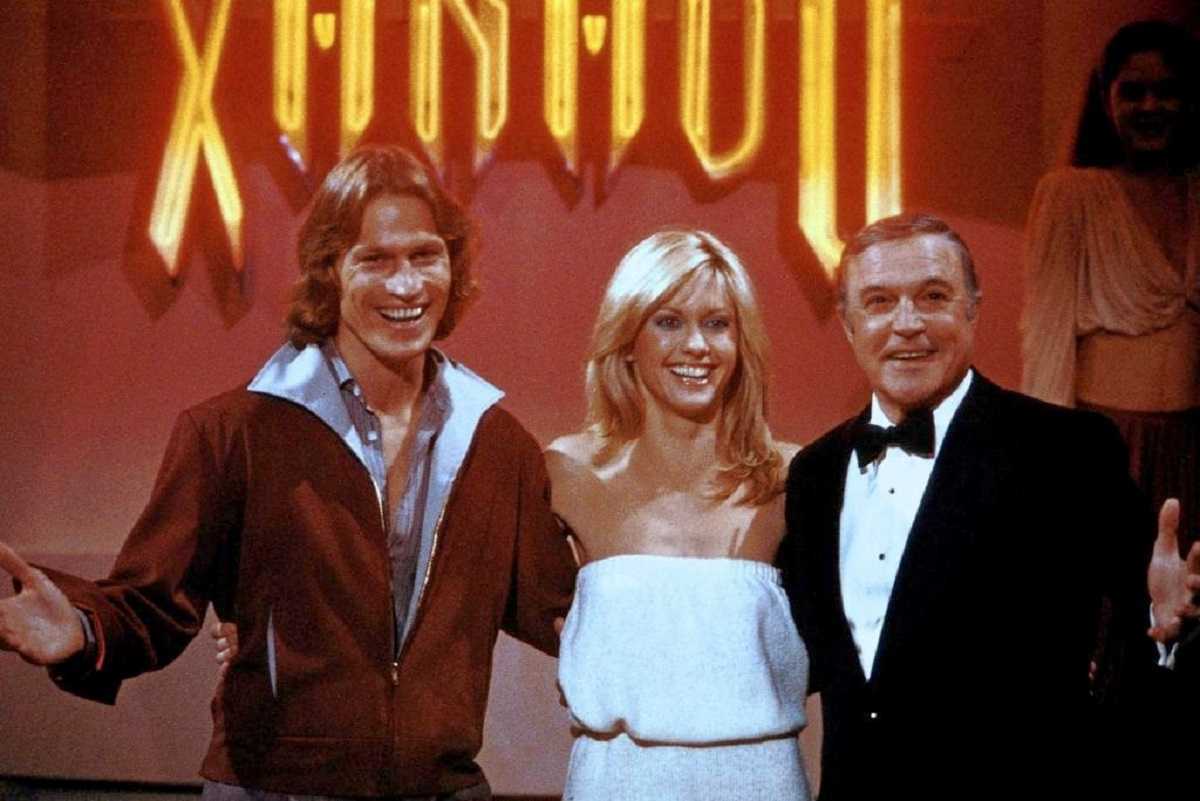 The culminating opening of the Xanadu comes an anti-climax to the excesses of the rest of the show. This mostly exists to allow Olivia Newton-John to go through a series of costume changes, while Gene Kelly wheels around in formation at the head of a troupe of rollerskating dancers – although it never seems the showcapper it has been intended to be. Anything that could be described as real plot development could be compacted into about five minutes of screen time. Olivia Newton-John seems to spend the entire film walking through with a cheerfully sunny smile and no variance in expression.
Xanadu was later revived as a Broadway musical in 2007 where it proved to be a reasonable success,
One of the most surprising things about the film is director Robert Greenwald. Greenwald has never been heard of again in the sense of never going on to direct another studio film. However, he has been prolific in directing independently made documentaries with a strong political edge with the likes of Outfoxed: Rupert Murdoch's War on Journalism (2004), Uncovered: The War on Iraq (2004), Wal-Mart: The High Cost of Low Price (2005), Iraq for Sale: The War Profiteers (2006), Koch Brothers Exposed (2012), War on Whistleblowers: Free Press and the National Security State (2013), Unmanned: America's Drone Wars (2013) and Making a Killing: Gun's Greed and the NRA (2016), as well as producing quite a number of other similar documentaries.
---
---