(In Weiter Ferne, So Nah !)
---
Crew
Director/Producer – Wim Wenders, Screenplay – Wim Wenders, Richard Reitinger & Ulrich Zieger, Photography (colour + b&w) – Jurgen Jurges, Music – Laurent Petitgand, Production Design – Albrecht Konrad. Production Company – Road Movies/Tobis Filmkunst.
Cast
Otto Sander (Cassiel), Willem Dafoe (Emit Flesti), Nastassja Kinski (Raphaela), Horst Buccholz (Tony Baker), Peter Falk (Himself), Solveig Dommartin (Marion), Bruno Ganz (Damiel), Lou Reed (Himself), Aline Krajewski (Raissa), Rudiger Vogler (Phillip Winter), Heinz Ruhmann (Konrad), Camilla Pontakry (Doria)
---
Plot
Over Berlin, the angel Cassiel listens in on human thoughts and admires the beauty of the human condition but wishes he could affect human destiny more in some way. He chooses to fall and become human so that he might save a child. As a human, he marvels at the world of sensation. However, Cassiel's fate is played with by the nefarious Emit Flesti and Cassiel becomes a drunk and falls in with the schemes of a mobster.
---
This was Wim Wenders' sequel to Wings of Desire (1987). Wenders is an arthouse director and not someone that one expects to take on sequels. Faraway, So Close! is certainly not a sequel in the commercially exploitative sense that most filmic sequels are made. If anything, Faraway, So Close! expands and amplifies on Wings of Desire's themes.
Throughout his films, particularly his ventures into fantastique, which include the sf film Until the End of the World (1991), Wenders displays an almost painful yearning to transcend the limits of the filmic medium. Wenders' films are both metaphors and direct emotional longings for an art that melds with human experience itself. In Wenders' angel films, the journey from the black-and-white world of the angels and their invisibly onlooking catharses of human beauty to the real world of colour and emotion is surely symbolic of a direct desire to break through from the passive medium of film to being able to paint in human experiences themselves.
With Faraway, So Close! Wenders desires no less than to encompass the whole breadth of human existence. The gamut of emotions that Cassiel manages to travel throughout the film – from drunken bum to rising success to an innocent tempted by The Devil and finally sacrifice – are relayed with an extraordinary beauty. There is nothing else in the film that so tragically punctuates the gulf between the world of human pain and sense-orientation and the world of the angels that is lived in perpetual worship of beauty than Otto Sander's voice-over despairing about the silence of each person's life, of how they live in a world that sees nothing beyond their senses – delivered when he has become a derelict and all the while looking out on the vista of a cathedral as it is circled by a flock of birds.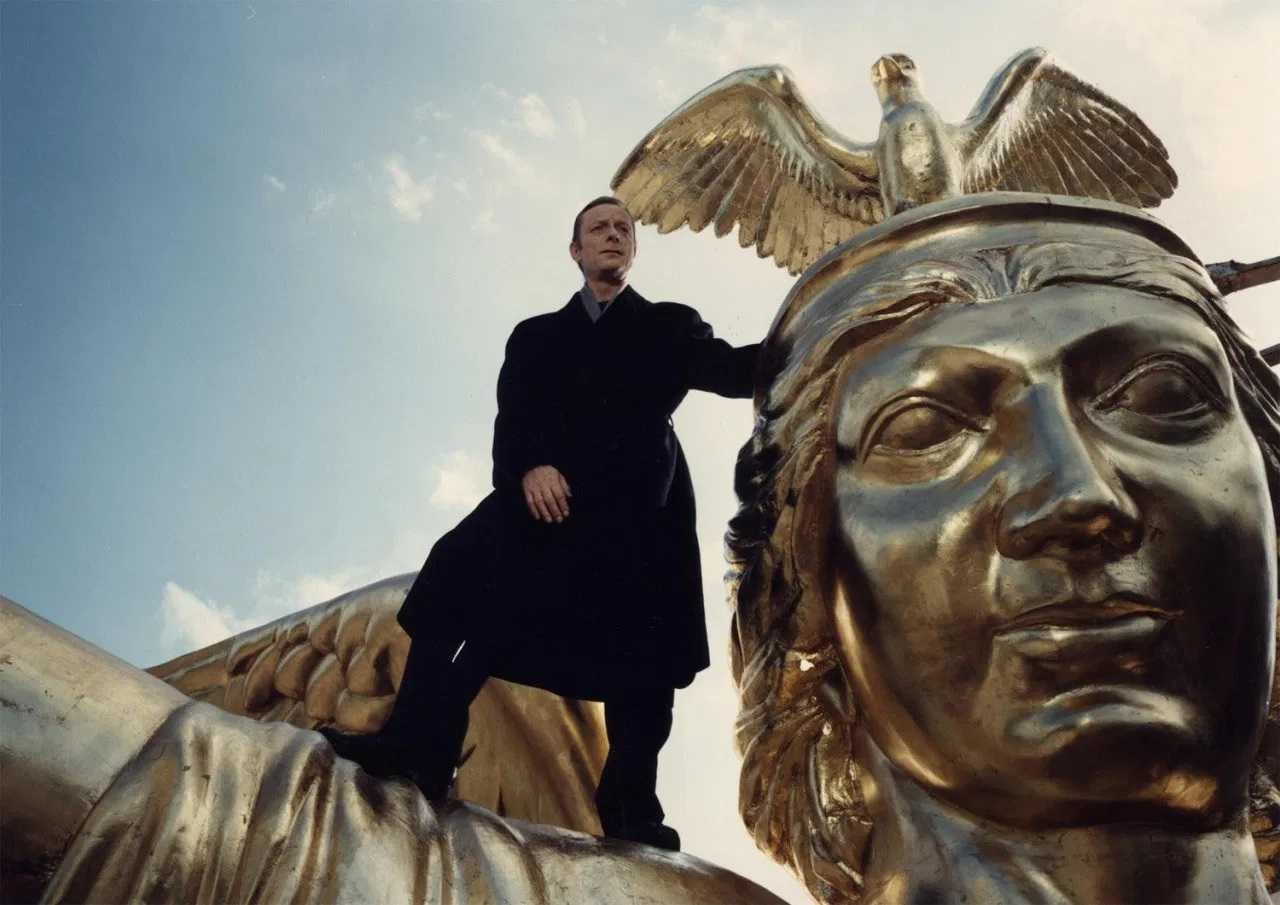 The final image where Otto Sander speaks of the great envy the angels have for the beauty we humans behold and how it only brings us closer to Him (the first and only mention of an Almighty in the duology so far) while looking out on a city from the angels' black-and-white viewpoint but lit up by a solitary red sinking sun, is an extraordinarily moving image too.
In front of the camera, Wenders manages to reunite most of the people from the previous film, including the last film's ex-angel Bruno Ganz, Wings of Desire's love interest Solveig Dommartin, and Otto Sander who was Bruno Ganz's angel best friend in that film. Wenders is fortuitous in having the wonderfully soulful and expressively weatherbeaten looks of Otto Sander in that they allow him to play Cassiel as much more of an innocent and to milk the film for much greater comedy value than Bruno Ganz allowed him to in the first film.
Peter Falk returns and plays himself again. (There is an extremely funny scene where Falk, in another great performance, knocks at the entrance to the bunker and the guards think they are seeing an episode of Columbo (1971-90) on the closed circuit tv). Nick Cave is also back on the soundtrack and Lou Reed from the previous film's soundtrack makes an appearance in person (with the slight implication left that he might be an ex-angel too). In one extraordinary cameo appearance, Mikhail Gorbachev appears with Cassiel listening in on his thoughts about achieving world peace.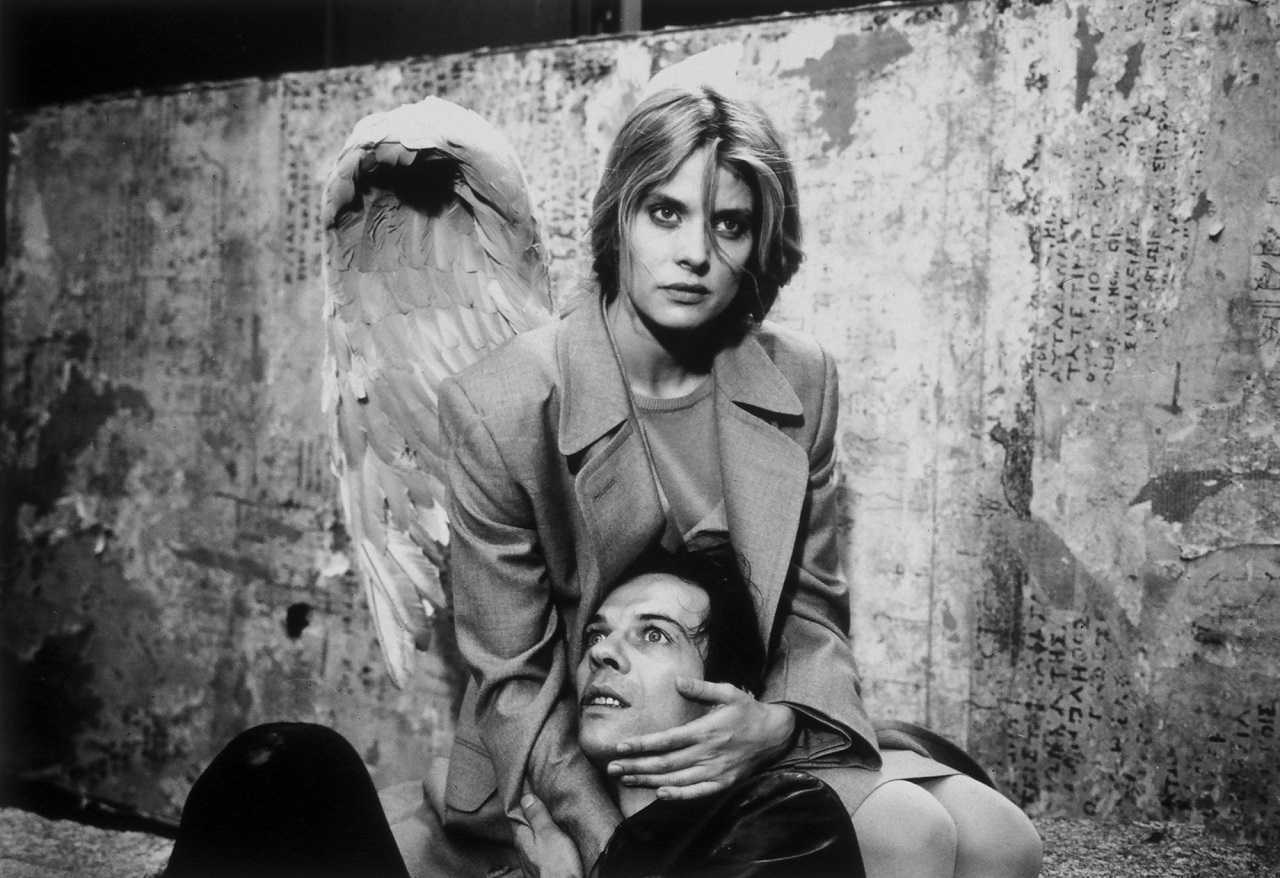 Wenders includes several in-jokes such as the Alekhan barge – in the first film there was a Circus Alekan, named after that film's (late) cinematographer Henri Alekan. Also Rudiger Vogler appears as a private detective named Philip Winter – a character of the same name that Vogler also played in Wenders' Alice in the Cities (1974), Until the End of the World and Lisbon Story (1994).
If Faraway, So Close! has faults, it is perhaps length, although it is at all times absorbing. The caper plot that takes up the second half is uneven and needs tightening – some pieces of it such as the reasons for Baker's need to find his sister and what threat this seems to pose to them, or Cassiel's plan to blow up the underground warehouse, are not always clear.
Even though it won the Grand Jury Prize at Cannes that year, Faraway, So Close! was not the acclaimed success that Wings of Desire was and is one of the more neglected films in Wim Wenders' canon. Today, it is more recognised for Stay (Faraway, So Close) (1993), the theme song by the band U2.
Wim Wenders' other ventures into genre material include his trilogy of films, Until the End of the World (1991), The End of Violence (1997) and The Million Dollar Hotel (2000), which all feature near future settings and are centred around humanity's relationship to technology and place in the modern world. Also of interest is Palermo Shooting (2008) where a photographer encounters Death played by Dennis Hopper.
---
---