aka Journey to China: The Mystery of Iron Mask; The Mystery of Dragon Seal: Journey to China; Viy 2: Journey to China
(Tayna Pechati Drakona)
---
Crew
Director – Oleg Stepchenko, Action Director – He Jun, Screenplay – Dimtry Palcev, Alexei A. Petrukhin & Oleg Stepchenko, Producers – Sergei Bespalov, Jackie Chan, Fang Yingchun, Gleb Fetisov, Gao Haitao, La Peikang, Liu Xuan, Alexei A. Petrukhin, Sergey Selyavov, Wang Yummo, Xu Jianhai & Zhao Yunping, Photography (3D) – Ivan Goodkow, Music – Alexandra Magakyan & Zhang Yunshan, Visual Effects Supervisor – Arthur Abidinov, Director of Animation – Victor Luckysov, Visual Effects – Algous Studio (Supervisor – Nikolay Goryaev), Astra Aegis Alliance, Asymmetric Studios (Supervisor – Victor Luckysov), Lab of the Future (Supervisor – Milos Hetlerovic), Postkino FX, Studio Cubic, Trehmer Film (Supervisor – Konstantin Listratov), Special Effects Supervisors – Chao Qiang & Li Bin, Makeup Effects – Peter Gorshenin Studio "FX Design Group Int", Production Design – Arthur Mirzoyan & Tian Xiaoxi. Production Company – Fetisoff Illusion/China Film Co.,Ltd./Sparkle Roll Media/Caina Film&Media/Stereotec/CTB Film Company/Marins Group Union Fim Company/Russian Film Group Corporation/TW (Beijin) Culture Investment Co. Ltd./Jupal Holdings Limited/Shenzhen Meten International Education Ltd./Dong Fang Tia Jia Shi Film and TV Co., Ltd/Pass Media (Beijing) Co., Ltd.
Cast
Jason Flemyng (Jonathan Green), Yao Xingtong (Cheng Lan), Anna Churina (Emma Dudley Green), Arnold Schwarzenegger (James Hook), Jackie Chan (Master), Yuriy Kolokolnikov (Iron Mask/Peter the Great), Ma Li (Witch), Li Yu (Treasurer), Li Mengmeng (Li Hong), Martin Klebba (The Captain), Charles Dance (Lord Dudley), Christopher Fairbank (Grey), Rutger Hauer (The Ambassador), Pavel Volya (Menshikov)
---
Plot
The cartographer Jonathan Green continues his travels across Russia but is imprisoned by local authorities. One of the carrier pigeons that Jonathan sends back to his wife Emma is intercepted by a Chinese master and a man in an iron mask who are being prisoner held at the Tower of London. They are able to use it to carry a message to Emma saying that the masked prisoner is really Peter the Great, the rightful ruler of Russia. Emma gets her father to use his influence to have Jonathan released from captivity in Russia. As he departs, Jonathan asks to take his cellmate, a young Chinese man Cheng Lan, on as assistant to spare him from a flogging by his captors. Jonathan is unaware that Cheng Lau is in fact a Chinese princess. Meanwhile, Emma goes to James Hook, the governor of the Tower of London, and asks to speak to Peter. She is able to free him as a prison riot breaks out. Peter boards a ship heading for China while Emma sneaks on disguised as a man. Meanwhile, Jonathan and Cheng Lan arrive in the city where Cheng Lan's rightful position as ruler has been supplanted by a witch using a magical face disguise to pose as her. To win her throne back, Cheng Lan has to claim the rightful amulet being carried by Peter and tame the dragon whose tears provide a healing tea.
---
The Russian-made Viy (2014) was a moderate international hit for director Oleg Stepchenko. It was based on a classic horror story The Viy (1835) by Russian writer Nikolai Gogol about a monk sitting vigil over a body in a church who faces the dead rising around him. Stepchenko threw most of the original out to create its own story.
This sequel was made as Viy 2 and known under an assortment of different names before eventually being released in the US as Iron Mask (and other titles in other territories). Oleg Stepchenko returns and the film comes from a consortium of Russian and Chinese production companies and has been shot in both countries. Jason Flemyng returns as cartographer Jonathan Green, along with Anna Churina as his fiancee and Charles Dance as her father. Aside from that, the production has brought in a host of international names, including Arnold Schwarzenegger as the prison governor who challenges all his prisoners to brawling competitions; Jackie Chan (who also produces the film) as a martial arts master who spends all but the last scene chained up in the cell (and never does much else); and Rutger Hauer in one of his very last performances (the film was released a month after he passed away) as the British ambassador who frees Jason Flemyng from jail.
By now, any connection to the Nikolai Gogol story has been abandoned – indeed, this could easily work as a standalone film without the need for any reference to the first film (although we do get some scenes briefly recapped at the start). The film has now gained a massively larger budget and there is the determination to push it as an epic fantasy adventure with some impressive big scale visual effects flourishes than certainly rival Hollywood offerings. It was also released in 3D.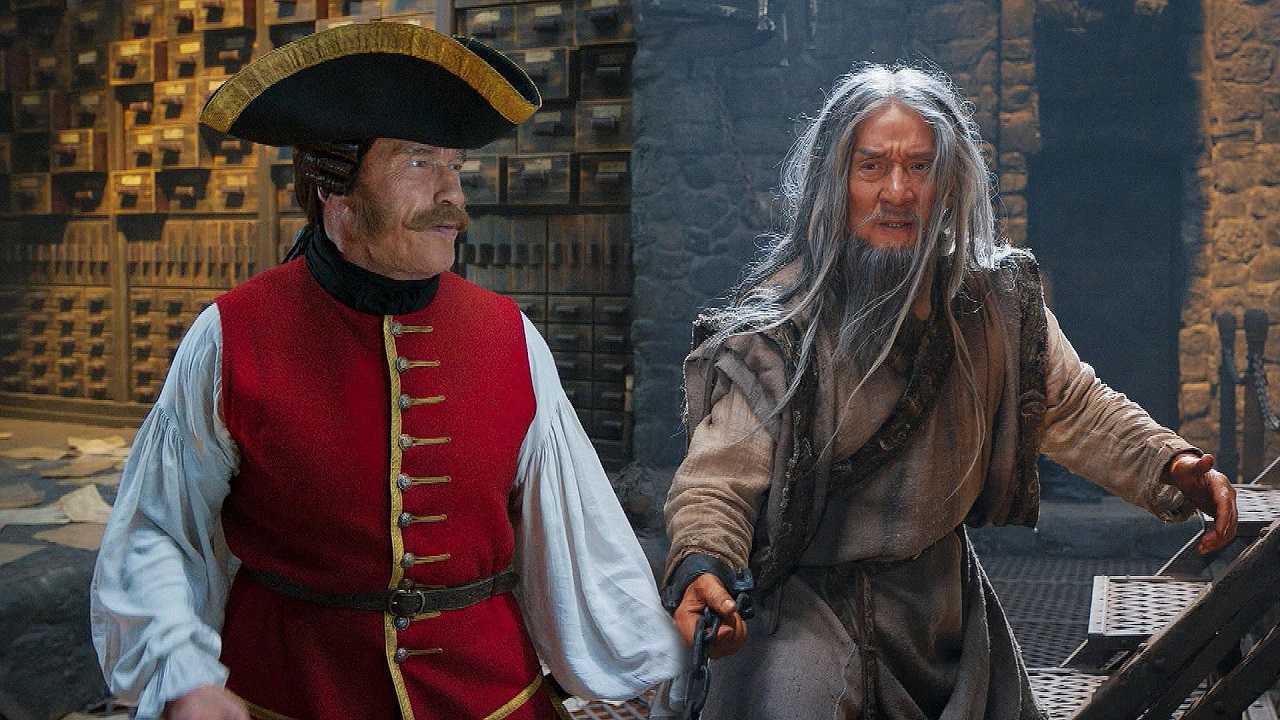 Oleg Stepchenko has greatly improved since the first film in terms of his assurance as a director. He shows much promise as a director of epic effects spectacle and the film sets up some exciting sequences. There are numerous scenes with Jason Flemyng's five-wheeler carriage – the one major holdover from the first film – racing around. I was particularly impressed with a sequence involving three warriors – one that transforms into mist; another that has an armoured ring that sends out deadly bass sound vibrations; and another hulking warrior that wears a chest plate filled with vials that combine to create arcing magnetism that draws all the swords around towards him and then reverses them against their users. (At the end, it is claimed these are creatures of science rather than magic but the science on display is so fantastical it might as well be pure magic).
This all mounts to something extraordinarily lavish. Scenes with Ma Li ascending and descending in a gold boat that is winched up and down from the pit. The peasantry of the area flying into combat with gliders jury-rigged from umbrellas. Climactic scenes with the emergence of dragons. It is all incredibly spectacular and impressively mounted.
The rather messy and incoherent script of the original has been evened out, although what we have is no more believable a script. It has been stripped to a series of improbable scenes largely designed to carry the action and effects set-pieces without any actual concern that they take place in the real world. You kind of wish that all that amazing production values the film arrays had actually been grounded in something where the characters felt like people rather than cartoons and a plot where there was some depth or plausibility to the happenings.
---