(Schneeflöckchen)
---
Germany. 2017.
Crew
Director – Adolfo J. Kolmerer, Guest Director – William James, Screenplay – Arend Remmers, Producers – Erkan Acar, Reza Brojerdi, Eric Sonnenburg & Adrian Topol, Photography – Konstantin Freyer, Music – Roman Fleischer, Visual Effects Supervisor – Ronny Wagner, Special Effects Supervisor – Martin Goeres, Production Design – Isabel Von Forster. Production Company – Snowflake Pictures/Ventaro Film/Lopta Film/Movie Stuff Pictures/Camelot Broadcast Services.
Cast
Reza Brojerdi (Javid), Erkan Acar (Tan), Xenia Assenza (Eliana), David Masterson (Carson), Alexander Schubert (Dr Arend Remmers), Judith Hoersch (Schneeflöckchen/Snowflake), David Gant (Caleb), Mathis Landwehr (Hyper Electro Man), Gedeon Burkhard (Hauke Winter), Bruno Eyron (Reinhart), Adrian Topol (Bolek), Antonio Wannek (Dariusz), Martin Goeres (Gustav), Selam Tadese (Rashid), Eskindir Tesfav (Fumo)
---
Plot
In a near future Berlin, violence on the streets has become commonplace. Two friends, Tan and Javid, are on a killing spree. After slaughtering the staff and customers of a kebab shop, they steal a car. In the back of the car, Javid finds a screenplay that describes everything they have been and are saying as they speak it. They track the author of the screenplay down as being dentist Arend Remmers. They torture Arend to get the rest of the screenplay in order to find out how it ends. Meanwhile, Eliana, a teenager whose parents were wiped out in their killing spree, hires the services of every assassin in the city to go after them. Tan and Javid are joined by the angel/nightclub singer Snowflake who appeals to their better nature. All the while dealing with Eliana's hitmen, Tan and Javid try to force Arend to write them an ending that doesn't end in their deaths.
---
Snowflake was a debut film from Adolfo J. Kolmerer, a Venezuelan national who moved to Germany in the 2000s to launch a film career. After making several short films, he finally did so with Snowflake. Kolmerer subsequently went on to make the non-genre Abikalypse (2019).
I had no real idea what to expect of Snowflake and this worked rather well to my favour. The film opens in a decided black humour vein – best friends Reza Brojerdi and Erkan Acar sit in a diner griping about the quality of the kebabs they are eating before the camera pulls back and reveals the shop is filled with dead bodies and they exit unconcerned, carrying weapons. Next they approach a car "You're driving," break in and drive off with the car alarm blaring. This sets an appealingly deadpan tone of black humour.
Things proceed to get stranger from there as they find a screenplay in the back of the car that describes everything they are doing, including the dialogue they have been saying and are in the process of saying. They track down the screenwriter, dentist Alexander Schubert (whose character it should be noted has the same name as the screenwriter of the film), and torture him to find out what is going on, even as he parrots everything they say right back to him, before demanding a printout of the complete screenplay to find out what happens.
Snowflake falls into the genre for meta-fiction. (For more detail see Meta-Fiction Films). This is the idea where works of fiction have become more than simple narrative stories – stories that breaks down the fourth wall and have characters address the reader/audience direct or where the process of reading/watching the story becomes woven into the story being told, even the idea where fictional characters have an ontological reality or emerge out of stories/films. There have been several meta-fiction films – literary-based works like Providence (1977), The Neverending Story (1984), I, Madman (1989), The Baby of Mâcon (1993), In the Mouth of Madness (1995), Written By (2009) and Ruby Sparks (2012). The theme was popularised in recent years by Stranger Than Fiction (2006) where Will Ferrell comes to the gradual realisation that he is a fictional character.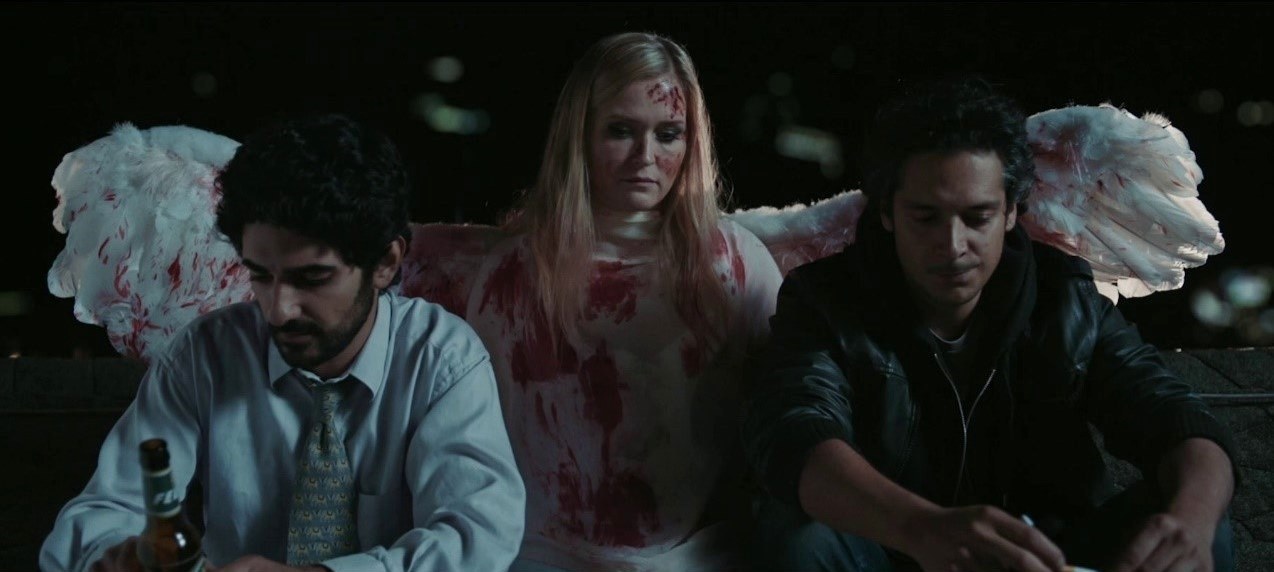 There has also been the translation of the meta-fiction idea to the medium of film – something that this author has named 'meta-film'. This began with Woody Allen's The Purple Rose of Cairo (1985), which had the hero of a 1930s film step out of the screen into the real world. Similar ideas appear in films like The Icicle Thief (1989), Last Action Hero (1993), Wes Craven's New Nightmare (1994), Rubber (2010) and Camera Shy (2012), while works like Delirious (1991) and Pleasantville (1998) apply meta-fiction to the medium of television. Zoom (2015) even manages to cover film, literature and comic-books with characters from each medium influencing the other.
Snowflake plays out as a conceptual collision between Stranger Than Fiction and Pulp Fiction (1994) – imagine less intellectually endowed versions of Pulp Fiction's John Travolta and Samuel L. Jackson waking up to the realisation they are fictional characters. That and a whole bunch of weird doglegs thrown in for the sake of making a film that is as off the wall as possible – a nightclub singer (the titular Snowflake) with angel wings who may be a real angel; a masked superhero who fires off electrical discharges; an android bartender; a teenage girl on the revenge trail who seeks advice from a man who claims to kill people for God; a bunch of strange assassins, including a blind killer and his partner who offers one-liners for every occasion delivered to the target as part of the service.
It all amounts to something appealingly eccentric as the various plot elements are juggled and then brought together with considerable dexterity and especially dark lashings of humour. During the climactic scenes, for instance, the two hitmen hold the screenwriter at gunpoint and tell him they are producers and insist that he write an ending even though it doesn't make sense.
(Winner in this site's Top 10 Films of 2017 list. Winner for Best Original Screenplay at this site's Best of 2017 Awards).
---
---