---
Crew
Directors – Byron Howard & Rich Moore, Co-Director – Jared Bush, Screenplay – Jared Bush & Phil Johnston, Story – Byron Howard, Jared Bush, Phil Johnston, Jennifer Lee, Rich Moore, Jim Reardon & Josie Trinidad, Producer – Clark Spencer, Music – Michael Giacchino, Visual Effects Supervisor – Scott Kersavage, Animation Supervisors – Nathan Engelhardt, Jennifer Hager, Robert Huth, Kira Lehtomaki & Chad Sellers, Production Design – Dan Cooper & David Goetz. Production Company – Disney.
Voices
Ginnifer Goodwin (Officer Judy Hopps), Jason Bateman (Nick Wilde), Idris Elba (Chief Bogo), Nate Torrence (Officer Benjamin Clawhauser), Jenny Slate (Dawn Bellwether), J.K. Simmons (Mayor Theodore Lionheart), Don Lake (Stu Hopps), Bonnie Hunt (Bonnie Hopps), Maurice LaMarche (Mr Big), Tommy Chong (Yax), Raymond S. Persi (Flash), Phil Johnston (Gideon Gray), Alan Tudyk (Duke Weaselton), Octavia Sencer (Mrs Otterton), John DiMaggio (Jerry Jumbeaux Jr), Gita Reddy (Nangi), Jesse Corti (Manchas), Tom Lister, Jr (Finnick), Shakira (Gazelle)
---
Plot
Ever since she was a child, the bunny Judy Hopps has dreamed of being a police officer. Her parents urge her to settle down to the safety of life as a carrot farmer. They are fearful of predators, even though in the modern world previous predators have forsworn eating other animals. Instead, Judy makes the decision to become the first bunny on the force. She successfully graduates and moves to Zootopia city to take a position. Instead, she is assigned to parking enforcement duty by Chief Bogo. Urging the chief to give her a more active role, Judy pushes to take the case of a missing otter and is given 48 hours but told she must resign if she fails. Using threat of arrest, she corrals the aid of the fox confidence trickster Nick Wilde. On the trail of the otter, they discover a far-reaching conspiracy to use a poison that will cause predators to become wild and feral once again.
---
Zootopia was the 55th animated feature film from Disney. The studio's creativity seems to go in cycles of bust and boom – the classic heights between 1937 and 1942 followed by the Wartime slump; the wastelands from Walt Disney's death in 1966 to the mid-1980s; the renaissance from 1989 to the late 1990s followed by the fallow ground of most of the 2000s that was filled with unimaginative video-released sequels and feature films whose concepts seemed to go awry. The studio seemed to be cautiously coming out of that in the 2010s, particularly after former Pixar CEO John Lasseter became the chief creative officer in 2006.
The period from 2008 to the present has been a mixed bag with some ho-hum affairs like Tangled (2010), the overrated Frozen (2013) and Moana (2016); some fairly good films – Bolt (2008), The Princess and the Frog (2009) and Big Hero 6 (2014); and a couple of really good ones – Wreck-It Ralph (2012) and, I would add, Zootopia. Indeed, both Wreck-It Ralph and Zootopia feel like films that should be made by Pixar rather than Disney. They get the balance of audience-pleasing humour, endearing characters and strong story arcs that Pixar used to do well. Indeed, you could go so far as to say that while Pixar has devolved to where Disney was in the early 2000s – terminal sequelitis, lame concept films like Brave (2012) – Disney have started to out-Pixar Pixar at what they used to do well.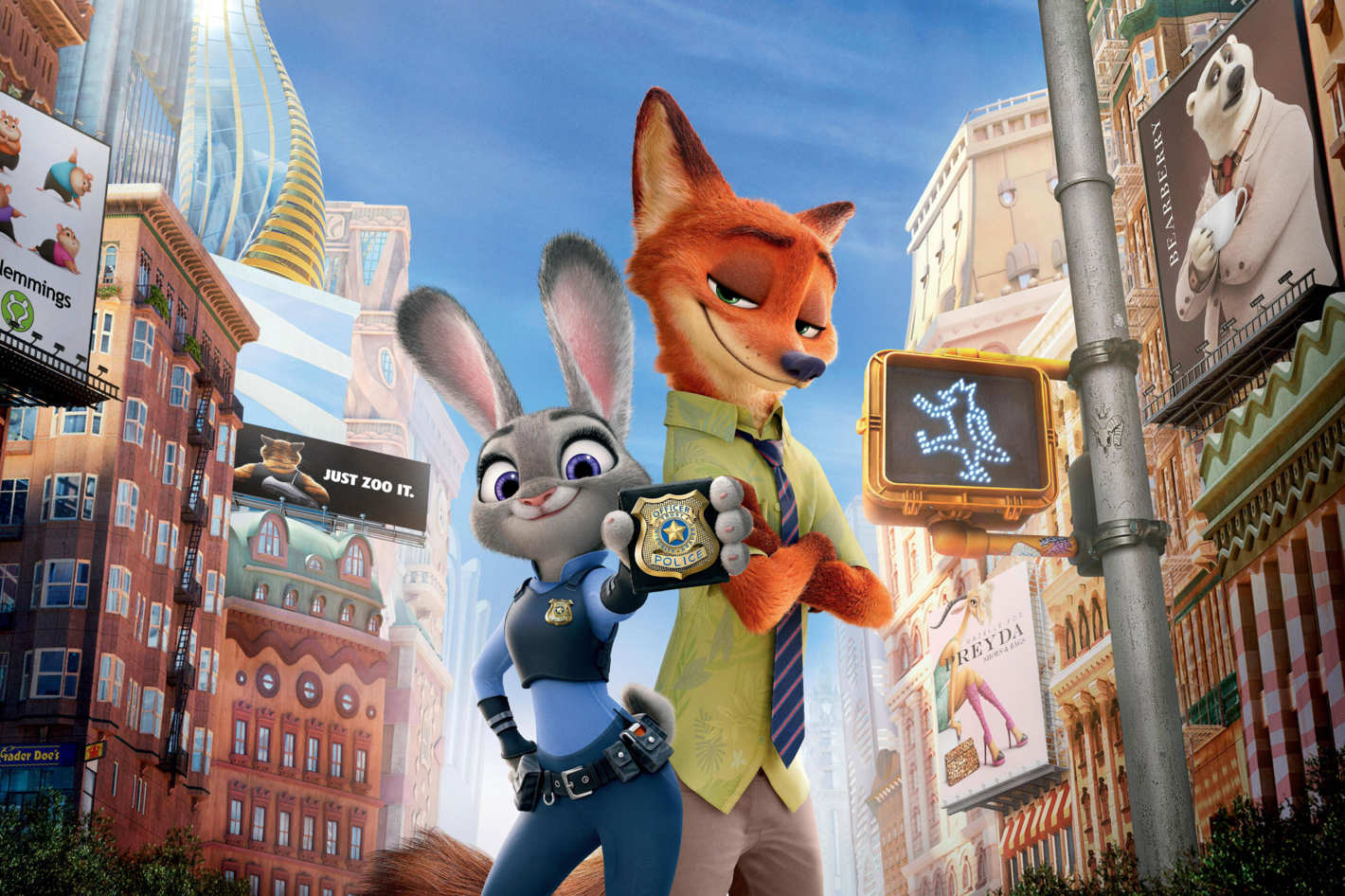 Animated films about talking animals are made by the bucketload. Zootopia comes with an original concept that immediately sits head and shoulders above this. It imagines an alternate world that would exist if animals were intelligent and lived together in something approximating modern civilisation. There is a lot of conceptual cleverness to the working out of the premise – of seeing vehicles and suburbs that have been sized for different species, of looking at the way the different animals would interact or how modern amenities might work. There are some logical quibbles that immediately start to make themselves felt – like if all the predators have foresworn eating other animals (as becomes a central part of the film's premise) what exactly is it that they do eat?
Short of someone making a film version of Cornelius Kane's downright hilarious book The Unscratchables (2009) about a dog detective forced to pair up with a cat in a logically thought-out world based on a city of cats and dogs, the results emerges as one of the most clever and ingenious workings out of the talking animal idea in some time. In fact, the premise has such a flexibility that you could easily see it going on to become the basis of an ongoing series.
The film has an enormous degree of creativity. Almost every scene comes with hilarious little visual gags packed away. Some scenes are classic – an Italian wedding played out by Mafioso mice; the ice cream shop scene with an adorable elephant/baby fox; and especially the scene with the sloths at the animal equivalent of the DMV, which made up the substance of the film's trailer.
The film has a particularly strong arc for its two central characters. And the central message about defying prejudice is unusually well-told (and seems never more apt to be coming out 2016 in the midst of the vehemence being directed at Syrian refugees and the rise of Donald Trump). Moreover, the humour is something natural and character-driven, not derived from an endless array of easy pop culture gags – there's one sly Breaking Bad (2008-13) gag, a less forgivable one plugging animal-themed versions of Disney dvds, including for the subsequently released Moana – but for the most part, the film remains welcomely free of this.
Co-director Byron Howard had previously co-directed Bolt (2008) and Tangled (2010) for Disney and went on to co-direct Encanto (2021). Rich Moore had previously co-directed Wreck-It Ralph (2012) and subsequently went on to direct Ralph Breaks the Internet (2018).
---