---
Crew
Producer – Lawrence Bender, Music – Combustible Edison, Makeup Effects – K.N.B. EFX Group Inc, Production Design – Gary Frutkoff. Production Company – A Band Apart The Missing Ingredient:– Director/Screenplay – Allison Anders, Photography – Rodrigo Garcia. The Wrong Man:– Director/Screenplay – Alexandre Rockwell, Photography – Phil Parmet. The Misbehavers:– Director/Screenplay – Robert Rodriguez, Photography – Guillermo Navarro. The Man from Hollywood:– Director/Screenplay – Quentin Tarantino, Photography – Andrzej Sekula. Production Company – A Band Apart.
Cast
Tim Roth (Ted). The Missing Ingredient:– Ione Skye (Eva), Madonna (Elspeth), Valeria Golino (Athena), Sammi Davis (Jezebel), Lili Taylor (Raven), Alicia Witt (Kiva), Amanda de Cadenet (Diana). The Wrong Man:– David Proval (Siegfried), Jennifer Beals (Angela). The Misbehavers:– Antonio Banderas (Man), Lana McKissack (Sarah), Tamlyn Tomita (Wife), Danny Verduzco (Juancho). The Man from Hollywood:– Marisa Tomei (Margaret), Kathy Griffin (Betty), Quentin Tarantino (Chester Rush), Bruce Willis (Leo), Paul Calderon (Norman)
---
Plot
The bellboy Ted is left in sole charge of the Hotel Monsignor on New Year's Eve. The Missing Ingredient:– Ted delivers room service to a suite where a coven of witches are conducting a ceremony to raise a member of their group who was killed several years before. When it is discovered that one of them has forgotten to bring one of the required items – a semen sample – it is decided that Ted must be invited back and seduced to provide the necessary ingredient. The Wrong Man:– Ted takes a bucket of ice to a room only to meet a crazed man who has his wife tied up at gunpoint and believes that Ted has been having an affair with her. The Misbehavers:– Ted is offered $500 by a man to look after his two children so that he and his wife can go out dancing. Everything then proceeds to go disastrously wrong for Ted. The Man from Hollywood:– Ted takes room service to a Hollywood producer who wants his help in recreating a bet from an old episode of 'Alfred Hitchcock Presents' – that if a man cannot light a cigarette lighter ten times in a row his finger will be severed.
---
After making a sensational directorial debut with Reservoir Dogs (1992) and following it up with the grandslam of Pulp Fiction (1994), an enormous cult centred around Quentin Tarantino, which considered him the coolest thing since [fill in your own blank]. One of the things that Quentin Tarantino then cannily (and very generously) did was to use his name to piggyback lesser-known directors to a wider audience that they would not otherwise obtain. As a result, Tarantino brought into the spotlight directors like Roger Avary with Killing Zoe (1994) and Robert Rodriguez with Desperado (1995) and From Dusk Till Dawn (1996). With Four Rooms, Tarantino created a portmanteau that similarly illuminated Robert Rodriguez and other indie directors such as Allison Anders, who made Gas Food Lodging (1992) and Mi Vida Loca (1993) and Alexandre Rockwell, who made In the Soup (1992) and Somebody to Love (1994).
As with any anthology, particularly one that features different directors on each segment, the stories in Four Rooms vary considerably. At least the segments are united by the same bizarrely akilter, slightly surreal sense of humour. The centre point for the show is Tim Roth who mugs and prances his way through the film. Some people thought was Roth was hilarious, but his bizarre muggings and patronisingly sarcastic expressions seem more theatrically contrived than they ever do cute.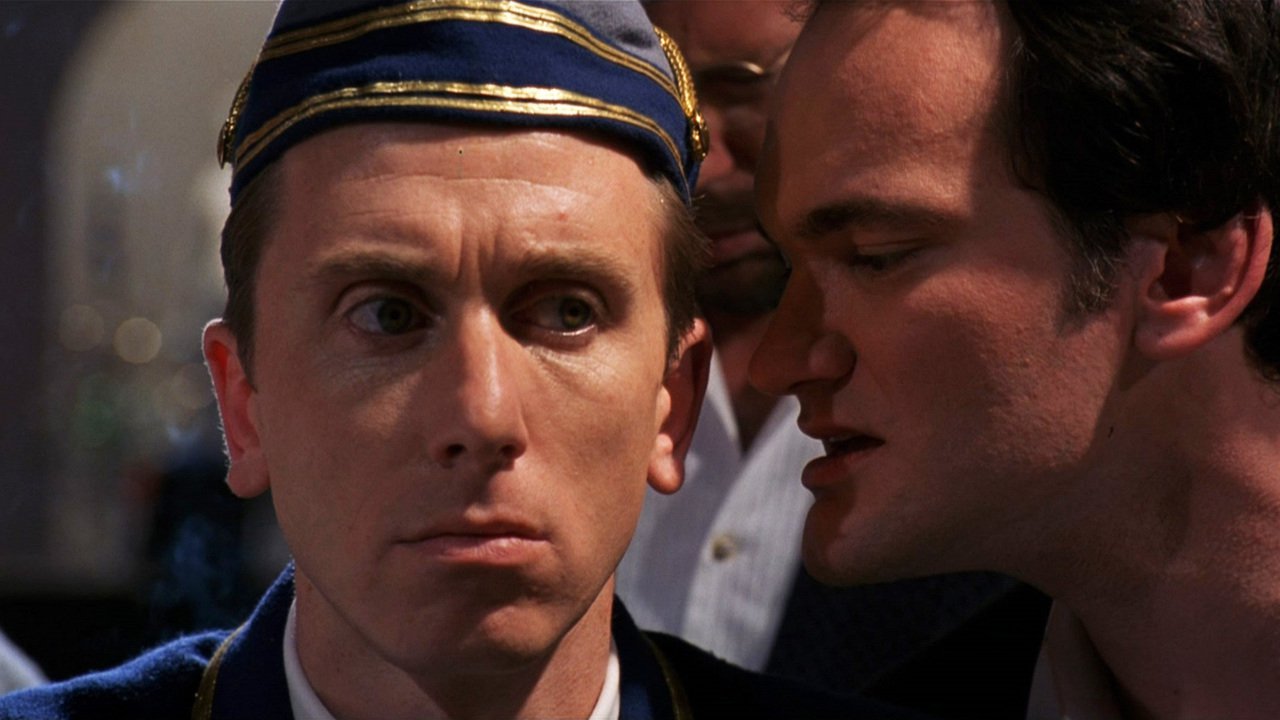 Allison Anders' The Missing Ingredient, the only episode with any fantastic content, has an amazing cast line-up. The segment amuses vaguely, particularly in some of its rhyming couplets, but its punchline is abrupt, even more so considering the anthology format. Alexandre Rockwell's The Wrong Man hits an hysterically surreal mood from the outset and never lets up – unfortunately such a frenetically black tone is not tied to anything, we never learn what is going on and why, for instance, Jennifer Beals reciting all the slang names for a penis causes David Proval to turn apoplectic.
Quentin Tarantino's segment The Man From Hollywood suffers from similar problems. It comes with Tarantino's characteristic monologues and feigned nonchalance, but it also unfortunately has Tarantino acting, something it is strongly advised he should stay away from. As an actor, he seems unable to overcome his natural geekishness and in playing a loudmouth egocentric Hollywood filmmaker here, Tarantino simply miscasts himself – he seems more snivelling than loudmouth. The episode perks up somewhat with its amusingly abrupt ending but otherwise fails to ignite.
The best of the segments is Robert Rodriguez's The Misbehavers. Antonio Banderas gives an hilariously domineering performance and Rodriguez builds the segment up to an ending where all the elements – the syringe, the dead body, the alcohol, the cigarette lighter and the returning parents – amusingly come together at once to paint Tim Roth as the babysitter from Hell.
---
---