aka Temptress
---
Crew
Director – Jim Wynorski, Screenplay – Mark Thomas McGee, Producer – Fred Olen Ray, Photography – Gary Graver, Music – Chuck Cirino & Darryl Way, Special Effects – Kevin McCarthy, Art Direction – Ron Durant. Production Company – Wyn-Tone Productions.
Cast
Linda Blair (Amelia Reynolds), Larry Poindexter (Larry Barnes), Julie Strain (Erica Barnes), Rochelle Swanson (Carol Powell), Edward Albert (Howard Reynolds), Michael Parks (Stan Latarga), Toni Naples (Maria), Kristina Ducati (Kathy), Lenny Juliano (Don), William Marshall (John Geiger), Antonia Doran (Trisha)
---
Plot
Erica Barnes casts a magic spell to affect Howard Reynolds, a partner in the law firm where her husband Larry works. Howard's wife Amelia realises what is happening and warns him, allowing Howard to jump out just before his car crashes. Larry returns home to find Erica casting the spell. They fight and she falls off the balcony and is killed, not before she promises Larry that his life will be in danger without her spells to protect him. After the funeral, Larry reconnects with Carol Powell, the girl he loved before Erica cast a spell to woo him away. Through their various trysts, he realises that Amelia has cast a spell to take control of Carol's personality via an amulet and is changing her into someone wild in an effort to take revenge against Larry.
---
Jim Wynorski has been a prolific B movie director since the 1980s. He was strongly associated with the Scream Queen fad of the era – a central feature of every film that Wynorski has made are large-breasted women in a frequently unclothed state. (See below for Jim Wynorski's other genre films). This Sorceress should not be confused with the other film entitled Sorceress (1982), a sword-and-sorcery film written by Wynorski back when he was working for Roger Corman and had yet to become a director. The version I saw was also titled Temptress, which should not be confused with Temptress (1994), another film made around the same time.
Jim Wynorski loves women with big breasts. With the exception of Linda Blair (the biggest name actress present and the only woman who keeps her clothes on), all of the women present come with chest measurements that give the impression they had to be inflated with bicycle pumps before shooting started. We're talking actresses who to a single one of them have cup measurements that are way down the alphabet to letters like F, G, H and further. These become so glaringly obvious every time one of them gets undressed that it distracts from the softcore tumblings.
The tumblings often seem ridiculous – there is one in the middle of the film – a threeway between Julie Strain, Rochelle Swanson and Toni Naples – that has to count as the single least erotic sex scene in the history of softcore cinema, involving as it does gauzy slow-motion scenes with the women licking each other's buttocks and sucking toes.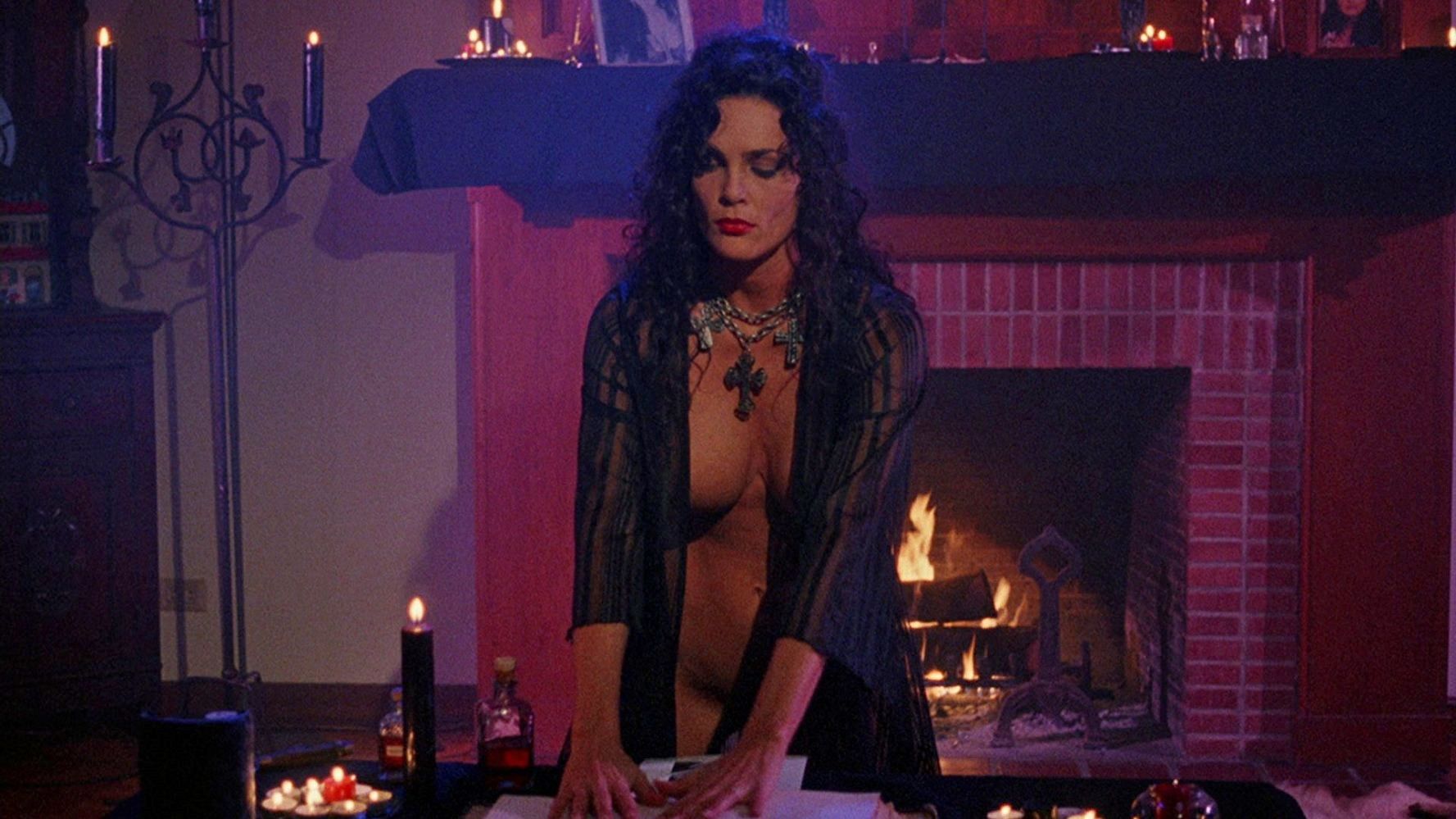 You get the impression that Jim Wynorski has borrowed the basics from Night of the Eagle/Burn, Witch, Burn (1961) in which a husband finds his wife is a witch and becomes caught in the midst of a war with a rival witch after he demands she banish her charms. Here there is little sense to the script and it often feels as though large chunks of it had been thrown out. There is never any clear reason why suburban wives are engaged in magic rivalries – we never find out over exactly what it is they are fighting about, for instance. The film opens with Julie Strain trying to cast a spell to kill Edward Albert in his car (we never find why either).
The rest of the film involves Linda Blair casting a spell that takes over the mind of Rochelle Swanson and causes her to suddenly go bad (which mostly seems to consist of her becoming erotically liberated). The film also arrives at an All a Dream Ending that makes no sense. One of the amusements for me was the way the film has little clue what partnership in a law firm entails and thinks it is nothing more than a job interview as opposed to owning an equity stake in the firm's profits.
The film has an interesting cast. There is Linda Blair, the former Regan from The Exorcist (1973) now middle-aged; Edward Albert who is mostly confined to a wheelchair; even a brief cameo from the aging William Marshall, once the title character in Blacula (1972). One of the more bizarre castings is later-to-be Quentin Tarantino and Kevin Smith regular Michael Parks in a strung-out role as the gardener whose wife gets murdered and may or may not be Linda Blair's lover. It is a role that nobody, least of all Parks, seem to have any clue about what he is doing there. Julie Strain, Antonia Doran, Rochelle Swanson, Kristina Ducati and Toni Naples all found regular employ in unclothed roles in B films, around this period frequently those made by Jim Wynorski.
Sorceress 2: The Temptress (1997) was a sequel produced by Jim Wynorski for another director. Julie Strain returns but plays a different witch.
Jim Wynorski's other genre films are:- The Lost Empire (1983), Chopping Mall (1986), Deathstalker II (1987), Not Of This Earth (1988), The Return of Swamp Thing (1989), Transylvania Twist (1989), The Haunting of Morella (1990), Sorority House Massacre II (1990), Sorority House Massacre 3/Hard to Die/Tower of Terror (1990), 976-Evil II (1991), Scream Queen Hot Tub Party (1991), Munchie (1992), Ghoulies IV (1993), Dinosaur Island (1994), Munchie Strikes Back (1994), The Wasp Woman (1995), Vampirella (1996), The Pandora Project (1998), Storm Trooper (1998), The Bare Wench Project (1999), Desert Thunder (1999), Bare Wench Project 2: Scared Topless (2000), Crash Point Zero/Extreme Limits (2000), Raptor (2001), Thy Neighbor's Wife/Poison (2001), The Bare Wench Project 3: Nymphs of Mystery Mountain (2002), Gale Force (2002), Project Viper (2002), Bare Wench Project Uncensored (2003), Cheerleader Massacre (2003), More Mercy (2003), The Curse of the Komodo (2004), Gargoyle (2004), The Thing Below (2004), Alabama Jones and the Busty Crusade (2005), Bare Wench: The Final Chapter (2005), Komodo vs Cobra (2005), Sub Zero (2005), The Witches of Breastwick (2005), The Witches of Breastwick 2 (2005), A.I. Assault/Shockwave (2006), Cry of the Winged Serpent (2006), Bone Eater (2007), The Breastford Wives (2007), House on Hooter Hill (2007), Cleavegefield (2009), Fire From Below (2009), Vampire in Vegas (2009), Monster Cruise (2010), Dinocroc vs Supergator (2010), The Hills Have Thighs (2010), Camel Spiders (2011), Gila (2012), Piranhaconda (2012), Hypnotika (2013), Scared Topless (2013), Sexually Bugged (2014), Shark Babes (2014), Water Wars (2014), Scared Topless (2015), A Doggone Christmas (2016), Sharkansas Women's Prison Massacre (2016), Cobragator (2018), Attack of the 50 Foot CamGirl (2022), Bigfoot or Bust (2022), Giantess Battle Attack (2022) and Murderbot (2023).
---