---
Crew
Director – Chris Miller, Co-Director – Raman Hui, Screenplay – Chris Miller, Jeffrey Price, Peter S. Seaman & Aron Warner, Story – Andrew Adamson, Producer – Aron Warner, Music – Harry Gregson-Williams, Visual Effects Supervisors – Ken Bielenberg & Philippe Gluckman, Production Design – Guillaume Aretos. Production Company – DreamWorks Animation/PDI.
Voices
Mike Myers (Shrek), Cameron Diaz (Princess Fiona), Eddie Murphy (Donkey), Antonio Banderas (Puss in Boots), Rupert Everett (Prince Charming), Justin Timberlake (Arthur), Eric Idle (Mr Merlin), Julie Andrews (Queen Lillian), John Cleese (King Harold), Cody Cameron (Pinocchio/Three Pigs/Ogre Baby/Bohort), Ian McShane (Captain Hook), Maya Rudolph (Rapunzel), Amy Poehler (Snow White), Larry King (Doris), Amy Sedaris (Cinderella), Regis Philbin (Mabel), John Krasinski (Lancelot)
---
Plot
Fiona's father, The Frog King, dies appointing Shrek his heir as the ruler of Far Far Away. Shrek doesn't want the responsibility of running a kingdom and only desires to return to his beloved swamp. Fiona's father also mentions in his dying breath that there is one other heir – Arthur. And so Shrek, joined by the donkey and Puss in Boots, sets out on a quest to find Arthur. Before Shrek goes, Fiona tells him that she is pregnant. At the boarding school of Worcestershire, they find the bullied Arthur and persuade him to reluctantly come back to Far Far Away and claim his inheritance. Meanwhile, in Shrek's absence, the embittered Prince Charming rallies the villains of Far Far Away to his side and overthrows the palace, capturing Fiona and the other princesses. As Shrek returns, Charming is waiting with a plan to capture and sacrifice him in a pageant before the public.
---
Shrek the Third is the third of the films that began with DreamWorks' Shrek (2001). Shrek, with its witty range of characters, eccentrically oddball sense of humour and its sly fairytale in-jokes, proved an instant modern classic that was loved by all audiences. This success was followed by DreamWorks' decision to greenlight a host of sequels.
The first of these to emerge was Shrek 2 (2004). I admit to being one of the voices that expressed disappointment with Shrek 2 where it seemed that the spoof of the fairytale milieu had become overrun with annoyingly intrusive popular culture in-jokes. Shrek the Third opened to almost universally mediocre reviews and was widely seen as lacking the sparkle and creativity of the first two films.
I must admit to liking Shrek the Third marginally better than Shrek 2. The contemporary culture gags are less intrusive this time around and the story has a little more dramatic focus. While Shrek 2 put the emphasis on gags that is less here, which serves to bring the characters back to the fore. (Much of this could be due to the change of creative talents – none of the directors or writers from either of the previous films have been employed here excepting original co-director Andrew Adamson who only conceives the story this time).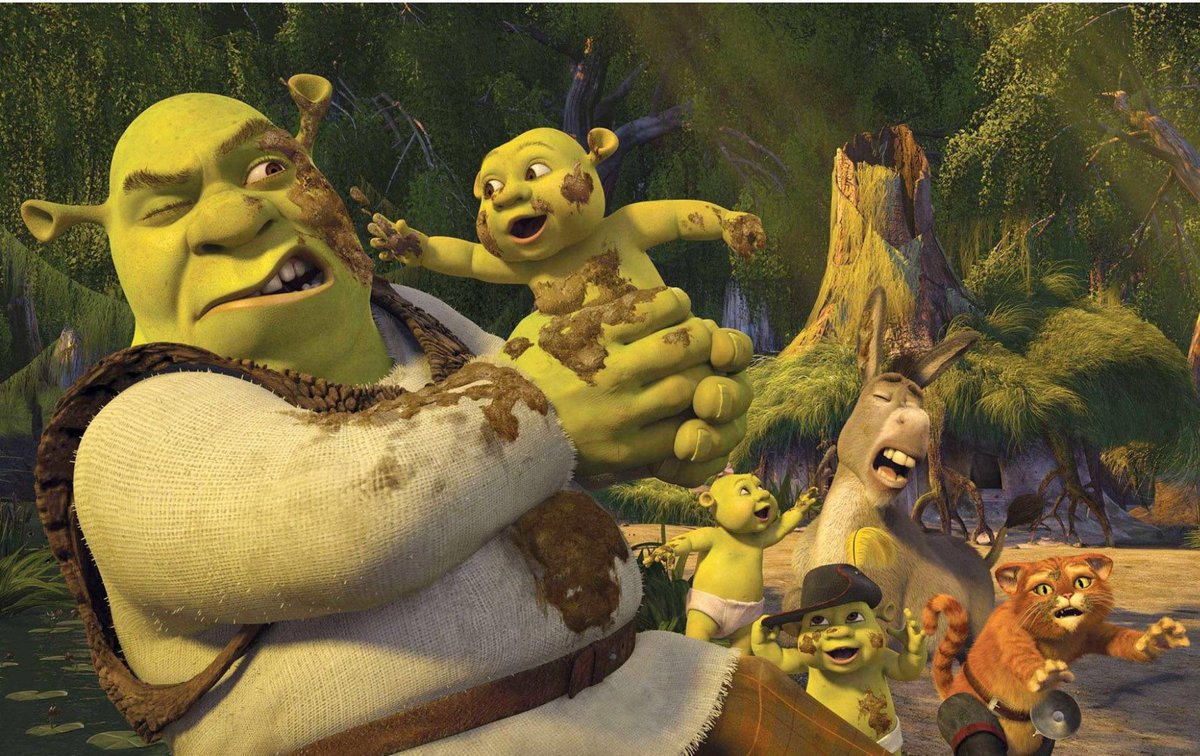 There is also now the feeling that the bubbly freshness of the original has been supplanted by familiar characters being dragged through another plot just like characters in a formulaic weekly tv series. The donkey and Puss in Boots are relegated to being minor support characters – the major novelty this time is that a magic spell has the unintended side-effect of causing them to swap bodies. The sequels also never seemed to find much for the perpetually curmudgeonly Shrek to do – Shrek 2 had him dolefully thinking that Fiona didn't love him anymore, while Shrek the Third comes up with even less and has him trying to avoid the responsibility of ruling a kingdom and feeling anxious at the notion of impending fatherhood.
The scene-stealer of Shrek 2 ended up being the appealing Antonio Banderas-voiced Puss in Boots. The new character here is Arthur who is voiced to perfection by of all people teen heartthrob, pop idol Justin Timberlake, the boyfriend of co-star Cameron Diaz. Arthur has a somewhat amusing character arc – that of the pimply-faced heir to the throne who wants nothing to do with it but grudgingly comes to reveal surprising strengths throughout the course of the journey. The plot arc about Shrek setting out to find Arthur is not dissimilar to the one in the original Shrek – Shrek and companion(s) must journey to retrieve a prince(ss) from a distant place and return with them – although the telling is far more routine this time around.
Shrek the Third welcomely dispense with the annoying gag that overran Shrek 2 of Far Far Away being a spoof of Beverly Hills with fairytale equivalents of brand name shops – here we even see the main drag of Far Far Away being trashed by the invading hordes at one point. The visit to Worcestershire unimaginatively construes it as a fairytale equivalent of a boarding school – with bespectacled nerds playing role-playing games, the mediaeval equivalent of a Kombi van filled with dope smokers and Arthur as the bullied geek of the class.
The most amusement to be had is the characterisation of the other fairytale princesses – Cinderella, Rapunzel, Sleeping Beauty and Snow White – as a group of airheaded modern teenage girls. Their idea of escape from the prison is to sit in various poses and wait to be rescued. The most amusing of these is Snow White who has been designed as a spoof of the Snow White in Disney's Snow White and the Seven Dwarfs (1937) and comes accompanied, even goes into attack, by a horde of woodland creatures while singing in inhumanely operatic soprano voice.
Next up was Shrek Forever After (2010) and subsequently Puss in Boots was granted his own film with Puss in Boots (2011), also directed by Chris Miller. Shrek the Third was parodied in Meet the Spartans (2008).
Director Chris Miller, previously a voice actor on the other films, next went on to solo direct Puss in Boots. Chris Miller should not be confused with Christopher Miller, the co-director of Cloudy With a Chance of Meatballs (2009), 21 Jump Street (2012) and The Lego Movie (2014). Co-director Raman Hui subsequently went onto direct the hit live-action Chinese fantasy film Monster Hunt (2015) and its sequel Monster Hunt 2 (2018).
---
---