---
Crew
Directors – Frank Miller & Robert Rodriguez, Screenplay – Frank Miller, Based on the Sin City Graphic Novels A Dame to Kill For and Just Another Saturday Night by Frank Miller, Producers – Sergei Bespalov, Aaron Kaufman, Stephen L'Heureux, Mark C. Manuel, Alexander Rodnyansky & Robert Rodriguez, Photography (b&w, 3D) – Robert Rodriguez, Music – Robert Rodriguez & Carl Thiel, Visual Effects Supervisor – Stefan Fangmeier, Visual Effects – Prime Focus (Supervisors – Jon Cowley, Tim McGovern & Josh Saeta) & Troublemaker Digital, Special Effects Supervisor – John McLeod, Makeup Effects – KNB EFX Group, Inc. (Supervisors – Howard Berger & Greg Nicotero), Production Design – Caylah Eddleblute & Steve Joyner. Production Company – Dimension Films/Troublemaker Studios/Aldamisa Entertainment/Solipsist Film/Demarest Films
Cast
Just Another Saturday Night:- Mickey Rourke (Marv). The Long Bad Night:- Joseph Gordon-Levitt (Johnny), Powers Boothe (Senator Roark), Julia Garner (Marcy), Christopher Lloyd (Kroenig), Jude Cicolella (Lieutenant Liebowitz), Lady Gaga (Bertha). A Dame to Kill For:- Josh Brolin (Dwight McCarthy), Eva Green (Ava Lord), Dennis Haysbert (Manute), Christopher Meloni (Mort), Rosario Dawson (Gail), Ray Liotta (Joey), Juno Temple (Sally), Jeremy Piven (Bob), Stacey Keach (Wallenquist), Jaime King (Goldie), Marton Csokas (Damien Lord), Jamie Chung (Miho). Nancy's Last Dance:- Jessica Alba (Nancy Callahan), Bruce Willis (John Hartigan)
---
Plot
Just Another Saturday Night:- Marv wakes up surrounded by dead bodies and unable to remember what happened. The Long Bad Night:- Johnny arrives in Sin City, a hotshot on a streak of luck at the gaming machines. He enters into a card game up against Senator Roark and succeeds in cleaning up the table. For having humiliated the senator in such a fashion, Roark's goons brutally beat Johnny and then go after his woman. A Dame to Kill For:- Working as a private investigator, Dwight McCarthy is contacted by Eva Lord. He would rather forget her for her betrayals but she still stirs lust in him. As they renew their heated affair, she begs his help in freeing her from Damien Lord, the wealthy man she married who treats her brutally. After going in to kill Damien, Dwight discovers that Eva has manipulated him for her own purposes. Nancy's Last Dance:- Disturbed by the murder of her father and haunted by his ghost, Nancy Callahan becomes angry and turns to drink, while plotting her revenge against Senator Roark.
---
Sin City (1991-2000) was one of the most celebrated graphic novels from the cult figure of Frank Miller. Director Robert Rodriguez, riding high on works such as From Dusk Till Dawn (1996) and the Spy Kids films, persuaded Miller to not only grant him the rights to Sin City but also sign on as co-director. The result was the astonishing Sin City (2005), a quartet of hard-boiled film noir tales set around the shared title venue featuring interwoven characters. Miller's dialogue conflated the purple prose of writers like Raymond Chandler and Mickey Spillane until the milieu burned like the taste of old cigarettes. Even more amazing was the directorial style that Rodriguez and Miller employed, all black-and-white with occasional flashes of colour and the film frame designed in a highly stylised way that resembled a comic-book panel. The film still remains Robert Rodriguez's finest work to date.
Robert Rodriguez had promised two Sin City sequels ever since the original came out. Perpetually announced and seeming to have to fight for time among the multiple running series that Rodriguez has going on at the same time – the Spy Kids series, the Machete series – it took nearly a decade for us to get the second instalment here. Most of the principals have returned, although some of the roles have been recast, with Josh Brolin inheriting Clive Owen's shoes and the memorable Devon Aoki having been replaced by Jamie Chung. Moreover, both Brittany Murphy and Michael Clarke Duncan have died in the interim – her role is written out but Clarke's part has been recast with Dennis Haysbert.
The immediate feeling as one sits down to watch Sin City: A Dame to Kill For is of a welcome return to the milieu that Rodriguez and Miller so vividly created in the first film. The other feeling as the film settles in is that the stylistic affect that Rodriguez and Miller created was astonishingly original in 2005 but now no longer holds the same freshness, excepting perhaps that we get the visuals in 3D. It is not that A Dame to Kill For is dull or unoriginal by any means; it is just that it does more of the same thing that we are used to when you come to it expecting it to blow you away by repeating something that was utterly original the first time around.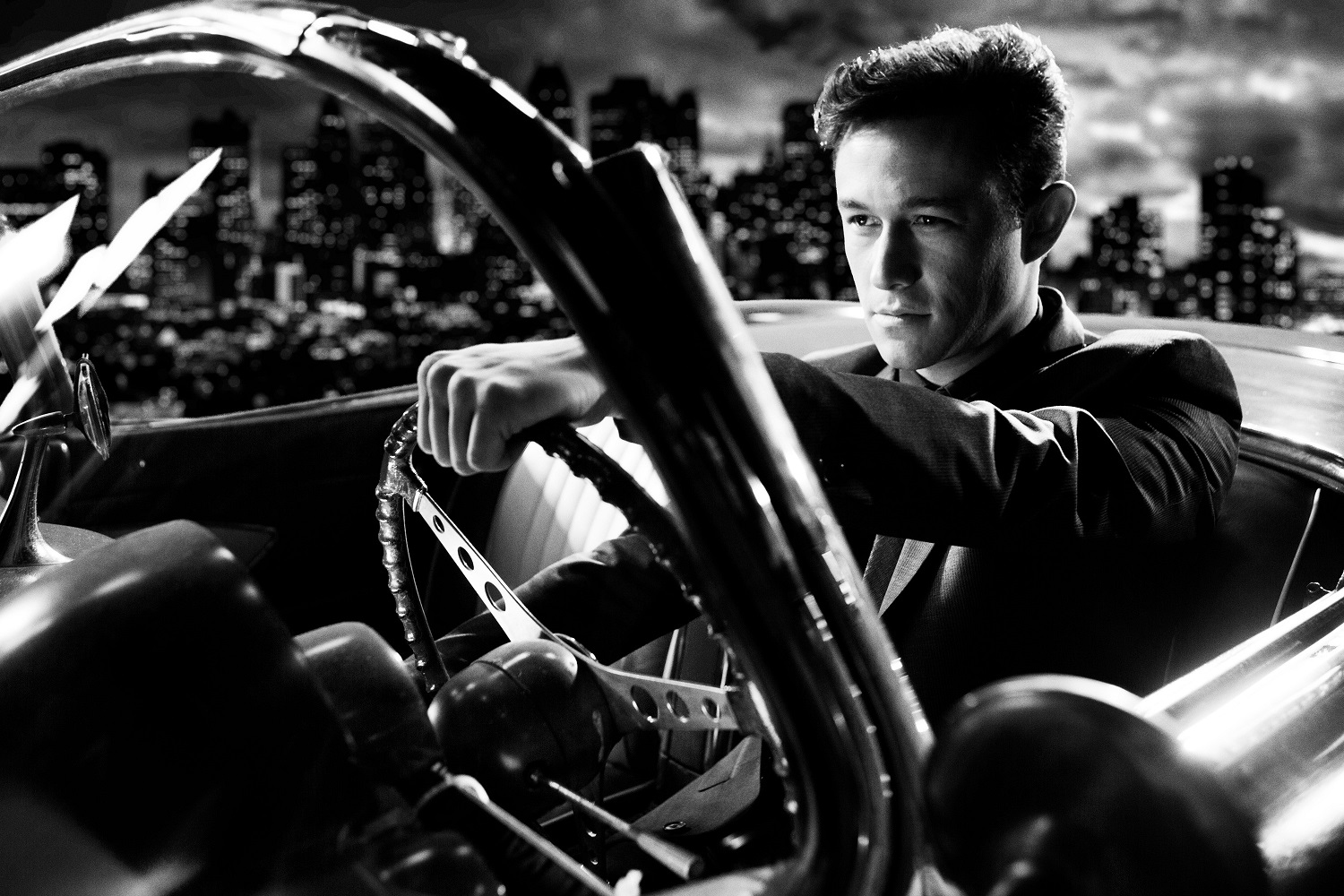 That said, in any other director's hands, some of the stylistic effects that get pulled off would be amazing – mirror images of a nude Eva Green coming together in mid-air as she dives into a pool; a love scene between Eva Green and Josh Brolin that turns the cliched image of venetian blinds across their bodies into an artform; Mickey Rourke struggling to remember and his reminisces of a car chase where the vehicles circle in miniature around his giant head.
Unlike Sin City, A Dame to Kill For is less cleancut in terms of being an anthology. The backbone of the film is Frank Miller's six-issue story A Dame to Kill For (1993-4). For the film, several other stories have been added to the mix with the brief Just Another Saturday Night with Marvin waking up unable to remember anything. Miller has also created two original stories for the film – the longer The Long Bad Night with Joseph Gordon-Levitt as a cocky gambler coming up against Powers Boothe's corrupt senator and a lesser piece, Nancy's Last Dance, which acts more like a coda to the show about Nancy's obsession with revenge for her father's murder. Unlike the first film, there is less the sense of an anthology here than we get a long interwound narrative of two principal stories with some occasional side detours.
These stories are not quite as striking as the originals. The best is the title story with Eva Green cast as a luscious femme fatale – a role that she, who has become surely the Charlotte Rampling of the 2010s, was born to play. (She played fairly much the same role in another Frank Miller adaptation 300: Rise of an Empire (2014) earlier in the year). The relationship between she and muleish Josh Brolin and the subsequent betrayals that occur are the best written sections of the film – Miller makes Josh Brolin's dialogue smoulder with thwarted brute lust. Joseph Gordon-Levitt – in a role that was originally intended for Johnny Depp – has wonderfully cocky, youthful charm.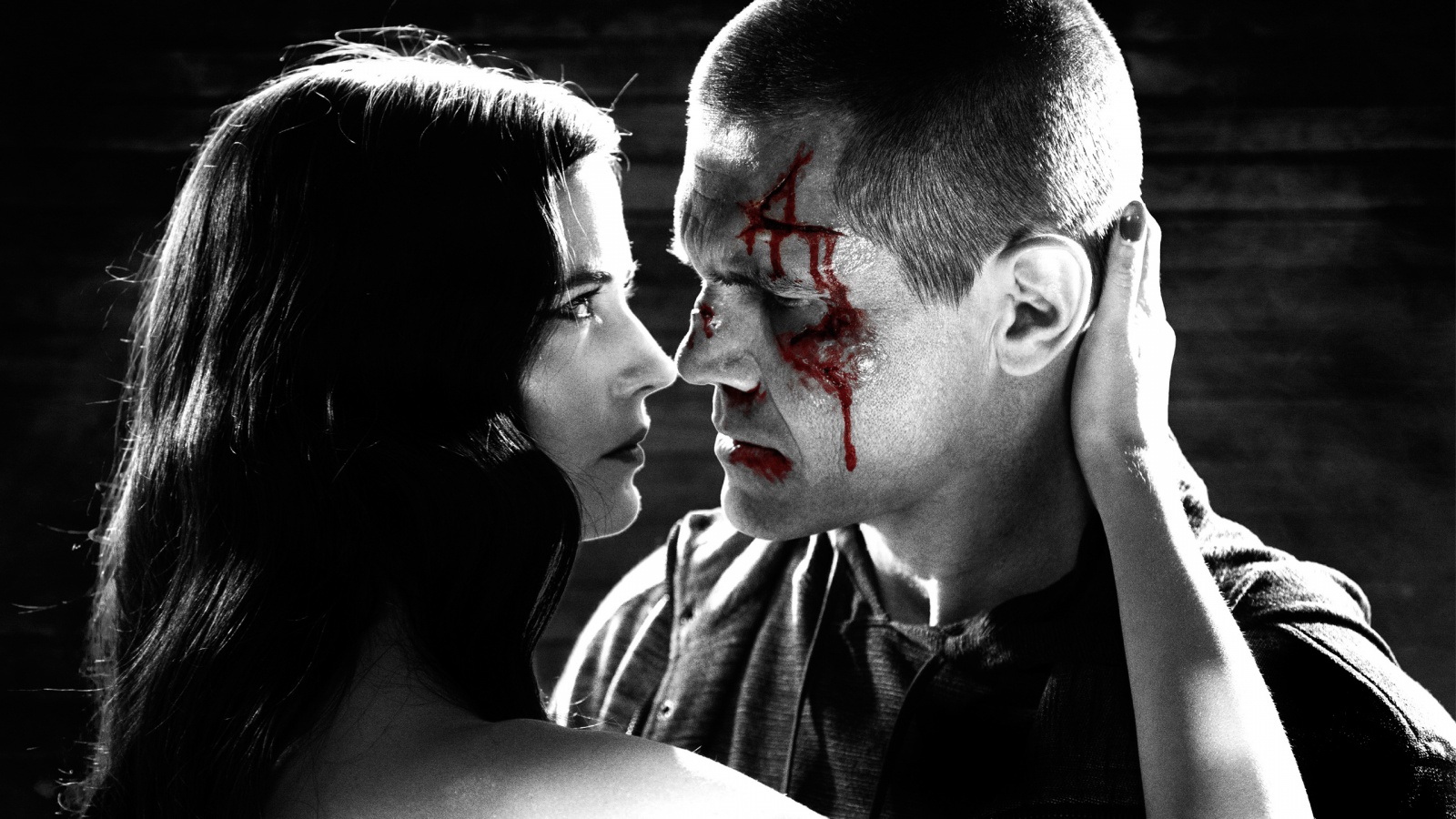 Unlike the original with its yellow-faced cannibal killers and its brutally over-the-top ultra-violence, A Dame to Kill For reads more as a straight crime/film noir and less as a fantastic work. There is the brief appearance of a ghost of Bruce Willis, although we cannot be sure if this is simply the literalisation of people's imaginations. Nevertheless, the surrealistically hyper-realised city and visuals of both films makes them films that are still highly fantastical in nature.
Robert Rodriguez's other films of genre interest are the vampire/getaway thriller From Dusk Till Dawn (1996); the witty teen body snatchers film The Faculty (1998); the juvenile spy adventure Spy Kids (2001) and sequels Spy Kids 2: Island of Lost Dreams (2002), Spy Kids 3-D: Game Over (2003) and Spy Kids: All the Time in the World (2011); the children's film The Adventures of Sharkboy and Lavagirl in 3-D (2005); the zombie film Planet Terror (2007), half of the Quentin Tarantino collaboration Grindhouse (2007); the children's film Shorts (2009); Machete Kills (2013), a sequel to his earlier Mexican-themed action film that frequently enters into science-fiction territory; the manga adaptation Alita: Battle Angel (2019); Red 11 (2019), a mind-bending work set during an experimental drug trial; the kid superheroes film We Can Be Heroes (2020); and the reality-bending Hypnotic (2023). Rodriguez has also produced From Dusk Till Dawn 2: Texas Blood Money (1999), From Dusk Till Dawn 3: The Hangman's Daughter (2000) and Predators (2010), as well as developed the tv series From Dusk Till Dawn (2014-6).
Other Frank Miller adaptations include:-300 (2007), Zack Snyder's adaptation of his graphic novel about the Greco-Persian wars of the Fifth Century B.C.. Miller on his own subsequently went onto direct a film based on the cult comic-book The Spirit (2008) using the same extraordinary visual style here. Miller also worked as screenwriter on both RoboCop 2 (1990) and RoboCop 3 (1993). There was also the animated adaptations of Miller's classic graphic novels with Batman: Year One (2011), Batman: The Dark Knight Returns Part I (2012) and Batman: The Dark Knight Returns Part II (2013). The film adaptations of Daredevil (2003) and Elektra (2005) were also substantially based on his comic-book interpretations of the characters.
(Winner for Best Supporting Actress (Eva Green) and Best Cinematography, Nominee for Best Directors (Frank Miller & Robert Rodriguez) and Best Adapted Screenplay at this site's Best of 2014 Awards).
---
---