---
Crew
Director/Photography/Visual Effects Supervisor – Robert Rodriguez, Screenplay – Marcel & Robert Rodriguez, Story – Racer Max Rodriguez, Producer – Elizabeth Avellan, Music – Robert Rodriguez, John Debney & Graeme Revell, Visual Effects – Amalgamated Pixels, Cafe FX Inc (Supervisor – Everett Burrell), Hybride Technologies (Supervisor – Daniel Leduc), Hy*drau*lx (Supervisors – Colin & Greg Strause), Industrial Light and Magic (Supervisor – Samir Hoon), Intelligent Creatures (Supervisor – Lon Molnar), The Orphanage Inc (Supervisor – Ryan Tudhope), R!ot Pictures, Tippett Studios (Supervisor – Eric Leven) & Troublemaker Digital Studios, Special Effects Supervisor – John McLeod, Makeup Effects – KNB EFX Group Inc (Supervisors – Howard Berger & Greg Nicotero), Art Direction – Steve Joyner & Jeanette Scott. Production Company – Troublemaker Studios.
Cast
Cayden Boyd (Max), Taylor Dooley (Lavagirl), Taylor Lautner (Sharkboy), George Lopez (Mr Electricidad/Mr Electric/Voice of Tobor/Voice of Ice Guardian), Jacob Davich (Linus/Minus), David Arquette (Max's Dad), Kristin Davis (Max's Mom), Sasha Pieterse (Marissa Electricidad/Ice Princess)
---
Plot
Max is ridiculed by his school classmates when he recounts how he met the characters of Sharkboy (who was found and raised by sharks after being swept away to sea as a child and has grown up half-shark) and Lavagirl (who is made of molten lava) who come from the planet Drool. Max is told to stop dreaming by his teacher Mr Electricidad and is taunted by the bully Linus who steals Max's dream diary. Sharkboy and Lavagirl then burst into the school and take Max with them, saying that they need him to save Planet Drool. Both they and Drool were created from Max's imagination but the planet is now under threat from a Darkness. It is up to Max to dream things back the way they should be. However, on Drool they come up against the villainous Mr Electric and his dark overlord who are determined to stop them.
---
First appearing with the ultra low-budget, self-financed El Mariachi (1993), Robert Rodriguez seemed to be one of the freshest and most invigorating directors of the 1990s. Rodriguez has certainly not disappointed on his initial promise and has gone on to become a fiercely independent voice. He is amazingly prolific, taking on just about every single task on his films and even creating his own studio in Austin, Texas. Rodriguez has made some fine films – El Mariachi and its sequel Desperado (1995), the witty teen body snatchers film The Faculty (1995), Spy Kids (2001), Planet Terror (2007), his one half of Grindhouse (2007), Machete (2010), Machete Kills (2013) and especially the visually stunning Sin City (2005). Rodriguez may not always hit the mark – the rather mixed vampire film From Dusk Till Dawn (1996), some of the Spy Kids sequels, Once Upon a Time in Mexico (2003) – but his films brim over with a workaholic regimen and an unabashed enthusiasm for the filmmaking process.
With Spy Kids and its sequels – Spy Kids 2: Island of Lost Dreams (2002), Spy Kids 3-D: Game Over (2003) and Spy Kids: All the Time in the World (2011) – Rodriguez broke away from action into children's cinema, creating a series of visually inventive juvenile James Bond adventures. The Adventures of Sharkboy and Lavagirl in 3-D is similarly a children's film (and one that is also shot in 3-D, something that Rodriguez began to experiment with in Spy Kids 3 – and several years before it became a fad once again). Rodriguez made a further children's film with Shorts (2009).
Robert Rodriguez advertises The Adventures of Sharkboy and Lavagirl in 3-D as 'A Rodriguez Family Film'. Besides Rodriguez taking a mere six jobs this time – director, cinematographer, editor, visual effects supervisor, co-writer, co-composer and sound re-recording mixer – he employs his brother Marcel as co-writer, his wife Elizabeth Avellan as producer and places three of his sons in the cast. Most of all, the idea for The Adventures of Sharkboy and Lavagirl in 3-D is based on 'dreams' by Rodriguez's seven year-old son Racer Max (one might note that the dreamer hero of the story is also named Max).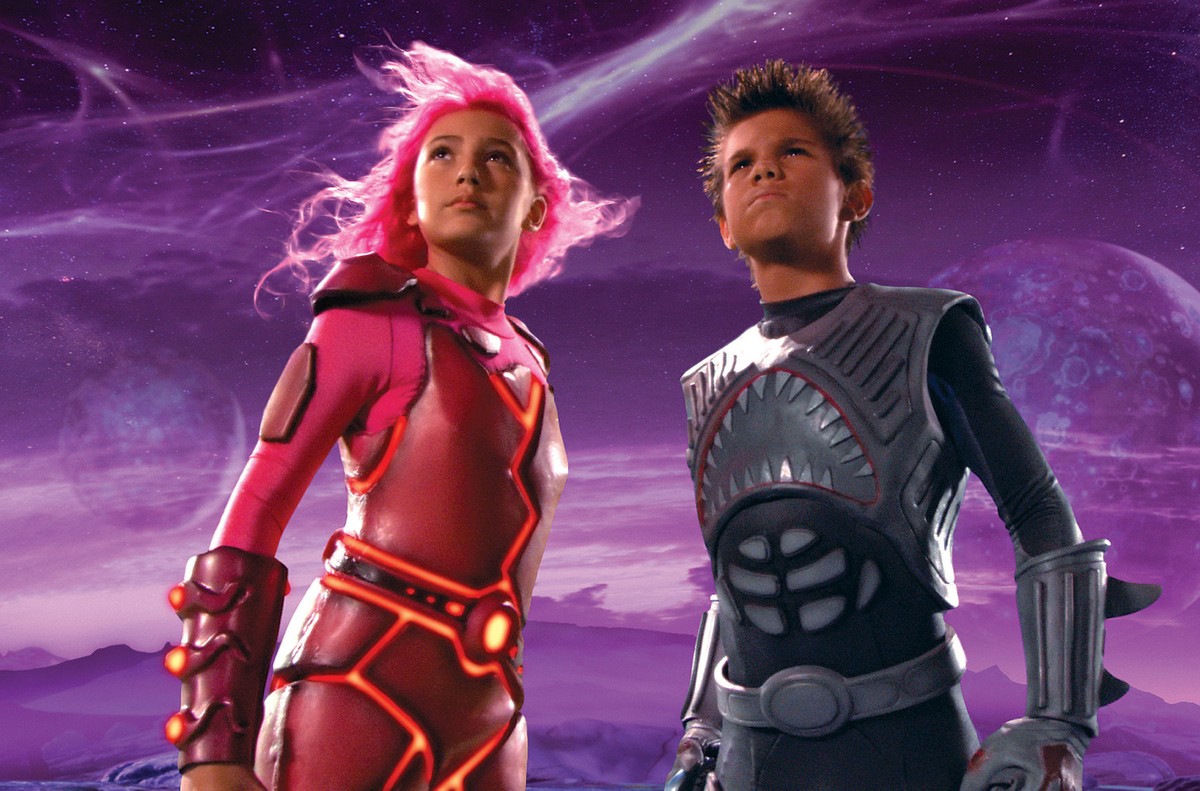 The Adventures of Sharkboy and Lavagirl in 3-D was critically panned in the US, but contrarily one rather liked it. It is not a particularly great film but Robert Rodriguez shows the same appealingly surreal imagination that he did in the Spy Kids films. There are some bizarre creations – the electrical villain and his menagerie of Plughounds, which are exactly like they sound – electrical plugs baying on the ends of leashes; giant centurions fashioned out of ice cubes; the concept of a Banana Split Boat; or a scene where the characters end up in the Land of Milk and Cookies and float down a river of milk on giant-sized cookies.
For a children's film, Rodriguez gives The Adventures of Sharkboy and Lavagirl an appealingly imaginative almost meta-fictional undertow, populating it with literalisations of various psychological doublespeak terms – a journey down the Stream of Consciousness to the Sea of Confusion; the heroes jumping aboard the Train of Thought, which is driverless and prone to going off track; and a visit to The Valley of Forgotten Dreams.
At times, The Adventures of Sharkboy and Lavagirl in 3-D is not unlike The Neverending Story (1984), which likewise took place in a fantasy land that existed inside a book that was being read and interacted with by its child reader, while here the film takes place in a science-fictional/fantasy realm that has been dreamed into existence from the central character's imagination. Some elements in Sharkboy and Lavagirl have been borrowed directly from The Neverending Story – like the concept of The Darkness, which stands in for the death of the dreaming imagination and is devouring the fantastical land, and the need to obtain a magical talisman from a princess in order to save the world.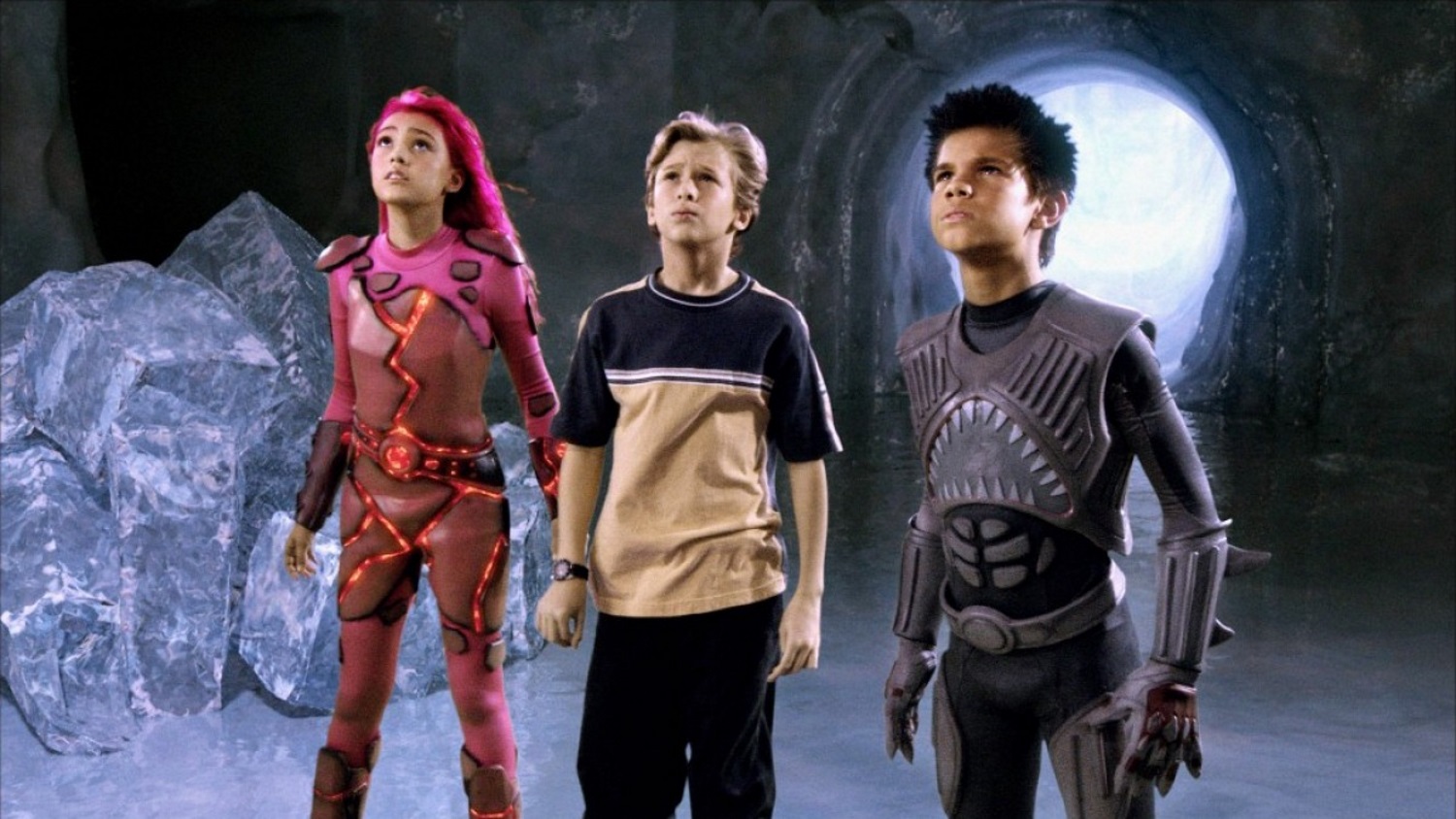 On the minus side, The Adventures of Sharkboy and Lavagirl in 3-D seems rough around the edges. Robert Rodriguez is certainly a director who has embraced visual effects technology and lists himself as Visual Effects Supervisor on most of his films nowadays. Alas, the visual effects in his films are nothing special – they seem rushed and tend to look obviously like CGI effects, especially so in these two 3-D outings. Despite bringing in some nine visual effects houses, the world of The Adventures of Sharkboy and Lavagirl in 3-D seems no more than pretty eye candy and feels more like you are travelling through the terrain of a videogame.
Cayden Boyd fails to make much distinction in the central role of Max. Taylor Lautner (who only three years later would find heartthrob status in the Twilight films) has a surly presence as Sharkboy, although Taylor Dooley has an effectively resolute strength as Lavagirl.
Robert Rodriguez later made a quasi-sequel with We Can Be Heroes (2020), a kid superheroes film featuring a now grown-up Sharkboy and Lavagirl and their child. Taylor Dooley returned to repeat her performance but Sharkboy was now played by JJ Dashnaw.
---
---