---
USA. 1987.
Crew
Director/Screenplay – Jackson Hunsicker, Based on the Fairy-Tale by the Brothers Grimm, Producers – Yoram Globus & Menahem Golan, Photography – Amnon Salomon, Music – Kenn Long & Neil Richardson, Songs – Long, Special Effects – Terry Glass, Makeup – Zivit Yakir, Production Design – Marek Dobrowolski. Production Company – Golan-Globus
Cast
Aileen Quinn (Princess Zora), John Paragon (Ribbit), Helen Hunt (Princess Henrietta), Clive Revill (King William), Seagull Cohen (Dulcey)
---
Plot
The king of Tartonia informs his two adopted daughters Zora and Henrietta that one of them is not a real princess. The gauche and ungainly Zora feels certain that it is not her. She wishes she had a friend, whereupon a talking, bipedal frog appears to her. She names it Ribbit and the two become best friends. However, the vain and jealous Henrietta determines to dispose of Ribbit.
---
This is another of the cheap and tatty Cannon Movie Tales from producers Menahem Golan and Yoram Globus who were also responsible for a number of crappy action films featuring Chuck Norris and Charles Bronson during this era.
The fairy-tale adapted this time is a less familiar one. The original consists of a lead up to the princess kissing the frog and it turning into a prince (in the original Grimm Brothers version, she doesn't even kiss it but throws it against a wall). Cannon essentially have to invent their own story (which is only a variant on Beauty and the Beast) in order to make a film out of this.
As per usual for Cannon, the sets are cheap and unconvincing and the song and dance numbers utterly bland. The antics of Clive Revill and his bumbling advisers prove tiresomely buffoonish. The frog makeup is reasonably convincing and John Paragon's hopping about holds a reasonable degree of liveliness to it.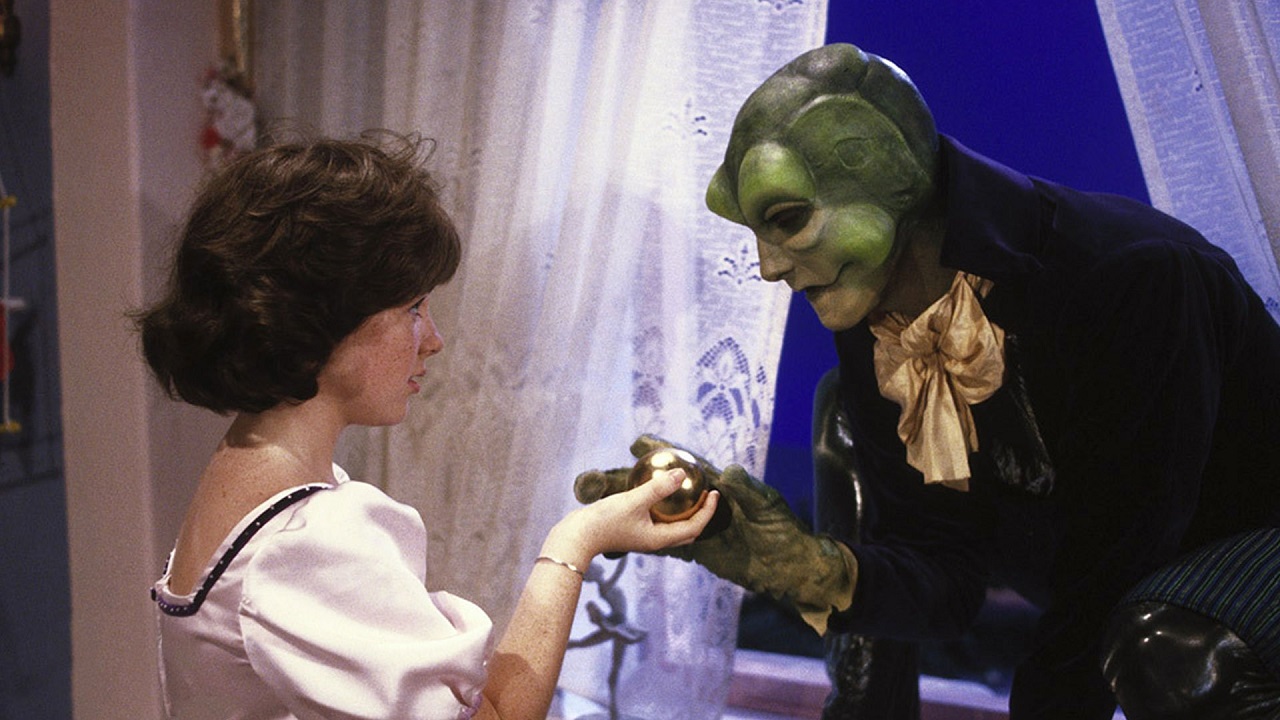 However, the single worst thing about The Frog Prince is Aileen Quinn. Five years before this, Quinn has appeared as the title character in the flop film version of the hit musical Annie (1982). Here at the age of sixteen and not having ditched any of her baby fat, Quinn comes across as appallingly dumpy while still trying to act cute. Her attempts to act adorable become astoundingly obnoxious – she walks through the production as though the entire effort had been assembled as an exercise in her adoration. A then unknown Helen Hunt plays the bitchy sister.
The other Cannon Movie Tales are:– Beauty and the Beast (1987), The Emperor's New Clothes (1987), Hansel and Gretel (1987), Puss in Boots (1987), Red Riding Hood (1987), Rumpelstiltskin (1987), Snow White (1987) and Sleeping Beauty (1988).
---
Trailer here
Film online in several parts beginning here:-
---